Sometimes things don't go as planned when you are travelling and then you are forced to improvise. That is the beauty of travel, specifically solo travel. It puts you in these difficult situations and then urges you to find a solution. What I have realized is that the situations are difficult only if we don't put our heart and soul into it. Mallorca (Majorca), Spain was not there initially on my itinerary.
To tell you the truth, I had never even heard of the place until last year. So, when my initial draft itinerary was ready, I sent it over to my friend, who is an avid traveller as well. He was the one who suggested Mallorca (and Prague) to me. I was immediately hooked after seeing the pictures and decided to see as much of Mallorca in 2 days. I am glad that I decided to take his suggestion and I present my 2 day itinerary to Mallorca.
Planning your Mallorca Itinerary at the last minute?
I know everyone is busy and don't have time to plan their itinerary to Mallorca. That is why I have covered you with links to some places to stay in Mallorca, must do experiences and more details at one glance.
Where to stay in Mallorca?
Must do tours in Mallorca
Getting to and fro from the airport to your accommodation can be a tedious task and hence always needs to be prebooked.
I feel driving around Mallorca is the best way to see Mallorca.
2 Day Itinerary To Mallorca Spain
I loved spending time in Mallorca and these were some of my recommendations for Mallorca.
My Recommendations for Mallorca
Favorite Tour
Exploring the tiny villages of Port Soller, Soller and Valldemoosa
Where to stay
Stay in a boutique hotel in Port de pollenca
Airport Transfer
Very important in the middle of night
Where is Mallorca Spain or Majorca Spain?
Mallorca or Majorca is one of the four major islands of the group of Balearic European Islands, situated off the coast of Spain in the Mediterranean sea. Some of the other major islands are Minorca, Formentera, and Ibiza. Who hasn't heard of Ibiza, after all? But it is such a pity that I hadn't heard of a gorgeous island like Mallorca till last year. I definitely was not a fan of Geography when I was in school.
How to Get to Mallorca Spain
The easiest way to getting to Mallorca is to fly from Barcelona to Mallorca and it approximately takes around 1 hour. Alternatively, you can take a ferry between the two cities which takes around 8 hours. There are around 2-3 ferries and each of them runs once a day. I chose the easier option and decided to take Ryan Air to fly there. It cost me around 70 Euros during peak season for a to and fro ticket (excluding luggage). I will be soon writing another post on the advantages and disadvantages of taking a Ryan Air flight.
Getting to Barcelona Airport:
I was staying at the Generator, Barcelona and they gave me directions on how to take a metro to the airport at 6:00 AM in the morning. I decided to leave my suitcase at the hostel's luggage room (best decision ever) and only carried my backpack around for the next two days. It was quite easy to travel by metro, even though I had to change trains. It cost less than 2 Euros and I was at the airport in 30 minutes.
If you are looking at visiting Barcelona, check out some of the best places to visit in Barcelona.
<
Where to Stay in Mallorca / Best places to stay in Mallorca
This is a difficult choice. Even though it looks like a tiny speck on a map, it is quite a big island and you may face problems like me to finalise on one place. Listing some of the choices:
• Palma De Mallorca: This is the capital of the island and it is also the biggest city. The airport is situated here and there are lots of options to stay here. It is a city with lots of history and many people are enamoured with its Catalan history. I have heard that it is a good place for partying as well. There are many people who end up only partying for 2 days in Palma De Mallorca. I did not want to stay here since I wanted a quieter place as I was coming from Barcelona. This is the south part of the island. Find prices for the best places to stay in Palma, Mallorca.

• East Mallorca – There are few places like Cala Millor to stay in this part. Unfortunately, I was not getting decent places within my budget to stay here. There are tons of white sand beaches with crystal clear water here. Find prices for the best places to stay in Cala Millor, Mallorca.
• West Mallorca: There are some gorgeous villages like Valldemossa, Soller etc to stay in this part of the island. This is also the area where most celebrities have their holiday homes.Find prices for the best places to stay in Valldemossa, Mallorca.
• North Mallorca: I ended up staying up at Port De Pollenca in this part of the island. Another well-known place to stay is the town of Alcudia. Find prices for the best places to stay in Port De Pollenca, Mallorca.
Getting from the airport in Mallorca to Port De Pollenca:
When I initially booked my accommodation in Port De Pollenca, my intention was to hire a car from the airport and then use it for the next two days. However, after getting robbed in Madrid, this was no longer an option for me since I did not have any credit cards on me. The distance between both these places is around 65 Kms and it takes around 50 minutes by car.

So, I had to find a backup option and I called my hotel to find out how I can get there. They told me to take a bus to Palma centre and then take another bus to Port De Pollenca. You can take a cab as well but it will cost you around 90 Euros.
So, I decided to take a bus after having breakfast at the airport. It takes around 15 minutes to get to Palma centre. After getting down there, I walked here and there trying to find my bus number. Google was showing that it was right there but I couldn't find the bus number on any of the boards at the bus stop. After almost 15 minutes, I finally realised that there was a bus stop in the basement too. I was an idiot and thought that the stairs led somewhere else.
My bus had left by then and I had to wait for another hour to catch the next bus. It takes around 90 minutes from there by bus. It is a beautiful journey but I was too tired after the night out in Barcelona and I ended up sleeping most of the way. Also, it takes only 5 minutes by walk from the bus stop to my hotel. I paid less than 20 Euros for the entire trip. Alternatively, you can take a private airport transfer to any part of the island if you are a group of at least 4.
Hotel Miramar, Port De Pollenca, Mallorca:
I was staying at Hotel Miramar and it was such a gorgeous looking boutique hotel. It is really old and has been there since the early 1910's. But the best part of the hotel was that as soon as you get out of the hotel, the sea was right there. If you can request for a bay facing room, then all the better. You can also see the Serra de Tramuntana mountain range in the background and it was a gorgeous sunset that day.
Some of the places to visit during Mallorca Itinerary / Majorca itinerary:
I was too tired by then and so I went and slept off the previous night's party hangover in Madrid. Actually, I had slept less than 4 hours combined in the past 72 hours. Anyway, it was too late to do anything. After a while, I got up and then went roaming around the place.
It is such an idyllic place and I enjoyed doing nothing other than reading, all the while enjoying the gorgeous view. You can always go swimming here but I felt that the water was a bit too cold for my liking. There were multiple families who were having lots of fun in the water.
Since I did not have a car, I had to figure out how to get around the island. I enquired at the reception and they told me that many Mallorca day tours were available to other parts of the island. Since that was my only option, I booked a tour for the next day which would take me to the nearby villages of Soller and Valldemossa (It was the only tour available for the next day. They had different Mallorca day trips for different days).
Recommended Read – 4 Day Itinerary to Madrid, Spain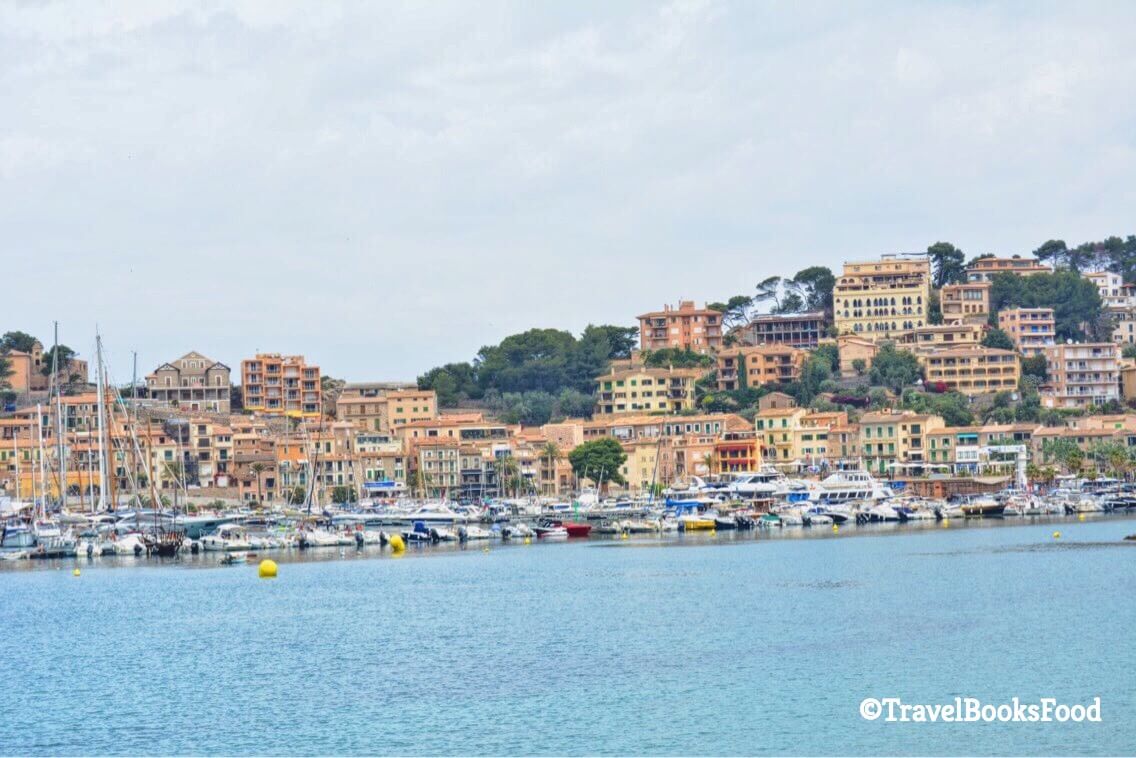 We were to be picked up from the nearby square in the morning. Even though I have started getting wary of tour buses, our guide was quite jovial and she took us around the whole day with a smile. The only problem was that I was the youngest on the bus, barring the guide's 10-year-old son. Most of the others were on their retirement trips and I stuck out like a sore thumb. There was just one other couple who looked like they were in their early 40s.
In spite of that, I had a nice time the whole day exploring the tiny villages of Port Soller, Soller and Valldemoosa. They take us on one of the oldest trams in Spain to the town of Soller. There was a Saturday market happening in Soller that day and it was fun to go explore the wares of the day. The church of St Bartholomew is one of the main attractions here. What I loved about this small town was how every home were made of the same colors, cream exteriors with green windows and doors.
Soon we were on our way to Valldemoosa. Valldemoosa is another municipality in Mallorca and it is a gorgeous town right in the middle of the valley. It is also famous for the Royal Charterhouse, a monastery where the famous composer Chopin and his lover George Sand once resided for a brief period. The monastery is a museum these days with an exhibit of many of Chopin's belongings.
Anyway, the day was well spent and we were soon on our way back to Port de Pollenca. I had a wonderful dinner watching the sunset from my hotel's patio.
Day Tours from Mallorca
Taking a ferry from Mallorca to the neighbouring Menorca is a popular day trip. You can combine this day trip to make a 3-day itinerary in Mallorca.
Suggested Tip: You can combine this day trip to make a 3-day itinerary in Mallorca.
Find out more and book your day tour to Menorca here.
Getting out of Port De Pollenca:
I had to leave in a few hours since my flight back to Barcelona was at 6 in the morning. I booked a private taxi which cost me around 90 Euros to get to the airport in less than an hour. This was the only thing I wished I had planned a bit better since it was too costly for a solo traveller like me. I could have opted to take a later flight if I had known about this in advance.
Common FAQ's for your trip to Mallorca
Here I answer some of the most common queries when it comes to your Mallorca itinerary.
How many days are required in Mallorca?
Ideally 5 days in Mallorca would be the perfect time. If you are having only 2 days like me and want to have a lazy vacation, then just choose a lazy beach vacation.
Is it worth going to Mallorca?
I loved my time in Mallorca and would definitely suggest you to visit Mallorca at least for a few days. It has gorgeous beaches, some amazing hikes, some friendly locals and so much more. A perfect vacation all year around and should be a must visit for all Europe lovers.
Can you drive around Mallorca in a day?
The entire island is around 312 kms and you can cover it in 5-6 hours in a loop. But you will not have time to visit many of the spots properly. So even if you can drive around the island, you will miss so many important spots.
Is it hard to drive in Mallorca?
For Indians, it is on the opposite side of the road and I would definitely suggest an automatic car rental over a manual one. But Mallorca in Spain is not that difficult to drive around and you have plenty of open roads to navigate.
Which is better Ibiza or Mallorca?
It depends on what kind of a vacation you are looking for. If you are looking for a party vacation, then Ibiza is the better island. If you are going for some beach time along with some cultural activities, then I would definitely suggest Mallorca.
Is there a ferry from Barcelona to Mallorca?
Yes, you can take a ferry and it will take you approximately 6.5 hours to get from Barcelona to Mallorca. Taking a flight is the shorter option.
Do you need a visa for Mallorca?
As Indians, you need a visa to visit Mallorca which is part of Spain which is a Schengen country. Depending on your nationality, you may or may not require a visa to travel to Mallorca. If you are a resident of the EU, you will not require a visa to travel to Mallorca, Spain.
Conclusion:
This is how I spent my 2 days in Mallorca. Mallorca is a gorgeous island and I feel it does not get enough credit from my fellow Indians. I would love to go back one day since I felt that a two day Mallorca itinerary did not do enough justice to the place and only 3 days in Mallorca would do it proper justice. Port De Pollenca, especially is a wonderful offbeat location. After being to various parts of the island, I can understand why many celebrities have their holiday homes in Mallorca (Did you know Rafael Nadal is from Manacor in Mallorca?).
Liked it, then pin it.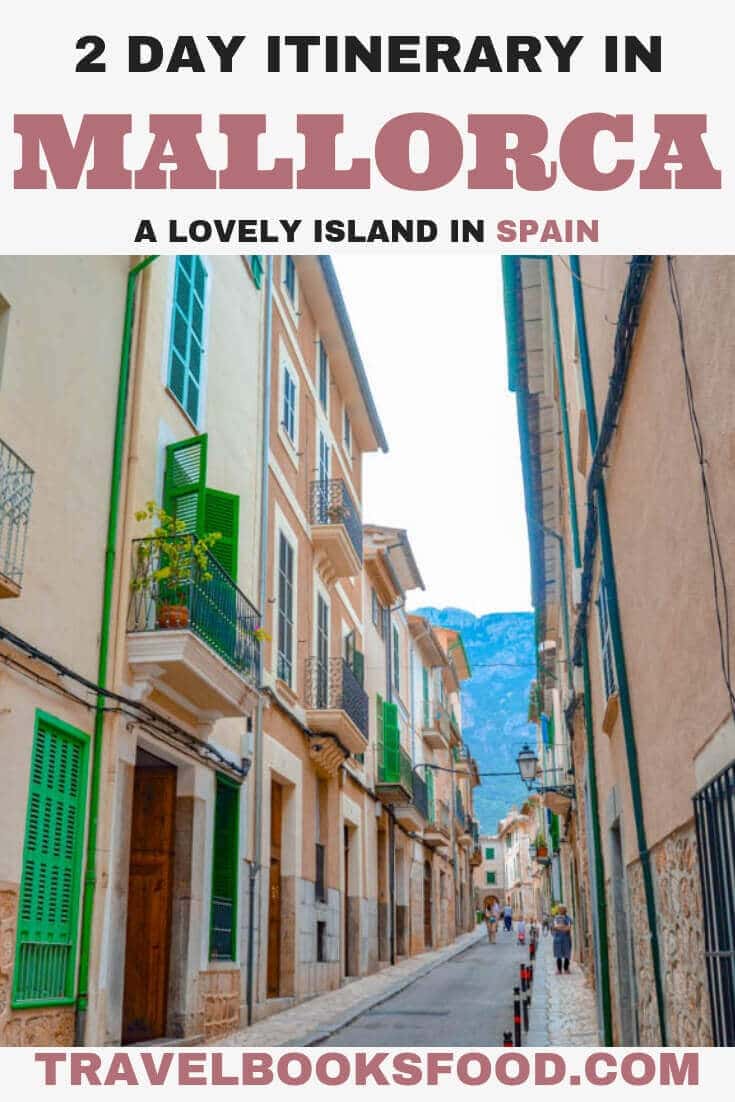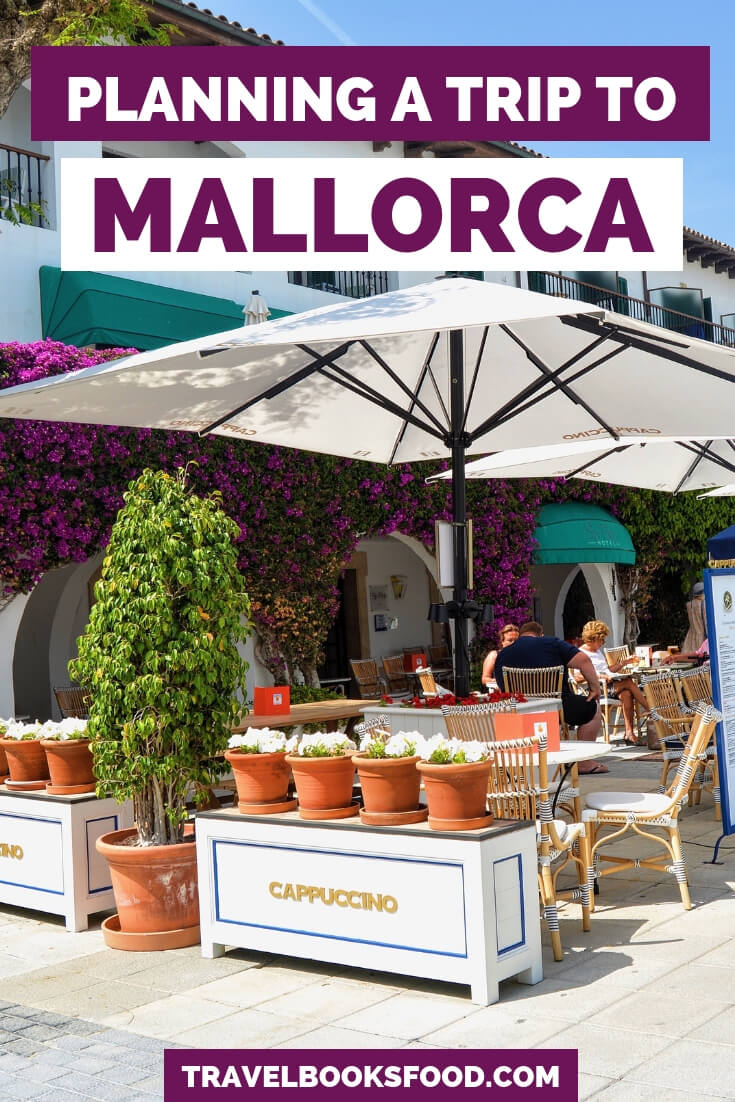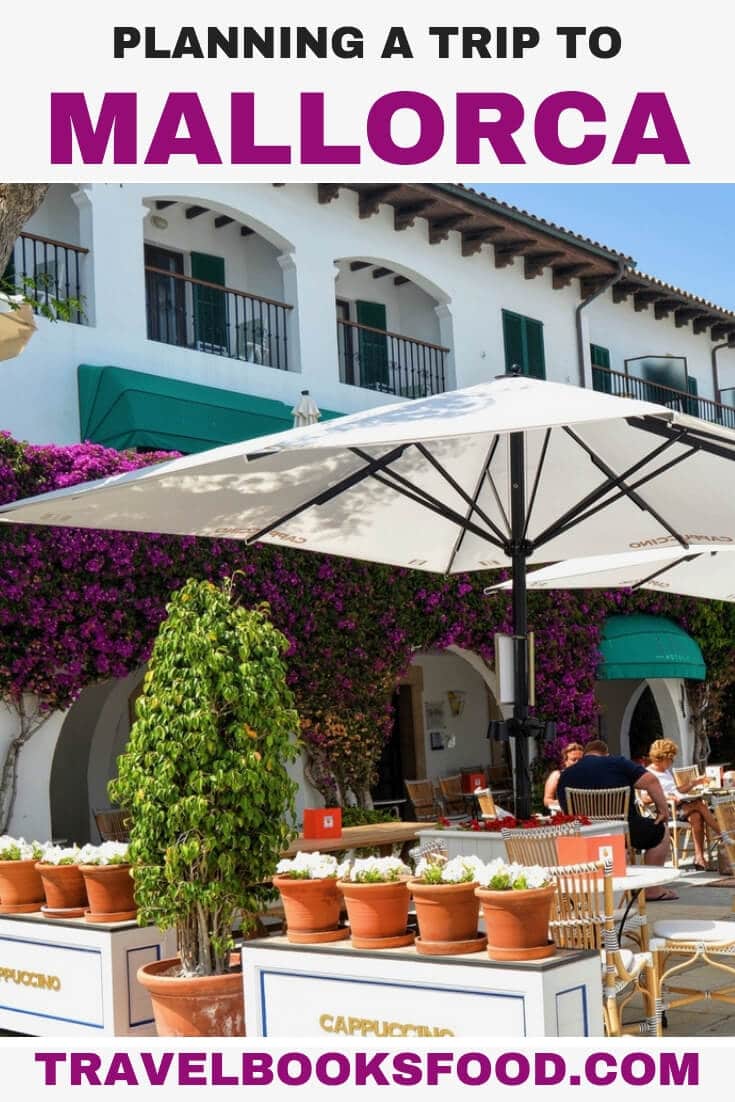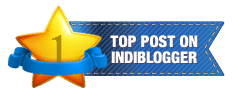 You may also like:
Find my recommendations for guide books on Spain.
Guidebooks for Spain
Traveling to Spain and need more guidance on which books to read? These are our recommendations for you to read before you go.
Recommended: Vegetarian in Spain
BOOKING RESOURCES
Looking to book your trip now? Find some of my favorite resources I use while booking my trip. You can also find my travel gear here.
Book Your Flight
I am a Skyscanner fan when it comes to booking international flights. I use Makemytrip and Yatra for domestic flights.
Book Accommodation
Booking is my go to resource for booking hotel accommodation and I use Airbnb for booking my homestays. I also compare prices on Tripadvisor always. Another one I always use is Expedia.
Travel Insurance
As an Indian, I prefer ICICILombard and I am always insured when I am traveling outside India. In addition, I have used World Nomads and SafetyWing for some of my trips.
Book Tours
I do go on a lot of day tours especially when I am traveling solo. Depending on convenience, my choices are Viator or Getyourguide.