I was supposed to go to Jerusalem directly like everyone else attending TBEX Jerusalem. Land in Tel Aviv and then directly head out to Jerusalem by public transportation. But then it was my first time in Tel Aviv and I really wanted to explore the city. But as I was checking for options on what to see in Tel Aviv, I was really not sure on what to do.
I was on my own and I was a little apprehensive of roaming around because of the notoriety surrounding Israel. Even though I found this notoriety to be completely hyped by the media after I visited Israel, it was something that I was not aware of, initially. As I was looking for options online, I came across a free walking tour of Tel Aviv. It definitely sounded interesting since I had done similar walking tours in other countries and I had loved them.
Tel Aviv is a modern city and it has been in existence for only less than 150 years. Prior to 1886, Jaffa or Yafo was the port city and Tel Aviv was a suburb of Jaffa. And I guess that is why the city is more commonly known as Tel Aviv-Yafo and is considered to be the financial hub of Israel. I was not aware of this before I went. But it was so much fun walking around the old city of Jaffa and parts of modern Tel Aviv.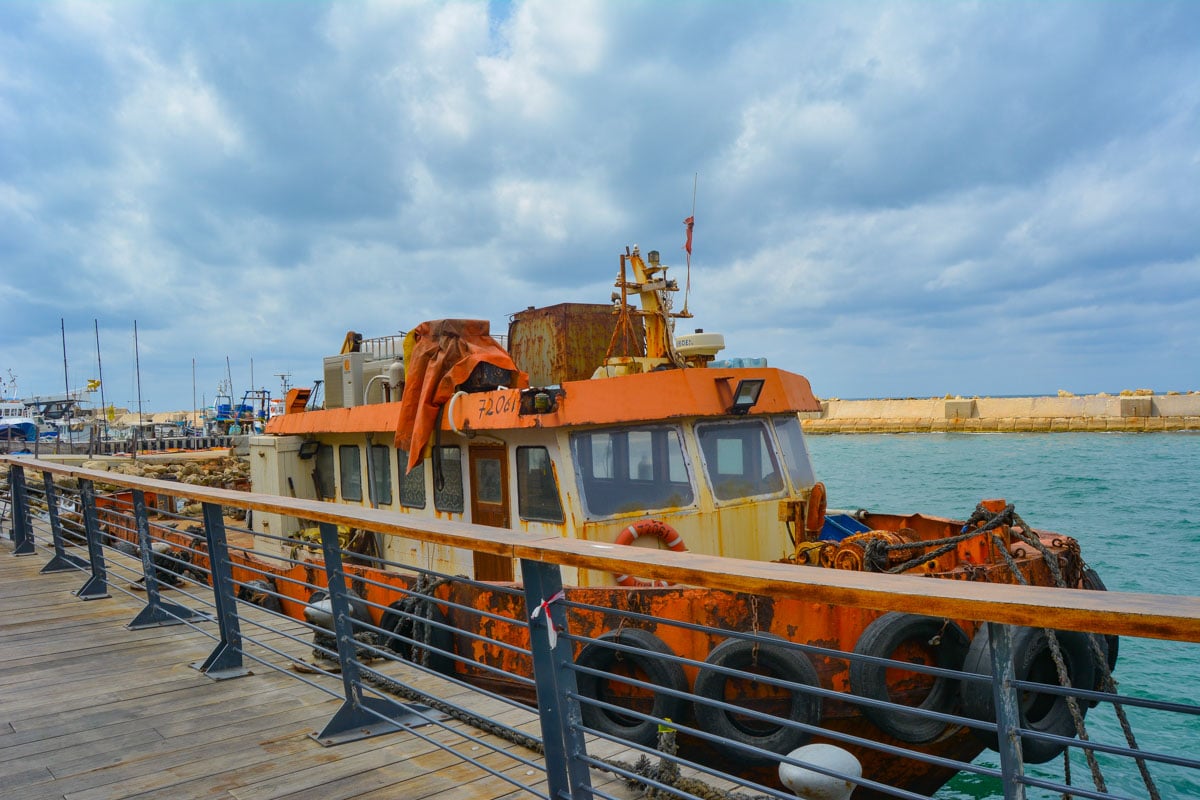 Public Transportation from Ben Gurion airport to Tel Aviv City Center:
I had done extensive research on how to get to Tel Aviv city centre from the airport. There are many ways you can get to Tel Aviv. I landed at 4:00 AM on a Sunday morning and I had to make sure that there were enough options available for me to get safely to my hostel. Most times when I am in a new city, I tend to hail a cab from the airport.
But many people had advised me against it since Israeli drivers are notorious for charging their naïve customers extra. Another option is to take a Sherut from the airport to where you want to go. However, I was quite unlucky when I tried to book it online. Even though I found many Sherut options to take me to Jerusalem directly, I did not find any online to go to Tel Aviv city center.
That is why I finally decided to take a train to the city center. I exchanged currency at the airport and then I went looking for the subway. It was a little confusing to find the right exit. Just remember to take a left once you exit customs and take the furthest exit and then go to the basement level.
There were many ticket vending machines but I wasn't able to understand anything. I knew I had to take 2 trains and thankfully there was a ticket agent by 5:00 AM. Did not have a SIM yet but both the airport and the train stations were well connected by Wifi.
I had to take a train to Tel Aviv HaHagana station and then take a bus to Allenby to reach my hostel. It takes around 15 minutes to Hahagana and I reached quite quickly. This cost me around $4. I was too lazy to take a bus and then walk the last 5 minutes at 5:30 AM in the morning and I decided to hail a cab from there. This was a mistake since the cabbie overcharged me for a distance less than 2kms and charged me around 70 Shekels. So always be careful when you hail a cab in Tel Aviv.
Where to Stay in Tel Aviv:
If you are looking for accommodation in Tel Aviv, then there are many options. I chose Abraham hostels, Tel Aviv since I was really there only for a few hours and I did not want to spend a bomb for catching a couple of hours of sleep and to take a shower.
I had already informed them that I wanted an early morning check-in. They had told me that I could use their free community showers and use their luggage room if I didn't want to book a room for few hours. They were really friendly. Since this was a last-minute plan, they didn't have a female only dorm and I ended up booking a dorm bed in a 6-bed mixed dorm room.
I was really hungry. So, I first went and had my breakfast. I really loved their dining area and common room. It was so lively and vibrant. They had a good selection of cold breakfast items and I ate to my heart's fill. Please note that everything is self-service here. So, please don't forget to wash your plates once you are done.
I slept for a couple of hours and then freshened up to go on my free Tel Aviv walking tour. I had inquired at the information desk in advance and they had told me that the tour stopped at Abraham hostel at around 10 Am to pick people up.
My recommendation for best walking tour in Tel Aviv
If you are travelling to Tel Aviv and are looking for a walking tour, then this is the one I would recommend. It is not a free one but definitely recommended.
My Pick
Tel Aviv and Jaffa walking tour
Explore the best of Tel Aviv with a walking tour along Jaffa neighbourhood.
Free walking tour of Tel Aviv, Israel:
Unfortunately, by the time I got downstairs, it was already past 10:10 Am and they had already left. The lady at the receptionist told me that the Tel Aviv free walking tour started at the Jaffa clock tower at 11 AM and I could catch them there. I finished my check out, left my luggage in the luggage room and headed out.
Reaching Jaffa Clock tower to start your Tel Aviv Free Walking Tour:
It was fairly a straightforward route to reach Jaffa Clock Tower from the hostel. I had to take a bus from the nearby Levontein bus station and head to Marzuk and Azar Street which was around 7 stops from there. I got down and it was walking distance to the clock tower.
As usual, I couldn't find the clock tower initially and that is when I spotted the tourist information centre. They told me that it was right around the corner and I could find the tours there. There were two tours that day and I ended up going with a really friendly guide who had spent her entire life in Tel Aviv.
Sandemans Free Walking Tour Jaffa:
I am so bad with names but my guide was a vivacious one and she had all her facts about Jaffa and Tel Aviv on her fingertips. It was so much fun walking around the alleyways of Old Jaffa and Tel Aviv promenade. I did not know that Jaffa port had so much history and I still remember her vivid story of the Siege of Jaffa by Napolean.
I also heard the story of Simon the Tanner from her and it was such an interesting anecdote of history as she took us past it. There were so many tidbits about Jaffa and Tel Aviv's history that a history buff like me was really pleased. I was fascinated by the 'Hanging Orange tree' and the artisan quarters. The free walking tour of Jaffa lasted for more than 2 hours and I was really glad by the end of it.
Are Free walking tours in Tel Aviv really free?
All tour guides in these cases actually work on a tip basis. That means that they earn a livelihood from your tips. It is totally up to your discretion whether you want to pay them or how much you want to pay them. But I have seen that most people pay between $5- $15 per person for a walking tour. I loved my Tel Aviv walking tour guide so much and I will always recommend you to take free walking tours around the world since no one knows a city like a local.
Tel Aviv Promenade After Finishing a Tel Aviv Walking Tours
On the way back, I walked along the promenade and I wished the temperature was right for me to take a dip in one of the Tel Aviv beaches. But I had no such luck since it was close to 10-12 Degree Centigrade when I visited.
One of my travel blogger friends had promised to show me around rest of Tel Aviv for an hour before I was scheduled to leave for Jerusalem. As soon as my walking tour ended, she picked me up at one of the beaches and we were soon on our way to Neve Tzedek. Neve Tzedek is a gorgeous area and I wish I had more time to spend here. I will be definitely going back to this part of town when I am back in Tel Aviv.
What to eat as a vegetarian in Tel Aviv:
There is definitely another post coming for what to eat as a vegetarian in Israel. But I loved the vast array of vegetarian options I had in Israel and I must say that Tel Aviv did not disappoint in that aspect.
How to get from Tel Aviv to Jerusalem?
Most people ask me how far is Tel Aviv from Jerusalem and I tell them that it takes around 40-55 minutes depending on the mode of transportation. One of the cheapest ways is to book a Sherut for around 80 Shekels. Alternatively, you can take the public transportation or even take a cab for 200 Shekels from Tel Aviv to Jerusalem. There are many Jerusalem tours from Tel Aviv and that is another option to consider.
But I chose the easiest option. If you are a guest of one of the Abraham Hostels or not, you have an option of taking a shuttle between their hostels. This cost you only about 25 Shekels and runs on a daily basis between Tel Aviv and Jerusalem. It goes from Tel Aviv to Jerusalem at 3:30 PM every day. The same shuttle is available to their Nazareth hostel as well. Abraham Tours definitely know how to make their guests happy. There are also many day trips you can do from Tel Aviv.
Takeaway:
I hope you enjoyed all my Tel Aviv pictures. I definitely want to go back one day to add to more of my Tel Aviv itinerary. Till then I will keep daydreaming about the time I spent in Tel Aviv.
For more tips for Israel, you can check my – Planning a trip to Israel post

Find my recommendations for guide books on Israel.
Guidebooks for Israel
Traveling to Israel and need more guidance on which books to read? These are our recommendations for you to read before you go.
Recommended: Israeli Visa for Indians
BOOKING RESOURCES
Looking to book your trip now? Find some of my favorite resources I use while booking my trip. You can also find my travel gear here.
Book Your Flight
I am a Skyscanner fan when it comes to booking international flights. I use Makemytrip and Yatra for domestic flights.
Book Accommodation
Booking is my go to resource for booking hotel accommodation and I use Airbnb for booking my homestays. I also compare prices on Tripadvisor always. Another one I always use is Expedia.
Travel Insurance
As an Indian, I prefer ICICILombard and I am always insured when I am traveling outside India. In addition, I have used World Nomads and SafetyWing for some of my trips.
Book Tours
I do go on a lot of day tours especially when I am traveling solo. Depending on convenience, my choices are Viator or Getyourguide.