I think I have lost count of the number of times I have been to Mumbai. As kids, it was inevitable that we would travel to Africa via Mumbai at least once a year. I have had many fun experiences travelling through Mumbai. In February, I was in Mumbai for some work-related/ client meetings. Surprisingly, it was also the first time I was in Mumbai on my own. Since I had to anyway travel to Mumbai for another meeting,
I decided to travel to Mumbai during the OTM. OTM is one of the biggest travel trade shows in the country and this time they were giving us bloggers an opportunity to have a face to face meeting with potential clients like tourism boards, hotels, DMO's etc. I didn't hesitate since I knew this would be helpful during my trip to Israel. I was able to explore for half a day in Mumbai.
My day started with a breakfast meeting at the Sahara star. Even though the meeting was a disaster, I loved the ambience of the restaurant. I would love to stay here one day. If you are looking at booking good hotels in Mumbai, then Sahara Star looks like a good choice.
OTM, Mumbai
Soon it was time for me to head out to OTM. As a blogger, I did end up having quite a number of meaningful discussions with prospective clients. I also ended up interacting with many bloggers, many of whom I had only known or spoken to online till then. A special mention to Rishabh and Nirali of Gypsy Couple for helping arrange this event for us bloggers.
By the time the networking session and lunch was done, it was around 2:30 PM. My flight was only around 8:30 PM and I did not want to spend the rest of the day in the airport. That is when I decided to explore the city. It had been years since I had explored Mumbai and it was the first time I was doing it on my own. The last time I had this much time in Mumbai, I ended up spending the whole time shopping in places like Ville Parle. Mumbai is heaven for people who are into retail therapy.
Recommended Read – Are travel conferences advantageous for Travel Bloggers?
Half A Day in Mumbai
My initial plan was to take a cab to the 'Gateway of India'. But when I checked out the distance on Google, it was showing that it would take me more than an hour to get there by cab. I did not want to risk it and decided to check Tripadvisor for things to do around me.
It gave me many options to do on a Wednesday afternoon. I did not want to go spend the rest of the day roaming around Juhu. That is when I saw that another option for me was the Bandra- Worli sea link. Last time I was in Mumbai, I had only seen this from a distance and I thought it would be a good idea to photograph this bridge.
But it turned out to be a bad idea. I asked my cab driver to take me to a place from where I could take a good picture. But he turned out to be as clueless as me. You are not allowed to stop anywhere on the bridge and in the end, he ended up dropping me on the other side of the bridge. I couldn't find any good spots to photograph from and the fact that it was midday during Summer didn't help my cause.
Atrium Lounge, Taj Lands End, Mumbai
Soon I was tired from the heat and just wanted to sit down somewhere and have a cup of coffee. Interestingly when I searched again, I realised that an option would be to have High Tea at the Atrium Lounge at Taj Lands End in Bandra. It was not very far from where I was and it seemed like a perfect opportunity to get out of the sun.
It was definitely a good decision and I spent the next couple of hours sitting by the window with a gorgeous view of the sea having delicious bites of freshly made mini treats like sandwiches, scones and many more desserts. I was glad that the service was slow which meant that I could leisurely while away the afternoon.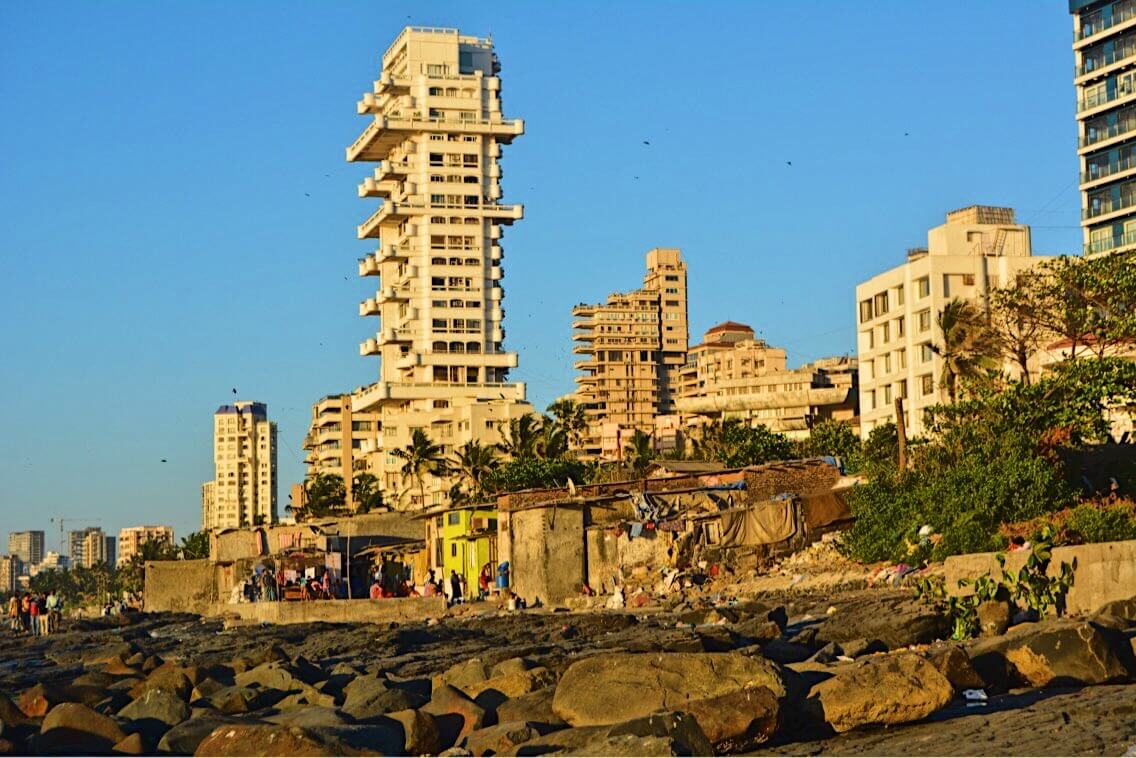 While I was at Taj Lands End, I had a funny experience as well. When I was sitting there waiting for the food to come, Rajkumar Hirani and Vidhu Vinod Chopra, the famous director-producer duo walked in and sat at the table just opposite to me. At the same time, they brought the first set of mini bites. So, what do I do? I immediately take out my DSLR and start clicking pictures of the food. I think after seeing my camera, they thought I was some kind of Paparazzi and decided to move quite far away from me. Little did they know, that in the eyes of this blogger, the food in front of me was the celebrity.
The lounge is the perfect place to sit and take in the grandeur of the hotel.
Soon it was time to leave. I had to change since I did not want to stink on the flight back to Bangalore. I spent some more time photographing the sunset from the Bandra shore and then caught a cab back to the airport. So this is what I did during half a day in Mumbai. Overall, it was a nice day and I had a nice time in spite of the Mumbai heat.
P.S: I am still searching for my SD card which had pictures from this trip. I had hidden it somewhere when my nephew was visiting and I can't figure out where I kept it. Oath taken: I will back up photos as soon as I take them.
Find my recommendations on guidebooks for India.
Guidebooks for India
Traveling to India and need more guidance on which books to read? These are our recommendations for you to read before you go.
Recommended: Stay in a houseboat in Kerala, india
BOOKING RESOURCES
Looking to book your trip now? Find some of my favorite resources I use while booking my trip. You can also find my travel gear here.
Book Your Flight
I am a Skyscanner fan when it comes to booking international flights. I use Makemytrip and Yatra for domestic flights.
Book Accommodation
Booking is my go to resource for booking hotel accommodation and I use Airbnb for booking my homestays. I also compare prices on Tripadvisor always. Another one I always use is Expedia.
Travel Insurance
As an Indian, I prefer ICICILombard and I am always insured when I am traveling outside India. In addition, I have used World Nomads and SafetyWing for some of my trips.
Book Tours
I do go on a lot of day tours especially when I am traveling solo. Depending on convenience, my choices are Viator or Getyourguide.