What can I write about New York that has not been written already? New York, I just fell in love with the city. I guess that is the charm of the NYC. I did most of the exploring on my own but I never felt alone in such a big city. It kind of grew on me and that freedom to do what I wanted will always be something that I cherish. They say you lose a part of yourself when you travel to a new place and gain a piece of that place's soul.
Hence starting off the US series with one from the city I loved best to explore. I ended up spending 3 days in NYC last time I visited. Hope you find this 3 day New York itinerary useful. I would love to spend at least 5 days in NYC next time.
3 day New York Itinerary
I landed on an early Sunday morning from Chicago at the NewArk airport. I had prebooked a shared arrival cab from the airport to my hotel. But when I checked at the airport, they refused to take my already booked transfer. Reason being that I had taken a printing of the email confirmation but not of the actual booking which had the barcode. Oh, New York was not going as planned and I had to rebook (20$ down the drain).
Finally, after some delay, I was on my way to the hotel.
Where to stay in New York city during your 3 day itinerary in New York
I stayed in Hotel 31 on Lexington Avenue and 31st street. I love the street names in Manhattan, New York. As long as you know which avenue and which street, you can go anywhere. Manhattan is basically the heart of the Big Apple.
Empire State Building was around 5 minutes walking distance from my hotel in one direction and Grand Central Terminal was another 5 minutes walking distance in another direction. Hotel31 is a decent hotel but don't expect anything lavish. It is around 115$ per night for a single room with a shared bathroom. Room was quite small with a queen-sized bed. Even though the bathroom was shared, it was clean and always free early in the morning. This was quite fine with me since I went there only to sleep and shower.

Picture Courtesy: Pixabay[/caption]
Grand Central Terminal, New York
Even though I had an early morning flight, I was in no mood to rest. I decided to start exploring right away. When I enquired at the front desk, they told me that I could get tour buses from the Empire State Building. So I decided to walk that way. Chrysler building somehow caught my eye while walking and I decided to walk that way. That is when I saw the entrance to the Grand Central terminal. I was definitely excited. I guess that is the aftereffect of watching too many Hollywood movies.
Grand Central Terminal can be seen from a distance, and you can see the three sculptures of Hercules, Minerva and Mercury surrounding the clock. Once inside, you are just awestruck at the grandeur of the place. You can just sit there for hours staring at the different kinds of people from all over the World. In addition to this, the astronomical ceiling, the huge glass windows, the four-faced clock, Oyster bar all add to the mystique of the station.
Empire State Building, New York
So after crossing one item of my checklist, I was onto the next closest one after seeing the Chrysler building from outside. The first thing I did once I got to the Empire State Building was to purchase my Grayline tickets. Don't. The stupidest mistake I did. Reasons will be apparent soon enough. I took a package for about 150$, which had entry to five attractions, a hop on hop off bus ticket for 3 days and a hop on hop off ferry ticket.
Next, I went up to the observatory on Empire State building. It was not my first visit to the Empire State Building but still, it is as awe-inspiring as ever. It is a bit of a wait even with the tickets. So get ready to deal with the waiting.
Hop on – Hop off bus tour in New York
Once that was done, I took the first hop on hop off tour bus. Basically, these tour buses cover Manhattan in 2 loops, one the downtown and the uptown loop. Since the Empire State is on the downtown loop, I took a bus from there. Soon we were passing through Greenwich Village (yes this is where the 'FRIENDS' lived). I got down at Soho to do window shopping.
On the way, we even saw the uniquely shaped Flatiron building. Flatiron building is a beautiful and unique structure.
Once I was finished with Soho, I took the next bus to Battery Park. From Battery Park, I walked down back towards the famous Charging Bull. There was a long queue to take a photo in front of the bull. So I just went and rubbed the horns for good luck. From there I walked towards the New York Stock exchange. Being a Sunday, it was filled with tourists. Nevertheless, it was fun just walking around the Financial District.
One World Trade Center, New York during 3 day itinerary in NYC
From there I walked towards the Freedom Tower (One World Trade Center) and the 9/11 memorial. It was almost closing time and they were letting the last set of people into the museum and Tribute centre. Somehow after just standing at the Memorial for 5-10 minutes, I was overwhelmed with all those names and could not bring myself to go up to the observatory. Point to note is that only the tribute centre tickets are part of the Grayline tickets. You have to purchase separate tickets if you want to go up to the observatory.
Brooklyn Bridge, New York
Again on foot, I set out to my next destination on my list, the Brooklyn Bridge. Trinity church was closed for renovation. Brooklyn Bridge was filled with both pedestrians and cyclists and it was quite cramped throughout the walk along the pedestrian walkway. It was an interesting experience and it took me about an hour to complete the whole distance back and forth between Manhattan and Brooklyn.
Horrible experience with Hop-on Hop-off bus tour in New York
By this time, I was dead tired and I was back to the pickup point to catch a bus to Times Square. I had to meet a friend there for dinner. I must have stood there for eternity along with countless others waiting for a bus. Most of the Grayline buses were either full or not stopping at the pickup point. Finally, one bus stopped. But due to overcrowding, many of us ended up standing on the lower deck of the bus.
This bus was also not in good condition. When we were halfway there, the bus broke down right in front of the United Nations. The irritable thing about the whole episode was that both the driver as well as the guide had the audacity to ask all of us for a tip. They said another bus was on the way. But even after waiting there for 30 minutes, none came. It was already past 7 by then. I called up my friend and asked him to come meet me for dinner somewhere near my hotel. I ended up taking a cab back to my hotel.
Statue of Liberty, New York during your 3 day New York city itinerary
Next day I was up bright and early. I took a bus towards the Hop on hop off ferry pickup point. Halfway through the ride there, the bus driver asked us all to disembark and take another bus. Apparently, this was the last point for their tour. Again after endless waiting, another bus stopped. Finally, we got off and we were asked to wait for another eternity for the ferry to come.
Once the ferry came, we were soon on our way to see the Statue of Liberty. Again to note, that this ferry does not stop at Liberty Island. It just takes us around the statue and over the Hudson River. I decided to skip going to the island since I had already been there once before.
Statue of Liberty is definitely a sight to see. Towering above everything else, Statue of Liberty is such a welcome sight for anyone even if they are in a bad mood. Also the view of the New York Skyline from out there is absolutely fascinating. Soon the ferry dropped us at a Pier (Cannot remember the name). Again no buses were available from this Pier and we had to walk around 1.2 miles towards Times Square in the hot sun.
New York Subway System
Since I had to come back to Times Square in the evening, I decided to take the subway train. I was already fed up with the Grayline transportation system. I got a combo of 6 trips for around 15$ and I was soon on my way. I had to take two trains to the Museum mile. I did get a little lost in the station since I did not know that there was another platform right ahead towards my next location.
Museum Mile, New York
From the Subway station, Museum mile takes about 10 minutes. But the upscale area was definitely a delight to walk. You pass such gorgeous apartments and cute little shops. Soon I was in front of the Metropolitan Museum of Art. It is an intimidating structure both from outside and within.
First thing I did was to go grab some lunch after I redeemed my ticket. There are many food cart vendors outside. But since I could not find anything vegetarian other than Pretzels, I decided to buy it from inside. Word of caution, food is expensive when you buy it from inside.
Metropolitan Museum of Art
Metropolitan Museum of Art is a huge place and it is impossible to see all the collections on a single day. So I decided to choose the ones I wanted to see. So I chose the Egyptian, Chinese and parts of Greek-Roman collections. There was a special exhibition of Van Gogh's Iris on that day as well. Met is the coolest museum I have been to. Temple of Dendur is an entire Egyptian temple reconstructed inside the museum. How cool is that? I loved every nook and corner of the parts of that museum I visited. It had a fusion of both the ancient as well as the modern. You are left in awe at every turn. Definitely going there again.
Central Park, New York – Three Day New York Itinerary
Both sides of the museum are flanked by Central Park. Did you know that Central Park is one of the most filmed locations in the World? How can it not be? I went back again the next day to explore Central Park. The only place in New York that I visited twice. It is huge and a few hours will never do justice to this place. Walking between the various places is not feasible and I ended up taking a local bus or a cab. The first day I went to the reservoir, the Great Lawn and areas surrounding the pond. Just outside Central Park, the famous Plaza hotel (remember Home Alone: 2?) is located.
Times Square, New York
Once I was done with Central Park, I waited for a bus to Times Square. This was the last time I used a Grayline Bus. They have horrible buses, are always late or either too full. I think most of the tour operators in New York are the same during peak tourist seasons. Again Times Square was the bus's last destination but they stopped somewhere close to 38th street and not the 42nd street.
Top of the Rock, New York during an NYC 3 day itinerary
Rockefeller Plaza and the observatory was next on the list. Soon I was there and I went to redeem my tickets for the Observatory. Top of the Rock has one of the best views of the city in my opinion. It is much more centrally located and you get a 360 view of the New York skyline. Additionally, the sun was just starting to set and it was a beautiful sight.
Phantom of the Opera, Broadway Musical
I did not want to be late for the next item on my itinerary. This was the first thing I booked after I booked my flight tickets to the US. My entire New York and US itinerary finally ended up revolving around this. I was there around 7:25 PM and the show was supposed to start at 8 PM. Yes, I am talking about my first Broadway musical experience. Phantom of the Opera was the one I booked. I am definitely dedicating one blog post on this. All I can say was that it was much more than what I expected and I sat there for more than 2 hours enthralled and glued to my spot.
Times Square was alive by the time the show got over and another friend joined me. Both of us just stood there having our Ben & Jerry's ice cream and our sandwiches, watching, as crowds just walked past by. Time never comes to a standstill here and it was just fascinating to see this in motion.
Queens, New York during a New York 3 day itinerary
Queens was the first agenda on my schedule the next day. It takes around 50 minutes by Subway. So by the time I got there, I did not have time for anything else other than breakfast. Soon I was on the train back to Central Park. Bethesda Terrace, the boat club, the Harlem Meer, Hans Christian Andersen & Alice in Wonderland statues, the Conservatory Gardens were some of the places I visited on that day. Near Central Model Yacht club, they were filming an episode of Elementary that day .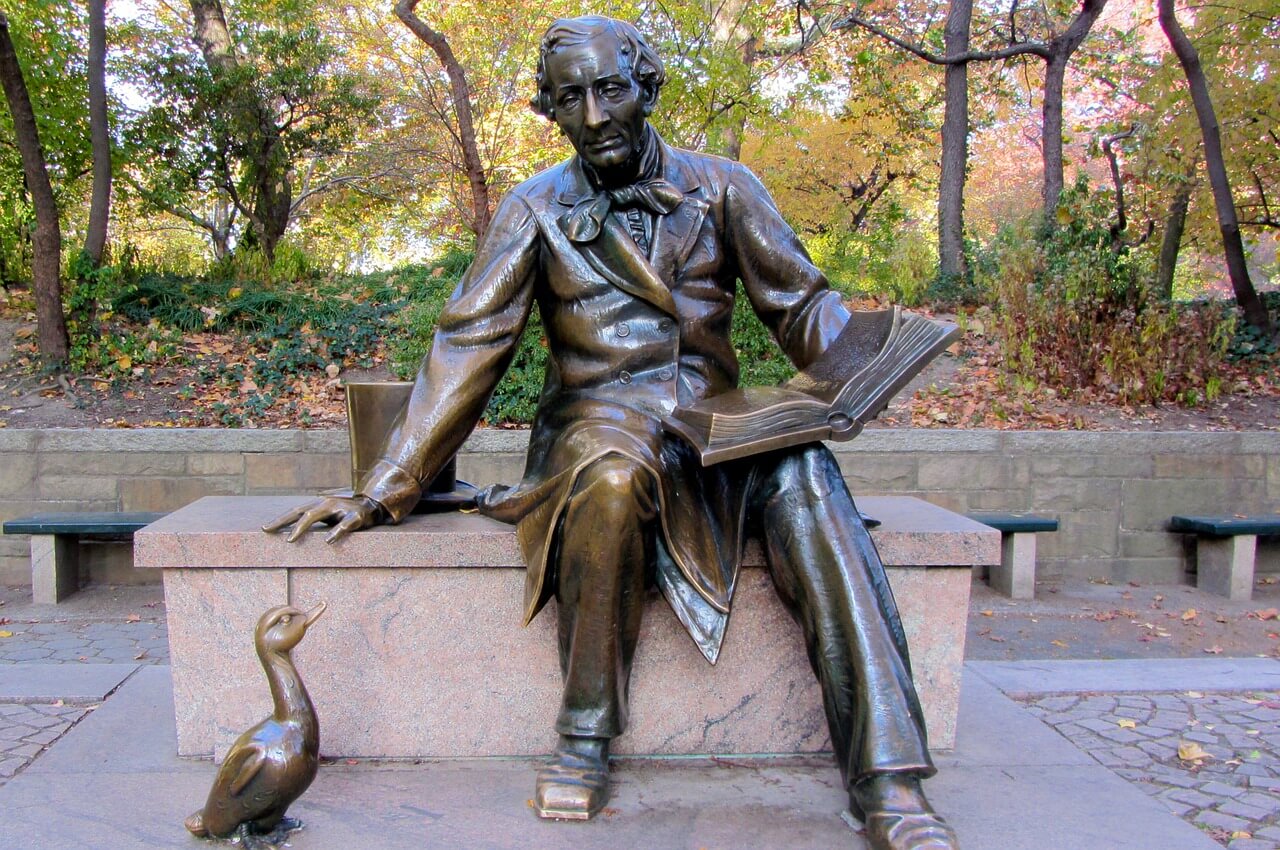 Frick Museum
Just outside the Central Park is Frick Museum. Frick Collection is a lovely house turned Museum and it has a fantabulous selection of paintings and sculptures. A must visit for all art lovers.
I went back to Times Square from here to do a bit of shopping for souvenirs and gifts from Disney toy store. Toys r us is a straight rip off. It was raining slightly that day but still it was a glorious day. Soon it was time for me to get back to the hotel since I had an evening flight from JFK. I got to the JFK only to know that my flight was delayed. Exploring the vast JFK airport was my last memory of New York. Even got a foot spa in the airport.
Conclusion
New York is wonderful, mysterious, unique and so many things that cannot be described in words. But I will never forget the three days I spent there during my third visit. I know I missed few places like the High Line, New York Public Library, MOMA etc. and I would definitely want to go back there to see them. Next time, I hope I get to spend at least 7 days in New York and that would be the best New York itinerary in my opinion. There are so many things to do in NYC. I hope you loved this suggested itinerary for New York
Tips for 3 days in NYC itinerary
I went in Summer. Summer in New York is extremely hot and I am used to Bangalore weather. The first day I wore jeans and almost suffocated from the heat. Next day onwards I shifted to shorts and dresses. Wear comfortable clothing.
Else the heat is too hot to bear.
You have to walk a lot in New York. Sandals are the best fit for the weather and the distance.
Buy a New York City Express pass. It allows you to bypass the queues and it comes cheaper in the bargain if you buy it in advance.
Don't go on the hop on hop off tour buses. You can do it for maybe one day or one ride just to see the city. Otherwise, it is a rip-off and a waste of your money and time. Also, many newer attractions are not on their list.
Do go see a Broadway musical. I hardly saw any Indians there and I was really upset about this fact. You do not know what you are missing. I went for the Phantom of the Opera. Since it is the longest-running one (running for 25 years), it does not come cheap. The most popular one Lion King is around 185$. But you do get cheaper options.
If you do go for a musical, make sure that you are dressed right. Most people come in fancy evening wear and you may feel left out if you go wearing tourist shorts. Luckily I had worn a dress that day.
They do not serve food in the Majestic Theatre. Only candy and drinks are served here. Hence make sure that you eat something before you go unlike me. Also, be on time for such activities. Do not keep others waiting. No Photographs are allowed during the show.
Make sure that you take the printout of the barcode for every printout you are supposed to take.
Choose a hotel or hostel that is centrally located in Manhattan. Transportation will be a problem otherwise.
Figure out the Subway system. They are the cheapest and easiest mode of transportation in New York. Use Rome2Rio to get to know how to go from Point A to point B. However, the New York Subway is one of the dirtiest subways I have been on.
I do not know what I would have done without Google Maps. A must-have for every traveller to the city.
There are Air Trains available from all airports to the city. Use them if you are unable to afford the shared cab system.
New York is a good place for all party lovers. The party we went to was amazing.
If you can, explore it on your own like me. New York is limitless and you would definitely love it.
Never ever forget to tip. Tipping is a crucial part of the New York experience. You have to tip if you ever take a cab ride, a bus ride or even eat at a restaurant. The minimum is 15%.
Most hotels/hostels have lockers. Since most of the times you cannot do a late checkout, you can just leave the luggage at these lockers and then get them later when you are leaving.
Take some time to do people-watching in Times Square.
Read my other USA posts:
Liked it, then pin it.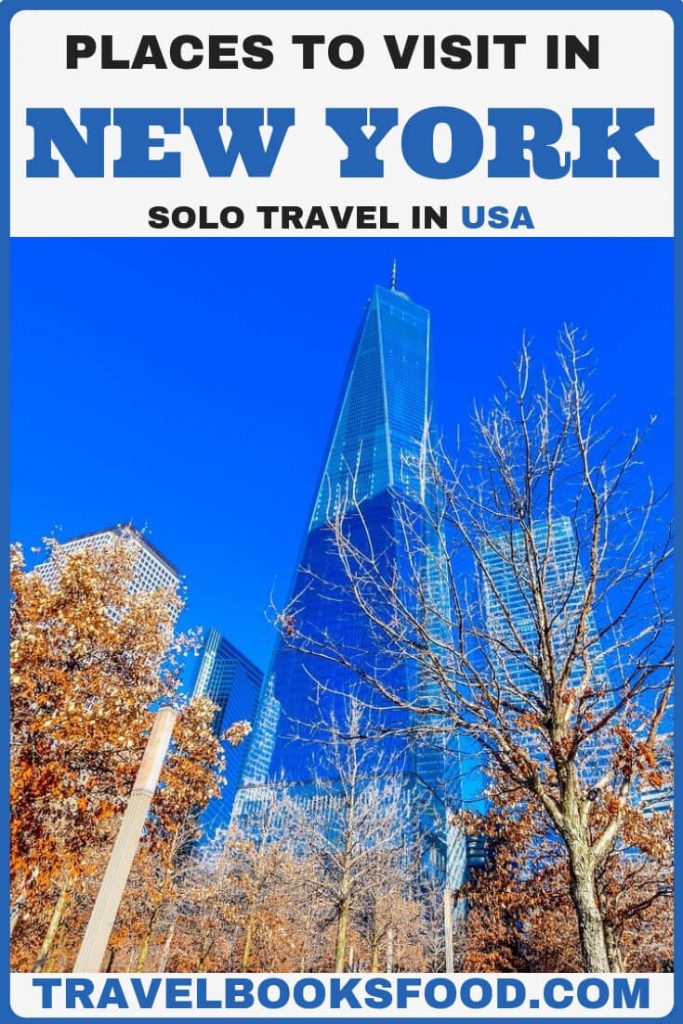 Find my recommendations for guide books on USA.
Guidebooks for USA
Traveling to USA and need more guidance on which books to read? These are our recommendations for you to read before you go.
BOOKING RESOURCES
Looking to book your trip now? Find some of my favorite resources I use while booking my trip. You can also find my travel gear here.
Book Your Flight
I am a Skyscanner fan when it comes to booking international flights. I use Makemytrip and Yatra for domestic flights.
Book Accommodation
Booking is my go to resource for booking hotel accommodation and I use Airbnb for booking my homestays. I also compare prices on Tripadvisor always. Another one I always use is Expedia.
Travel Insurance
As an Indian, I prefer ICICILombard and I am always insured when I am traveling outside India. In addition, I have used World Nomads and SafetyWing for some of my trips.
Book Tours
I do go on a lot of day tours especially when I am traveling solo. Depending on convenience, my choices are Viator or Getyourguide.