A few weeks ago, my sister called out to find if we were interested in doing a trip to Ooty in May. Her in-laws were visiting and she thought it would be a good idea to visit Ooty. Since I was the only one who had been to Ooty years ago, everyone thought it would be a good idea to escape out of the crowded Bangalore city for a change. So, in this post, I list out some of the places to visit in Ooty if you are there for the weekend. Also, to give a brief summary of how the entire trip went.
Why is Ooty a popular tourist destination?
Udagamandalam or Oootacamund or Ooty as it is popularly known is a hill station in the Nilgiri hills. Because of its perfect weather, it is a quite popular hill station in South India. Since Summer in the surrounding areas can reach up to 45 degrees centigrade, Ooty is frequented by many from surrounding areas, especially during the Summer months. Coimbatore is around 90kms while Mysore is around 120kms and it is around 270Kms from Bangalore.
Bangalore to Ooty by car:
We decided to drive down to Ooty from Bangalore. You can take multiple routes to reach Ooty from Bangalore. Three of the most common routes are:
Bangalore -> Salem -> Avinashi -> Mettupalayam -> Coonoor -> Ooty
This is the only option available if you are planning to drive in the night. The roads through Mudumalai and Bandipur reserves are closed at night and hence this is the only option if you are planning to drive after 6:00 PM. The total distance is around 420Kms and it can take up to 8 hours to reach. The roads are excellent but this is not a recommended route since you have to drive another 140kms in addition to the other routes.
Bangalore -> Kanakapura (Via NH 209) -> Mysore -> Gundalpet -> Bandipur -> Mudumalai -> Ooty
If you want to avoid rush hour traffic between Bangalore and Mysore, then this is the route to take. However, please note that some parts of the road are in pretty bad shape. The distance is around 280kms and it takes around 6.5 – 7 hours.
Bangalore -> Mandya (Via Nh 275) -> Mysore -> Gundalpet -> Bandipur -> Mudumalai -> Ooty
This is the route we took. The roads are pretty good most of the way. Even though you may get rush hour traffic between Bangalore and Mysore, the roads are good. There was some construction work going on near Gundalpet. Else, the roads are quite good and you can cover the distance of 275kms in around 6.25 – 6.5 hours. We took around 6.5 hours on a Friday morning and we even stopped for breakfast on the way.
Since it was the end of the summer vacation for schools in Bangalore, the roads were pretty crowded even on a weekday morning. This should have been the first warning for us that it would be quite crowded even in Ooty.
Our drive experience from Bangalore to Ooty by car:
There were 11 of us in 3 cars. We had taken our Merc and duster and in addition, my sister's brother in law had hired a Zoom car (Hyundai Creta) as well. The only issue was that the road was quite crowded till Mysore and we couldn't go as fast as we wanted.
Where to stay in Ooty:
There are a number of options available everything ranging from budget to super expensive hotels. But by the time we checked, it was already too late and all the best hotels in Ooty were already booked. So, we decided to look for homestays to stay in Ooty.
Homestay in Ooty/ Airbnb Ooty:
We found our homestay in Ooty through Airbnb Ooty and there are some excellent options to choose from. If you are going as a large group like us and prefer to stay in a house, then Airbnb is your best bet. Our homestay was around 12kms from Ooty city and it was just perfect.
It was away from the hustle and bustle of Ooty city and nestled among some pretty hills. The view from the place was incredible and it was so tranquil. If I had an option, then I would have stayed here the entire time I was in Ooty. This place is located at the 10th Hairpin bend. Did you know that to get to Ooty city, you have to cross 36 hairpin bends? It is an interesting drive.
Read More On AirBnB in India – AirBnB in Manali, India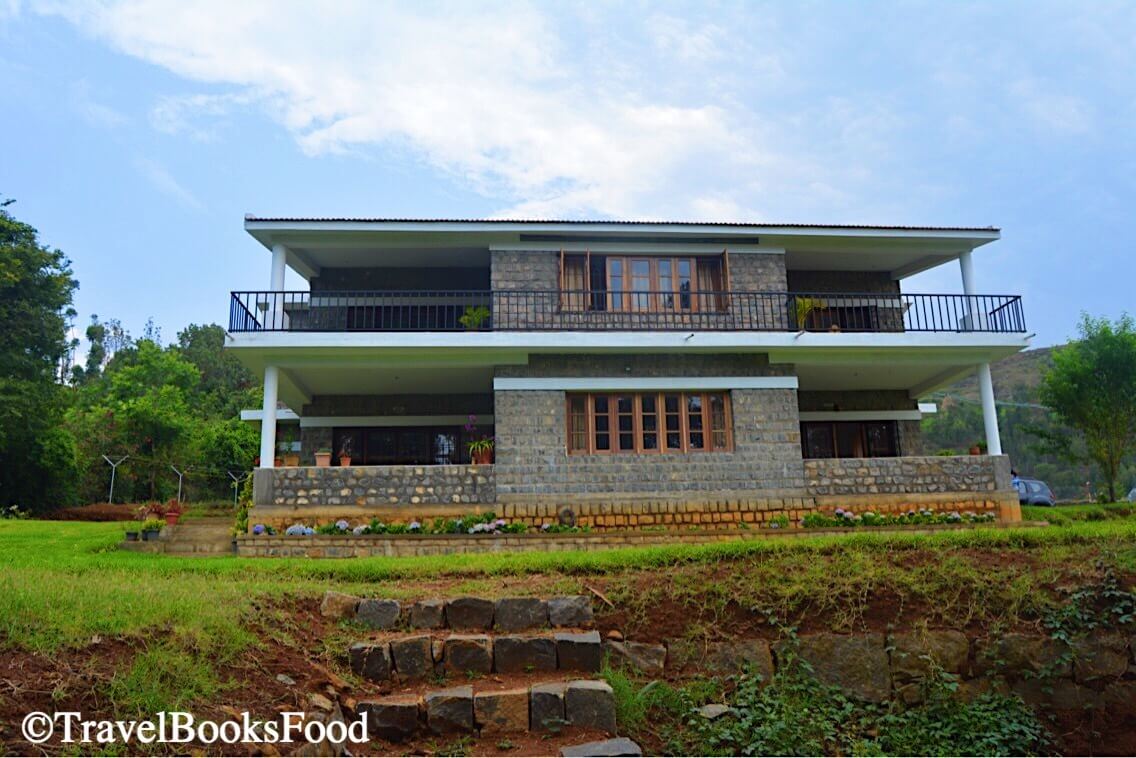 Permits for rented cars or cabs:
If you are driving a rented car, then you need a permit to drive in another state. Since one of the cars was a rented Zoomcar, we needed to get a permit to drive it in Tamil Nadu. When we enquired at the border (Mudumalai), they told us that we had to get it from Ooty.
So, in the afternoon after dropping the seniors at the homestay in Ooty, we decided to venture out to Ooty town to get the permit. But on the way, we realized that the roads had been diverted because the chief minister of the state was in town to inaugurate the flower show that weekend. So, a journey that should have ideally taken us half an hour took us more than 3 hours.
The permit office is located at Thalakonda and it takes less than 5 minutes to get the permit for rented cars and cabs.
Driving inside Ooty town:
There is no doubt about it that Ooty is a gorgeous hill station and it should have been an absolute pleasure to drive here. In spite of the narrow roads, it is a picturesque drive and on the way, you can see green valleys and many unique types of flowers.
But since it was Summer, the entire town was jam-packed and we spent a lot of time in traffic jams the entire time we were in Ooty. On the first day, we even ventured out to help few accident victims. You can read more about it in my first newsletter. On the second day, we were stuck in a 1.5-hour traffic jam on our way to lunch.
It is sad to see that Ooty has become so commercialized. I was here last during my college days and I remember it to be a better place back then. So, if you don't want to get stuck in traffic jams in Ooty, then I suggest you visit it during the off-peak season unlike us. Since it was the weekend the flower show was being held, it did not help our cause either.
Tourist Places to visit in Ooty:
Even though it is a small town, there are plenty of tourist places in Ooty. Listing down some of the places to go sightseeing in Ooty:
Ooty Botanical Garden and Rose Garden:
Two of the places to see in Ooty are the botanical garden and the Rose garden. Due to Ooty being a hill station, it is an ideal place suited for flowers. I saw so many unique flowers even outside the botanical garden. We decided to go scout the place on our first day in Ooty. However, since the flower show was going on, it was too crowded and we ended up not going inside this time.
If you are an early morning person, then my tip would be to go early in the morning since it is open from 7 AM – 7 PM. I went here last time I was in Ooty and it is definitely a place not to be missed. They charge around Rs 30 per adult and Rs 15 per child.
Doddabetta Peak:
Dodda in Kannada means Big and Betta means mountain. It is the highest mountain in Tamil Nadu and is considered to be one of the best places to visit in Ooty. I couldn't visit this place last time when I was in Ooty since I stayed back in the bus because I had a migraine that day.
Because it is one of the must-see places to visit in Ooty, it can get really crowded. Another tip that I can give you here is that to go here to view the sunrise. There will hardly be anyone around and it is a good view from up there.
This place is also quite popular with trekkers and you can do the trek from the bottom in less than 2 hours. Since we were traveling with seniors, we ended up driving all the way to the parking lot. Please note that if you are driving, you may have to wait a while before you get parking.
There is hardly any space for parking and it took us a long time for us to just park and go see the view. They charge you around Rs20 for parking for every car. Buses are also available all the way up to the top if you do not have your own vehicle. They charge around Rs 10 per adult, Rs 20 for a still camera and Rs 50 for a video camera.
By the time, we finished seeing the place, we were actually disappointed that it did not live up to our expectations.
Boating in Pykara Lake:
Pykara Lake is on the highway between Ooty and Mysore. It is a gorgeous lake as seen in the pictures. It is around 20 km from Ooty town and it takes you around 45 minutes because of the narrow roads. By the time, we got to the Pykara lake, it was too late and there was a long line waiting to go for boating. Again, parking was a problem and we had a tough time getting parking here.
They charge around Rs 175 per person if you want to go for boating here.
Nilgiri Mountain Railway:
This is something that is on my wish list and it is one of the popular Ooty tourist places. This is a train ride between Mettupalayam and Ooty via Coonoor. It takes around 5 hours one way to cover a distance of less than 50 km. So, if you plan to do this, then make sure to keep the entire day free for only the toy train.
The views are supposed to be incredible and is considered to have the steepest track in Asia. Tickets are sold months in advance through the IRCTC website and it is quite difficult to get a ticket through the Tatkal system. First class tickets costs around Rs500 per person and second class tickets cost around Rs 250 per person. There is only one train every day and it starts at Mettupalayam at 7:00 in the morning.
Ooty lake:
This is another popular destination in Ooty. The pedal boating system is quite popular here. But please note that you have to pay around Rs 500+ if you are a foreigner.
Pine Forest, Ooty:
This is on the way between Ooty and Pykara. Even though we didn't stop here this time, it is another place to visit in Ooty. Many movies have been shot in the Pine forest and that is one of the reasons that it is a popular tourist spot in Ooty.
Places to visit near Ooty:
Some of the places to visit near Ooty are:
• Mudumalai Forest Reserve: Quite popular for their Tiger sightings.
• Bandipur Forest Reserve: It is right next to Mudumalai and the only difference is that this is in Karnataka state while the other is in Tamil Nadu state.
• Coonoor: This place is a less commercialized version of Ooty and it is recommended to stay here if you want to avoid crowds.
• Black Thunder Amusement Park, Mettupalayam: This is around 50 kms from Ooty and I remember we had lots of fun when we went here during our college days. They charge around Rs 700 per adult.
Other places to visit in Ooty in 3 days:
You can also check out some of the tea estates or chocolate museums if you are in Ooty for more than 2 days.
Conclusion:
As you can see from the detailed post, there is no dearth of places to visit in Ooty and hope you enjoyed this detailed Ooty tourist guide. However, in my opinion, Ooty has lost its charm of its golden days and I would definitely prefer visiting Coonoor these days. If I am going on vacation, I would definitely prefer a place without traffic jams. I get enough of them back home.
Looking for other weekend trips from Bangalore. Find more ideas below.
Liked it, then pin it.

Find my recommendations on guidebooks for South India
Guidebooks for India
Traveling to India and need more guidance on which books to read? These are our recommendations for you to read before you go.
Recommended: South India Trip
BOOKING RESOURCES
Looking to book your trip now? Find some of my favorite resources I use while booking my trip. You can also find my travel gear here.
Book Your Flight
I am a Skyscanner fan when it comes to booking international flights. I use Makemytrip and Yatra for domestic flights.
Book Accommodation
Booking is my go to resource for booking hotel accommodation and I use Airbnb for booking my homestays. I also compare prices on Tripadvisor always. Another one I always use is Expedia.
Travel Insurance
As an Indian, I prefer ICICILombard and I am always insured when I am traveling outside India. In addition, I have used World Nomads and SafetyWing for some of my trips.
Book Tours
I do go on a lot of day tours especially when I am traveling solo. Depending on convenience, my choices are Viator or Getyourguide.