Over the past few weeks, I have already shared my experiences as a vegetarian foodie in Portugal, Spain and France. The struggles are real when it comes to finding vegetarian food in some parts of the world. I have had many readers reaching out to me and giving me enough motivation to keep writing this series. So, let us move to our next destination on the list.
I was travelling last weekend and I was in Calicut, Kerala for a wedding. We were waiting for lunch at our hotel when I overheard someone instructing the chef on how to make the perfect savoury pancake. I was reminded of my time in Amsterdam and decided to write about vegetarian food in Amsterdam and Luxembourg this time around. Many people I meet are surprised to find out that I am a vegetarian and a Mallu (Most Mallus are non-vegetarians).
The next question I get is if I am a vegetarian by choice or by birth. Actually, I am a bit of both. I come from a family, where one parent comes from a pure vegetarian family while the other comes from a pure non-vegetarian family. My dad's family are the kind of people who do not even eat garlic or mushrooms while my mom's family will eat fish even three times a day if given an option. I used to eat non-vegetarian food but I have been a vegetarian by choice for close to 18 years now.
Vegetarian Food in Amsterdam
The last time I was in Amsterdam, I was still in my early teens and I was quite excited to explore it on my own this time. As soon as I reached Amsterdam Central station, I decided to have dinner at the train station. I am glad that I did since you might have already read about the terrible time I had at my hotel.
There is a falafel shop at Amsterdam Central and I got a vegetarian falafel for around 7 Euros for dinner. After a horrible night at my hotel, I did not wake up early enough for breakfast. I decided to skip breakfast and headed out to the city to explore.
Find out my recommendations for Amsterdam Food tours
Before we go any further, find out my recommendations for the best food tour in Amsterdam
Amsterdam Food Tour
A great food tour with Vegetarian alternatives at Albert CuyP market.
I was walking around Amsterdam Central and found a tiny place right opposite the train station that had some vegetarian pasta options. The lunch was terrible and I wished I had gone to 'Pancakes' that was opposite this restaurant. The reason I couldn't go was that the 'Pancakes' place had a huge signboard that said that they accepted only cards and not cash. Since I had lost all my cards by then, I had no other option.
Recommended Read – Losing All My Cards in Europe
Coffee Shops in Amsterdam
After having a terrible lunch, I was hungry within an hour and I decided to head inside a pastry shop to have something to eat. Halfway through a brownie, I suddenly realised that I am in a land where space cakes are legal and obviously, I started freaking out. Just to clarify, I have never been into drugs and will definitely never be in the future.
Also, I did not want to be spaced out when I was travelling by myself and I had no clue how space cakes or hash brownies looked like. I started Googling feverishly only to realise that weed can be legally sold only in around 200 'Coffee Shops' in Amsterdam. These Coffee shops are usually marked by a 'Green and White' sticker on their windows.
If you really want to smoke weed, you can go into any of these coffee shops and buy them legally. No I did not visit any of them. Also, don't buy the green lollipops for your kids from any of the markets since they are the edible kind of weed.
Pancakes
I finally picked up enough courage to go ask the 'Pancakes' place if they would allow me to pay in cash. They agreed to let me pay in cash and I decided to order a savoury Dutch pancake (Pannenkoken). They have lots of vegetarian options, both savoury and sweet. It is definitely a treat for the foodie since the pancakes made there are so delicious. It was perfection (Yes, I am a huge fan of Chandler Bing) after a crappy food day.
As I was chatting with the manager while paying the bill, I asked him why they did not allow cash. He told me that they were robbed a couple of times and that was the reason they had gone with this rule. I went back to the same place the next day too for lunch and they allowed me to pay by cash again. I highly recommend this place as a vegetarian and you would be spoilt for choices. This place is located right next to the famous row of houses/buildings pictured above.
Find recommendations for recipes for some of the dishes mentioned in this post
Do try the thick Dutch fries or Patat. They are basically fries served with various sauces. The most famous one is the 'patatje oorlog' for a dollop of peanut satay sauce, mayo and onions.
If you are looking for sweet items, then StroopWafel and poffertjes were my favourites. You can buy them from any street vendor around town. Another thing you really got to try is the Cheese or maybe the cheese fondue. Many places sell them and my favourite one was Gouda. I did try the Dutch licorice too but I would not say I am a huge fan of them.
If you are a coffee lover like me, then definitely try out Koffie Verkeerd, which is the Dutch version of a Café Latte. For beer lovers, the Heineken experience is recommended.
If you have an Iamsterdam card like me, then you are eligible for a discount at various outlets across the city. Also, check out some of the food tour options below.
Vegetarian Food in Luxembourg
I was in Luxembourg only for lunch and I ended up eating Mexican in Luxembourg. I also tried out Gromperekichelcher, which are basically potato cakes or fritters.
I wish I had spent more time here so that I could eat the various delicacies that Luxembourg is famous for.
Hopefully, you enjoyed my food adventures around Amsterdam and Luxembourg. So any idea which country will be next?
Read other posts from my Vegetarian in Europe series:
Disclaimer:
I was a guest of Iamsterdam marketing and I was provided with a free card. All opinions as always are my own.
Liked it, then pin it.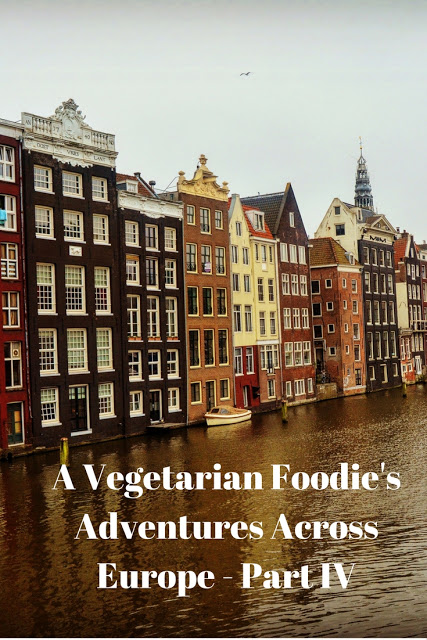 Read other posts from my Vegetarian series:
Find my recommendations for guide books on the Netherlands.
Guidebooks for Netherlands
Traveling to Netherlands and need more guidance on which books to read? These are our recommendations for you to read before you go.
Recommended: Netherlands Travel Tips
BOOKING RESOURCES
Looking to book your trip now? Find some of my favorite resources I use while booking my trip. You can also find my travel gear here.
Book Your Flight
I am a Skyscanner fan when it comes to booking international flights. I use Makemytrip and Yatra for domestic flights.
Book Accommodation
Booking is my go to resource for booking hotel accommodation and I use Airbnb for booking my homestays. I also compare prices on Tripadvisor always. Another one I always use is Expedia.
Travel Insurance
As an Indian, I prefer ICICILombard and I am always insured when I am traveling outside India. In addition, I have used World Nomads and SafetyWing for some of my trips.
Book Tours
I do go on a lot of day tours especially when I am traveling solo. Depending on convenience, my choices are Viator or Getyourguide.