Did you enjoy the first part of the 'Vegetarian Foodie in Europe' series last week? If you haven't, do check it out and let me know your feedback. Many people swear by the 'Happy Cow' app to find the nearest vegan restaurant and I use it all the time when I am travelling as a vegetarian. In India, I am used to Zomato and when I was in the US, I mostly got by, using Yelp.
As you may have read, it was comparatively easy for me to find vegetarian food in Portugal. However, I did eat a lot of eggs here. But I still did not go hungry in Portugal. The next destination on my list was Spain. How did I fare in finding vegetarian food in Spain? Read on to find out.
Planning your Spain Itinerary at the last minute?
I know everyone is busy and don't have time to plan their itinerary to Spain. In this section, I list some of my favorite websites and apps I use while planning my Spain travel itineraries.
Vegetarian food Spain – Huelva
I had to take a train from Huelva to Madrid. I went to Huelva just to catch the train. It is a small town and most of the places around the train station were closed that day (Sunday). The only thing that was open at 3 in the afternoon there was a small café. It only had a cheesecake that looked vegetarian and I had to satisfy my hunger with a cheesecake.
Find out my recommendations for Spain Food tours
Before we go any further, find out my recommendations for the best food tour in Spain
Barcelona Tapas Walking tour
Book a wine and Tapas food tour in Barcelona
Vegetarian Dishes in Spain's Food capital Madrid:
I did go around Madrid train station looking for something vegetarian to eat. I did not want to eat anything sweet and wanted to have some savory for dinner. But then I realized that all the food packets were written in Spanish.
That is when I realised the importance of learning how to say "Vegetarian only – no seafood, no meat" in the language that is spoken in the country you are visiting. I do not recall where I read it but that is definitely some good advice. I ended up buying nothing since I could not figure out what was vegetarian nor could I make the person at the counter understand.
I got robbed the same night and I completely forgot to eat anything by the time I got to the hostel.
Once I was done sulking the next day, I went looking for food. That is when I realised how Madrid was a paradise for food lovers, even for vegetarians. I stayed in Madrid for 4 days and every day I ate some vegan food in Spain to test my taste palette.
Recommended Read – 4 days in Madrid
Since I was staying around Plaza Mayor, options were unlimited with both Puerta Del Sol and Gran Via being, walking distance from where I stayed. But my favourite place to eat in Madrid was the Mercado San Miguel market. It is a gourmet tapas (appetiser or snacks) market and it had a wide array of Spanish Vegetarian dishes particularly tapas and desserts to eat. One thing to note is that it is always crowded.
I did try a wide array of vegetarian tapas in the many tapas bars in Madrid and I loved most of them. I did try the Vegetarian Paella, which is a Spanish rice dish that is similar to the Indian biriyani. The only problem with paella is that it usually comes in sharing portions and I did not find people to share it with.
There are lots of dessert shops around and I tried quite a number of sweet dishes as well. There is no dearth of sweet dishes in Spanish cuisine and I had a nice time sampling few of them. Don't forget to have some churros with chocolate or Flan or maybe a Crema Catalana.
But my favourite part of Spanish cuisine was the Spanish Tortilla, an omelette that is usually stuffed with potatoes. If you had given me only Spanish Tortilla to eat for the whole day, I would have had them without any qualms. They were that delicious.
Find recommendations for recipes for some of the dishes mentioned in this post
I even found a cute little Vegan restaurant, YerbaBuena near Plaza Mayor in Madrid. Our hostel was also quite nice when it came to arranging events every night. On my 2nd night there, me and my roommates ended up gate crashing a beer tasting party held in our hostel's rooftop restaurant. I don't drink beer but my roommates were quite impressed with the beer (Basqueland Brewing Project). They also conducted daily pub crawls around the area we were staying in and I had fun attending one of them. Check out some food tours to check around in Madrid.
Spain Vegetarian Food in Mallorca:
Mallorca is an island destination. I continued my love of Spanish vegetarian food, mainly tortillas here and ended having a lot of them here too.
My hotel here, Hotel Miramar, was a quaint hotel and they were also kind enough to make something delicious and vegetarian for me. There was an Indian restaurant right next to my hotel for people who are interested. I prefer not to eat Indian food while traveling abroad.
Mallorca is quite famous for its oranges and lemons. Do try them while you are in Mallorca, they are definitely different than the ones I have had in India.

If you do end up going to Valldemossa in Mallorca, a well-known delicacy here is the Almond cake with milk. They were supposedly made famous by the music composer Chopin and his lover George Sand (Her real name was Amantine-Lucile-Aurore Dupin) during their stay in Valldermoosa.
Vegetarian Food in Barcelona, vegetarian Spain:
Barcelona is also a heaven for foodies. There are so many options to choose from when it comes to finding delicious food.
So on my first night here, I decided to ask Google for nearby vegetarian restaurants and Google directed me to a cute little restaurant called 'Gut', just 100 metres behind my hostel. They were highly recommended for vegetarians. As I sat there browsing the menu, my eye caught a special item 'Chicken Kerala Curry'. For people who don't know, my parents are from Kerala in India (affectionately called God's Own Country) and I was born in Kerala as well.
I found it quite amusing that they had this item on their menu. How small things like this surprise us? Here I was sitting half way across the world, in a small restaurant in Barcelona and I found something that connected me to my roots. We could see the kitchen and the chef there looked like a Mallu (People from Kerala are called Malayalees and the anglicised short form is Mallu). I contemplated asking to speak to the chef but I finally did not. The food again was delicious and they had lots of vegetarian options in addition to the non-vegetarian ones.
The breakfast at the hostel (Generator, Barcelona) was not that good though. So by the time I got to Las Ramblas one day, I was really hungry. And then I saw it, the Hard Rock Café in Barcelona right at the corner of Placa Catalunya. I love the burgers there and I did not even have any second thoughts of going there for lunch. I know they are expensive but after having Spanish food for more than a week, all I wanted was an American burger. Check out some food tours in Barcelona.
I went with my roommates to a dismal pub crawl around Eixample and I would not recommend it. But do try out the various Tapas places around Barcelona. I wish I had more time to explore Barcelona but my time here was limited.
Commonly asked FAQ's about Veg food in Spain
In this section, I answer some of the most commonly asked questions about vegetarians in Spain:
Is Spain vegetarian friendly?
Yes, Spain is definitely vegetarian friendly in spite of being known for being a meat loving country. When I was travelling across Spain, I did not find it very hard to find Spain veg food. You can always find apps like HappyCow to find the best vegetarian food near you.
How do you say vegan in Spanish?
If you want to tell someone 'I am Vegan' in Spanish, then the correct way to say this is Soy Vegano or Soy Vegana. Learn some Spanish words before you intend to travel in Spain as a vegetarian.
How to say vegetarian in Spanish?
If you want to tell someone 'I am Vegetarian' in Spanish, then the correct way to say this is Soy Vegetariano or Soy Vegetariana.
Is vegetarianism popular in Spain?
Around 1.5% of the population of Spain are vegetarians. Hence it is not as popular compared to other countries in Spain for vegetarians. Nevertheless, you can find some popular Spanish vegetarian recipes to try from.
Conclusion
So did you enjoy the guide to finding Vegetarian food in Spain? I loved being a vegetarian in Spain. Check out more posts about the struggles and adventures I faced as a vegetarian foodie in Europe below.
Read other posts from my Vegetarian series:
Liked it, then pin it.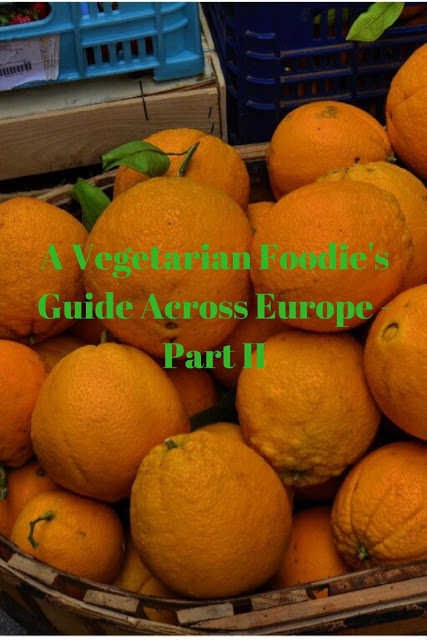 Find my recommendations for guide books on Spain.
Guidebooks for Spain
Traveling to Spain and need more guidance on which books to read? These are our recommendations for you to read before you go.
Recommended: Spain travel tips

BOOKING RESOURCES
Looking to book your trip now? Find some of my favorite resources I use while booking my trip. You can also find my travel gear here.
Book Your Flight
I am a Skyscanner fan when it comes to booking international flights. I use Makemytrip and Yatra for domestic flights.
Book Accommodation
Booking is my go to resource for booking hotel accommodation and I use Airbnb for booking my homestays. I also compare prices on Tripadvisor always. Another one I always use is Expedia.
Travel Insurance
As an Indian, I prefer ICICILombard and I am always insured when I am traveling outside India. In addition, I have used World Nomads and SafetyWing for some of my trips.
Book Tours
I do go on a lot of day tours especially when I am traveling solo. Depending on convenience, my choices are Viator or Getyourguide.