Croatia will always be special to me. As a diehard 'once upon a time GOT' fan, I had always wanted to visit King's Landing. But then when I finally ended up in Dubrovnik, I figured that it was not my cup of tea. Even though it is extremely beautiful, it was extremely overcrowded and I ended up leaving after barely 1.5 days there. I rented a car in Croatia and over the course of the next 10 days, drove solo all across Croatia and ended up discovering many hidden gems in Croatia. One day I would love to go back to explore more of the Dalmatian Coastline and till then I hope this guide for Croatia travel tips will be helpful for all of you.
Disclaimer – This article includes affiliate links. This translates to no extra cost to you but I get a referral bonus if you purchase via the link.
Planning a trip to Croatia at the last minute?
I know everyone is busy and don't have time to plan their Croatia trip. In this section, I list some of my favorite websites and apps I use as well as some tips for visiting Croatia.
Croatia travel tips
These are some of the Croatia tips when it comes to visiting Croatia in general.
VISA REQUIRED FOR INDIANS
Croatia is not part of the Schengen zone and hence Indians require a separate visa to go here. However if you have a valid multiple entry Schengen tourist visa, you can use this to visit Croatia.
LANGUAGES SPOKEN HERE
Croatian is the official language and in addition is one of the official languages of the European union. Zdravo, Hvala vam, Dobro jutro, Kako si are Hello, Thank you, Good morning, How are you in Croatian.
CAPITAL
Zagreb
CURRENCY
Croatian Kuna. Even though many people accept USD/Euro, the currency conversion is horrible and you should be careful that people don't take you for a ride there.
LOCATION
South Eastern Europe. Neighbours are Slovenia, Hungary, Serbia, Bosnia & Herzegovina and Montenegro. Italy is separated in the North West by sea and hence shares a maritime border.
ELECTRICAL TRAVEL ADAPTER SPECIFICATIONS
230 volts and 50 Hz. They use C and F plug types in Croatia.
IDP REQUIRED FOR INDIANS?
If you are planning to drive in Croatia, then it is recommended that you have an IDP and your local license.
SIM CARDS
Most cards you buy in other countries in the Schengen zone will work without additional data or roaming charges.
WIFI CONNECTIVITY
The cities are well-equipped with Wifi and you can find free Wifi in many areas in cities like Dubrovnik and Zagreb.
SAFETY IN CROATIA
I drove solo all across Croatia and visited multiple places all by myself. It is one of the safest countries for a solo female traveler as long as you keep your wits around you.
WHERE TO GO IN Croatia
Croatia is an extremely beautiful country and there are so many places to visit in Croatia. From the gorgeous Dalmatian coast to the historic cultural center of Istria, there are so many places to see in Croatia. There are so many beaches in Croatia to visit and I am just listing a few here.
Dubrovnik
It is crowded and chaotic. But it is still a must visit even if you are not a GOT fan and those views are definitely worth it.
Split
Split is a good place to base yourself if you want to visit some spectacular islands and beaches nearby. Also a good place to discover some history.
Korcula
This small island off the Dalmatian coast in the Adriatic Sea is definitely worth a visit.
Hvar & Islands
The 5 island trip from Split is very famous and you get to visit some gorgeous islands like Vis, Hvar, the Blue cave etc.
Zadar
Most people go here to see the famous sea organ but Zadar definitely deserves a day to explore the historic center.
Plitvice & KRK
Croatia is filled with gorgeous national parks and two of the most famous ones to visit in Croatia are the Plitvice Lakes & KRK national park.
Zagreb
I would definitely love to head back to Zagreb to explore more of the capital. I went here only to catch a flight out last time.
Trogir
A gorgeous town known for some gorgeous Romanesque-Gothic architecture in the Adriatic and Dalmatian Coast.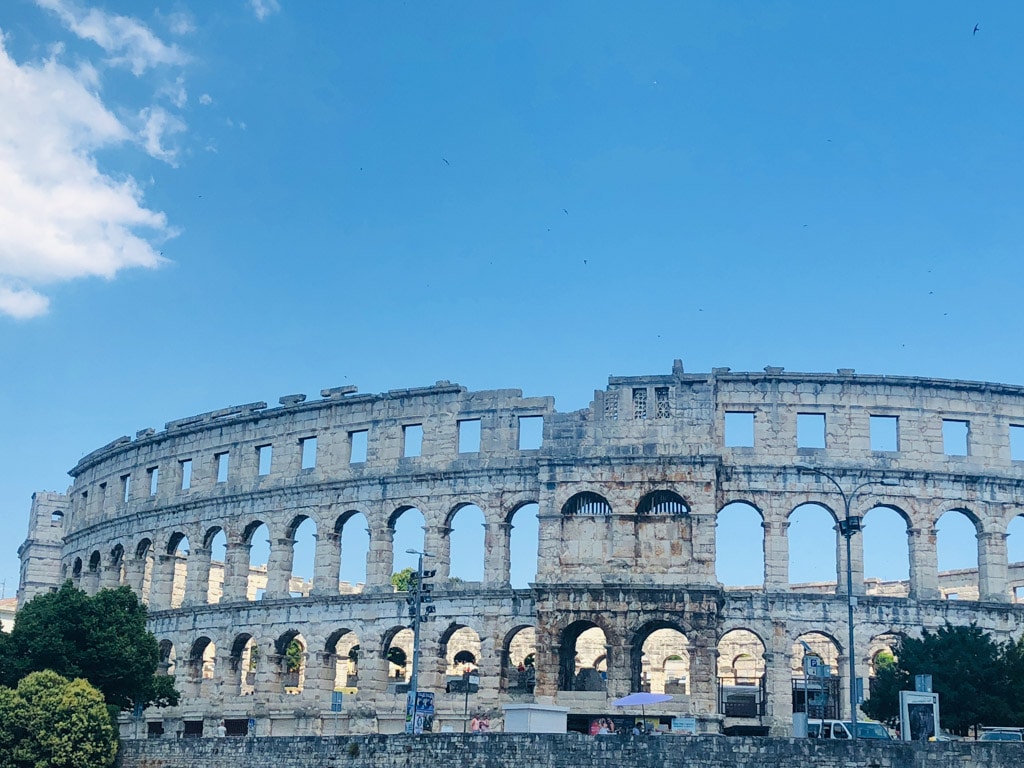 Pula
The region of Istria is famous for its Roman style architecture and Pula is definitely a must visit to explore in this region.
Hum
Hum is known famously as the world's smallest town and you can visit it on your return from Pula.
Rovinj
Another gorgeous small town in the Istria peninsula and is definitely worth a visit.
Kornati Islands
With more than 140 islands, this archipelago is definitely a must visit on your trip to Dalmatia.
WHEN TO GO TO Croatia
May-September is when the climate is more moderate and you have more fun stuff to do in Croatia. If you are looking for a winter holiday, then the recommended time is between December and February. I would definitely love to go back in Winter to explore Plitvice lakes in its winter glory. I have seen some pictures of Croatia in winter and they are mesmerising.
HOW TO GET TO Croatia
By Air
I flew from Zagreb to Bangalore via Dubai and it is well connected with most cities in India. Even though it is difficult to find direct flights to Croatia, you have many options to fly to either Dubrovnik or Zagreb. It is also well connected by air to other cities in Europe.
By Rail
Croatian Railways has an extensive rail network but can still be lacking compared to the networks in Western Europe. Not all cities are well connected due to the fact being that it is a largely coastal country.
By Road
The easiest way to reach Croatia from neighbouring countries is by bus and there are frequent bus routes to Dubrovnik from Mostar and Kotor. As well as multiple bus routes to Zagreb from Ljubljana.
DRIVING IN Croatia
I drove everywhere in Croatia and this was one of the best ways to explore Croatia. The only place I didn't drive was inside Dubrovnik city and that was intentional. They drive on the right side of the road. I did drive a manual car and it did take some time to get used to since all the controls were on the other side compared to what I was used to.
Parking is mostly paid unless you have a reserved parking spot along with your hotel or apartment reservation. I had this option and didn't have to pay extra for parking in the night.
Recommended Read – Planning a trip to Europe
PUBLIC TRANSPORTATION IN Croatia
I didn't use public transportation that much while I was in Croatia since I had my own car. I did take a few cabs and if you are planning to take cabs, ensure that you have enough Croatian Kuna with you. Else they will say they will accept USD/Euros and then rip you off when it comes to conversion charges.
Buses are extremely popular in most cities and are an inexpensive option. Trams are quite common in Zagreb and you can find them all around.
You need to use ferries or boats to visit some of the islands and there are frequent ferries for some routes like Split to Hvar.
WHERE TO STAY IN Croatia
When I was in Croatia, I stayed in multiple places and each of them was from a different budget bracket. Croatia can get really expensive when it comes to stay. But if you know what to look, you can find some gorgeous places to stay in Croatia. Find some recommendations on where to stay in Croatia.
WHAT TO EAT IN Croatia
There are lots of options for vegetarians in Croatia and it was not very difficult to find vegetarian food in Croatia. Due to its proximity to Italy, you can find the same food options like pasta, pizza in most of the towns in Croatia. And as the popularity of Croatia increased, the number of options for vegetarians have also increased. In addition, you can find some of the yummiest bakery items in Croatia as well.
I also ended up having a lot of Falafels when I was in Croatia. If you are someone who eats seafood unlike me, then you will be spoilt for choices when it comes to finding pescatarian food.
WHAT TO SHOP IN Croatia?
Since Croatia was my last stop before my trip back to India, I did most of my gift shopping in Croatia. I ended up buying some gorgeous souvenirs from Croatia for my family and friends back home. I remember buying a Croatia based puzzle set for my sister, some Lavender products for my mom and aunts, some Kras chocolates for everyone, Liqueor (for my then boyfriend now husband), some handmade trinkets for my nieces.
THINGS TO DO IN Croatia
There are numerous things to do in Croatia. But some of the recommended things to do in Croatia below and some more travel tips for Croatia:
Go island hopping around the many islands in Croatia.
Go on a Game of Thrones inspired tour around Dubrovnik.
Visit the Plitvice lakes and hike this magical National park.
Go visit the famous white sand beach destination, Golden horn.
Visit the smallest town in the world, Hum.
Visit some gorgeous small towns in the Istria region.
Marvel at the gorgeous Adriatic sea in some of the islands.
Take a road trip in Croatia.
Find more details of things to do in Croatia here. Hope you found these tips for Croatia post useful.
MORE Croatia RESOURCES
Traveling to Croatia and need more guidance on which books to read? These are our recommendations for you to read before you go.
BOOKING RESOURCES
Looking to book your trip now? Find some of my favorite resources I use while booking my trip. You can also find my travel gear here.
Book Your Flight
I am a Skyscanner fan when it comes to booking international flights. I use Makemytrip and Yatra for domestic flights.
Book Accommodation
Booking is my go to resource for booking hotel accommodation and I use Airbnb for booking my homestays. I also compare prices on Tripadvisor always. Another one I always use is Expedia.
Travel Insurance
As an Indian, I prefer ICICILombard and I am always insured when I am traveling outside India. In addition, I have used World Nomads and SafetyWing for some of my trips.
Book Tours
I do go on a lot of day tours especially when I am traveling solo. Depending on convenience, my choices are Viator or Getyourguide.