Why do I keep going back to Europe? That is a question I keep getting asked all the time. I don't know what it is. But there are so many charming cities, towns and villages in Europe and every time I visit, I find a new favourite European destination. After years of travelling in Europe, I decided to write my recommended European destinations to plan your European Itinerary.
And every time I walk on those cobbled streets or visit some gorgeous landscapes/European beach destinations or gorge on some delicious vegetarian food in Europe, I find more reasons to love Europe.
Find out my recommendations for Europe
Before we go any further, find out some of my recommendations for day trips for your European itinerary.
Hvar, Croatia
The 5 island tour from Split is a favorite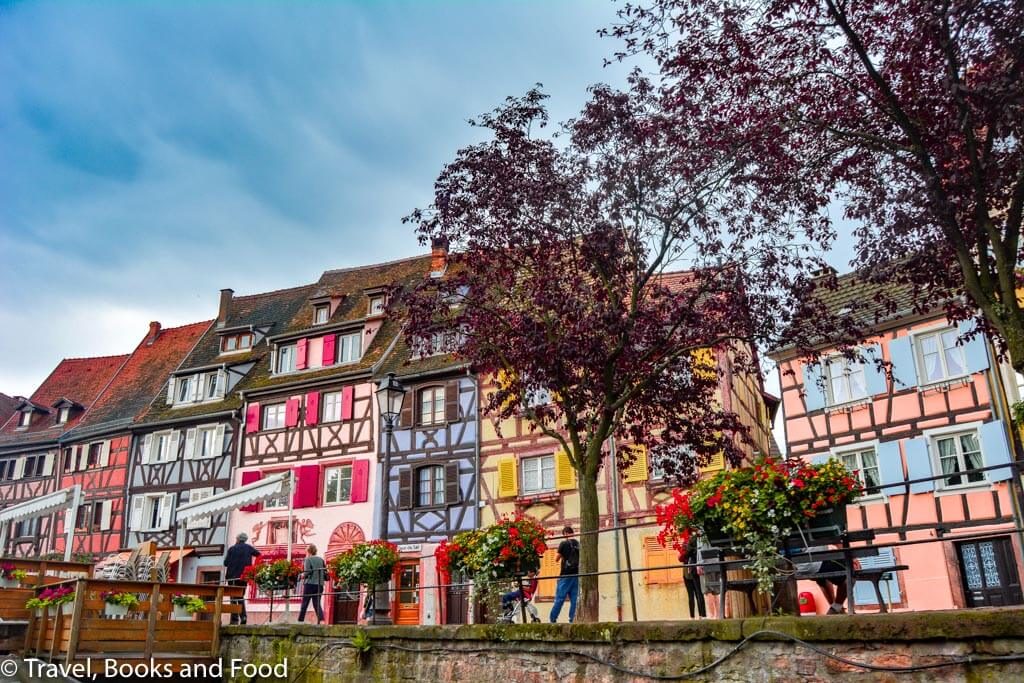 Colmar, France
Colmar is definitely one of the prettiest towns in Europe.
Algarve, Portugal
My favorite beaches in Europe are here
My Recommended European Destinations for Your European Itinerary
These are some of the top European destinations according to me. I have been to every single one of these places in this 'best places to visit in Europe' list. The first edition has over 25 places and I will keep adding to this list as and when I visit more places in Europe. I have been to countless places in Europe and hence drilling this list to only 25 was really difficult.
You may notice that popular locations from Switzerland/ Greece / Iceland are missing. It is not intentional. I have never been to these countries and I don't think it is ideal to list places I have never been to in my European vacation itinerary.
Also, I haven't been to many of the Eastern European countries and that is why they are missing from the list. I have been to many of the places on this 'Best European cities to visit' list more than once and it has only increased my fondness of the place.
If you are looking for more places to visit in Europe, then check out my Europe itinerary post below.
How to Travel Around Europe
One of the best things about Europe is the accessibility of public transportation. You may argue that Western Europe is good when it comes to public transportation. But many of the places I have been to Eastern Europe also have a good public transportation system, at least in the cities.
I have travelled by train in Europe, done numerous awesome European road trips, have taken the bus system as well as flew between many of the cities in Europe. I always love to drive in Europe even though in most countries they drive on the opposite side of the road as compared to India.
Check out this video I made for 'My Recommended European Destinations for your European Itinerary'
I have already written extensively on how to obtain a Schengen Netherlands Visa, a Schengen Spain visa and a UK BIVS visa. In addition, I have also written on how to plan your first Eurotrip.
Recommended Read – Best Europe Day Trips
When to visit Europe
I know different people have varying opinions when it comes to deciding when is the best time to visit Europe. I have been to Europe during all seasons and my favorite time to visit Europe has been boiled down to two separate time periods.
I love Spring, as well as Autumn/ Fall to visit since the colours of Europe, tend to be the best during these time periods. I usually love visiting between April end to June Mid just before the summer crowds begin to arrive. Another favorite period is from the end of September to November mid when the colours of Autumn can be a treat to your senses.
Beautiful cities in Europe / Beautiful Towns in Europe
Please note that your version of the prettiest cities in Europe may be different from mine and that is perfectly fine. I know there are tons of people who love Venice but I didn't like the place when I visited it the first time. Maybe I will change my opinion during my second visit but for now, you can rest assured that you won't find it on this list of best European getaways.
So without further ado, I present to you some of the best destinations in Europe. This is no particular order and each of these places are special to me in their own way.
Lisbon, Portugal – City of Awesome Views
Lisbon will always be special to me. It was my first solo European destination and my 3 days in Lisbon back then was the highlight of my trip. I think the excitement of doing and figuring out everything on my own in a new city and new country was the reason. And Lisbon does have it all.
There is a reason why Lisbon has been considered as one of the European cities to visit. If you love culture, then Lisbon will be an ideal choice for you. Some of the recommended things to do in Lisbon are
Go see the different views (Miradouros) of Lisbon
Take a tour around the Belem area to catch some history, food and culture.
Go pub-hopping around Bairro Alto
Catch a Fado performance
How to get to Lisbon: Lisbon is a major international destination and many carriers fly from within as well as outside Europe to Lisbon. I took an Emirates flight from Bangalore via Dubai. It is also well connected by bus to its neighbouring countries.
Recommended Read – Portugal Travel Tips
Amsterdam, Netherlands – An eco-friendly European destination
I think we were around 11-12 when we went to Amsterdam for the first time. And all I can remember from that trip is the relentless rain and how we spent our days roaming around the many museums around the city, ate a lot of cheese, visited the many windmills around the area and missed seeing the Tulips.
I have been back to Amsterdam twice post that as an adult and every time I discover something new about the city. And that is the reason I feel that Amsterdam is one of the best cities to visit in Europe. It might be a cliche destination compared to some of the others on the list. But it is a city I have grown to love and that is why it is on this list. Some of the recommended things to do in Amsterdam are:
Visit the many museums around the city
Gorge on some delicious cheese
Visit the Keukenhof Gardens and Tulip fields
Visit the Anne Frank house
Take a canal cruise around the city
Go explore the red light district
Take a day trip to Rotterdam. Many people stay in Rotterdam and take the 40 min train to Amsterdam since the prices are cheaper there.
Hire a cycle and go roaming around the city.
How to get to Amsterdam: Amsterdam is well connected by many major airlines and you can catch a flight from almost anywhere in the world. Alternatively, fast trains are another way of getting into the city from other cities in Europe. Buses are a cheaper option from other cities.
Did you know that my twin lived in the Netherlands for close to 6 months in 2007?
I am going to London for the 5th time in a week's time. Did you know that London was the first European city I visited when I was around 10? And I hated it during my first visit. It was always raining and always so gloomy. But on every subsequent visit, I fell in love a little with the city and that is why London should be a part of your European itinerary.
There are so many hidden gems to discover in London and I tend to find something new to do every single time. Autumn is one of my favorite times to visit London.
Even though I have been so many times to London, I am yet to write about it and hopefully one day I will finally get around to write something about London. Nevertheless, these are some of my favorite things to do in London:
How to get to London: You have direct flights to London from many of the major Indian as well as European cities. Alternatively, you can take the Eurostar train from many cities in the mainland. Please note that since UK is not part of the Schengen zone, you need separate visas for Europe and UK.
Paris, France – The Most Romantic European Destination
You may be thinking that I added one of the most cliched and overcrowded cities in the world to this list of best cities in Europe. But for a person who has been thrice to Paris, I have slowly begun to see the charm of this romantic city. I agree it is an overcrowded and overpriced city. But if you know where to go, you can see past all that.
So what do you do in the city of love? Last time I was in Paris, it was raining and it was just magical. I had so much fun walking around in the rain, watching a cabaret and eating lots and lots of delicious French desserts. Here are some of the recommended things to do in Paris:
Gorge on some delicious French food and delicious desserts.
Visit the world-famous Louvre and if you can try to get a peek at the Mona Lisa.
Walk around the arrondissement of Montmarte
Go shopping for French shoes
Go to Disneyland Paris
Take a day trip to Versailles
Catch a Moulin Rouge show
Take a river cruise around the Seine
Visit the catacombs
How to reach Paris: Another major transit stop in Europe and well connected from all parts around the world. Alternatively, you can take the bus or train to Paris from many cities in Europe.
Recommended Read – France Travel Tips
Sarajevo, Bosnia – The European city that doesn't look like Europe
What can I write about Sarajevo? I know many people tend to skip Sarajevo and I wish they didn't do that. It was never in my wishlist and I intended it to be a stopover city. But the city got to me and slowly I fell in love with the city after spending only 2 days in Sarajevo. I would love to go back one day to spend more time in this city.
On first glance, Sarajevo looks like a city in Asia rather in Europe. It reminded me of another favourite city of mine, Jerusalem. Maybe that is why it is called the European Jerusalem. But I think that is what makes it so unique. Sarajevo has had a terrible history and you can find glimpses of the tragic past all around the city. It brings you a wave of nostalgia since some parts of it still feels like it was stuck in the past.
Most people tend to do it as a day trip or altogether skip it. But if you plan to spend a few days in Sarajevo then these are my recommendations:
Go on a free walking tour of the city
Check out the view of the city from different points like the Yellow Fortress, Hotel Hecco deluxe or the Avaz tower
Take the cable car up the mountain and go see the abandoned Olympic bobsled track
Roam the old city of Sarajevo
Go see the Sarajevo tunnel
Learn all about the history of Sarajevo at the War childhood museum
Learn all about Sarajevo roses
Find out the location for one of the reasons for the beginning of World war 1.
How to get to Sarajevo: We don't have direct flights to Sarajevo from India. Most flights will take a detour through Rome. Trains are rare in this part of Europe and your best bet is to catch a bus from the neighbouring countries like I did. It is difficult to drive from neighbouring countries since most rental companies don't have options for you to drive into B&H.
Colmar, France – One of the Prettiest Villages in Europe
If I had to choose the prettiest village/town in Europe, then it has to be Colmar. This pretty French old town in Europe had captured my imagination for a long time and once I went there, I realised what people were talking about.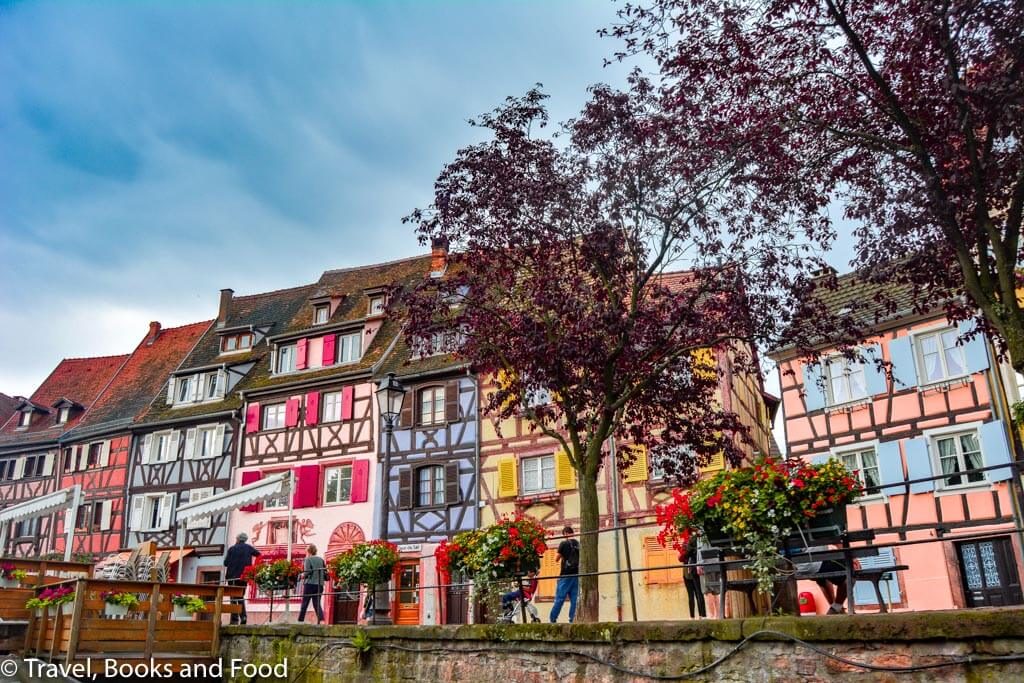 I did a day trip to Colmar from Strasbourg in France a couple of years ago and I cannot wait till I head back there one day again. The cobbled streets along with the colourful timbered houses with a heavy influence from the German/French sides gives this town a mystical vibe. It was raining when I went and that just increased the exquisiteness of the town. Nothing short of a fairytale village.
If you are in Colmar for a day, then these are what I would suggest you to do in Colmar:
How to get to Colmar: It is just 30 mins away by train from Strasbourg, another beautiful city in France. Similarly, it is just around 50 mins by train to Basel, Switzerland. It takes around 4 hours by train from Paris. Alternatively, you can hire a car and drive around the area.
Algarve, Portugal – Best European Beach Destination
If there is a beach destination I won't forget in Europe, then it has to be the Algarve region in Portugal. With turquoise waters, limestone cliffs and gorgeous beaches, it is every beach aficionado's dream beach destination in Europe. With more than 200 beaches to choose from, it is really difficult only to spend a few days in the region.
It is easier to hire a car here since not all beaches are connected by bus and they are not close to each other either. Some beaches are however accessible by bus. It is however not feasible to go to all beaches in the region. Some beaches are touristy while in some you can have the whole beach almost to yourself.
Some of the recommended things to do during your 3 days in Algarve are:
Drive along the Algarve coast
Take a speedboat along the coastline and visit some hidden coves and beaches
Take a tour to the Benagil caves
Party like no one is watching in places like Albufeira or Portimao.
Go catch some sun and surf at Sagres.
Walk around the historical centre of Lagos and go for a dolphin watching tour from Lagos.
How to get to Algarve: The easiest way to reach Algarve is to take a flight to Faro from other cities in Europe. Alternatively, you can take a 3-hour bus from Lisbon or do a road trip from Lisbon
Florence, Italy – One of the first European cities I fell in love with
On my first vacation to Europe as an adult, it was not Rome or Venice that I fell in love with. It was Florence that I fell in love with. I ended up spending around 10 days in Italy with my sister and it turned out to be one of my best European vacations. Strangely I haven't been back to Florence or Italy and I would love to go back one day to see the Amalfi coast as well as other cities I missed the last time around.
It was long before my travel blogging days and I do not have a single usable picture from that trip. But Florence was forever imprinted in my mind and one day I would love to go back to visit one of the first cities I fell in love in Europe.
Some of my recommended things to do in Florence are:
Go see the Uffizi Gallery
Follow the trail of Michelangelo in Florence
Eat lots of pizza, pasta and Gelato
Go see the David statue
Take a day trip to Pisa.
Go up to the Piazzale Michelangelo viewpoint and catch the sunset over Florence city from there.
Walk around the historical center of Florence.
How to get to Florence: The best way to reach Florence is by taking a fast train from Rome to Florence. Alternatively, you can fly non-stop from other major European cities. Buses are also readily available.
Heidelberg, Germany – A Pretty Romantic European Town
I was staying with friends in Stuttgart and we were exploring places to go nearby Stuttgart. They have a toddler and we were looking for places she would enjoy as well. Since it was a long weekend, we knew many of the places would be crowded. That is when someone suggested Heidelberg. It is a university town along the banks of the Neckar river which gives it the gorgeous European old charm feel.
We drove from Stuttgart to Heidelberg and it takes around 1.5 hours to get there. It is such a delight to drive to. We went in June and the crowds were still manageable.
Some of the recommended things to do in Heidelberg are:
Go visit the Heidelberg castle
Take the funicular to Konigstuhl peak and catch a spectacular view of the city.
Relax in the old town square of Altstadt
Go visit some of the museums like the Apothecary museum.
Go see the Heidelberg Tun
How to get to Heidelberg: You can either drive, take a train or a bus from Stuttgart to Heidelberg. Alternatively, you can do it as a day trip to Heidelberg from Frankfurt.
Mallorca, Spain – A Picturesque European island
I think a friend suggested Mallorca to me and it definitely was one of the highlights of one of my trips to Europe. It is one of the Balaeric Islands off the coast of Spain and it is definitely a must-visit European island. I ended up spending 2 days in Mallorca and I loved the relaxed vibe of the place.
It is always difficult to choose where to stay on an European island. There are so many beautiful spots and it was difficult to pick where to stay. If you are looking for history and partying, then the town centre is your best bet. But if you want to hop between the various beautiful beaches, then staying somewhere in Cala Millor or Pollenca would be a better option.
I wish I had a car to drive around in Mallorca. However, I was just robbed and I didn't have any credit cards on me. Buses are available but they are not so convenient to roam around the various points in Mallorca. I ended up doing guided tours from my base in Pollenca.
Some of my recommendations for Mallorca or Majorca are:
Laze around in one of the beaches around Mallorca.
Take a day trip to Soller and Valldemossa
Party in the town of Mallorca
Do a catamaran cruise around Mallorca.
Visit the historical places in the old town of Mallorca
Take a day tour to the nearby island of Menorca
How to get to Mallorca: You can fly to Mallorca airport from many cities in Europe. Alternatively, you can take a ferry from Barcelona to Mallorca which takes around 8 hours.
Recommended Read – Spain Travel Tips
Madrid, Spain – Favorite European Capital
Most people think that I am not fond of Madrid since I was robbed in Madrid. However, it is contrary to what I feel. I ended up spending 4 days in Madrid and I loved the place since it helped me heal. I ended up doing almost nothing other than eating my way around as well as visiting the many green parks and the many museums in the city.
I will have to however caution you about the number of pickpockets in the city just like many other European cities. I ended up staying in an awesome hostel where I met some wonderful folks who took me pub hopping and salsa dancing. I would love to go one day back to this city that grew on me after spending a few days.
Some of the things to do in Madrid are:
Visit the many museums in the city.
Find out how green Madrid is by visiting some of the parks.
Take a day trip to Toledo
Go see the sunset at Temple of Debod
Visit the royal palace of Madrid
Eat lots of tapas and Paella in the streets of Madrid
Go salsa dancing
Catch a Flamenco show in Madrid
How to get to Madrid: It is well connected by flights from within Europe as well as from other places around the world. Alternatively, you can do a road trip in Spain or you can catch a bus from neighbouring cities to Europe.
Blagaj, Bosnia & Herzegovina – Offbeat European Destination
I ended up reaching Mostar the day before Ramzan. Which meant that most places were closed the next day. I was going to spend only a day in Mostar before my next destination. I wanted to do a day trip around Herzegovina but that seemed like a far fetched dream. I tried contacting many tour operators in Mostar and most of them were either booked or not working due to Ramzan. Finally, Camil from Herzeg day tours contacted me and he agreed to take me on a private tour around Herzegovina.
Since it was Eid, he was only available for an afternoon tour. On that day, we went to Kravice, Blagaj and Pocitelj. And each was more beautiful than the other. But it was the calmness of Blagaj that had my heart.
There is not much to do in Blagaj other than take some pretty pictures and go to the Dervish monastery. But since it is such an offbeat location, you will hardly find anyone else and that is one of the reasons I fell in love with Blagaj.
How to get to Blagaj: It is almost impossible to get to Blagaj unless you take a private tour or drive there from Mostar or Sarajevo.
Perast, Montenegro – A gorgeous European settlement
I prefered Perast to Kotor when I spend a few days in Montenegro. I was on a FAM trip and it was the tourism lady who took me to Perast. It is such a pretty little town set up against some gorgeous mountains and the Adriatic sea and once there you will not feel like leaving.
If you are staying in Kotor, then Perast is just 30 mins away by bus. While you are in Perast, stroll around the old town. Also, take a boat ride to the Church of the lady of the rocks. Ideally, it is suggested to spend half a day in Perast and half a day in Herceg Novi. If you have a car, then Perast should definitely be one of the towns you visit in Montenegro.
How to get to Perast: Both Kotor and Herceg Novi are around 25 mins from Perast in opposite directions.
Luxembourg – A favorite European country
If there is a country I have spent the least amount of time in Europe, then it has to be Luxembourg. But if you want to see some gorgeous architecture set up against some gorgeous landscapes, then Luxembourg is a must-visit.
Don't do the mistake I did. I took a day trip out of Brussels and there was definitely not enough time to spend in Luxembourg. I would love to visit the country for at least a week in the future.
How to get to Luxembourg: It approximately takes 2.5 hours from Brussels by private coach.
Bruges, Belgium – Pretty UNESCO World Heritage European Destination
Bruges is a pretty famous touristic spot. The entire old town of Bruges is a UNESCO world heritage site and that is one of the reasons you have to visit Bruges during your European itinerary. The entire old town is well preserved.
I decided to do a day trip from Brussels to Bruges. But if you want to skip the crowds, then I would suggest spending at least a couple of days in the historic old town. Cars are not allowed inside and one of the most common sights here are the horse-driven carriages.
Some of the recommended things to do in Bruges are:
Take a canal tour around Bruges
Visit the Belfry of Bruges
Go see the Basilica of Holy Blood
Visit the Markt, the centre of Bruges old town
Go see Michelangelo's Madonna with child.
How to get to Bruges: You can either drive from Brussels, take a day trip from Brussels or Amsterdam, take a bus or take a train. It is around 1-1.5 hours one way from Brussels.
Dingle, Ireland – The most Colourful Town in Europe
I didn't know that Ireland is full of colourful fishing villages. There are so many of them but for me, my favorite town has to be Dingle. It is so colourful and you would find such colourful buildings all over town. Check out the below picture and tell me how many colours do you see.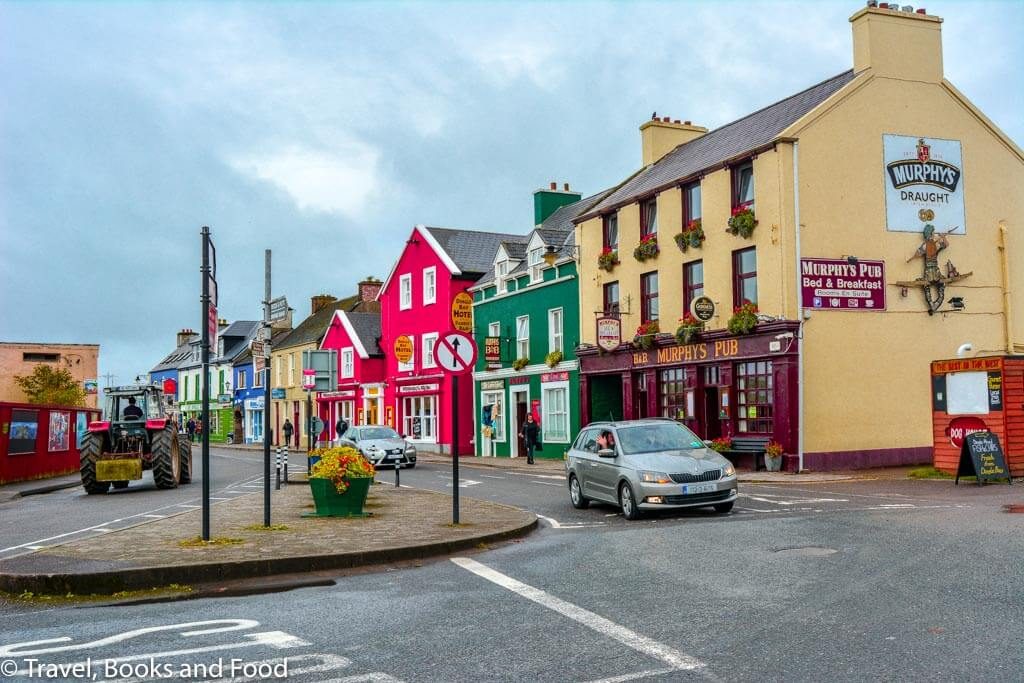 Since Ireland is a small country, the best way to go around the country is by driving around. We had just finished our Ring of Kerry road trip and went to Dingle from there.
Some of the things to do in Dingle are:
Go see Fungi, the playful dolphin
Eat some sea salt ice cream at Murphy's.
Walk around the colourful town
Go on a riverboat cruise around the Dingle harbour
Drive along the coast to Dingle town and Slea Head.
How to get to Dingle: If you are not driving, then your option would be to take a private tour or a bus from Dublin.
Isle of Skye, Scotland – the European Mystical Place and my favorite road trip in Europe
If there is one road trip you have to do in Europe, then my recommendation would be Scotland and more specifically the Isle of Skye road trip. The landscapes are just out of this world and you feel like you are transported to another planet.
The best way to do a road trip around the Isle of Skye is to hire a car from Edinburgh or Glasgow. I should warn you that you will not get anywhere on time since you will keep stopping to take pictures all along the way. We went during the beginning of Autumn and it was such a humbling experience for us.
Some of the recommended things to do in the Isle of Skye are:
Visit the town of Portree
Hike the old man of Storr
Visit the many fairy pools and waterfalls in the area
Get amazed at the landscape of Quairaing.
Visit Neist Point Lighthouse
Visit the Eilean Donan castle
How to get to Isle of Skye: If you are unable to drive from Edinburgh or Glasgow, then your best bet would be to take a day trip there.
The Austrian Alps – Full of Charming European villages
Driving in the alps is definitely a bucket list item for me. Last time I was in Salzburg, I was down with fever and hence I spent most of my time holed up in my hotel room recovering. However, on my last day in Salzburg, I decided to get out of bed and visit the nearby Austrian village of Hallstatt. It was such a good decision.
Everyone knows that Hallstatt is a pretty little village. But the road to it is also filled with gorgeous landscapes and you can see the majestic alps in all its glory. I even got down at a couple of the destinations along the way and roamed around in some of the villages. I would love to go back one day when it is snowing since I have heard the Austrian alps are even more beautiful in winter.
Anyway, some of the recommended things to do in the Austrian Alps are
Hire a car and drive in the Alps.
Visit the village of Hallstatt.
Do a 'Sound of Music' tour in Salzburg
Visit the village of Zell Am See
Visit Innsbruck for a couple of days in winter.
How to get to the Austrian Alps: Vienna is the closest international airport and it is just a few hours from there to some of the towns in the Alps. The train journey is so scenic and I did part of it from Salzburg to Ljubljana. You can take the bus or train to Salzburg and do day trips from there to the nearby towns.
Recommended Read – Austria Travel Tips
Lake Bled, Slovenia – A touristic European destination
Another must-visit on this list is Lake Bled in Slovenia. However, it can get extremely crowded because of its accessibility and the gorgeousness of the landscape.
There are so many nearby places near Lake Bled. Since it is a crowded spot, my suggestion is to stay there and then go to nearby places as well.
Some of the recommended places to visit in Lake Bled are:
Take a boat ride to the center of the lake and the Church of Assumption there
Hike up to the top of the Bled castle
Eat the tasty Bled cake
Visit the nearby Vintgar gorge
Visit the largest Glacier lake, Lake Bohinj in Triglav National park
How to get to Lake Bled: Lake bled is around 50 minutes by car from Ljubljana. The bus journey takes around 1 and a half hours.
Plitvice Lakes, Croatia – One of the Most Beautiful European National Parks
If I could choose only one location in Croatia, then Plitvice Lakes would be my first choice. Croatia is such a beautiful country and it is difficult to choose only one spot. I did a roadtrip around Croatia and Plitvice Lakes was one of my stops during my Croatia road trip.
But the flip side of being such a beautiful place is that it can get really crowded at times. Go spend the night at Plitvice and start the day early at 7 or 8 AM depending on the weather before the crowds start coming in at 10 AM. There are 2 sets of lakes: the Upper Lakes and the Lower lakes and there are around 7 hiking trails between them.
From my experience, the shorter hike trails tend to get crowded while the longer hiking trails are relatively less crowded.
I went during the start of Summer and would love to go one day back during Winter or Autumn when it is equally beautiful. One of my regrets about this place is that my photos from the viewpoint are basically crap. Please note that since it is a UNESCO heritage site, swimming is not allowed here.
How to Get to Plitvice Lakes: I drove here and this was definitely the best option for me. It is around 2 hours from both Zadar and Zagreb. Like I mentioned before, find a place nearby to stay to avoid the crowds. Since most people tend to do it as a day trip.
Malmo, Sweden – Best European Fall Destination
A friend actually suggested that I stay in Malmo rather than in Copenhagen since it is much cheaper there. It takes only 35 mins by train from Copenhagen over the Oresund bridge. Even though I did this to keep my budget low (Scandinavia is crazy expensive), I ended up staying in Malmo during the Fall season.
And Malmo is super gorgeous during this time. There are hardly any tourists in this part during that time and I had fun exploring the entire town over the course of 1.5 days.
Some recommended things to do in Malmo are:
Walk around the breathtaking Kungsparken
Visit the castle of Malmo
Walk around the old town squares of Stortorget and Lilla Torg
How to get to Malmo: Malmo is only 35 mins away from Copenhagen by train. If you are coming from Stockholm like me, the fast train takes around 4.5 hours.
Greater Copenhagen Area, Denmark – A land of beautiful castles in Europe
I had heard that Copenhagen is the land of castles and when I was there last year, one of my primary agendas was to visit as many castles as possible.
And I was not disappointed. It was also Autumn when I visited and the landscape was insanely gorgeous that I didn't want to leave Copenhagen. Many of the castles are in the Greater Copenhagen area and it is recommended that you buy a 48 hour or 72-hour train ticket to get around the area.
Some of the recommended things to do in Copenhagen are:
How to get to Copenhagen: Copenhagen is a major international hub and is well connected to most destinations in Europe and India. Alternatively, you can take the train from Malmo in Sweden.
Prague, Czech Republic – One of the Best European City Breaks
Prague was my second last stop on one of my European tours. And I don't think I did justice to this gorgeous city. I spend my time fretting about silly things in Prague but that still didn't prevent me from falling in love with Prague.

Some of the recommended things to do in Prague are
How to get to Prague: Again Prague is well connected with flights from all around the world. Alternatively, you can take a bus or train from other cities in Europe.
Rüdesheim am Rhein, Germany – A memory from one of my first European vacations
Last year when I was on my Germany road trip, someone asked me to go visit Rudesheim. It was my last stop and once I got there, the town looked very familiar. That is when I realised (after checking with my parents) that I had been here once before as a kid. It was one of our first European vacations and it is still a popular touristic spot.
It is a pretty little wine town near the river Rhine and it is a popular place to go on a river cruise on the River Rhine here. Funnily this is the first place I tasted Wine as a kid (I think I was around 11-12) and maybe that is why I remember this place so much.
How to get to Rudhesheim: I drove here this time on my road trip around Germany. It is only an hour away from Frankfurt and around 2 hours from Cologne.
Split, Croatia – Perfect for European island hopping
Actually the picture below is not a picture of Split. But that of Hvar. And that is one of the reasons I loved Split. It made island hopping in Croatia so easy. I stayed in Split for few days and loved going to the nearby islands of Hvar, Vis, Blue caves etc all from Split.
Go see the world-famous Blue caves or go partying in one of the islands.
How to get to Split: It is around 3 hours by drive from Dubrovnik and around 4 hours from Zagreb by car.
Frequently asked questions about European destinations:
What is the most popular destination in Europe?
What is the prettiest place in Europe?
I hope this list can attribute that there are so many pretty places in Europe and it is difficult to choose one. Whether it is the Alps or the beaches of Algarve or quaint little towns like Colmar, it is a difficult choice.
What is a good European country to visit for the first time?
My top choices for first timers to Europe are Italy, France, Netherlands, Austria and Germany. These popular European destinations are popular for a reason and it is easier for a first timer to navigate here for the first time.
How can I go to Europe on a budget?
Europe on a budget is definitely feasible. I have been to Europe multiple times and many countries in Easstern Europe like Albania, Bosnia & Herzegovina, North Macedonia are extremely budget friendly.
Conclusion
So what did you think about my favourite European destinations for your European itinerary? Let me know in the comments if any of them are your favourite as well.
Don't forget to check my web story on European destinations.
Find some recommendations for guidebooks on Europe:
Guidebooks for Europe
Traveling to Europe and need more guidance on which books to read? These are our recommendations for you to read before you go.
Recommended: European Day Trips
BOOKING RESOURCES
Looking to book your trip now? Find some of my favorite resources I use while booking my trip. You can also find my travel gear here.
Book Your Flight
I am a Skyscanner fan when it comes to booking international flights. I use Makemytrip and Yatra for domestic flights.
Book Accommodation
Booking is my go to resource for booking hotel accommodation and I use Airbnb for booking my homestays. I also compare prices on Tripadvisor always. Another one I always use is Expedia.
Travel Insurance
As an Indian, I prefer ICICILombard and I am always insured when I am traveling outside India. In addition, I have used World Nomads and SafetyWing for some of my trips.
Book Tours
I do go on a lot of day tours especially when I am traveling solo. Depending on convenience, my choices are Viator or Getyourguide.