I have no clue how I came up with the idea of going to Italy. But when you are looking for affordable European holiday vacations for 2 Indian women travelling, it seemed like the right choice.  It was a perfect choice and I am glad that I chose such a beautiful country. Even though it is next to impossible to see Italy in 9 days, in this post, I write in detail about our 10 days in Italy Itinerary.
Well, we were faced with almost the same kind of obstacles everyone faces while travelling. Everyone had an opinion. Some of them asked 'Why Italy? There is nothing to see there.' But how can you explain to people who never travel, the beauty of this world we live in, the thrill of doing the unknown in unforeseen circumstances, trying new cuisines and meeting new people?
Most people argued that November may not be a good month since it would be too cold for Indians. But if you ask me November is a good month. It is far less crowded than the summer months and it rained only once when we were there. We were also able to manage with a jacket on all days.
Planning your Italy Trip at the last minute?
I know everyone is busy and don't have time to plan their itinerary to Italy. That is why I have covered you with links to some places to stay in Italy, must do experiences and more details at one glance.
Where to stay in Italy?
Must do tours in Italy
10 Days In Italy Itinerary
After a lot of hue and cry, the airline tickets were booked. To avoid getting too entangled in immigration processes, we took the help of SOTC to arrange our visas, hotel accommodation and our train travel within Italy. Before we go any further, a few words about SOTC. It is really not necessary to take the help of a travel agent these days. With the advent of the Internet, it has become even easier to travel around the world.
Apps like TripAdvisor, Airbnb's are a must for anyone travelling. But we decided to take their help just to put my dad's mind at peace. Also, it was a quickly decided trip and we had less than a month to make all arrangements. For their part, SOTC did their job as was expected of them. They didn't mess any of our bookings and we got our visas just in time. But they do come with a price tag and you should be careful of the fine print. These days, I prefer planning my own Eurotrip.
What To Do in Rome in 3 days
We took a flight from Bangalore to Rome via Paris. Just a word of caution here. Charles de Gaulle airport at Paris is a huge cauldron of chaos and it is very easy for you to miss your flight if you are not careful.
We arrived in Rome on a Friday morning. As we were chauffeured from the airport by an Italian lady (courtesy SOTC), we pestered her with our relentless questions. She was quite friendly and she gave us numerous tips that were helpful for us for the next few days. Gradually we watched the transition from a modern Rome to an ancient Rome as we travelled from the airport. That exactly is the charm of Rome; a merge of the golden era with the modern. It became clear why Rome was center of power once upon a time. It is also remarkable how they have still managed to keep the essence of Rome intact.
Walking Around Rome
After refreshing ourselves we decided to explore the streets of Rome. All the hotels we stayed in Italy were close to the bus and railway station making it very convenient to move around. The first bus we hopped on took us right to the Vatican, the heart and soul of the Christian world. On that first evening, when we walked along the river Tiber overlooking the Vatican and Castle of Angels, eating the world-renowned Gelato, we were mesmerized with the antiquity of Rome.
To enjoy Rome, Italy or even Europe you have to walk. Even though I cribbed endlessly about the pain in my legs after walking so much in Italy, I have never enjoyed anything more than the aimlessness of it all.
Suddenly we found ourselves in Piazza Navona in front of the majestic Bernini's fountain of four rivers. After doing what most tourists do (taking pictures) we took another walk looking for dinner and we were in front of Largo Torre Argentina. Dinner at a pizzeria opposite this famous ruin/cat sanctuary was both delicious and the host was gracious.
Hop on-Hop off Tour Around Rome
Colosseum, Rome
Next morning we got on a tour bus that took us all around Rome. Since Italy derives approximately 60% of its income from Tourism, the tourists are kept happy and we are spoiled with choices.  First stop was the Colosseum and Roman Forum ruins. Everywhere you go in Rome you can see how Christianity has embraced the rituals and customs of its Pagan predecessor.
As we stood outside this massive structure waiting to be let inside, we wondered what hidden secrets it contained.  Built to host the gladiator games of the first century which killed an equal number of men and animals alike, we were struck with the massiveness and the ethereal beauty of the place. You are left awestruck once you enter the arena. I could go on and on about the place but then if I did that, this would be a very lengthy read. All I would like to add is that it definitely holds its place as one of the new wonders of the World.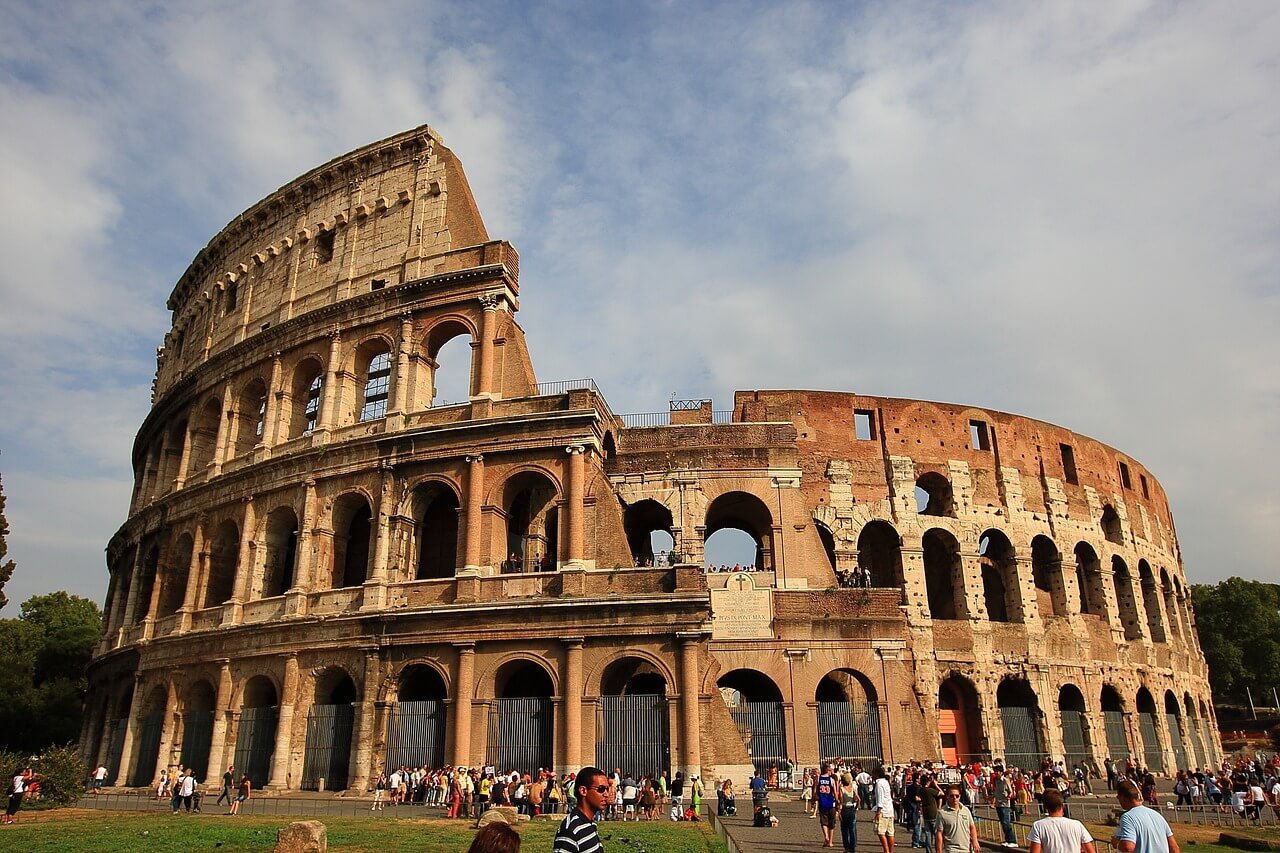 Roman Forums
Right next to the Colosseum is the Roman Forum ruins. A good walk among the ruins and the Palatine hill, and you can enjoy what was once considered the epicentre of the Roman life for centuries. How these structures, as well as their Indian contemporaries, survived for so long is a complete mystery to me.
Trevi Fountain
Our next stop was the Trevi Fountain. We hopped on our tour bus and on the way got down near the Altare Della Patria just to take photos. We walked from here to the Trevi doing some window shopping on the Via del Corso (I think). Once you reach there, it is a struggle to see it. It was quite crowded even though it was already past 7:30 PM. But we finally made it to the front and did the coin throwing tradition. Legend says that you will visit the fountain again if you throw coins in there. We were too exhausted and we decided to have our dinner at one of the cute little roadside cafes.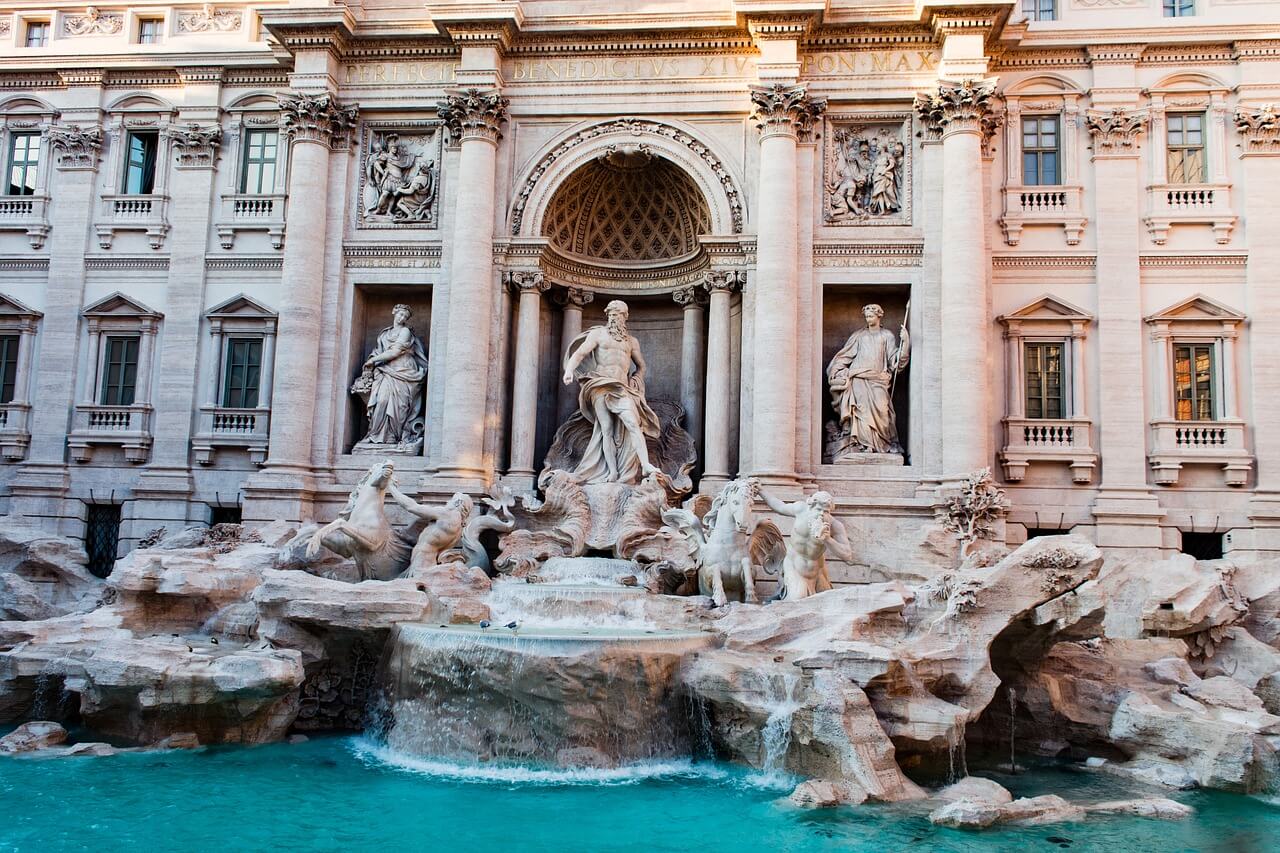 Vatican City during our 10 day trip to Italy
Our next stop was the Vatican. Few things to note here. The Vatican is closed on Sundays. SOTC had arranged 3 guided tours as part of the package. Vatican City is a country by itself. Yes, a country right in the middle of another city, Rome. Hence in case you decide to visit, make sure that you make the necessary arrangements prior. Else it is better to stick to a guided tour since it saves you a lot of unnecessary hassles. Also, never ever miss this experience if you ever get a chance.
It is definitely another World out there. You walk through endless rooms filled with frescoed ceilings, numerous marble sculptures, beautiful gardens and then you finally end up in the most beautiful of them all, the Sistine Chapel. You sit wondering in silence how Michelangelo and the others managed to pull such elaborate and gorgeous frescoes so high up. The last destination on the tour is the St Peter's Basilica, one of the largest churches in the World and one of the most sacred places for Christianity. Seeing is believing. That is all I got to say. But don't forget the Pieta by Michelangelo, the Bronze statue of St Peter's which everyone touches for good luck, Bernini's Baldachinno and the crypts (which are not part of the official tour though).
You come out and there is the St Peter's Square with its massive colonnades and the giant Obelisk in the centre of it. You just have to stand there in the middle of everything to take in the beauty of the place.
Visiting Florence: One of my favourite cities in the world
Next day we had a morning train to Florence. It is around 1.5 hrs from Rome to Florence. Italian trains are not very particularly keen on being on time. But as you pass one small town after another on a scenic train journey, you forget all that. Finally, we arrived in Florence and we went searching for our hotel which was again walking distance from the train station.
Florence is a quaint little city and anyone would just fall in love with it. It was definitely my favourite place in Italy among the places we visited. It was still Autumn and everywhere we went in Florence, we were struck by the splendour of it. There are so many things to do in Florence.
David, Florence
After lunch, we proceeded to see the magnificent statue of David at the Galleria Dell Academia. It was a long wait outside the museum since they allow only a bunch of people at a time. It was definitely worth the wait and David in all his grandeur was a sight to see. Michelangelo's genius is quite evident here and you are left awestruck at the giant piece of marbled male nude. In addition to David, the Galleria is filled with numerous other paintings and sculptures.
Uffizi Gallery, Florence
We walked again to Piazza Della Signoria where stood the bell tower and the Uffizi gallery in addition to numerous statues. If you are an art buff, then Uffizi is the place for you. Endless rooms of Vinci, Caravaggio, Raphael etc famous works, all so carefully preserved. I don't think few hours could do justice to this place. We finally managed to get out and then had a light evening snack at a lovely place at the Piazza which served awesome desserts.
One day in Pisa, Florence
Next morning, we were off to Pisa. This was one of the other arranged tours by SOTC. Pisa is around 1.5 hrs by bus and we were soon on our way with a bunch of other excited tourists. The drive was very pleasant. Once you get to Pisa, it is quite a walk from the parking lot to the Piazza Dei Marcoli but all of us were too eager.
There it was. You walk into the Piazza (Piazza Del Marcoli) and you see three buildings (cemetery is not visible when you enter), the Baptistry, the Cathedral and the bell tower. Yes, it is a Bell Tower but known to the World as the 'Leaning Tower of Pisa'. Piazza Del Marcoli or formerly known as Piazza Del Duomo is listed as aUNESCO World Heritage Site. After taking a round of photographs, we along with our guide and a couple of other folks, went to the office to get our tickets to climb the Tower.
You need to pre-book the tickets in case you want to go to the top. There was this girl with us who wanted to climb to the top but could not do so since the tickets were sold out for the day. From here, we proceeded to see the Cathedral since the Baptistry is open only for certain occasions. Cathedral is quite beautiful by itself with a beautiful and intricate Pulpit and the famous Galileo's lamp.
Climbing to the top of the bell tower at Pisa.
After leaving the cathedral, few of us proceeded to climb the tower while the rest of them were asked to loiter around the grounds. There is a queue to get inside the tower and while we waited, we heard the history behind the 'Leaning Tower of Pisa'. Climbing the tower is not that difficult since you have to just climb around 300 steps and any able-bodied adult should do it in 5-10 minutes. We did feel a little dizzy due to the slanting but the view from the top of Pisa city is totally worth it. Pisa is definitely one of the best places in Italy for couples.
Piazzale Michelangelo, Florence
We were finally done with the tour and the tour bus dropped us off back at Florence post lunch.
After an hour of late afternoon shopping and loitering around the Florence cathedral (which was unfortunately closed down due to renovations), we decided to take a bus to Piazzale Michelangelo. You can also walk up there (35 -40 minutes uphill according to our receptionist).
We were too tired to walk, so we took a bus. We did not know what to expect since this was recommended by someone and we just went along with it. But this is an experience you should not miss. From this square high up on a hill, you can see the entire Florence city. The view is magnificent and right out of a postcard. Sun was just setting and as we watched, we saw from a distance the beautiful city of Florence and I instantaneously fell in love with it. We didn't feel like leaving the place.
Venice: Land of Canals
The next day we were off to Venice. It takes around 3 hours by train and we were too exhausted to even notice the time pass by. We finally reached around noon. We got a little scared since it was raining, and as we got out of the station, we saw that it was high tide and the whole place was flooded. Luckily for us, the hotel was just 200 meters near the station. By the time we checked in, the rain had stopped and we decided to explore the place.
Venice is a land of islands. Even though you can walk anywhere, we preferred to take a water taxi (vaporetto) to Piazza San Marco, popularly known as the 'Drawing room of Europe' during Napolean days. Boat taxis take the Grand Canal and it is a beautiful ride along the canal. Since it was still high tide, the place was covered with wooden planks for people to walk on. After loafing around for a while, we decided to go for a show called Venezia, history of Venice. This is heavily advertised all around the square. But this can be missed since it is more of a comedy and the actors are not that great.
We had our dinner and then we headed back to our hotel. But we got into the wrong water taxi and ended up going all the way back to the mainland and back. So basically we took a roundabout route to our hotel.
Rialti Bridge
Next morning, we took a water taxi to the Rialti bridge. View from this bridge is amazing. We then headed over to the San Marco and we took a tour around the Basilica and the Doge Palace. Later we took a Gondola ride along the Grand Canal. It was so peaceful and serene.
Day Trip to Murano, Burano and Torcello during Italy itinerary 10 days
In the afternoon, we went on another planned SOTC tour to 3 islands which is a popular day trip from Venice. The first island of Murano is quite famous for its glass-making. The artisan took us through different techniques to produce elegant glass sculptures. The 2nd island Torcello is mostly a swampland with a beautiful church right in the middle of it. The last Island is Burano and it is known for its colourful houses and hand-woven lace. Sunset from this island was marvellous.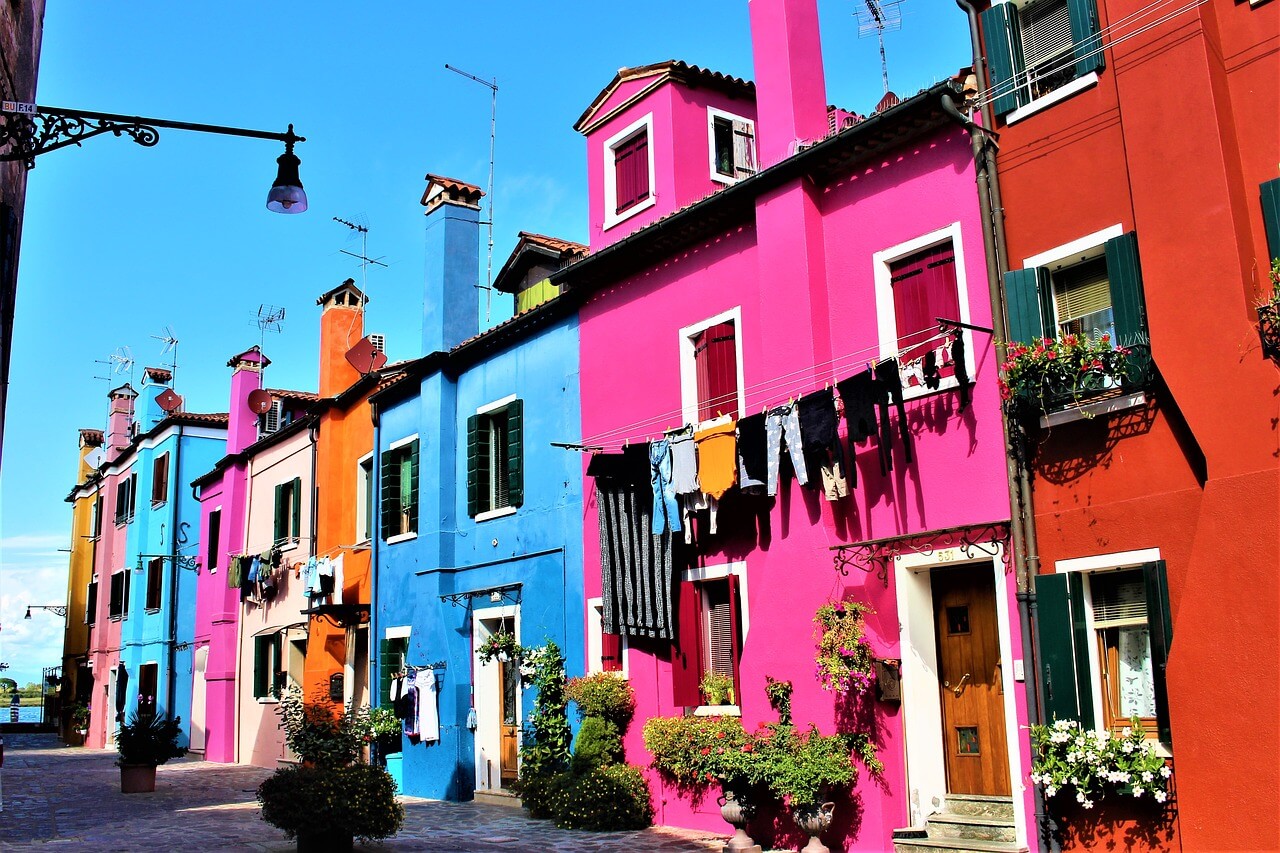 One Day back in Rome during our 10 day Italy itinerary
On the final day, we took a train from Venice to Rome. It usually takes around 3.5 hrs but we took more than 5 hours to reach Rome. We spent the rest of the day roaming around the Pantheon, Spanish steps and shopping.
Since we had an early morning flight, we took a short nap and then we were en-route to the airport. We left Italy with promises of going back there to visit the parts we missed like Amalfi coast, Milan, Naples etc and a truckload of memories to last a lifetime. If you are planning to spend 10 days in Italy, you can add Milan to make it a 10 days Italy itinerary.
Tips for all Travelers for their Italy 10 day itinerary
Do extensive research. Lonely Planet's guide to Italy for the Indian traveller was a lifesaver for us. Trip advisor and other sites have lots of data as well.
Most 3 or 4-star hotels are just B&B's (Bed and Breakfast). You hardly sit in your room and hence this is more than enough. Also, all hotels serve only cold breakfasts.
Public transportation is quite affordable and there are many deals that you can use to your advantage. For e.g, Boat taxi tickets at Venice for 2 days is a better deal or buy an entire day of bus pass at Rome.
Local cuisine is a must-have. Pizzas, kinds of pasta, Spritz (Venetian Cocktails), Italian special sandwiches, Cheese, Wines, Gelato ice creams and many more.
There are lots of tourist's traps and we should be careful not to fall for them.
There are too many places to see and there were instances when we couldn't visit some of them due to lack of time. Something we must accept early on.
Shopping is a little expensive. But don't forget to get chocolates from Florence, Venetian glass from Murano, Hand-woven lace from Burano, Wine and cheese from Rome, Carnival masks from Venice etc.
Boat taxis (vaporettos) at Venice are a little tricky. Even though the route says that it goes to this place, make sure that you do not take the longer route to reach the place.
Talk to the people, both tourists and local folks. They can give you great inputs on where to visit and what to do. Even though the language is a barrier, most Italians are quite friendly and helpful.
Italy is quite crowded mostly all around the year. I have heard of people waiting up to 5 hours to see the Colosseum. So plan accordingly.
Be careful of pickpockets in Rome. We were warned by an Italian lady not to leave our phones and bags away from us, once when we were dining at one of the roadside cafes.
Indians have a habit of being late and please don't be late. We were late once and people on our guide tour were quite irritated with our tardiness.
Pack light. Sometimes it is quite a walk from the stations to your hotel and it can be a nuisance dragging loads of baggage around.
Wear comfortable shoes and attire since there is a lot of walking to do. We were able to manage with a jacket on all days.
Italian airports only open at 6 in the morning for domestic flights. We reached around 3:30 AM and ending up waiting outside.
Want to go to another landlocked country in Italy? Then check this post on how to get to San Marino.
Everywhere you go, you end up making new friends. Combined with awesome locales, your trip to Italy is definitely worth your time.
Liked it, then pin it.
Find my recommendations for guide books on Italy.
Guidebooks for Italy
Traveling to Italy and need more guidance on which books to read? These are our recommendations for you to read before you go.
BOOKING RESOURCES
Looking to book your trip now? Find some of my favorite resources I use while booking my trip. You can also find my travel gear here.
Book Your Flight
I am a Skyscanner fan when it comes to booking international flights. I use Makemytrip and Yatra for domestic flights.
Book Accommodation
Booking is my go to resource for booking hotel accommodation and I use Airbnb for booking my homestays. I also compare prices on Tripadvisor always. Another one I always use is Expedia.
Travel Insurance
As an Indian, I prefer ICICILombard and I am always insured when I am traveling outside India. In addition, I have used World Nomads and SafetyWing for some of my trips.
Book Tours
I do go on a lot of day tours especially when I am traveling solo. Depending on convenience, my choices are Viator or Getyourguide.