I have been traveling for a long time. I got on a plane for the first time when I was 6 months old and that was the time we flew to Africa (Mom, me and my twin sister) to be with dad. As many of you know, I grew up in Tanzania, Africa and I only moved to India many years later to pursue college. Now I live and work in Bangalore.
Even though I have been traveling my whole life, I only started chronicling my experiences in September 2015. This page aims to be the one-stop shop for all the blog posts I have written till now. The number is few since I can be a lazy writer. This is just intended to be a place where I share my experiences and the experience you might have had may be completely different. I do post few tips from time to time but don't take this as the basis of planning your trips.
It is such a beautiful world and I would love to visit all the countries in the world. I know it is difficult with an Indian passport but it is definitely not impossible. (I have visited around 38 countries on 5 continents. ) I write everything from visa guides to personal stories. I write extensively about vegetarian food around the world and how to travel as a solo female traveler as well as how to travel with a group. There is no steadfast rule about traveling and I stick to that rule.

Off to the Baltics for the next 3 weeks.

Click on the Country name to read more about the country.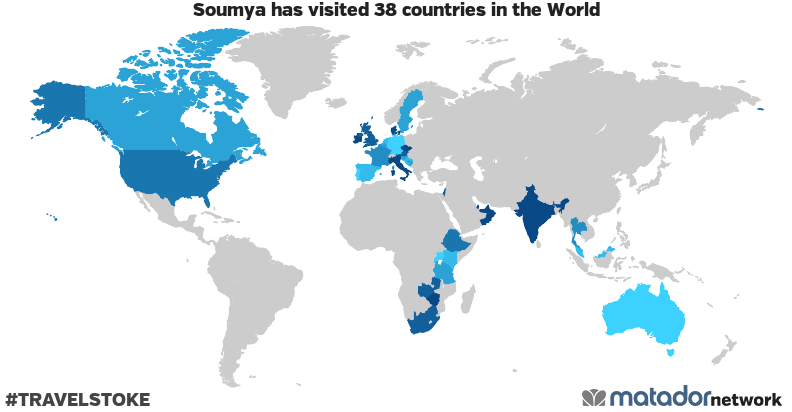 Soumya has been to: United Arab Emirates, Austria, Australia, Bosnia and Herzegovina, Belgium, Canada, Czech Republic, Germany, Denmark, Spain, Ethiopia, France, United Kingdom, Croatia, Ireland, Israel, India, Italy, Kenya, Luxembourg, Montenegro, Malaysia, Netherlands, Oman, Palestine, Portugal, Qatar, Sweden, Singapore, Slovenia, Thailand, Tanzania, Uganda, United States, Vatican, South Africa, Zambia, Zimbabwe.
Get your own travel map from Matador Network.
Join our community and receive a free copy of our Europe itinerary eBook