Paris, the city of love is on the wishlist of every traveller. And as someone who has seen Paris through 3 seasons, I can definitely understand the charm of the city. I have come to love Paris and another side of Paris which most tourists tend to miss out. But France is not only about Paris. It is a country with so much more. With gorgeous valleys and tons of pretty beaches, it can give its neighbours lots of competition when it comes to tourism. Next time, you decide to take a trip to Paris, don't forget to get out of Paris to go some cute little-timbered villages, taste some exquisite cuisine and indulge in some of the best wines France has to offer. If you are into fashion travel, then again France has lots to offer in terms of fashion shows. In this France travel guide, I try to list some of my France travel tips to make your first trip to France a success.
France Travel Guide Contents
Latest Posts | Quick Tips | Where to Go | When To Go | How to Go | Driving Tips | Public Transportation | Where to Stay | What to eat | What to shop | Things to Do | More Resources
Read Some of My Latest France posts
Austria, Belgium, Bosnia, Croatia, Czech Republic, Denmark, England, Europe, Europe Diaries, Eurotrip, France, Germany, Ireland, Italy, Luxembourg, Montenegro, Netherlands, Portugal, Scotland, Slovenia, Spain, Sweden, Travelbooksfood
Austria, Bulgaria, Croatia, Czech Republic, England, Europe, Europe Diaries, Eurotrip, Faroe Islands, France, Georgia, Germany, Greece, Iceland, Ireland, Italy, Montenegro, Netherlands, Poland, Portugal, Scotland, Slovenia, Spain, Switzerland, Travelbooksfood, Ukraine
More France Posts →
Visa required for Indians: France is part of the Schengen zone and hence like all Schengen countries, Indians need a Schengen visa to visit France.
Languages spoken here: French is the official language in France. Even though many people in Paris know English, it is wise to speak French in Paris. They love it when you do and tend to be more friendly if you try to communicate with them in your broken French. Bonjour, Merci Beaucoup, Bonjour, Ca Va/ Comment Ca Va are Hello, Thank you very much, Good morning, How are you in French.
Capital: Paris
Currency: Euro
Location: France is located in Western Europe and shares land borders with 7 countries; Belgium, Germany, Luxembourg, Spain, Andorra, Italy and Switzerland. In addition, it has several overseas territories like French Guyana and other islands in the Pacific, Indian and Atlantic Oceans.
Electrical Travel Adapter specifications: 230 volts and 50 Hz. They use C and F plug types in France.
IDP required for Indians? IDP is preferred if you are driving in France. In case, you don't have an IDP, it is suggested that you have a French translation of your local driving license.
SIM Cards: Most cards you buy in other countries in the Schengen zone will work in France without additional data or roaming charges. Orange, SFR and FreeMobile are recommended in France.
WIFI connectivity: The cities are well-equipped with Wifi and you can find free Wifi in public spots in major cities like Paris and Lyon
Safety in France: Like Spain, France is also notorious for petty theft. I have many friends who have been robbed in Paris and it is always recommended that you keep your valuables as close to you as possible. There are many tourist scams as well and one should stay alert to steer clear of them.
Some of the suggested places to go in France are:
North France itinerary
Alsace: Alsace is definitely my favorite region in France and I loved visiting the fairytale village of Colmar when I was in France. This cute town near the German border has to be one of the most charming towns I have been to in Europe. Strasbourg in the Alsace region is equally stunning and if you are a wine lover, don't forget to visit this region when you are in France. Riqueiweir is another cute town you have to visit in France.
Paris: I know people who hate Paris but I am not one among them. I loved walking in the rain last time I was in Paris and eating to my heart's content when I was here. In addition, there are so many places to visit in Paris and even after 3 visits there, I have still not scratched the surface. One of my favourite things to do in Paris was attending my first Moulin Rouge Show in Paris. Don't forget a day trip to Versailles while you are in Paris.
Normandy: This entire region in Northern France is famous for its white cliffs and historically, the Normandy landings are known for being a crucial event during World War II.
Mont St Michel: This island commune which is part of Normandy is a famous tourist attraction these days.
Brittany: From here, head to one of the many beach resorts along the rugged coastline in the Brittany region.
Nantes: Head to the industrial and port city of Nantes before going back to Paris.
South France itinerary
Bordeaux: In a mood for some French wine and French Gothic architecture? Then head to Bordeaux from Paris.
Toulouse: From here, then head to the city close to the Spanish border for seeing more architectural marvels.
Montpellier: Continuing on the route of French architecture, head to this Southern city of Montpellier.
Marseille and Avignon in Provence: Next on the list is the port city of Marseille in the Mediterranean region. Also, don't take a detour to Avignon and stop at some cute villages like Nimes, St Remy, Arles etc.  I would love to go here one day to see the Lavender fields.
French Riveria: Cannes is internationally renowned for its film festival. Want to see some stars? Then head here during the festival. Also, don't forget to visit both Nice and Saint Tropez on the Riveria. The neighbouring country of Monaco is only 30 minutes away from Nice. Why don't you head there for a day to live in the lap of luxury and see what makes it so attractive to so many wealthy people?
Chamonix: If you are looking to ski in some of the French Alps, then this resort town of Chamonix is your best bet.
Annecy: Annecy has also made it to multiple lists of 'Beautiful towns in the world' and I would love to visit it one day.
Lyon: Make a stop at Lyon for some medieval and Renaissance architecture before heading back to Paris.
I have been to France in three different seasons and it is difficult to choose my favorite. I would love to go back to Paris in Spring because I have heard that it is the best time to visit France because of lesser crowds and the gorgeous flowers. But rain is quite common in some parts of France and it is always advised that you carry an umbrella while you are in France.
By Air: Every time I transit via the CDG airport in Paris, I can only remember running. The Charles De Gaulle airport in Paris is your best bet if you are looking to fly to France from India. If you are planning to fly in from other cities in Europe, you have options like flying to Nice, Toulouse, Lourdes etc.
By Rail: The SNCF operates runs the rail transport system in France. They also run various TGV high-speed trains to other cities in Europe. SNCF jointly operates high-speed trains from Paris to Amsterdam, Cologne and Brussels under the brand name of Thalys. Eurostar operates trains between London and Paris.
By Road: Flixbus regularly operates to major cities in France from other cities in Europe.
You drive on the right side of the road in France. Gas costs approximately 5.5 USD per Gallon and most rental companies have a policy of returning a full fuel tank. Like most countries in Europe, you have to fill the Gas yourself and then pay at the counter. Like I mentioned earlier, it is not mandatory to have an IDP to drive in France but it is recommended to have one since some companies may ask for a French translation of your local driving license. It is mandatory to have a GB sticker or a registration plate with GB initials if you intended to drive in France and you can incur a heavy fine if you don't have one. Also, headphones while driving is illegal in France.
Public Transportation in France
All the major cities in France like Paris, Lille, Lyon, Nice, Marseille, Toulouse have an extensive Metro system or tram system in addition to a bus system. It is fairly easy to get around but in cities like Paris, please be careful about your valuables since thefts are highly common in the metro. Buying a day pass can definitely save you some money and it is suggested that you get one if you are planning to use public transportation a lot.
Find some recommendations on where to stay in France.
French cuisine is definitely one of my favourite cuisines after Indian cuisine. But probably it is because of the desserts. Everyone knows that I love desserts and the French definitely have a way with their desserts. But that doesn't mean that there is a dearth of
vegetarian dishes in France
. It may be a bit more difficult to convey that you want Vegetarian food in smaller towns but even then you find plenty of options when it comes to vegetarian food in France. Start your day with a croissant or go have breakfast in some of the most elegant tea rooms in Paris. You can opt for some vegetarian Bisque soups for lunch or you can decide to have a Falafel for lunch. Crepes are another great option and there are many savoury options available as well. If that is not enough, you can settle for a vegetarian Ratatouille or a Spinach and Cheese Souffle. A plate of different types of cheese is also a good option for breakfast. Most meals are accompanied by a Baguette. I also loved eating a Gratin when I was in France. If you are a dessert person like me, then don't forget to have Tarte Tartins, Macaroons, Eclairs, Financers, Profiteroles and various other French patisseries when you are in Paris. Check this post for some of the most
famous cafes in Paris
.
The only thing I bought for myself from Paris was a gorgeous pair of heels. I bought this since I had to go to the Moulin Rouge show and I did not have appropriate shoes to wear for the occasion. In addition, I had bought mini Eiffel tower figurines to gift my aunts. Some suggested souvenirs to buy in France are
Wine: French wine is legendary and don't forget to buy some on your way back.
Champagne
Macaroons
French Chocolate
French Cheese
Madelines
Berets
French Scarfs
French beauty products
Handbags
There are numerous things to do in France. But find some of the recommended things to do in France below: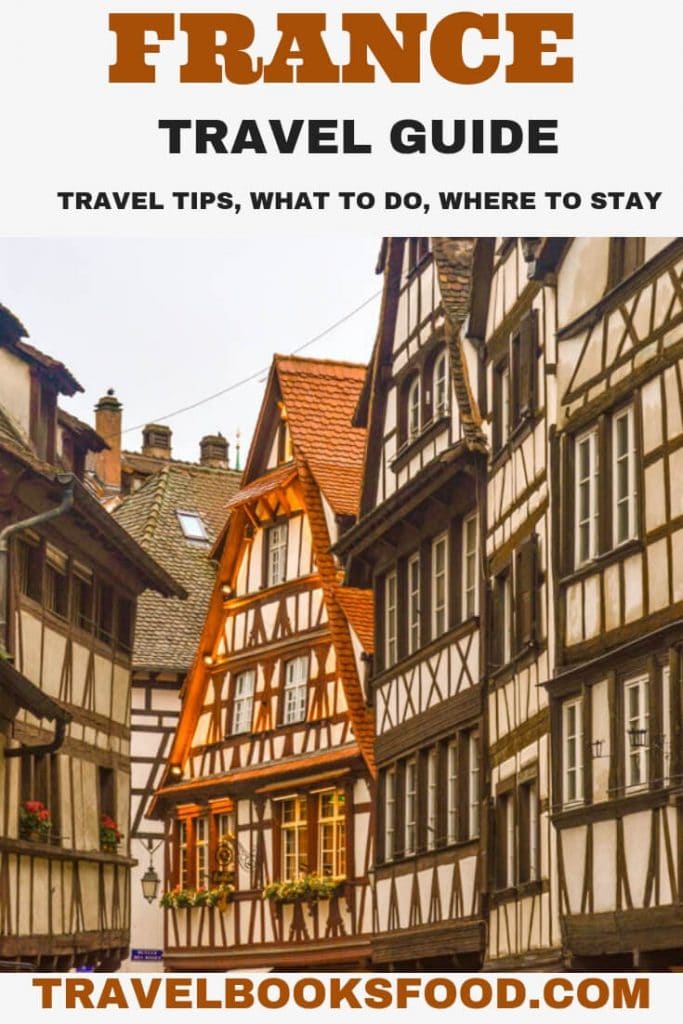 Join our community and receive a free copy of our Europe itinerary eBook