I am supposedly a cultural traveler. That is what my friends tell me. Maybe I am because I usually don't miss my chance of watching shows whenever I am traveling. After watching 'Phantom of the Opera', a Broadway musical in New York, I wanted to see "Moulin Rouge" in Paris. No, I am not talking about the movie.
Actually, I never saw the movie since I was still not an adult back then and then never bothered to watch the movie post that. So, what is Moulin Rouge in Paris? I knew that it was a cabaret. But knowing it and wanting to see one of the world's greatest acts are two different things. I learned it the hard way and read on to find out how I got one of the biggest cultural shocks in my life. I have realized that I should research more in the future. Here I list some of the 'Things to remember while visiting Moulin Rouge Paris'.
In this post, I write about how to get your Moulin Rouge tickets, what is the Moulin Rouge Dress code, what to expect at the Moulin Rouge Paris and so many other details as well. Are you planning to visit Moulin Rouge Paris and don't know what to expect? The Moulin Rouge experience is something that you should not miss if you are in Paris.
I stayed at Hotel Du Continent which was just a short cab ride from the Moulin Rouge.
"Moulin Rouge" (CC BY 2.0) by Gabriel Villena – Cover Pic
Planning your Paris Itinerary at the last minute?
I know everyone is busy and don't have time to plan their itinerary to Paris. That is why I have covered you with links to some places to stay in Paris, must do experiences and more details at one glance.
Where to stay in Paris?
Must do tours in Paris
---
How to get Moulin Rouge Paris tickets?
The easiest way to get a ticket is to go to the Moulin Rouge's website and book the Moulin Rouge tickets through them.
There are generally 3 options when it comes to Moulin Rouge tickets. You can either combine it with a dinner or a dinner and cruise. All Moulin Rouge tickets come with champagne by default. The VIP tickets allow you to skip the line as well as give you access to the best seats in the hall.
My Pick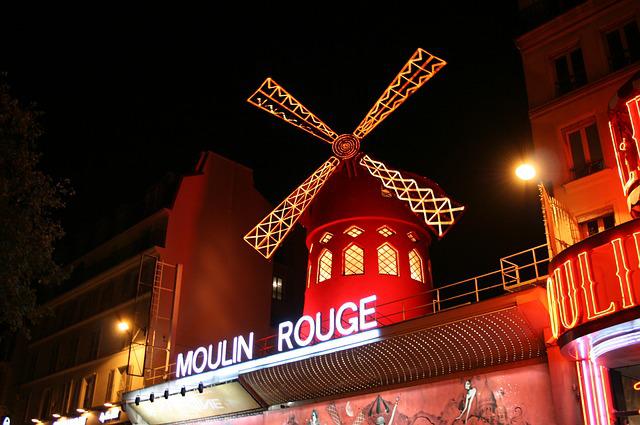 Book VIP Tickets
Want to skip the line at Moulin Rouge and get access to the best seats?
How much does it cost to see a show at Moulin Rouge?
It is approximately 90 Euros for a single person for a show with champagne. If you include dinner, it is around 200 euros.
How long is Moulin Rouge show Paris/Moulin Rouge show duration?
Moulin Rouge, Paris runs 2 shows every day of the year at 9 PM and 11 PM (I am not sure about holidays). For those wanting to have dinner, there is an option of having dinner at 7 PM followed by the 9 PM show. The Moulin Rouge show length is approximately 105-110 minutes.
I did not choose the dinner option since there were no vegetarian options to choose from and at the same time, it was expensive too. You have to pay a minimum of 105 Euros for a single ticket.
What to wear to Moulin Rouge Paris (Moulin Rouge Paris Dress Code)?
So you are wondering what is the Moulin Rouge Paris dresscode? They are very elegant when it comes to Moulin Rouge attire. They don't expect the men to wear ties or suits and business casuals will do. But I did not see anyone in jeans and most people dress up when they are going to see the show at Moulin Rouge, Paris. But shorts, flip flops, sports shoes and sportswear are not permitted inside the theatre and that is the only rule when it comes to dress code for Moulin Rouge.
Since I was on a 6-week trip around Europe, I had only flip-flops and sports shoes. So, I actually went shoe-shopping in Paris and ended up buying a gorgeous pair of heels (my only splurge shopping throughout the entire trip). I ended up wearing an evening wear gown, which I had carried with me. They do have a cloakroom for storing your coats.
Can you wear jeans to Moulin Rouge?
Jeans are not banned. However most people wearing jeans coupled that with a blazer or something fashionable. After all it is the fashion capital of the world.
Do people dress up for Moulin Rouge?
Yes, it is a very fancy affair with champagne and a course meal included. So most people do dress up for the Moulin rouge.
Recommended Read – Planning A EuroTrip from India
When to arrive for the shows at Moulin Rouge Paris?
It is recommended that you arrive at least half an hour in advance. Most shows are fully booked and it does take the staff some time to seat everyone. You can either carry a paper ticket or you can show the tickets on your smartphone.
First impressions of the hall at Moulin Rouge Paris:
It is a huge seating area and the entire hall is classily done with red shades and it is eloquently gorgeous. Each and every guest is individually seated. I had a normal ticket and I was placed right next to the stage in the front. You are prohibited from taking any pictures and please adhere to this rule.
My ticket came with half a bottle of champagne and I ended up having only a single sip.
After seeing the ambience, I was extremely excited and I couldn't wait for the show to begin.
Moulin Rouge Paris facts and History:
Moulin Rouge, Paris is a cabaret and has been around since the late 1800's. The original building burnt down in 1915 and it was replaced with the existing building, characterized by the red windmill.
The most famous dance shown here is the Can-Can dance, which is a very enthusiastic but at the same time physically challenging dance. There are around 80 dancers, both female and male dancers with around 60 of them being ladies. The ladies are affectionately called Doris's girls after one of the most famous dancers, Doris Haug and who formed the first Doris's troupe.
The resident stage show is called the Feerie, which has been running since 1998. It comprises of 4 acts, each sticking to a theme. The first act is in the 'Garden of Moulin Rouge" followed by 'Pirates', 'Circus' and the last act paying tribute to the women of Paris.
Between each act, there are some international acts like the couple in roller skates, a trio of acrobats etc.
What is Moulin Rouge Paris?:
The shows always start on time and as I sat there waiting to be transported to another land, the show started. It started innocently enough with lots of dancers entering the stage all dressed up. You have to see it to believe it. All the costumes are gorgeous and colorful with exquisite sequined designs and fascinating headgears.
But then as the act progressed, I suddenly sat there shocked out of my wits. I can only blame myself but I did not know till I actually saw the frontal female nudity that this show was adult-themed. Yes, you can expect to see a lot of boobs (Oops, did I actually use the word on my travel blog? Please grow up if you felt offended by it.) There is a lot of dancing and a fair number of boobs too. So do expect some Moulin Rouge nudity if you are ever there.
Mind you, not all Moulin Rouge dancers are nude. In the group of maybe 60 girls, around 15 of them are nude while the rest of them are covered. After I recovered from my initial shock, it was actually lots of fun. There was nothing trashy about the whole show and it was as classy as it can be. There is some superb dancing and to top it for us girls, there is some eye candy in the form of gorgeous male dancers. The passion that goes into each show is evident from the smiles of each and every one of those dancers. In spite of doing some hard numbers, all of them do it with a captivating smile.
Costumes are out of this world and each of them appears to be carefully crafted with elaborate headgears and lots of sequins. The acts are all entertaining even though I could not understand a word of what they were singing. Everything is in French but in spite of that, I sat absolutely enthralled with everything going on in the show.
In addition to the dancers, you can also find some cute miniature horses and clowns during the Circus act. In one act, you can see a lady swimming with Boa Constrictors and I was ready to sprint out when I saw the snakes so close to me. All the acts in between are also exceptional and special mention needs to be given to the couple dancing in roller skates. The energy through the Can Can dance is quite inspiring too.
It was a great way to spend two hours of my life and I am really glad that I got to see Moulin Rouge, Paris.

FAQ's for your Moulin Rouge Experience
Where is Moulin Rouge Paris?
It is located on Boulevard de Clichy, at Place Blanche, the intersection of, and terminus of Rue Blanche. The district is Pigalle while the area is Montmartre and is in the 18th arrondissement of Paris. Full address is 82 Bd de Clichy, 75018 Paris, France.
Are children allowed at Moulin Rouge Paris? / Is Moulin Rouge child friendly?
Kids above 6 years are allowed but unless you want to scar your Indian child for life, I would strongly advise you against taking your kids to watch the Moulin Rouge, Paris. I really can't comment on kids from other countries, though. There is a lot of upper body nudity for both men and women. So it really depends on how comfortable you and your kids are when it comes to that kind of nudity. And most shows are well past children's bedtimes.
Is it advisable to go to Moulin Rouge with Indian elders?
Again, I would strongly advise you against it. Unless you want to scare your mother in law to death after seeing so many boobs.
Would I advise a solo traveller to go to Moulin Rouge Paris?
I went alone and I had a gala time during the entire show. Go with an open mind and you will definitely have a great time.
How long is the Moulin Rouge show in Paris?
The show lasts around 2 hours if you do not go for a dinner show. The timings are basically at 9 PM and 11 PM. If you are going for a dinner show, it lasts for around 3.5 – 4 hours and starts at 7 PM.
Can you eat at the Moulin Rouge Paris?
As mentioned before, you have an option to book your tickets along with a dinner option. I did not choose to have dinner at Moulin Rouge since I did not find any good vegetarian options. However, from the reviews I have heard about dinner there, some people call it exceptional while some people cite it as just average.
Are seats assigned at Moulin Rouge?
You are taken to your assigned seat just before the show. You do not have an option of selecting your seats before the show. So depending on your luck, if you go for normal tickets, you can end up with a place anywhere. Since I was solo, I got a pretty decent seat in the front of the hall. Also, it is advised to go early to ensure you are in the front of the line so that you can get good tickets.
Is Moulin Rouge in English?
No, it is in french. But in spite of not knowing any french, I loved the performances of all the dancers and artists.
What is Moulin Rouge Paris age limit?
There is no upper age limit for Moulin Rouge in Paris. But kids under 6 years are not permitted inside the theatre.
Is Moulin Rouge topless?
Some of the women in the show are topless and there is a bit of frontal upper body nudity for both men and women.
What is Moulin Rouge Paris seating plan?
Except for the vip area, you are seated according to what time you arrive at the show. So you could be seated anywhere based on your luck if you are at the back of the queue.
Why is Moulin Rouge so expensive?
Firstly you are in one of the most expensive cities in the world, Paris and most attractions are comparatively more expensive. Additionally Moulin Rouge is sold out on most days. So it is basic supply and demand scenario. Since the demand is high and the tickets are limited every night, there is an expensive price tag attached to it.
Is Moulin Rouge dinner worth it?
As a vegetarian, there were not many options and that is the reason I did not choose the dinner option. It is definitely worth it for people who eat meat from what I have heard from my travel blogger friends.
Getting Back after watching the Moulin Rouge show:
The first show gets over at 11 PM. There is a taxi stand just opposite and you have to wait in a queue to get a cab. If you can leave a little early to beat the crowd, then please do. I was staying close by and this taxi ride cost me around 12 Euros.
Is Moulin Rouge Paris worth it?
Definitely. I would love to go back again one day with my partner and I would say that Moulin Rouge is worth it. It was so much fun and the atmosphere was just awesome.
Where to stay in Paris near the Moulin Rouge?
The Moulin Rouge is in the Pigalle district and in the hip artisty area of Montmartre. Since Paris has many other attractions like the Louvre, Eiffel Area etc, it really depends on what your priority is when it comes to accommodation and area. But listing some of the hotels that I had stayed at as well as researched for my multiple trips to Paris.
Conclusion:
So that is it, my scandalous summary of my time at the Moulin Rouge, Paris. If you want to catch a trailer of the show, you can check it out here. I would definitely love to watch Moulin Rouge all over again.
Find out more things to do for 3 days in Paris.
Liked it, the pin it.
You may also like:
Find my recommendations for guide books on France.
Guidebooks for France
Need more tips for traveling in France and need more guidance on which books to read? These are our recommendations for you to read before you go.
Recommended: Broadway Musical Experience
BOOKING RESOURCES
Looking to book your trip now? Find some of my favorite resources I use while booking my trip. You can also find my travel gear here.
Book Your Flight
I am a Skyscanner fan when it comes to booking international flights. I use Makemytrip and Yatra for domestic flights.
Book Accommodation
Booking is my go to resource for booking hotel accommodation and I use Airbnb for booking my homestays. I also compare prices on Tripadvisor always. Another one I always use is Expedia.
Travel Insurance
As an Indian, I prefer ICICILombard and I am always insured when I am traveling outside India. In addition, I have used World Nomads and SafetyWing for some of my trips.
Book Tours
I do go on a lot of day tours especially when I am traveling solo. Depending on convenience, my choices are Viator or Getyourguide.