I don't know why I kept putting off writing about my Chicago itinerary until the very end. After all, it was the first city I visited in the USA this time around.
It was my first time in the windy city and I arrived here from India on a Thursday evening. So you may ask, why did I choose to spend 3 days in Chicago? The answer is very simple. I had a cousin there and it seemed like a safe bet while booking my tickets when rest of my itinerary was yet to be planned.
Three Days in Chicago Itinerary
What to expect at Immigration in the USA
I am not sure how other airports in the country fare in terms of the immigration process. But it takes so long at Chicago. I am an Indian passport holder, hence it comes with no special privileges like other countries. So here I am after a 20-hour journey, all tired and in desperate need of a shower, and I end up waiting more than 90 minutes to pass immigration. And to top it off, the guy in front of me was definitely drunk and the immigration officer ended up grilling him for 15 minutes at least. At one point, I thought they were going to send him back to his home country.
Thankfully my turn finally came and it went quite smoothly. As usual, she was quite impressed with my passport and she wanted to know why it took such a long time to get back to the US after my first visit. They ask you basic questions and my only advice is to answer them truthfully. Then she proceeded to scan my fingerprints and take my photo. Since I have only 9 fingers, I made her aware of the fact and she made the appropriate changes in her system. Soon I was done and on my way to collect my baggage.
I was not stopped at customs since I was not carrying anything other than clothes and gifts for family and friends. I just gave them the filled declaration form and they let me through. Soon my cousin came and we were on our way to his house in Westmont, a quiet suburban locality, around 30 minutes from the city center. On the way, we stopped for buying dinner and a SIM card from one of the local supermarkets.
By then I could not keep my eyes open and I immediately went to sleep after taking a hot shower. Jet lag can definitely be a bother at such times. I did not do much in the morning the next day and I spent the entire morning loitering around the building clicking my first selfies in the US. My cousin was working from home that day and I did my best to disturb him. After all, isn't that what cousins are for? I think he finally got tired of me and he decided to drop me at the railway station after lunch.
Chicago Metra System
Metra is the railway system that connects the suburbs to the Union station at the city center. However, when we got there, we realized that the train is there only once every 50 minutes and the next one was not due for another 40 minutes. I took a stroll around the place. It is a small neighbourhood and you can find few charming stores around the place.
Places to see in Chicago in three days
There are so many things to do in Chicago. Listing some of them in no order.
Wills Tower
It takes around 30 minutes by train to get to Chicago city centre. The first place I went to was the Willis Tower or the Sears tower as it is commonly known. It is the tallest tower in Chicago. However, the wait time was quite high and I ended up waiting for more than an hour to get to the Skydeck. The wait is definitely worth it since the view of Chicago from up there is phenomenal. You should definitely check out the Ledge if you have the guts. It was funny to see so many people scared to get into the Ledge. It is always advisable to book these tickets in advance to do Chicago on a budget.
Grant Park
My next stop was Grant park which is around 10 minutes walking distance from Willis Tower. This is a huge park located in the center of Chicago's downtown. Millennium Park is also a part of this area. There was a food festival going around there that day 'Taste of Chicago'. There were multiple food carts and musical performances as well. There are multiple things to do in Grant Park. You can find the Jay Pritzker Pavilion which is a bandshell famous for hosting musical performances.
One famous landmark here is the Cloud Gate or the Bean which is one of the weirdest shaped monuments I have seen. Another thing you can see here is the Crown fountain which is basically a face wall and the faces keep changing. By the time I was done with these three, it was around 8 PM and I walked back to the Union station to catch a Metra back to my cousin's place.
Chicago Lakefront and Shedd's Aquarium
We started quite early on Saturday. This time my cousin was there and we had the whole day to visit other places. Since it was a Saturday morning, we parked the car and took a stroll along the Chicago Lakefront trail. It was so beautiful and there were so many people enjoying their morning run there. From here we walked to Shedd's aquarium.
It definitely was my happy place in Chicago and I spent hours there, sometimes squealing like a little kid exploring the various exhibits. My cousin was pretty amused by all this. I also got an opportunity to touch several Stingrays. However, the One World show was a bit disappointing compared to similar shows I have been to over the years.

Chicago Field Museum of Natural History
Next stop was the Field Museum of Natural history. Some of the exhibits here are good but somehow not as impressive as other museums in the country. Maybe I should have done this first and then gone to the Aquarium.
Chicago Tribune Tower
We had booked all tickets online and you can get a discount if you book them together. By then it was around 4:00 PM and we had to go for our Chicago Architecture river tour. We were early when we got there. So we decided to go to the Tribune Tower. What is special is that this tower has rocks and bricks from various historical places from around the World like the Taj Mahal, the Parthenon, Great Wall of China, Hagia Sophia, Angkor Wat among many others. I wonder how they got them.
I didn't get to go to Navy Pier this time. But I was here last time around and it is a good place to spend an afternoon in.
Chicago Architecture River Tour
Soon we were on our river tour and it is a fun way to see Chicago by boat. This includes many structures like the Trump Tower, the Hancock Tower, Navy Pier etc. It was supposed to be a one hour ride but since some idiot jumped somewhere into the river, they closed the entire river till he was rescued and arrested by the authorities. Ah, the irony. Apparently, it happens all the time. I had an early morning flight to New York the next day. So we decided to have a quiet dinner and head back home.
Check out some of the tours below.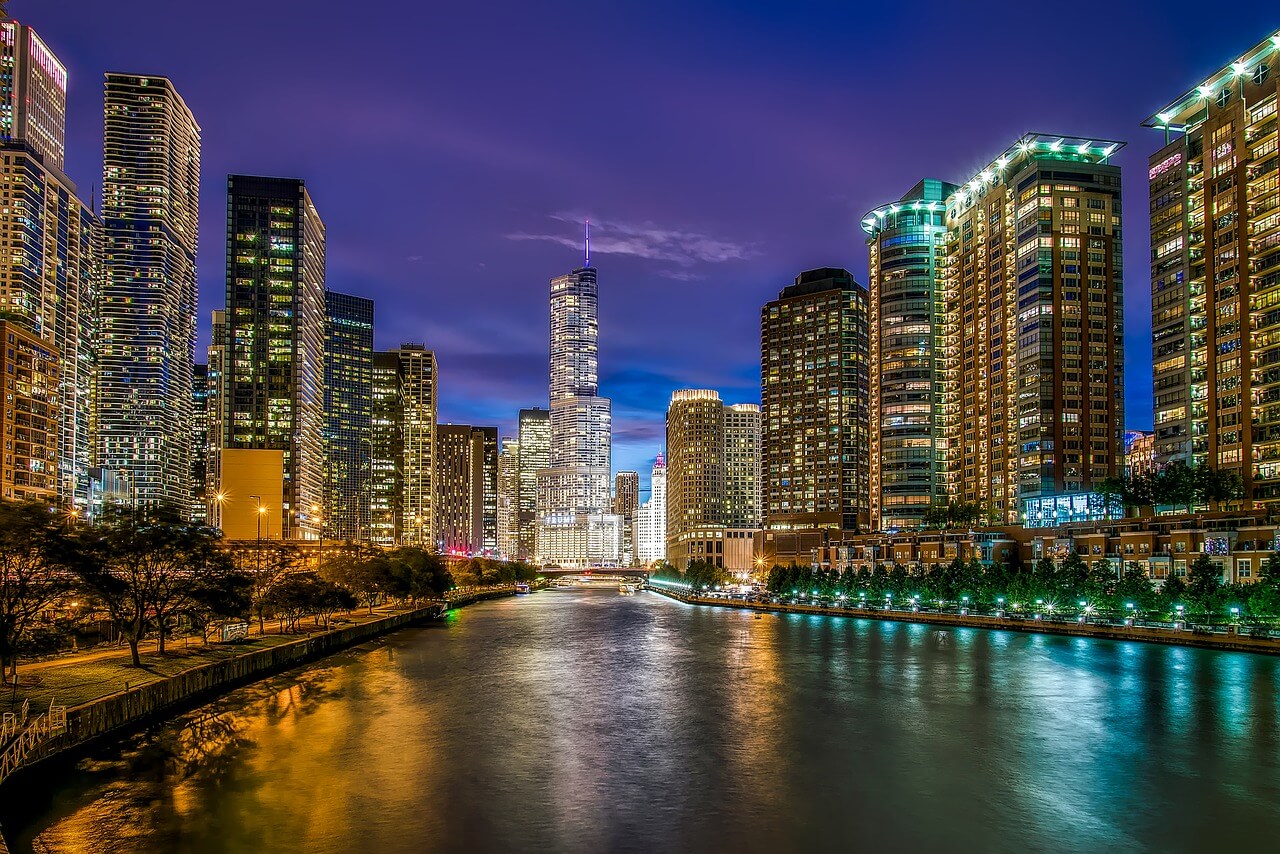 I did come back to Chicago almost at the end of my trip from Niagara. Even though I had booked my return tickets from Chicago, I changed it to San Francisco once I got to the US. I took my amazing train trip from here and just before I boarded my train, I did visit 'The Art Institute of Chicago'. I did not get much time and I wish I could have spent more time here.
Chicago was the city I landed in. Even though I did not do much here compared to the other cities due to my jet lag, it will always be special since it was the first city I saw. Maybe one day I will go back there to explore this city more.
Liked it, then pin it.


Find my recommendations for guide books on USA.
Guidebooks for USA
Traveling to USA and need more guidance on which books to read? These are our recommendations for you to read before you go.
BOOKING RESOURCES
Looking to book your trip now? Find some of my favorite resources I use while booking my trip. You can also find my travel gear here.
Book Your Flight
I am a Skyscanner fan when it comes to booking international flights. I use Makemytrip and Yatra for domestic flights.
Book Accommodation
Booking is my go to resource for booking hotel accommodation and I use Airbnb for booking my homestays. I also compare prices on Tripadvisor always. Another one I always use is Expedia.
Travel Insurance
As an Indian, I prefer ICICILombard and I am always insured when I am traveling outside India. In addition, I have used World Nomads and SafetyWing for some of my trips.
Book Tours
I do go on a lot of day tours especially when I am traveling solo. Depending on convenience, my choices are Viator or Getyourguide.