A lot of people have seen images of the Pink lakes of Mexico and wondered where it is. I also wondered the same and that is when I got to know that these lakes are located in Las Coloradas in the Yucatan peninsula in Mexico. In this ultimate Las Coloradas guide, I write about everything that you need to about this place and Rio Lagartos.
I ended up taking a group tour from Cancun even though I had a rental in Cancun. I was solo and it was too big a distance to drive back and forth in one day.
My flight to Mexico City where we were living at that point of time was the next morning and hence I could not stay at any of the properties in Las Coloradas or Rio Lagartos, the nearest town to the pink salt lake in Mexico.
Visiting the Pink Lakes of Mexico; Las Coloradas
Many people find this place through Instagram. You have seen pictures of this dreamy place in several Instagrammer's posts. But there are so many questions you will have when it comes to visiting these pink salt lake in Yucatan. I will try and answer all your queries here.
Best Las Coloradas tour
Like I mentioned before, I ended up taking a tour from Cancun to Las Coloradas and I feel this is the best way to explore the region since it is so remote compared to other towns in the Yucatan peninsula. And this is my pick for the best tour from Cancun after countless hours of research on the topic.
My Pick
Where is Las Coloradas Mexico Pink Lake?
It is a community located in the Rio Lagartos municipality in the state of Yucatan. It is located in the Northern coast of Mexico in the Yucatan peninsula. If you have seen the map of Mexico, then you would have seen the tip of Mexico that is part of the Caribbean.
This state is called the Yucatan, home to the many attractions in Mexico. One among these is the Las Coloradas and is famous for the Playa Rosa Yucatan (Pink beach in Yucatan). But please note that it is not a pink beach even though the name suggests that. Please note that there are no Pink beaches in Mexico.
The pink lakes of Las Coloradas are located on a stretch of land between the Gulf of Mexico and the Rio Lagartos Biosphere reserve. The closest town to this village is Rio Lagartos and it can be reached either by boat or by road in 30 mins.
What is Las Coloradas pink lakes?
If you look for the Google translation, then it says that Las Coloradas stands for 'The red ones' from Spanish to English. But loosely translated it also could mean 'The Colored ones'. They are popularly known as Laguna Rosa Yucatan or Pink lagoon in Mexico.
So the next question would be 'What is Las Coloradas known for?'
Did you know that Las Coloradas is a fishing community that is also known for sea salt harvesting? A very large private company owns the area and it is mainly used for making grain salt. They are said to be the 2nd largest producer of salt in Mexico.
But long before this company came to existence, the ancient Mayans used to use the area for harvesting salt. The pink lakes that are so famous on Instagram are actually manmade pink salt lakes or pink lagoons. These pink lakes or tiny pink ponds are built right next to an estuary and salt water from here is flooded into these manmade lakes for the production of salt.
What to do in Las Colorados?
These are some of the things to do in Playa Las Coloradas:
Explore the pink lakes around the Las Coloradas Yucatan visitor information center
So once you reach the Las Coloradas Yucatan visitor information center, you will be given some time to explore the area. If you are not going with a tour, you will have to pay an entrance fee of approximately 120 Mexican pesos at the visitor center here. This is where most of the salt is harvested and hence you will see big dunes of salt all over the place.
Also remember that if you are not with a tour, you will need to have a guide to visit the area. They mainly give the history of Las Coloradas as well as monitor you from entering the pink lakes. It is approximately 250 Mexican pesos for a Spanish guide and around 300 Mexican pesos for an English speaking guide.
It is also here that you will see a pink lake on one side and the blue ocean on the other side of a kind of a sand bar. There are multiple photo opportunities here. Remember that you cannot head into the water anymore however appealing it looks. What I heard from a friend who went recently is that now the entire place is covered with barbed wire.
You can also climb to the top to the top of the observation deck from where you can see the different colours of the Pink lake, Mexico and the ocean on the other side.
Most tour buses park their vehicles in the parking lot of the visitor center. If you are driving, remember that there is some free parking options just outside the visitor center.
Like I said before, it is a long journey from most popular towns in the Yucatan peninsula. So once you are done with the visitor center, you are usually taken to a restroom. These are usually ones in someone's home for which you will have to give 5-10 Mexican Pesos for toilet paper and a clean restroom. Since it was a long journey from your nearest Mexican town, this would be a welcome respite.
Tip: DSLR photos and drones are not allowed near the pink lakes near the visitor center. Only mobile phone cameras are allowed here.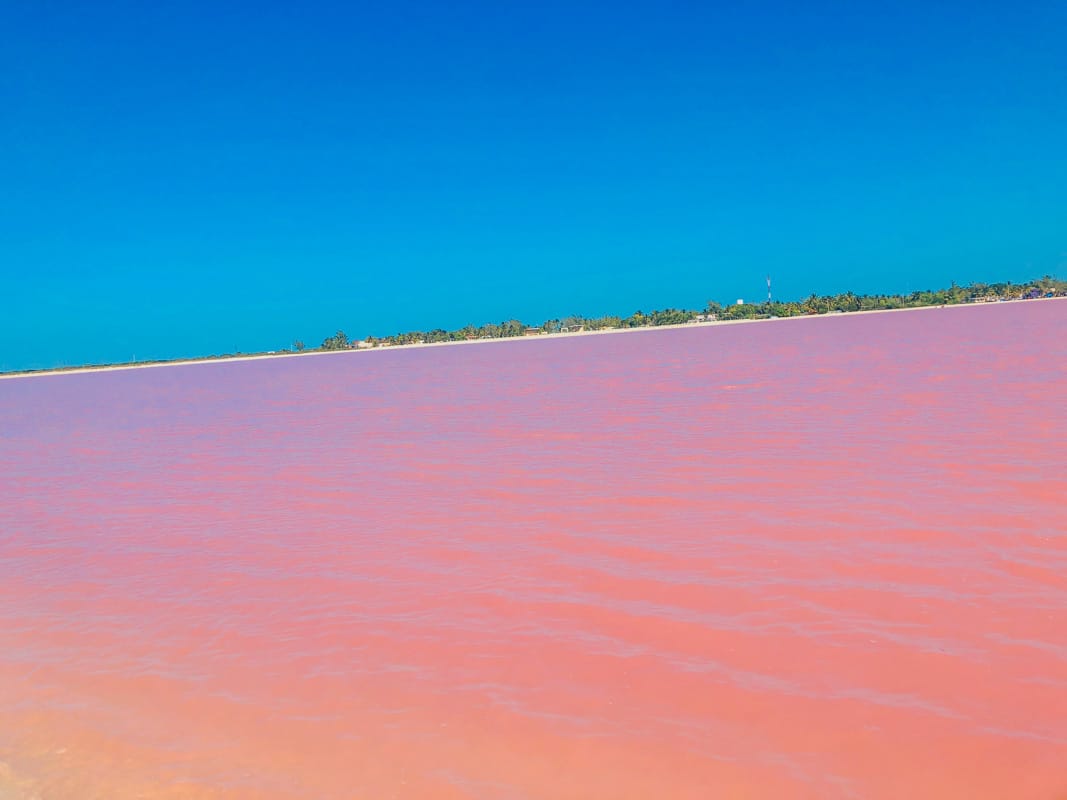 Explore the nearby mangroves and the flamingo colonies by boat
This is again for people who have not taken a guided tour from any of the nearby Mexican towns and have either driven there, taken a taxi or bus. For people on tours, this is already part of most group tours.
Once you are done with the guided tour of the pink lakes, you can take a boat ride to the mangroves and the place where you will find most of the flamingos. This costs another 250 Mexican pesos if you are not on tour.
But I loved this 1.5 hour boat tour and we ended up spotting crocodiles, lots of flamingos, pelicans and many other bird species during this boat trip. Once you reach the flamingo colonies, you can take a mud bath there and this mud found here is said to have many therapeutic qualities.
My skin is very sensitive and hence I did not end up doing the mud bath. Once your mud bath is done, you are given the option to swim in the sea for a while.
Explore the area on the back of motorcycles
If you are not a fan of the boat trip, you can always take a 'guided tour' on the back of the motorcycles to the same place to see the flamingos and do a mud bath. This will cost approximately the same as if you visit by boat.
Some people have claimed that you can drive on this road. But remember that all the area around the Las Coloradas is owned by a private company and hence it could be illegal to drive through these parts these days. So always do your due diligence before you decided to drive on these roads.
Go to the nearby beach
Most guided tours these days take you to a nearby beach. But compared to other beaches in Mexico, this was a total waste of time.
Visit the nearby town of Rio Lagartos for lunch
Once the boat tour is done, they will take you to the nearby town for a delicious Mexican meal for lunch. This is usually the last stop during your day trip to Las Coloradas. If you are driving to Las Coloradas, it is recommended that you stay here for the night since most decent accommodations can be found here.
Tip: Remember to specify your food preferences when you book the tour. Else, they may not have the vegetarian / vegan option when you visit the place.
Visit EK Balam / Cenote Xcanche on the way to Las Coloradas
This is the tour I took and we ended up visiting the ruins of Ek Balam on the way. Since most tours plan in such a way that you reach the pink lakes by noon time (the best time to see the candy coloured lakes), they also stop for around an hour at the ruins. You can use this time to either visit the ruins or go swim in the Cenote here. This Cenote was practically empty when we went and it was such a refreshing swim.
Frequently Asked Questions about Las Coloradas:
When to visit Las Coloradas Yucatan Mexico?
The ideal time to visit the lakes is between 12:00 PM – 15:00 Pm. This is when the colours of the lake are the best. From all the reports I have read online, anytime between December and February seem to be the best time to visit the Los Colorados. I myself went by mid January and it was absolutely breathtaking.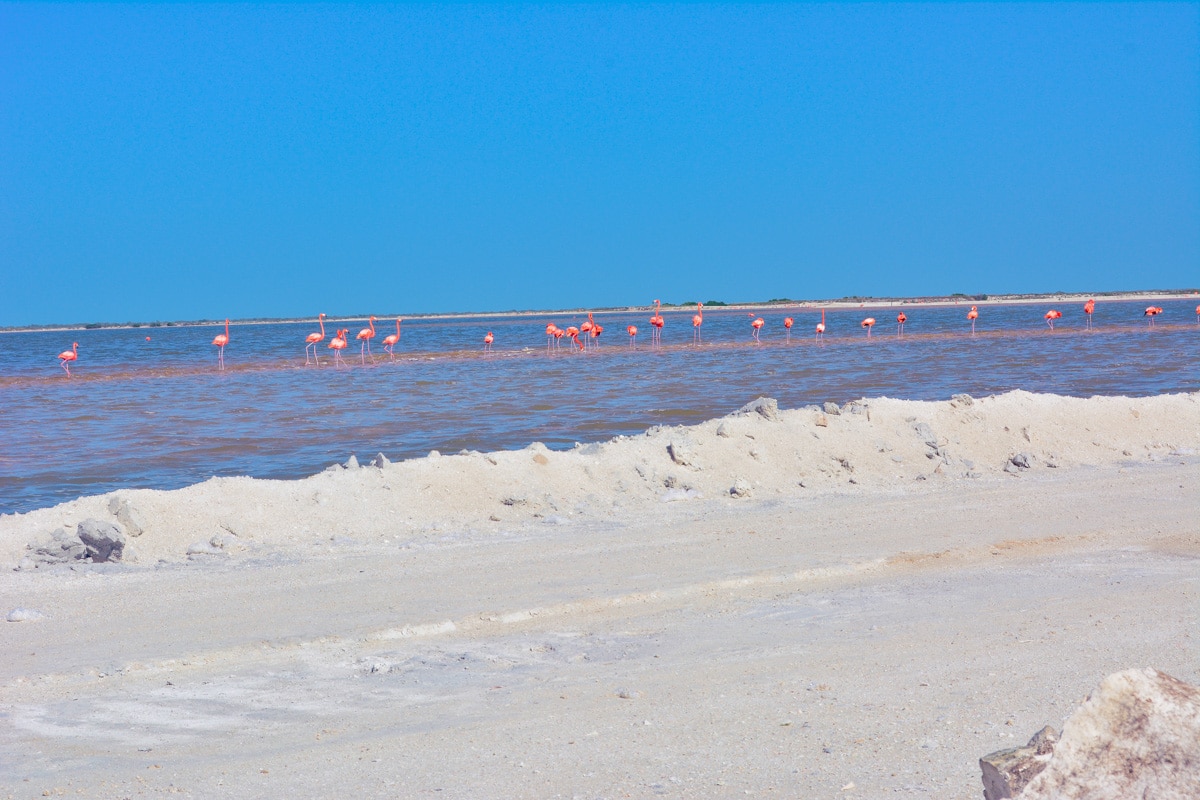 How to get to Las Coloradas?
One of the reasons most people end up skipping this place is that it is a little harder to get to compared to other destinations in Yucatan. There are four ways you can to Las Coloradas and we will discuss all four in detail.
By Rental Car: This is the most flexible one and you can use this to get to Las Coloradas from other places in the Yucatan like Cancun, Tulum, Merida or Valladolid. The roads are mostly great except for some patches the nearer you get to the pink lagoon, Mexico. But if you are planning to drive, then think about staying back in Las Coloradas or Rio Lagartos. Else the drive to and from can be tiresome.
By tour bus: I ended up taking a Las Coloradas tour from Cancun and I ended up loving it. This can be strenuous since it takes almost 15 hours for the whole trip. Nevertheless, I ended up enjoying the trip because of the Mexican / Spanish family who were with me that day.
By Bus: If you are looking for a budget option, then bus is the best bet. But you need to be wary of the timings since the last bus to Tizimin leaves around 3:45 PM. Also, the bus journey can take more than 6-7 hours one way from Cancun.
By taxi: You can get a taxi from the nearest town of Rio Lagartos for around 600 Mexican pesos. This is a good option and you can share the costs with fellow travellers.
How to get to Las Coloradas from Merida?
The distance from Merida to Las Coloradas is approximately 230 Kms and can take anywhere from 3 to 5 hours depending on the mode of transport used. The quickest way to get there is by hiring a car while the cheapest option is to take couple of buses via Tizimin.
But due to it being so far from everywhere else, I believe the best way to get there is by taking a tour bus especially if you are travelling solo or don't want to drive on your own. If you are driving, first take the Route 176 to Tizimin and then take the 295 up north to Rio Lagartos and then continue onwards to Las Coloradas.
How to get to Las Coloradas from Valladolid?
The closest popular town to Las Coloradas other than Rio Lagartos is Valladolid. It is approximately 125 Kms and can take 2 hours through Tizimin if you are driving and around 3.5 hours if you are taking the bus. Remember you will have to change the bus at Tizimin in this case too.
But if you don't want to stay back in Rio Lagartos or Las Coloradas, then Valladolid is the closest option for an overnight stay. It is a lovely pastel coloured town and you should definitely include it in your Yucatan itinerary.
Again, there are multiple Las Coloradas tour options if you prefer everything to be arranged by someone else in a foreign country.
How to get to Las Coloradas from Tulum?
Tulum is approximately around 220 kms from Las Coloradas. In order to get to Las Coloradas from Tulum, you will need to pass the town of Valladolid. So the route will be Tulum -> Valladolid -> Tizimin -> Las Coloradas. If you are planning to take the bus, this means that you will have to take at least 3 buses one way.
Also remember that the last bus from Las Coloradas to Tizimin is at 3:30 PM. So even though this is the cheapest option, it can be a really long one and tedious one to figure out the connections.
Driving would be ideal if you are planning to stay in Rio Lagartos or Las Coloradas. But if you want to get back to your boho stay in Tulum on the same day, then the best option is to take a group tour from Tulum to Las Coloradas. It saves you the hassle of figuring out how to get from Tulum to Las Coloradas.
How to get to Las Coloradas from Cancun?
So I was in Cancun for a friend's wedding. I was there for almost 12 days and my husband also joined me for a weekend. I ended up going to lots of places around the Yucatan by driving around. It was my last day in Cancun before flying back to Mexico City and I was desperate to visit the pink lakes Mexico.
However, it did not make sense to drive all the way to the Las Coloradas on my own. This meant that I would be driving solo for at least for 8-9 hours on Mexican roads.
If you see the map, you will be confused by it. The actual distance between Cancun and Las Coloradas does not seem too much from the map. However, a lot of the area is a biosphere reserve and hence there are no roads between them. Hence the actual distance between the two is around 260 kms and you will need to pass both Valladolid and Tizmin to get to Las Coloradas.
This is the reason I chose to take a Las Coloradas day tour from Cancun. They picked us up around at 6 AM and we were back in the hotel by 9 Pm which was still a 15 hour day trip to Las Coloradas. We stopped at EK Balam on the way there while on the way back we stopped at Rio Lagartos town for a delicious lunch.
How far is Las Coloradas from Cancun / Tulum, Valladolid, Merida?
Already answered above.
In case you are planning to drive, remember to pay the tolls. The roads to Rio Lagartos was quite decent and paved roads. There were some parts with potholes but it was not something that experienced drivers would have a problem with.
Why is the water pink in Las Coloradas?
Because of the high concentration of salt in these lakes, there are some tiny organisms like plankton, brine shrimp which are red coloured algae and hence give these lakes their cotton candy pink colour.
But another thing to note is that not all these lakes are bright pink. They can range from bright pink to orange pink to even some orange ones. I will explain why shortly.
The Mexican flamingos here eat these microorganisms and that is where they get their brighter pink colours compared to other flamingos from around the world.
Is Las Coloradas always pink?
No, they are not. Like I said before, each of these tiny lakes can be of different shades of pink and some orange too. They are the brightest pink when they are closer to harvesting the salt. This is because all of the water would have slowly evaporated and these organisms would be more visible when there is a higher concentration of salt.
However, if they are in the initial stages of salt production, then these organisms would not be that visible and hence would give a orange hue to these lakes.
Another main factor is if you get a cloudy day. If it is a cloudy day, then the lakes will not be of the pink colour you have seen in photographs. So before visiting, check the weather predictions and hope for a bright sunny day. Also, the best colour comes between 12:00 PM – 3:00 PM.
Is Las Coloradas pink now?
Before planning to visit Las Coloradas, you need to check the weather conditions as well as which stage of salt water harvesting it is right now. If they are just starting the process, then you will be disappointed. Also avoid the rainy and hurricane months between June and November in the Caribbean.
I went in January and a couple of the lakes were the perfect light pink that looks so good on Instagram photos. The reason I am saying this is because you should not be disappointed if you go at a time when you wouldn't find these lakes pink enough.
Is Las Coloradas worth visiting?
This is a question I keep getting a lot and this is something I considered before I decided to visit it. Is the pink lake worth it?
This is actually a very subjective question and the experience of this place can vary from person to person.
I had a lovely experience since the lakes were the perfect pink when I went. But I know of many people who were disappointed because they did not have a great viewing experience like I did.
Another thing to consider is that there is nothing much to do in Las Coloradas other than visiting the pink lakes of Mexico for a photo opportunity. So if you are someone who don't like to travel for photography, you may be disappointed. I, on the other hand, went on a great tour that included some bird watching, mud baths, some alligator sightings accompanied by a dip in the Cenote which added to the experience.
There are also lot of restrictions that have come up due to the increasing popularity of this place and that might not sit well with some. It is slowly becoming a tourist trap and that is something to keep in mind as well.
One main pain point is that it is at least 3-4 hours from other Mexico vacation spots in the Yucatan like Cancun, Tulum, Playa Del Carmen and Merida. Even Valladolid is at least 2 hours away. So it is a little more harder to get to compared to other cities/towns in the Yucatan peninsula.
The tour I took from/ to Cancun took me at least 15 hours for the whole trip and a major part of this was spent in the mini van.
Where to stay in Las Coloradas?
So if you have decided to stay back in Las Coloradas, remember that it is a small fishing community and located in a private company's lands. Hence the number of options to stay are limited and hence your best bet would be to stay in Rio Lagartos, the nearest town or in Valladolid, the nearest popular town. Nevertheless, these are some of the options to stay in Las Coloradas and these have been recommended by my travel blogger friends.
Pina Coloradas Ecolodge: This is currently one of the few options to stay near the pink lake Yucatan. If you are planning to do a sunset tour to watch the flamingos, this is the place to stay at. It is an ecolodge and hence is a sustainable travel property.
Hotel Villa De Pescadores: Another great property situated in the town of Rio Lagartos and is only 30 mins from Las Coloradas by bus or road.
Hotel Rio Lagartos: The best place to stay in Las Coloradas according to most of my travel blogger friends for all the amenities they provide.
Can you swim in Las Coloradas?
No, you cannot swim in Las Coloradas anymore. This was allowed a few years ago but has been stopped ever since. This was because of the popularity of the place, more and more people started to swim here for Instagram which lead to issues in the salt harvesting process of the place.
Like I mentioned before, this place is mainly used for salt harvesting and due to this, swimming in the pink lakes are not allowed anymore.
Can you walk in the pink lake in Mexico?
No, you cannot dip your feet in the pink water in Mexico anymore. Even though there were no barbed wires when I went, this has been put in place since then and the guards are very strict about anyone trying to enter the pink salt Yucatan lake.
What is the entrance fee for Las Coloradas?
This is usually included in the tour you are taking. But if you are not going with a group tour, then it is approximately 5-10$ for a person. Also, if you are booking a tour, some tour operators who do not include this price, collect it upon boarding. This is known as the Coloradas reserve tax.
Where can I see pink flamingos in Yucatan?
All of you must have heard of the very pink famous Mexico Flamingos. This is largely found in the area of Las Coloradas in the Yucatan peninsula. They are more pink compared to other flamingos because they feed on the organisms that make the lakes in Mexico pink.
How do I find flamingos in Las Coloradas?
When you are near the visitor center of Las Coloradas, you will see very few flamingos near here.
If you want to see the flamingos and take those dreamy photographs, then it is recommended that you take a boat tour that takes you among the mangroves where you will spot crocodiles, then further up where you will see hundreds of flamingos in their full form. If you are a bird aficionado, then you will spot many other species of birds too.
Can I fly my drone in Los Coloradas?
No, flying drone is mostly prohibited. You can get the license to fly a drone but from what I have heard, these permits are extremely expensive and not worth it.
What to pack for Las Coloradas?
These are some of the mandatory things you need to carry with you if you are planning a trip to Las Coloradas:
A swimsuit: If you are planning to do the mud bath experience and swim in the ocean.
Sunglasses: Definitely a must carry for your trip in Mexico
A wide hat: It was quite sunny when we went and I had carried my wide brimmed hat to protect me from it.
Some protein bars and juices: They did not stop for breakfast but they did stop at a convenience store for us to buy stuff. Some tours like the one I went on give sandwiches for breakfast. Remember that you will be in the van for a long time, hence it is better to carry enough snacks.
Portable charger for your devices: Since it is a 15 hour trip and you will be taking a lot of pictures, your phone's battery won't last that long and hence a charger is a must have.
Sun screen: Again a must have for a sunny day out at the beach.
Sandals: A good pair of slippers since you will be walking a lot in the sand.
Fast drying towel : In case you decide to swim in the sea after your mud bath
What are Las Coloradas opening hours?
The Las Coloradas visitor center is open everyday from 9 Am to 5 PM. But if you are catching a bus back to Tizimin, remember that the last bus leaves at 3:30 PM.
Conclusion : Las Coloradas; Pink Lakes of Mexico
This was a dream destination for me and I made sure that I visited this place before I left the Yucatan peninsula. And I am so glad that I did this even though it was a long day.
The Mexico pink lagoon are definitely a must visit even though they are not an easy visit. In my opinion, taking a guided tour from places like Valladolid, Merida, Tulum or Cancun is the best way to visit this place solo.
Have any questions about my trip to Las Coloradas? Let me know in the comments below.
Guidebooks for Mexico
Traveling to Mexico and need more guidance on which books to read? These are our recommendations for you to read before you go.
BOOKING RESOURCES
Looking to book your trip now? Find some of my favorite resources I use while booking my trip. You can also find my travel gear here.
Book Your Flight
I am a Skyscanner fan when it comes to booking international flights. I use Makemytrip and Yatra for domestic flights.
Book Accommodation
Booking is my go to resource for booking hotel accommodation and I use Airbnb for booking my homestays. I also compare prices on Tripadvisor always. Another one I always use is Expedia.
Travel Insurance
As an Indian, I prefer ICICILombard and I am always insured when I am traveling outside India. In addition, I have used World Nomads and SafetyWing for some of my trips.
Book Tours
I do go on a lot of day tours especially when I am traveling solo. Depending on convenience, my choices are Viator or Getyourguide.