Are you planning to renew the tourist visa for USA from India? My B1B2 visa renewal was due by the mid of this year and I decided to renew it at a time when I knew I was not going to be travelling.
In this post, I give you a step by step guide on how to renew your tourist visa for USA from Bangalore and India in general. Since there is not much information online on the US B1 B2 visa renewal requirements, I hope this post clarifies all your queries.
Need to Know before Planning your trip to the USA
Renewal process for tourist visa for USA from India (B1/B2)
Before we go to the Us B1B2 visa renewal process, let me just take you through the different types of visitor visas that are applicable for Indians. Please note that this blog post will only cover the renewal process for the non immigrant visa also called as the US visa B1 B2.
Different types and categories of visitor visas available for travel to the United States
One of the most common question I get is what is the tourist visa for USA called? There are basically 3 categories under the US nonimmigrant visa and you can find them below:
US B1 Visa: If you are planning to go for a conference, seminar, workshop, negotiating contracts or to settle an estate, this is the kind of US Visitor visa you need to get. Please note that you cannot work full time with this visa since this is a temporary visa. You cannot even do paid performances or work as a journalist with this visa. You can however go on vacation with this type of visa.
US B2 Visa: This visa is issued for tourism purposes, for vacation, for visiting friends and family or for medical treatment. In most cases when you are applying for parents or retired people, this is the visa stamp you will get. If you only have a B2 stamp, you cannot do any of the things that is permitted by a B1 visa.
Us B1 B2 Visa: In most cases when you apply for a B1 visa, you will receive a B1/B2 stamp. This allows you to do both of B1 and B2 activities.
All above 3 visas are issued for a period of 10 years (other than exceptional cases). With these visas, you can stay in the USA for a maximum of 6 months in a year.
Overview of the renewal process for a USA tourist visa from India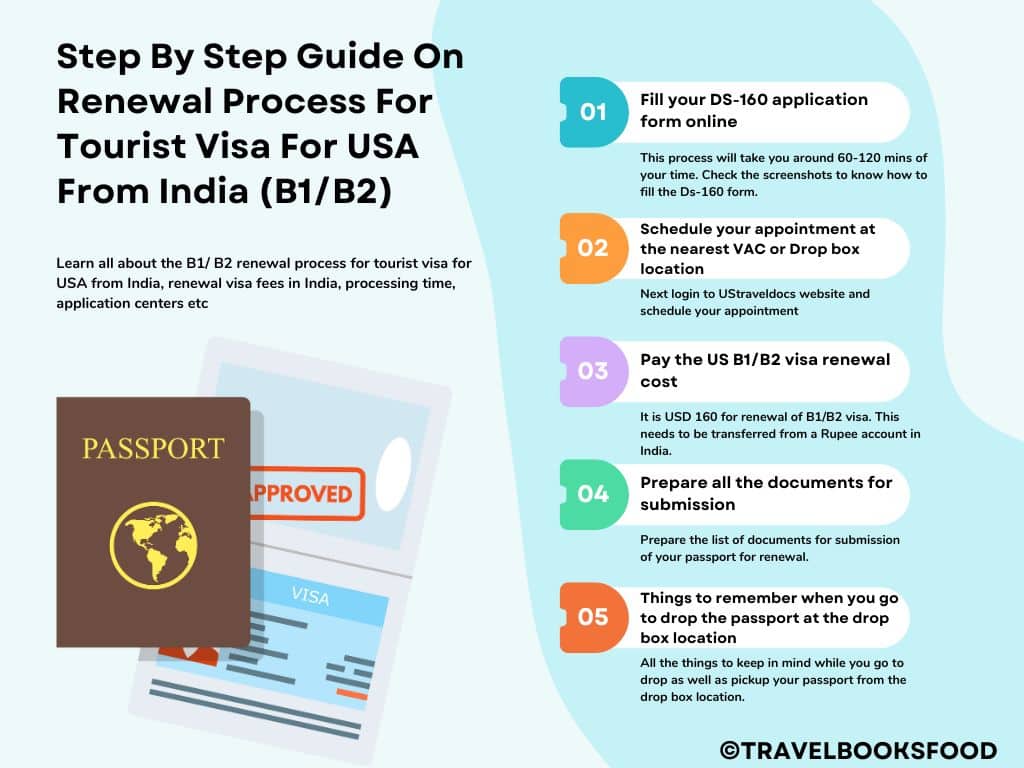 Fill your DS-160 application form online
Ok get your favorite drink or snack before you sit down at the computer. This is the most tiring and cumbersome part of the whole renewal process and it is going to take you at least 60 -90 minutes to fill the entire application.
You need not fill the entire application at one stretch but even then it is going to take you time. Make sure that you fill all the answers honestly since they actually do verify every single thing while doing your background verification.
Go to the US Department of State site to fill the DS-160 application online. Choose the Non-Immigrant category – DS 160. The below page will open. Now choose a location, enter the captcha and click on 'Start the application'.
If you are based in Bangalore like me, you need to choose the Chennai VAC (Visa application center) even for renewal. So choose the nearest VAC applicable.
Agree to all the notices in the Us tourist visa application form.
Note down your 'Application ID' for your Us visitor visa renewal. This is very crucial since you will require it in case you want to save the application and retrieve the application at a later point of time. This is needed if you want to check your visitor visa status after you submit the application.
In this case, the application id is 'AA00BW9FCF' for example.
Choose a security question and answer. When you are trying to retrieve a nonimmigrant visa application, this question is also asked along with the application id.
Now let us get into a step-by-step guide on the B1/B2 visa renewal process in India. I will be giving screenshots on how to apply for visitor visa for USA renewal online. One thing to note here is that the initial process for both first applications and subsequent renewals are same. Hence you can use this as a guide for your first application. The process only changes post this initial step for every US visitor visa from India.
Interested in some of the best tours in New York when you are in the US?
Personal Information
The first page is to record all your personal information. Your name, your surname, your other names, your sex, your marital status, your date and place of birth etc. The next personal informational page asks questions related to your nationality.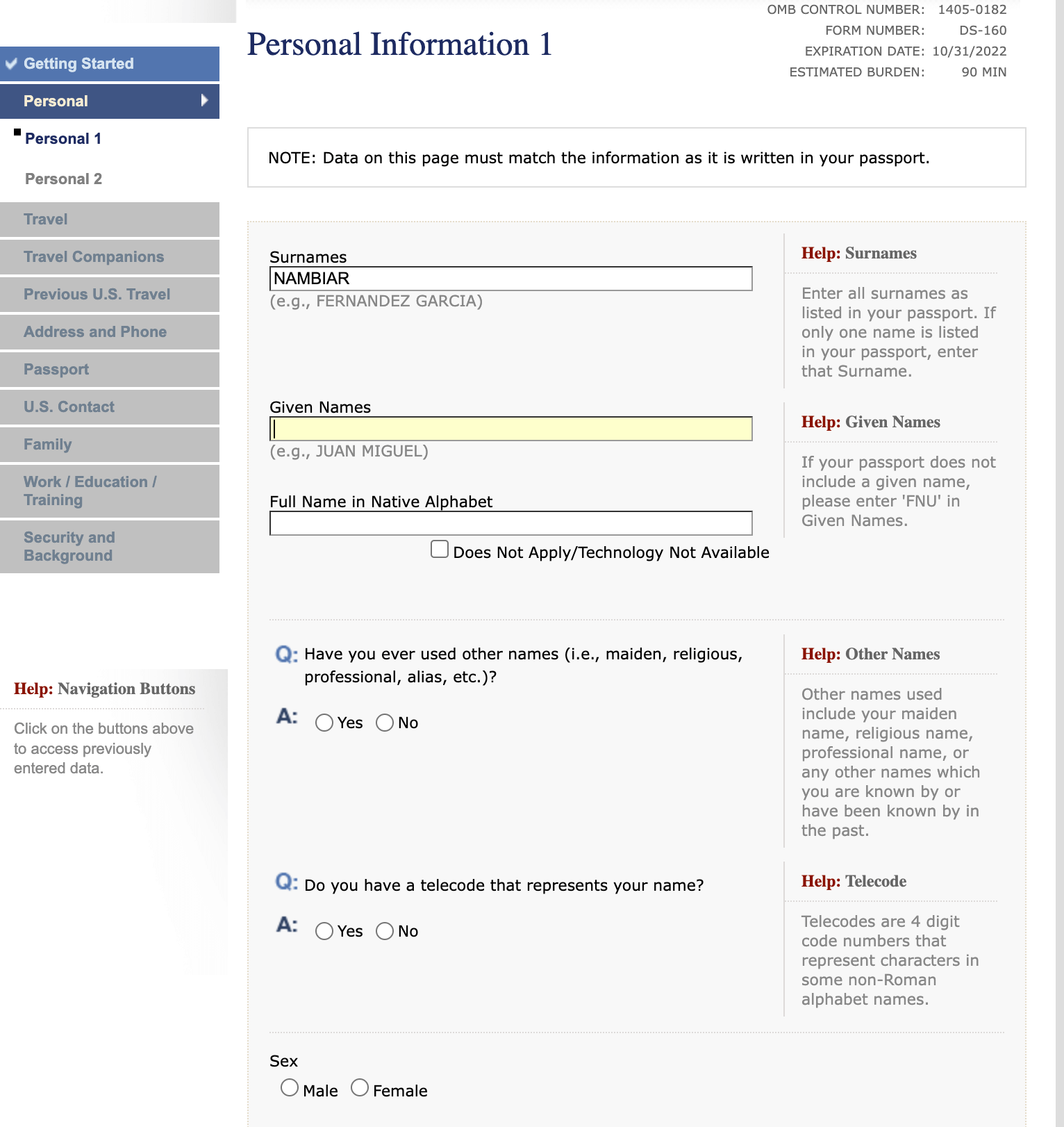 Travel History
In the next page, give details of your travel like purpose of travel and who is paying for the trip. Please choose the visa class as Temp Business Pleasure visitor (B).
It is in this section where you mention which sub category of visa you are applying for. Since this is a renewal application, choose the same category of visa you had previously. For e.g, if you have a B2 visa, then select the B2 visa. In case you change the category of visa, you may be asked to submit other proof of documents while submission.

Check some of the best tours in Florida
Travel Companions
If you are travelling with your spouse or a group, this is where you mention the details. Please note that every person in your group needs to fill the DS-160 application online individually. Just mentioning it here is not enough for a US tourist visa renewal.
Previous US Travel Information
This is where you provides details of your previous US travel information. This is also where you give details of your previous US visa. You can find the number of your US visa from the stamp on your passport.
Address and phone information
Pretty straightforward tab. This is where you mention your address as well as your phone numbers.
You also mention your email address and social media handles here. You have to fill all of them honestly.
Passport Details
All details about your current passport including id, when and where it was issued, date of expiry etc.
US Point of Contact information
This is where you usually enter your family in the US details. I don't have any family in the US anymore and hence I just gave them the contact details of one of my best friends there. Like it says, if you don't know anyone in the US, you can provide details of any company you are planning to visit when you are in the US.
Family and Work Details
I don't have screenshots for this. But these are pretty straightforward. I gave my husband's details as well as my parents name in the family section including their contact details.
In the work section, I mentioned details of my job (I own my own company).
Education section had all my education details.
Security and Background Details
This is a very crucial section and I would advise you to answer this as honestly as possible. This is to ensure the background information of the person applying for the visit visa to the US. These have around 5 parts and I am attaching screenshots of them all.
Review
This is the final step in the process before you submit your application for your B1B2 visa renewal. Please note that once you submit your application, you will not be able to make any changes and hence use this section to verify that all your details are entered correctly.
Submit
Like mentioned before, please ensure that all your details are entered correctly. Once you submit your application, you will get your Ds-160 confirmation page. Please ensure that you save this document on your laptop since this is required when you are going to submit your documents.You also get the below screen and now let us go to the next step in the process -> Schedule an appointment to submit your documents.
Schedule your appointment at the nearest VAC or Drop box location
Unless you schedule your tourist visa for US appointment, you do not know whether you have an interview waiver or not in the case of a renewal. Most times you will get an interview waiver and just have to drop the B1/B2 visa renewal documents at the nearest dropbox location.
For scheduling your appointment, use this site. This is the same for both fresh applications as well as in the case of a renewal. The process is also similar for both till the scheduling part.
NOTE: The website has changed and hence the screenshots will look different below. But the gist of it is the same and you should be able to follow the same steps.
Once you login, you will be asked a series of questions to determine if you are eligible for a interview waiver (only for renewals). If you are over the age of 14 and less than 80, then you need to attend an interview in the case of fresh applications.
First select the visa type.
Next choose your state of residence.
Choose the language of interview. Like I said before, this is the same if it is your first time to apply for visit to USA and hence you may get some redundant questions like these in the case of USA B1/B2 renewals.
Choose the visa category as 'Business/Tourism and all other visas'.
Once you choose business/tourism, you will need to choose the visa class. Please note that choose the same as your previous visa. I had a 'B1/B2 – visitor for business and pleasure' visa prior and hence I chose that option.
This is just a page to review that you have entered all the correct details till now.
This is the page where you add 'Dependents'. In case you are applying as a married couple, this is where you add the details.
In the next few pages, you will be asked questions to determine if you qualify for the interview waiver program. Answer according to your data and it will be determined if you qualify for an interview waiver. These are pretty self-explanatory and should not be that hard to fill on your own.
Once you answer all the questions, it will determine if you are eligible for an interview waiver. Like mentioned here, choose 'Drop off' to proceed with your Interview Waiver application.
In this page, you will choose your drop off location. So note that if the VAC is not present in your city, then you will have to go submit the documents at the nearest drop box location which is usually your VFS Global center.
Also note that if there is no VAC in your city but you have a drop box location, then you need to pay a fee of Rs 650 at the time of pickup.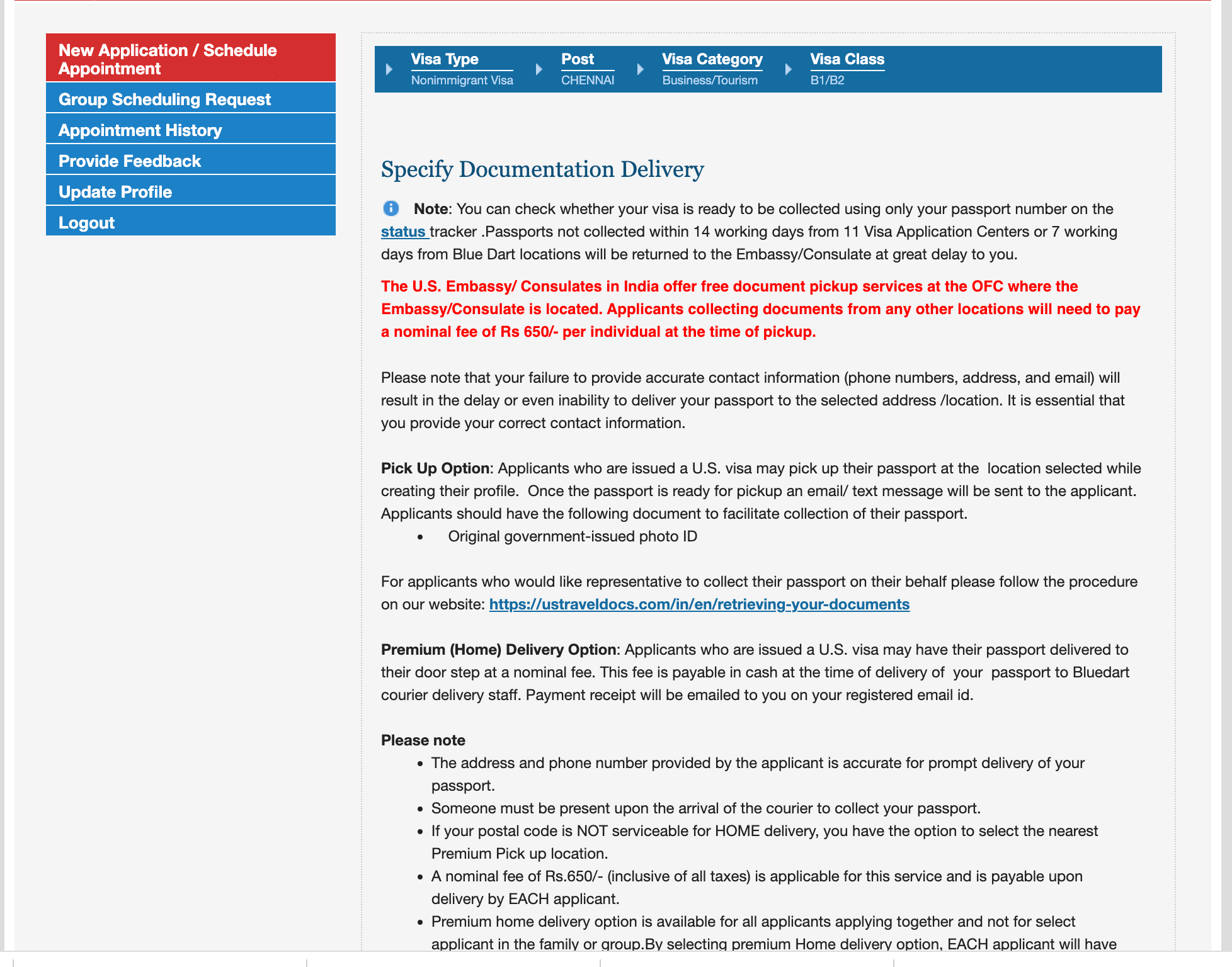 Currently you have VAC's (Visa Application Center) at the below locations:
Delhi
Mumbai
Hyderabad
Chennai
Kolkata
These are the drop off locations currently in India in addition to the above:
Bengaluru
Chandigarh
Jalandhar
Ahmedabad
Pune
Kochi
Since I did not have a VAC in my city, I had to drop it at the VFS office in Bengaluru. This is the address for the VFS office in Bangalore.
Gopalan Innovation Mall,22, Bannerghatta Main Rd
Sarakki Industrial Layout,3rd Phase, J. P. Nagar
Bengaluru, 560076
Pay the US B1/B2 visa renewal India cost
Once you have done all the above US visa tourist requirements, the next step is to pay the fees. Currently the US tourist visa from India cost is around 160 USD which translates to roughly Rs 13,500. This is expected to increase to 180 USD from June 1st 2023.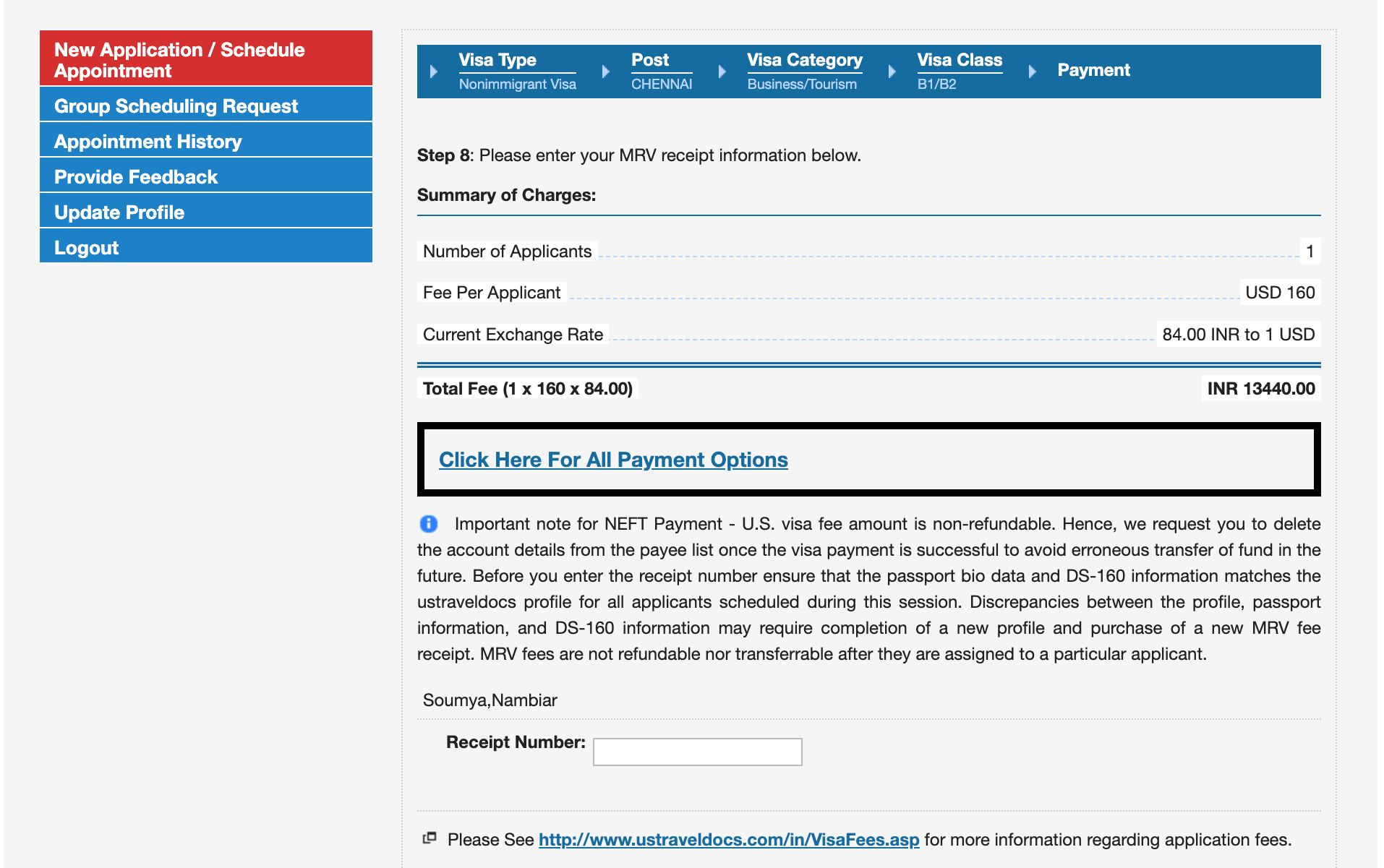 Currently you can pay the fees only through the electronics fund transfer. You will be given a unique beneficiary account number and you will have to transfer the respective amount from your bank account in India to this account number.
Please note that this visa fee is not refundable. Also note that it takes around 48 hours after you pay from your account to reflect in the US travel docs system. Unless the MRV fee reflects, you cannot schedule an appointment.
Don't panic for the first 48 working hours. I kept logging in to see if it was reflecting. Since I paid during the weekend, it actually took a little more than 48 hours to reflect in the system.
Once this reflects, a MRV receipt number will also reflect in the screenshot above. You can schedule an appointment once the MRV receipt number reflects.
You need to have a rupee bank account in India to transfer funds to this unique beneficiary account number.
The current waiting time for scheduling B1/B2 visa renewal appointments in India is approximately 10 days to 2 weeks. Please note that it is around 300 days for a fresh application.
Please note that in case you are applying as a group, please do not club fresh applications with renewal applications. This may make it difficult for renewal appointments to get an appointment.
Once you schedule your B1 B2 visa renewal appointment, you will get a mail with all the details including the location and the set of documents to carry with you depending on your visa type.
Documents required for visitor visa renewal to USA
So this is where the process of applying for a fresh application and a B1 B2 visa renewal in India starts differing. The documents for Us visitor visa renewal from Indiais comparatively lesser and easier to prepare. Please find the US visa dropbox documents for B1/B2 you need to carry for your B1B2 visa renewal below:
Your old and new passports. – This should include the one you have your old visa stamp on along with your latest passports.
Photo requirements for visitors visa to USA are mentioned in the website. It needs to be no older than 6 months and you can get the correct specifications done at almost all photo shops. You need 2 copies.
DS-160 confirmation page: Once you submit your application form, you will get a confirmation page. This needs to be saved and submitted along with the other documents.
Appointment confirmation page: Like I mentioned before, you will get the mail with all the details once you schedule the appointment. This needs to be carried for entry to the VFS office.
Photocopy of your US visa page.
Photo copy of your latest passport – This is needed when you go to pick up the passport.
Original and photo copy of your Id card – This is required when you go to collect the passport. Adhar card and Driving license is accepted.
Things to remember when you go to drop the passport at the drop box location
As mentioned before, these are the things to remember when you are going to drop the passport:
As mentioned before, you need to go to the nearest VFS center. In Bangalore, it is currently located in Gopalan innovation mall in Bannerghatta road.
They have separate queues for VFS Europe, USA, Australia etc
You need to be there only 5-10 minutes before your appointment time.
They do not have sufficient space to wait outside the VFS center.
Mobile phones are allowed but other electronic items like laptops, hard disks etc are not allowed. They have a storage facility for you to keep these things at an extra charge.
Once you are inside past security, they will direct you to the VFS USA collection room.
Get a token as soon as you enter the room.
Wait for your turn. Since all types of drop box appointments are done here, you may need to wait for at least an hour here.
Once your turn comes, submit all documents and collect the stamped copy of your appointment confirmation page.
They have printing, photo copy and photo services if required on the ground floor of the VFS center. In case they request for additional documents, you can get them printed at the VFS center itself.
Things to remember when you go to collect the passport at the drop box location
I submitted my passport on the 6th of January. It was sent to the Chennai VAC on the next working day and I got a mail saying that they received it there on the 13th of January.
I got a mail on the 20th of January saying that the visa has been issued and it has been dispatched from the Chennai VAC to the Bangalore VFS office. I got the same mail again on the 27th of January.
However, I did not get a mail saying that my passport has been received at the Bangalore center. I am not sure if mine was a one off case. My husband was having surgery during that time and hence I did not get time to go check on this.
I waited for a week and I still did not get a mail asking me to come and collect the passport. However, when I logged into the UStravelDocs website, there was a small note at the bottom of the dashboard that said 'Passport to be collected'. So I decided to go to the VFS center to enquire about the passport.
I carried all the documents mentioned above when I went to pick the passport. I did not have an appointment but I showed them the mail saying that it has been dispatched from Chennai VAC.
The collection wait time is comparatively lesser and as soon as I showed them my documents, I received my passport. I immediately opened it and I saw my US B1B2 visa renewal stamp.
If you do not collect your passport within 2 working weeks, they will send it back to the VAC and then it may take longer for them to track your passport.
Frequently asked questions (FAQ)'s about the US B1 B2 Visa renewal
Now let us answer some of the most common questions people have about the B1 B2 visa renewal.
What is B1 B2 visa?
The US B1 B2 visa is a visa issued by the United states for non-immigrant purposes like tourism, business meetings, medical care etc. This is usually issued for a period of 10 years and you can use this visa to stay for upto 6 months in the USA. This cannot be used to seek permanent employment in the USA.
Can we do B1 B2 visa renewal without interview?
In most cases, the B1 B2 visa renewal can be done without an interview. It is only in exceptional cases like if you lose your passport with the previous US visa on it or if you have a legal case against you, you will be asked for an interview. Only the US consulate can be the judge of the answer of 'can I renew my B1 B2 visa without interview?'.
What are the documents required for Us B1 B2 visa renewal?
This has been explained in the article. Please refer to the list of documents required for a tourist visa to the USA from India renewal.
Can I renew my B1 B2 visa before it expires?
Yes, if your visa is going to expire in the next 12 months, you have an option to renew it before it expires. My visa was due to expire in September. However, I decided to get it renewed in January when I knew I was not travelling internationally.
Can B1/B2 visa be renewed?
Yes, the US government has restarted the process of renewal of B1/B2 visa post the pandemic.
Can I renew my B1 B2 visa after it expires?
Yes, due to the large number of applications now, you can renew it for upto 4 years after your B1 B2 visa expires.
How long is a B1B2 visa valid for?
The B1 B2 visa is valid for a period of 10 years and you can stay upto 6 months in a year. In some rare cases, they issue the B1B2 for a period of 5 years.
What is the process for the renewal of a USA tourist visa B1 B2?
This has been explained in detail above. In case you still have any queries, you can ask them in the comment section or shoot me a message. I will try to clarify them to the best of my abilities.
What is the procedure for renewing US B1 B2 visa for an Indian citizen?
I am an Indian citizen and I have explained the procedure for renewing the US B1 B2 visa above.
How long it takes to renew Us visitor visa?
The usual processing time is between 2- 3 working weeks. In my case, since I did not receive a mail asking me to come collect the passport, it took exactly 4 weeks from the time I submitted the passport.
Can I avail the drop box facility for my child who is below 14 years of age even if it is a fresh application?
If both parents hold a valid US visa, then the child is eligible for a dropbox appointment and interview waiver even in the case of a fresh application. You will have to submit copies of the parents visa as well as some additional documents. You will get the list of documents when you schedule the appointment for dropbox.
Do I need an interview to renew my US visa?
You do not require an interview for B1B2 in most cases. For other categories of US visa, you may have to attend an interview even in the case of a renewal.
Can I do B1/B2 visa renewal for parents in India from the US?
Yes, you can fill the DS-160 form from the US. However, please note that you need a Rupee account to make the transfer of the US visa renewal visas.
What is the B1/B2 visa renewal drop box eligibility?
While scheduling your appointment, you are asked a series of questions to determine if you are eligible for drop box for visa renewal. Once you answer these questions based on your circumstances, the system will let you know if you are eligible for drop box as well as an interview waiver.
Where can I find the B1/B2 visa renewal form?
The DS 160 form can be found online. This has to be filled online as well and is the B1 B2 visa renewal form.
I was filling my Ds 160 online and my system got hung. Is there a way to retrieve the application?
This is one of the reasons you need to save your application id at the time you start to fill the application. Filling the renewal form is a cumbersome task and take your hours. In such cases, you can use the application id to retrieve the application at a later point of time.
Is it easy to renew US tourist visa?
Since you get an interview waiver and drop box eligibility in most cases, it is easier to renew your US tourist visa compared to other international visas. The only tiring part if filling the renewal form online and which can take you at least 90-120 mins.
Are dropbox appointments available in India for B1 B2 visa?
The current lead time for B1 B2 visa renewals is about 2-3 weeks in India. However, please note that it is over 300 days for fresh applications in India.
How do I schedule my U.S. visitor appointment?
You need to login to Ustraveldocs website, answer a few questions, pay the visa fees by bank transfer and then you will get a scheduling option. This is after you submit the DS-160 form. The entire process is explained in detail above.
How can I check a US visitor visa status?
Once you have submitted all your documents, login to this website to check the status of your visitor visa. Usually, there are four statuses: 'No Status', 'Application Processing', 'Issued' and 'Refused'.
Is my US visitor visa fees refundable?
No, it is not refundable even if your visa is refused.
How much is the US B1 B2 visa renewal fees?
It is 160 USD per individual which translates to around Rs 13,500 with today's charges. This needs to be transferred to a Unique Beneficiary Account number from a Rupee bank account in India. This will increase to 180 USD from June 1st 2023.
I have paid my US Visa fees but the MRV receipt number is not reflecting
Please note that it takes at least 2 working days after you paid the fees for the receipt number to reflect on the website. In case, it does not reflect after this time period, please write to them and they can resolve it for you. Do not attempt to pay the fees again.
Does this website help in procuring a US B1/B2 visa?
This website is a purely informational website based on personal experiences and only gives you pointers on how to apply for the US B1 B2 visa renewal by yourself. We do not help in procuring visas for you. We are always ready to answer your queries but please understand that some questions can only be answered by the visa authorities themselves.
Conclusion: Step-by-step renewal process for tourist visa for Usa from India (B1/B2)
Hope I have answered most questions when it comes to the renewal process for tourist visa for the USA from India. The B1 B2 visa renewal process is not that cumbersome now that you know how to apply for the tourist visa all on your own.
Read some of my other USA posts:
Guidebooks for USA
Traveling to USA and need more guidance on which books to read? These are our recommendations for you to read before you go.
BOOKING RESOURCES
Looking to book your trip now? Find some of my favorite resources I use while booking my trip. You can also find my travel gear here.
Book Your Flight
I am a Skyscanner fan when it comes to booking international flights. I use Makemytrip and Yatra for domestic flights.
Book Accommodation
Booking is my go to resource for booking hotel accommodation and I use Airbnb for booking my homestays. I also compare prices on Tripadvisor always. Another one I always use is Expedia.
Travel Insurance
As an Indian, I prefer ICICILombard and I am always insured when I am traveling outside India. In addition, I have used World Nomads and SafetyWing for some of my trips.
Book Tours
I do go on a lot of day tours especially when I am traveling solo. Depending on convenience, my choices are Viator or Getyourguide.