As all of you know, I have been continuously traveling this year. It has been one mad trip one after the other and I have had no time to properly process this year. That is why I thoroughly enjoyed my time aboard a Spice Routes luxury houseboat in Kerala last week. It was refreshing and sometimes, you definitely need to step back and relax. And when you top it off with so much luxury, you know you will come back feeling rejuvenated.
A Review of our Spice Routes Luxury Houseboat in Kerala, India
Even though my parents are originally from Kerala, India, I haven't traveled much inside Kerala for a really long time. I do make a couple of trips to Kerala every year but those are mainly to attend family functions. Maybe that is why I keep forgetting why Kerala is called 'God's own country'. If you have ever been to Kerala, then you know what I am talking about. It is so easy to get lost in the beauty of it all. From the gorgeous Kovalam beaches to the sprawling tea estates in Munnar, I thought I had experienced it all. But then Kerala has this habit of surprising you and that is exactly what happened on this trip.
Is a Luxury houseboat in Kerala worth it?
Yes, definitely in my opinion. I will try to answer why in this blog post. But it is definitely something I would recommend for my readers to try out at least once in their life.
Where do you find Luxury houseboats in Kerala?
Houseboats in Kerala are usually concentrated around the Kerala backwaters. Kerala backwaters mainly comprise of 5 large lakes, various lagoons, and canals (both artificial and natural). As per the estimate, there are around 2000 houseboats plying on Kerala backwaters.
Trivia: Did you know that Kerala Houseboats are called 'Kettuvallams' in Malayalam? They were used in ancient days to transport grains and spices around the backwaters. These days, they are mainly used for holidaying and touristic purposes.
Spice Routes Luxury Cruises
Spice routes Luxury cruises offer premium luxury houseboats in Kerala. They have a fleet of 7 houseboats and each of them caters to the luxury traveler in you. All 7 houseboats are named after the exotic spices of Kerala. We had the good fortune of staying in the latest addition to the fleet, Fennel.
Fennel is a three bedroom luxury houseboat complete with all modern amenities. Clove and Cinnamon are super luxury houseboats with three spacious bedrooms and are suitable for small groups. Pepper, on the other hand, has 2 spacious rooms and is ideal for small nuclear families. Cardamom is a premium houseboat and is perfect for larger groups. But the one that takes the cake is Saffron, the presidential suite on Kerala backwaters. This is ideal for honeymooners and comes with a personal butler, upper deck dining rooms, a private Jacuzzi and so many other features.
All houseboats come with a minimum of three staff: a captain, assistant and a cook all ready to cater to your whims and fancies. After all, isn't that what luxury experiences are all about. Also, all Spice routes luxury houseboats are fully airconditioned and equipped with a standalone generator.
Check out latest prices and reviews below.
Getting to Spice Routes Luxury Houseboats
All houseboats begin and end their journey at Akkarakalam Memoirs property. This is conveniently situated around 20 kms from Alleppey bus/train station and you can easily hail a cab from the bus or train station in Allepey. The nearest international airport is Cochin International Airport and is approximately 90kms from here. It takes around 2.5-3 hours from the airport depending on the road conditions and traffic.
Read More – Road Conditions in India
Alternatively, for an additional fee, Spice routes gives you an option to transfer to/from any place in Kerala. This was very convenient and we did not have to deal with arranging this aspect of our journey.
Our experience with Spice Routes Luxury Cruises
As luxury travelers. all of us know that the key to making any luxury stay memorable is the small things that go with it. Most of the things are taken for granted by us. But when subconsciously they fulfil all your unwritten checkboxes, you know that this luxury experience will remain etched in memory for a long time. That is why I would love to commend Spice routes for making this experience memorable for all of us.
Grand Welcome and Reception
We were quite famished by the time we reached on a Saturday morning. It was a long journey for us from Bangalore. But the warm reception at the houseboat was something that touched a nerve and all the exhaustion from the long journey was immediately gone in seconds. They were so cordial and friendly and willing to answer our never-ending questions. This was accompanied by flower garlands and welcome drinks which is typical of any luxury property.
Ambiance of the Alleppey houseboat
I have been in houseboats before. But this one just blew me away with the ambience. All three rooms were spacious and fully equipped with modern amenities. The washrooms were equally spacious and it came with Spice Routes own handcrafted toiletries. Each bedside table was filled with a range of goodies for us to choose from.
The kitchen was at the back of the houseboat. The kitchen was huge as well and for a moment you would not realize that you were actually on a houseboat.
The dining/drawing room was equally spacious. Everything was spanking clean and this is something that is quite important to me. The entire houseboat was fully airconditioned and this definitely added to the experience.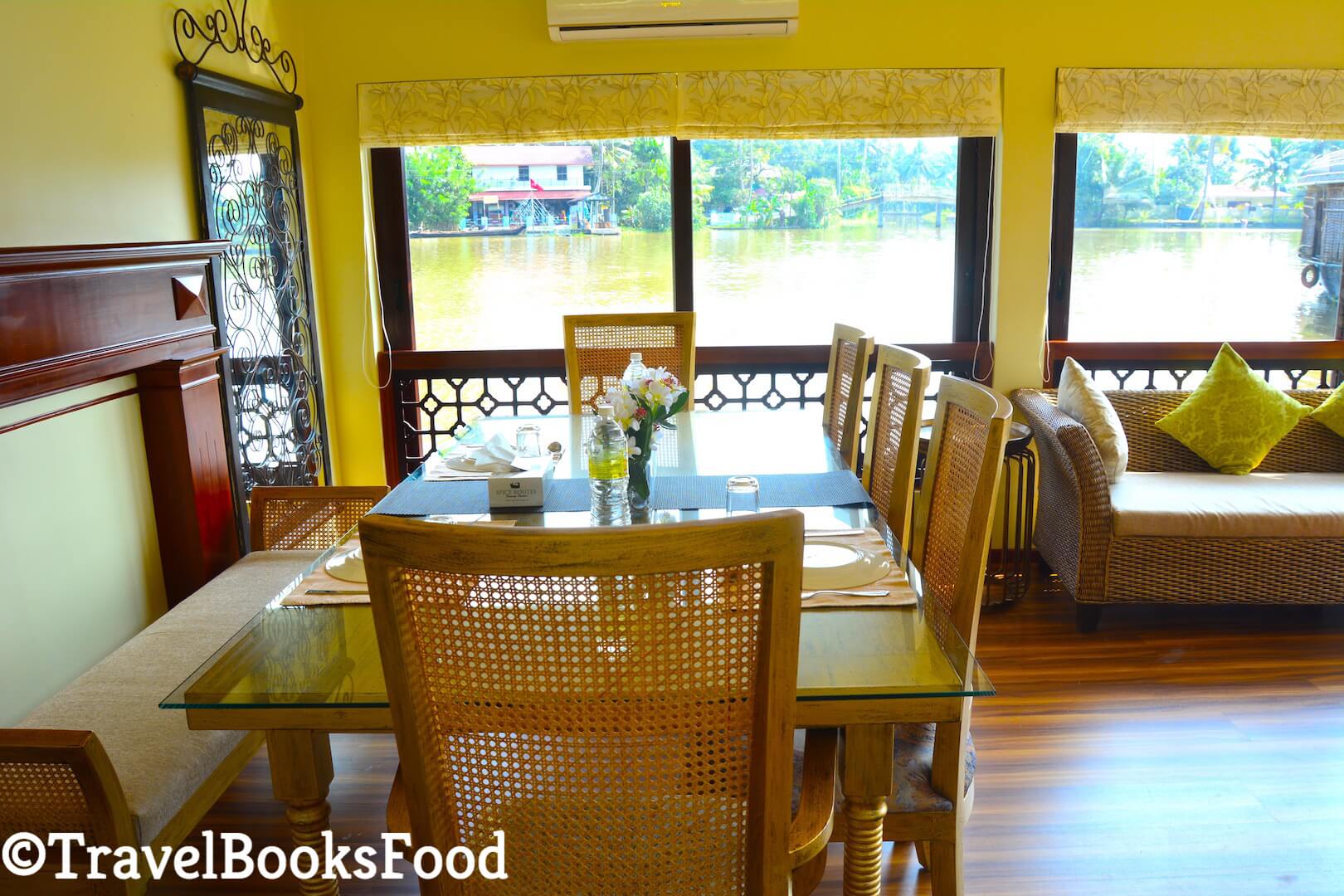 Is Air conditioning actually required on a houseboat?
I am not sure about you but I am someone who is allergic to the climate of Kerala. No offense to the place. The humidity makes all my allergens come out in full force and most of the time by the end of my stay in Kerala, I am in tears. Not really crying but my allergies make my eyes watery with a runny nose.
So how do I prevent getting sick in Kerala? To stay as cool as possible when I am in Kerala. Even though we went in November, it was still humid and hot for my taste. Hence, I loved the full-time airconditioning of the houseboat. Also, if you have decided to have a luxury experience, why would you like to spend it being hot and humid?
Fact: Full-time Airconditioning means that you get to keep the deadly mosquitoes out too.
Food experience aboard the luxury cruise in Kerala
As a vegetarian foodie, many people expected that I will not have many options to eat when I am in Kerala. After all, Kerala is mainly a non-vegetarian foodie's heaven. But this is where most of the people are wrong. As someone who was born into a vegetarian Kerala family, I have grown up eating so many Kerala veg delicacies.
Also, having a personal chef at your whims and fancies, you can rest assured that you will have some lip-smacking vegetarian food. When they started the trip with my favorite Kerala breakfast Puttu/Kadala, I knew that I was in for a treat. All my travel companions were also greatly impressed with the many choices available, both vegetarian and non-vegetarian.
Cruising along the Vembanad Kayal (Lake)
All houseboats usually circle along the Vembanad lake and the various lagoons surrounding it. Cruising is only allowed until 6 PM and post that, all houseboats have to dock at a convenient location. On our first day of cruising, we docked at the R-block and we spent the night gently rocked to sleep by the harmony of the backwaters.
The whole experience is mesmerizing and you slowly fall in love with the laidback way of life. Since mobile connectivity was a distant dream during most part of our cruising experience, we finally had the choice to unplug and enjoy the company of our travel companions. This is so crucial in today's world and by being disconnected, I was able to be content in my own world.
But for me, the favorite part of the whole journey were the sunsets and sunrises. They were gorgeous and definitely cannot be described in words. You will have to be there to experience it.
Many people asked me if you didn't find the whole experience to be boring. But how can it be? We did so many things during our two days in the houseboat and we did not know how time even flew by.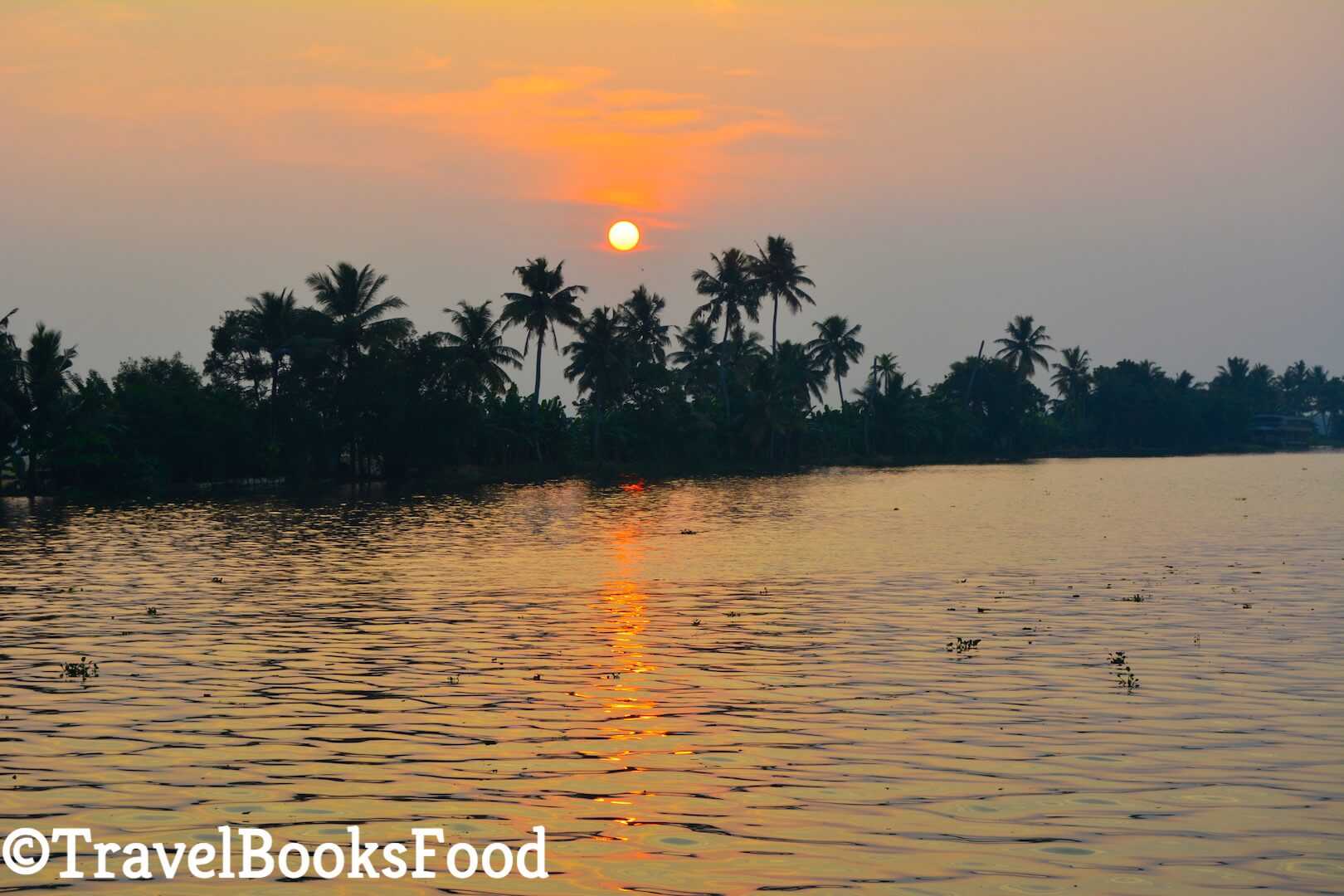 Day excursions from the houseboat
We visited so many areas during our two days cruising around the Kerala backwaters and we had a gala time. We ended up visiting a temple, church, local artisans. We also visited a local toddy shop. We also ended up hiring a small canoe boat to take us to places which were not accessible by the bigger houseboat. As we rowed among the villages of Alappuzha, we were mesmerized by the way of life in that part of the world. Everything was so simple and wish life wasn't too complicated for us.
Staff on the luxury houseboat
They were all so cordial and friendly. And they made sure that they accommodated every single silly request of ours. Since I was the official translator of the group, I definitely need to give a special mention about our captain, Shashi. All of them were always smiling and they even gave us a demo cooking session.
EcoTourism
This was the part that I loved most about Spice routes. As someone who is slowly trying her best to be a responsible traveller, it definitely made a difference that a property was doing their best to be environment-friendly. They have an in-place waste management system and they generate their own fertilizers which are used around the Akkarakalam Memoirs property.
Soon, we were on our way to Thekkady.
My verdict of Spice Routes Luxury Houseboat in Kerala
I loved my time cruising along the Kerala backwaters in a Spice Route Luxury cruise. I would definitely recommend it to all my readers.
Also, it wouldn't have been so much fun without our fun gang. Missing all of them so much now.
So do shoot me your questions in the comment section below.
Disclaimer: I was invited by Spice Routes to experience their luxury cruises. As always, all opinions are my own and all of you know that I wouldn't recommend something that I don't love.
Liked it, then pin it.
Find my recommendations on guidebooks for India.
Guidebooks for India
Traveling to India and need more guidance on which books to read? These are our recommendations for you to read before you go.
Recommended: A Fraud Mallu
BOOKING RESOURCES
Looking to book your trip now? Find some of my favorite resources I use while booking my trip. You can also find my travel gear here.
Book Your Flight
I am a Skyscanner fan when it comes to booking international flights. I use Makemytrip and Yatra for domestic flights.
Book Accommodation
Booking is my go to resource for booking hotel accommodation and I use Airbnb for booking my homestays. I also compare prices on Tripadvisor always. Another one I always use is Expedia.
Travel Insurance
As an Indian, I prefer ICICILombard and I am always insured when I am traveling outside India. In addition, I have used World Nomads and SafetyWing for some of my trips.
Book Tours
I do go on a lot of day tours especially when I am traveling solo. Depending on convenience, my choices are Viator or Getyourguide.