If you had asked me a year ago where Killarney was, then I would have been flabbergasted. Don't get me wrong. I was terrible at Geography when I was in school and the only Geography I know these days is because of the endless travel research I do. Even though I have always wanted to go to Dublin and Ireland, Killarney was not on my list. I was so foolish since it is such a gorgeous town. That is why I thought I would write a Ring of Kerry Itinerary starting with Killarney for people like me.
Planning your Ring of Kerry Itinerary at the last minute?
I know everyone is busy and don't have time to plan their itinerary to Ring of Kerry. That is why I have covered you with links to some places to stay in Ring of Kerry, must do experiences and more details at one glance.
Where to stay in Killarney?
Must do guided tours in Ring of Kerry
I feel driving around Ring of Kerry is the best way to see Ring of Kerry.
Ring Of Kerry Itinerary
Where is Killarney and what is this Ring of Kerry?
Killarney is a popular town in the county of Kerry in South Western Ireland. It is approximately 300Kms from Dublin and it takes around 3.5 hours to cover this distance by car. I was in Killarney in October for TBEX Europe, the travel blogger's conference.
Read More About my First TBEX experience – TBEX for Travel Bloggers – Jerusalem, Israel
Another question we get is how far is Killarney to Ring of Kerry? Now to answer the question, Ring of Kerry is a circular tourist route originating from Killarney and ending back in Killarney. It is approximately 180 Kms (200kms if you take the longer route).
A part of the route is also part of the south-west part of the Wild Atlantic Way. But more on that in another post.
I explored areas around the Ring of Kerry as part of the Prebex tours arranged by TBEX as well as on our own after the conference. A special mention here of my partner in crime, Lavina from Continent Hop. Both of us were not keen to attend the FAM trips this time too and we thought it would be fun to explore on our own. She planned it while I was the designated driver as always.
Read more: My Favorite European Destinations
Driving around the Ring Of Kerry, Ireland
So the first question that would have come to your mind is 'Do I need a car to explore Killarney and Ring of Kerry'? We didn't rent a car when we were in Killarney during the conference. Killarney is a small gorgeous town and most of the well-known places in Killarney were just walking distance from where we were staying. But once the conference was over, we wanted to drive around the Ring of Kerry. It is a gorgeous drive and if you love driving, then I would definitely recommend renting a car.
Things to keep in mind while renting a car in Ireland / Ring of Kerry Road Trip Itinerary
We wanted a car that we could pick from Killarney and drop back in Dublin. There were not many budget options available because of this and we finally zeroed in on Budget. It was the most reasonable option.
In Ireland, they drive on the left side of the road just like in India. This was perfect for me.
Even though we had opted for a mini car, we were automatically upgraded to a Skoda Rapid. This was perfectly fine when we were driving around the Ring of Kerry and Wild Atlantic way. But I did face a few problems in the parking lot in Dublin. Even though I didn't scratch the car, I would have preferred a mini car in Dublin. Most parking lots around Europe are too small in my opinion.
Don't skip car insurance. I know it may seem like an unnecessary expense at the time but lots of people end up damaging their car when they are driving around Ireland (Compared to most cities around the world, it is on the wrong side of the road). When we had gone to drop the car, we saw two such cases.
Gas was definitely more expensive than our rental in Scotland. This was a contributing factor in increasing our car rental charges in Ireland. We paid approximately 30 Euros per day per person (divided among 3) for the rental. Also, keep in mind that our drop off and pick up locations were different which increased the cost.
We got bad weather on one day and there was a point in time when I couldn't see more than 20 meters in front of me because of the fog. Also, the roads are relatively empty around the Ring of Kerry. Look out for road signs. They are usually not helpful but some of them were really funny.
When I started driving in the night, I could not find the button for switching on the bright lights of the car. I pulled over to one side and spent the next 5-10 minutes figuring it. Since the lights were on auto, bright lights were not working. The minute I switched to manual, I was able to alternate between dim and bright lights. Unlike drivers in India, everyone knows how to dim their lights in Ireland.
They did not have a car with GPS. But this was fine since our phone GPS worked fine all around Ireland.
In spite of all this, the Ring of Kerry drive is gorgeous and you definitely should do this when you are in Ireland.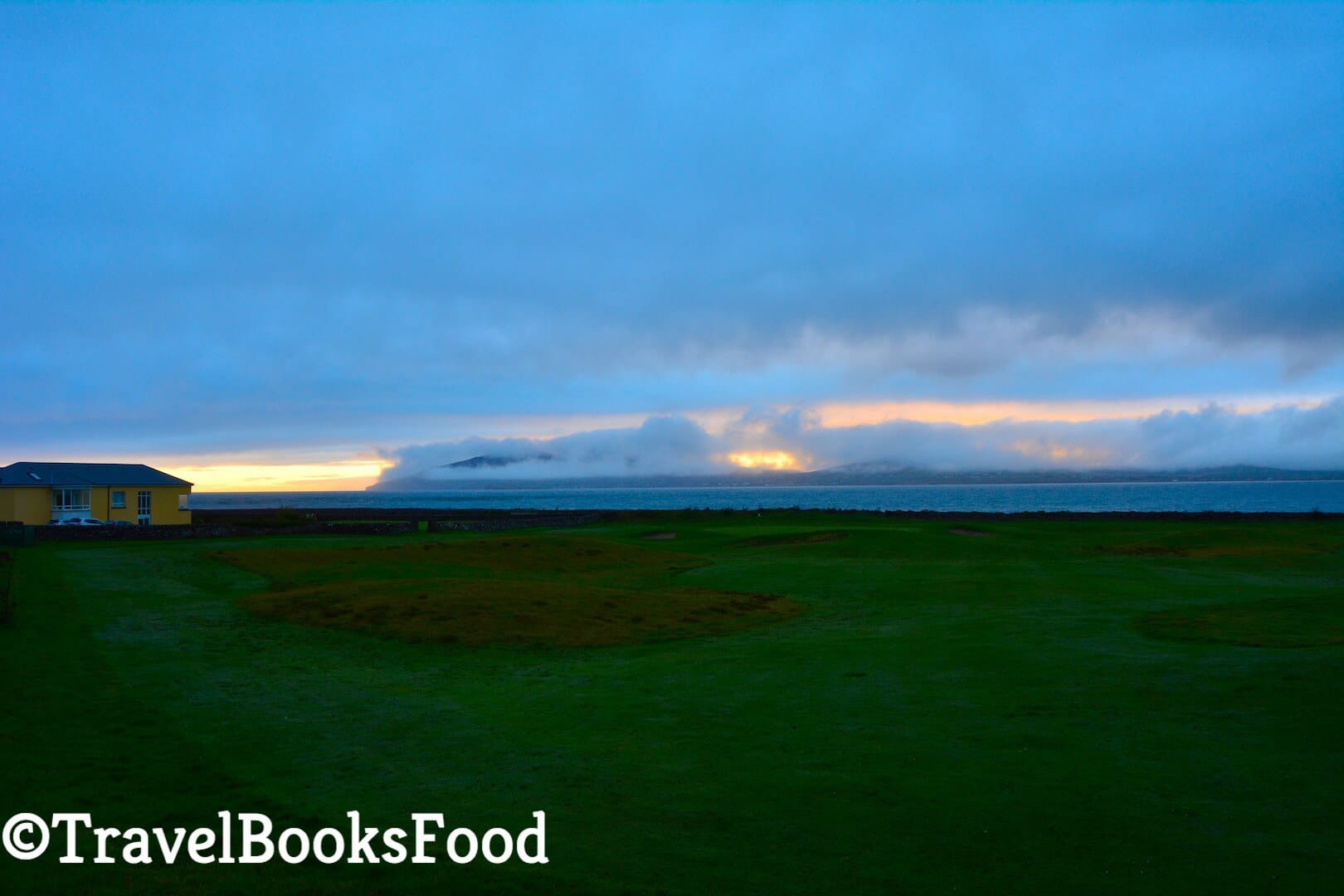 Things to do around Ring of Kerry/ Stops while you are driving Ring Of Kerry
There are many places to see around the Ring of Kerry and with such a limited time, we did miss a few of them. We ended up driving the Ring of Kerry in one day.
Places of interest during your Killarney Itinerary:
Ring of Kerry starting in Killarney Town
Killarney town is a gorgeous town and I had fun exploring the various places around the town on the nights we were there. It is so colorful and vibrant. It is a touristy town compared to the other places on the Ring of Kerry tour itinerary. But it was still amazing and I am glad that I got to spend my days in Killarney with some amazing people from around the world.
Read More About Another Fairytale Town – Colmar, France
Killarney National Park including Ross Castle and the Lakes of Killarney
Many of my friends ventured almost daily to go hike around the Killarney national park. Since we were too lazy to go hiking every day, we went here just on our last day here.
Since we didn't have enough time, we just hiked for a little while. But that was beautiful and it is so gorgeous to see the abundance of greenery here. Ross Castle is a gorgeous castle on the shore of Lough Leane, and if you have enough time, you can go for a boat ride around the three Lakes of Killarney. We met some wonderful fishermen who gave us tips on other places to see around the area. You will definitely see many people fly fishing around the Killarney national park.
Killarney NightLife – Ring of Kerry itinerary one day
We ended up spending so much of our time roaming around the various pubs in town. But two of my favorites were The Shire (we ended up going here almost on a daily basis) and J M Reidy. Everyone kept raving about the Guinness beer but I am not a fan of beer in general. Also, don't forget to have some gin and Jameson whiskey when you are in Killarney town. There was lots of open nights and Irish dancing too.
Killarney Races
The opening party of our conference was held here and that is the only time I went here. With a gorgeous background of the Killarney national park, this is a place not to be missed when you are in Killarney. Also, don't forget to watch a Celtic dance performance when you are in Ireland.
Torc Waterfall
This is one place we decided to skip because we did not have enough time. It is easily accessible by bus and is around 20 km from Killarney. You also have an option of hiking around the area.
St Mary's Cathedral – during Ring of Kerry itinerary 3 days
This cathedral is hard to miss and it is massive. It is located in Killarney town. We didn't go inside the cathedral though.
Muckross Abbey
This is a mansion located in Killarney between the Muckross Lake and Lough Leane. It is quite popular with tourists and TBEX had arranged many tours at the Muckross Abbey.
Gap Of Dunloe – Next stop on your Ring of Kerry Route from Killarney
Located at a distance of around 20kms from Killarney, this place is definitely a must-visit. We drove here on our last day on the Ring Of Kerry. But just a word of caution here. Once you near the Gap of Dunloe, near Kate Kearney's cottage, local farmers will not let you drive past a certain point. They will insist that cars are not allowed and the only way you can get to the 'Gap of Dunloe' is either by a horse carriage or by hiking.
We fell for this and we decided to hire a horse carriage for 20 Euros per person. But Tom, our horse was well cared for and he and his owner shared a good rapport. The whole thing lasts for around 45 minutes if you decide to hire a horse carriage. It takes more than 2 hours if you decide to hike both ways. When we went, it was freezing cold but the views were definitely worth it.
If you do manage to get past the farmers with your car, then please note that the roads are pretty narrow and you may have to stop multiple times to give way.
Tip: Go early in the morning to avoid the local farmers.
We stopped at Kate Kearney's cottage on the way back for a delicious lunch.
If you are looking for a guided tour from Killarney to Gap Of Dunloe, you can find the details here.
Kells Bay House and Gardens – things to do Ring of Kerry
I visited this place during my prebex tour and it is definitely another gorgeous place. The gardens are full of tropical plants and it is so green. The Skywalk rope bridge in the middle of the Gardens was definitely fun. They say it is the longest rope bridge in Ireland.
Portmagee
Portmagee is a small colourful town located around 80 km from Killarney. We stopped here for some delicious lunch at the Mooring's bar on the day of our prebex tour. They even allowed some of us to use the Guinness beer tap. I loved how friendly the owners were.
Skellings Chocolate Factory
One of the main reasons I chose the prebex tour was because there was chocolate in it. Everyone knows what a big chocolate aficionado I am. The factory makes different types of chocolates and we got to sample at least 15 types of chocolates. Everyone loved the free goodie bag. I even got a chocolate elephant for my little devil (aka naughty nephew) from here. He is going through a phase where he doesn't go anywhere without his stuffed pink elephant.
Since the chocolate factory is located just opposite St Finian's Bay, you can catch a view of the Skellings island from here.
You can find more details here.
Kenmare – One of the must see towns during your Ring of Kerry one day tour
Another lovely colorful town we passed on our Ring Of Kerry drive.
Ballinskellings
By the time we got to Ballinskellings, it was too late and we only managed to capture a few photos before sunset.
Skellig Islands
This is one place we couldn't visit because the weather was not right that day. There are two islands namely the Skellig Michael Island and Little Skellig. These islands have become quite famous these days because the latest Star Wars film was shot here. It is a UNESCO world heritage site and only a handful of people are allowed to visit on a daily basis.
Tip: How to get to Skelling Islands
You can take a boat from the town of Portmagee or Valentia island for a price of around 60 Euros per person. But remember that seats are limited.
Where to stay around Ring of Kerry / Killarney Accommodation
Like I mentioned before, we stayed in Killarney and explored the areas around Ring of Kerry from there. When we were looking for places to stay in Killarney, we were a little confused since there were so many choices to choose from. After all, Killarney is one of the most popular towns in South-western Ireland.
Our conference was happening at the Gleneagle Hotel and Apartments but unfortunately, they did not have an available 3-bed room by the time we started searching. It is around 2kms from Gleneagle apartments to Killarney town and it takes around 20-30 minutes by walk. There are at least 20-30 hotels/BnB's on this Muckross road between the conference center and town. So you can understand why this was confusing for us. Also, listing a few hotels which we liked during our search.
Killarney Riverside Hotel:
This was the one which we finally booked. It was perfect for us since it was around 800 meters from the conference center and around 1.2 km to the town. We ended up walking a lot between these places and the accessibility was something we loved about the place. The rooms were clean and quite big enough for us. Unfortunately, we did not use any other facility in the hotel, including the restaurants since we were too busy with TBEX. It was mid-budget and that was another reason it fit in with our expectations. Check out the prices for Killarney Riverside hotel.
Gleneagle Hotel and Apartments, Killarney Ireland:
Check out prices for Gleneagle Hotel and Apartments, Ireland. This is where the conference was happening but it was already booked out when we were searching for our accommodation.
The Brehon and The Malton
If you are looking for luxury, then these two were the ones I liked during my search. We had breakfast one day at the Brehon and we loved it.
Check out prices for The Brehon
Check out prices for The Malton
Other accommodation in Killarney, Ireland:
There are plenty of AirBnB's and hostels you can choose from as well. We didn't opt for this since, by the time we searched, most of the good ones were already booked.
How to get to Killarney, Ireland:
You can either fly into Dublin or Cork from outside UK/Ireland. Since we were already in the UK, we decided to fly into Kerry airport. You can opt to take a taxi to Killarney, a distance of 20 km. But this was the more expensive option. There is a bus almost every hour and it takes around 40 minutes. They charge around 5.90 Euros per person for this bus service and this is very convenient. There are no Ubers here.
Things to pack for a Ring of Kerry itinerary
We went during the beginning of October and it was already starting to get cold. So pack accordingly. I didn't, however, use my thermals though. Also, remember that Ireland weather is quite unpredictable and you never know when it will start raining. However, we only got one day of bad weather when we were there.
Currency used in Ireland
The reason why I am mentioning this is because I forgot to carry Euros from India. I had conveniently forgotten that the British pound was valid only in the United Kingdom. Thankfully, I realized this when I was in Kerry airport and withdrew some cash from the ATM. Some of the restaurants and pubs around small towns in Ireland do not accept cards and hence make sure to carry some Euros with you.
I am definitely writing a post about this as always.
Ring of Kerry Guided Tours
We loved our Ring of Kerry driving tour. In case you don't want to drive on your own and would prefer a guided tour, then you can find some great ones below.
Frequently Asked Questions about our Ring of Kerry Itinerary
How long does it take to go around the Ring of Kerry?
It takes approximately 3.5 hours to complete the entire distance of 185 kms. This is the time taken without any breaks. But if you wanted to visit all the places around the Ring of Kerry, it will definitely take longer.
Can you drive the Ring of Kerry in one day?
This is a common question that everyone asks me. If you are looking at from a practical point, yes you can drive around the Ring of Kerry in one day. But please keep in mind that you will be only driving most of the time and you won't get time to enjoy at most of the places mentioned in this itinerary. I would recommend a minimum of 3 days to cover all the places mentioned in the itinerary. We were there for more than 5 days.
Is Ring Of Kerry worth it?
I loved my time in Killarney and the remaining villages and towns we visited along the Ring of Kerry. So yes, Ring of Kerry should be on your bucket list when you visit Ireland.
Is driving the Ring Of Kerry difficult?
I wouldn't call it difficult since I am used to driving on the same side as Ireland. We drive on the same side in India too. The roads are a bit narrow in some parts but it was not difficult at all as an Indian driver. If you are not used to driving in Indian conditions, you may find it a bit difficult when you see those big vehicles in such narrow roads.
The verdict of our Ring of Kerry Drive
I loved our Ring of Kerry itinerary and it is definitely a must when you are in Ireland. Killarney is a gorgeous town and you should not miss visiting this place. Unfortunately, we did not see any Leprechauns when we were here. Check out this post for more things to do in Kerry, Ireland.
Find my recommendations for guide books on Ireland.
Guidebooks for Ireland
Traveling to Ireland and need more guidance on which books to read? These are our recommendations for you to read before you go.
Liked it, then pin it.
Recommended: Vegetarian Food Around The World
BOOKING RESOURCES
Looking to book your trip now? Find some of my favorite resources I use while booking my trip. You can also find my travel gear here.
Book Your Flight
I am a Skyscanner fan when it comes to booking international flights. I use Makemytrip and Yatra for domestic flights.
Book Accommodation
Booking is my go to resource for booking hotel accommodation and I use Airbnb for booking my homestays. I also compare prices on Tripadvisor always. Another one I always use is Expedia.
Travel Insurance
As an Indian, I prefer ICICILombard and I am always insured when I am traveling outside India. In addition, I have used World Nomads and SafetyWing for some of my trips.
Book Tours
I do go on a lot of day tours especially when I am traveling solo. Depending on convenience, my choices are Viator or Getyourguide.