I have said it before. Mexico was definitely not one of my top destinations to visit. It certainly had a bad reputation preceding it. But after living a few months in Mexico, I fell in love with it. Mexico is a beautiful destination and in this post, I take you through the best places to visit in Mexico.
Mexico welcomed me with open arms and the more I travelled within Mexico, the more I loved it.
In spite of traveling extensively, I was definitely not able to travel everywhere in Mexico. Unlike what most people from this part of the world believe, Mexico is a huge country and I wouldn't have seen a fraction of it if I lived there for years. And that is the reason, I asked my travel blogger friends to help me with some of the best places to go in Mexico. I used a combination of tours as well as driving in Mexico when I was traveling around Mexico.
Planning your Mexico tour Itinerary at the last minute?
I know everyone is busy and don't have time to plan their itinerary to Mexico. In this section, I list some of my favorite websites and apps I use while planning my Mexico travel itineraries.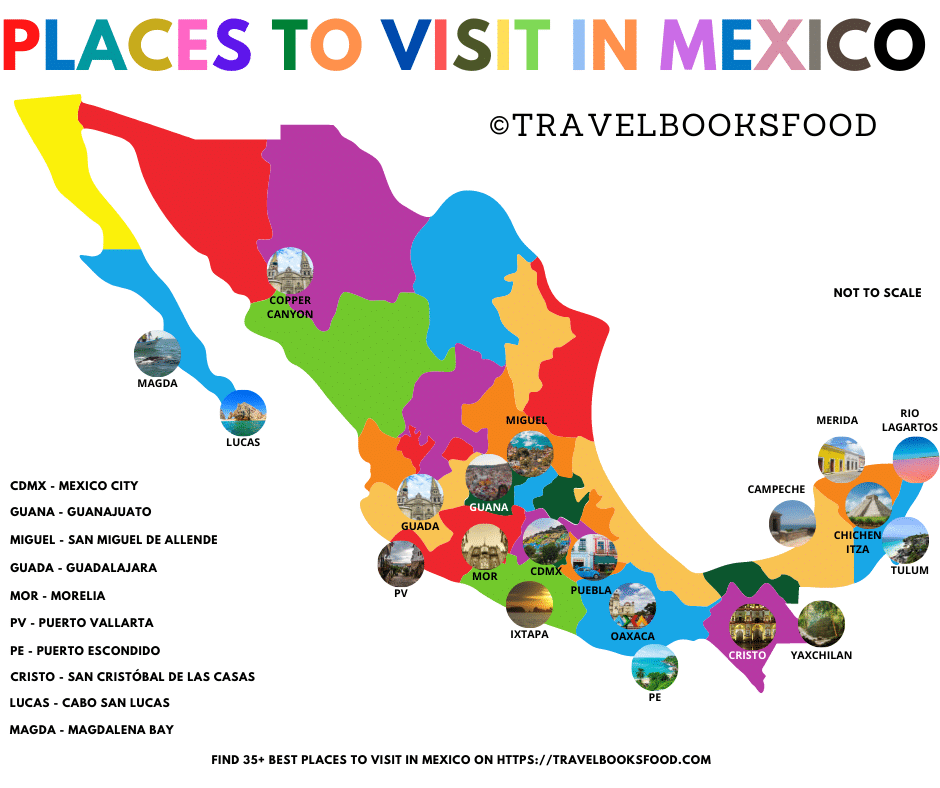 Best time to visit Mexico
Another frequent question I get is what is the best time to go to Mexico? Since most travellers from the US come in search of sun and sea during the winter months, peak tourist season is between November and April.
It is mostly hurricane season around most beaches in Mexico from June to October. But other parts of the country, especially the Northern area witness very little rainfall even during this season.
My Recommendations for best Mexico tours
I spent more than 4 months in Mexico and I did multiple tours around various Mexican destinations. These are the ones I recommend.
Chichen Itza
No visit to Mexico is complete without a trip to one of the wonders of the world.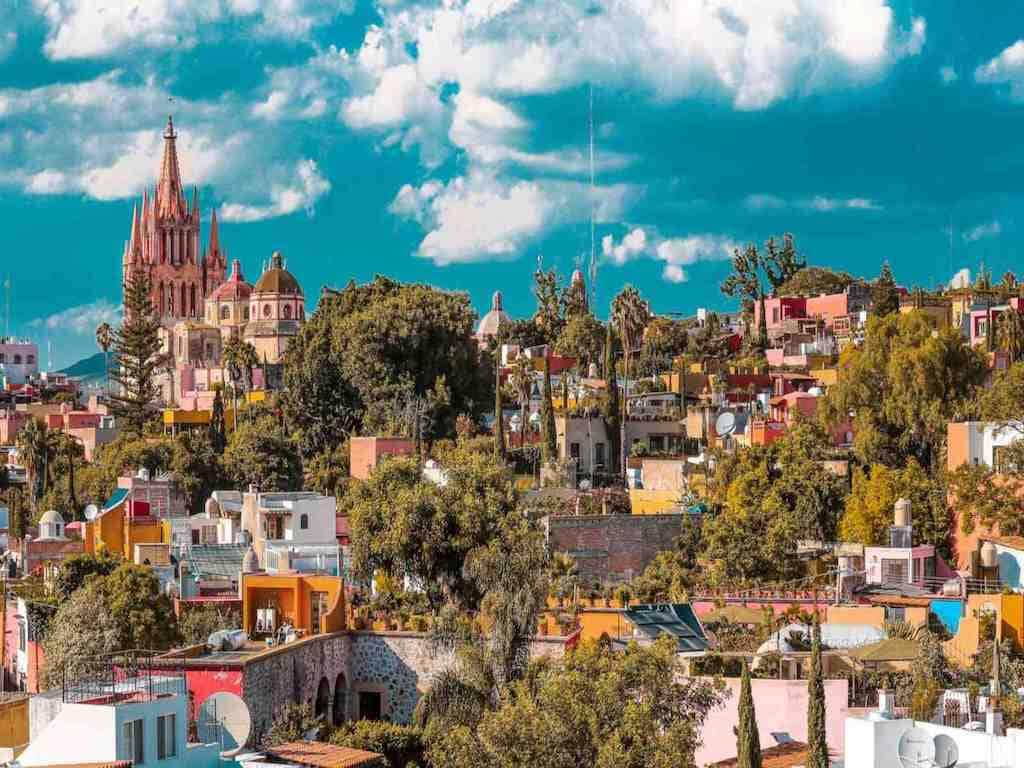 San Miguel De Allende
One of my favorite day trips from Mexico City
Best Places to Visit in Mexico (Travel Blogger's Edition)
I will be dividing this post region wise.
Let us start with one of the most popular destinations in Mexico and the best place to go in Mexico according to travel bloggers.
Best places to visit in Yucatan
The Yucatan peninsula in Mexico is one of the best vacation spots in Mexico. It is easily accessible from the US/ Canada and many people visit it for the gorgeous beaches, wild parties, the Cenotes and so much more. This is also one region that is extremely popular with my travel blogger friends and can be said to be one of the most famous places in Mexico. I did a 10 day road trip in Yucatan and I wish I could go back one day when visiting Mexico again. It is definitely one of the best states in Mexico as a tourist.
Tulum
By Shelley Marmor of Travel Mexico Solo
In recent years, Tulum, Mexico, has become one of the most popular travel destinations in Mexico and has been a major boost for Mexico tourism. So what's all this hype about? Tulum provides so much for visitors, in a relatively small city and has soon become one of the best places in Mexico to live. It is located in the Yucatan Peninsula, on the Mexican side of the Caribbean Sea, so expect beautiful blue waters and some of the best beaches in Mexico. For those who want to venture out into nature, head to the cenotes (sen-no-tays), Mexico's famous natural swimming pools located in the Yucatan. There's also all the amazing Mayan ruins to explore, including Chichen Itza, one of the Seven Wonders of the World, and the Tulum Ruins site, overlooking the sea. Tulum also provides visitors a great mix of early morning yoga classes and vegan cuisine during the day, and DJs, fancy cocktails and late night street tacos. To enjoy the town, many rent bikes for their trip and just cruise around town, from downtown Tulum at one end to the Tulum Beach at the other end. Speaking of the beach, head there to see all of the Instagram-famous places, like the beach clubs and art installations. Don't miss the famous white swings at Coco Tulum, the picturesque "nests" at Azulik resort, and the "Ven a la Luz" sculpture at Raw Love cafe.
Guidebooks for Mexico
Traveling to Mexico and need more guidance on which books to read? These are our recommendations for you to read before you go.
Isla Holbox
By Ilse de Groot of Digital Travel Couple
Isla Holbox is a beautiful tiny island on the north coast of Yucatan and is one of the best places to travel in Mexico. This paradise island with white sand beaches and swaying palm trees has it all to give you a relaxing stay and there are many things to do in Isla Holbox. Without paved roads, you can only transport yourself here on bicycle, foot or golf cart. The amazing beaches on Isla Holbox and its stunning sandbank called Punta Mosquito are some of the things you must experience. In the right season, it is possible to swim with whale sharks in the ocean waters around Isla Holbox. This is a fairly ethical activity as you'll only be allowed in the waters in teams of 2 with a guide. The whale sharks also don't get fed here. Another great thing to see on Isla Holbox is bioluminescent plankton at night. This natural phenomenon only appears with a certain temperature in the waters and is therefore pretty special to witness. With vibrant streets wrapped in beautiful street art, Holbox is a cute and laidback island to spend a few days or longer to completely unwind. Buy a beer or coconut, sit down and enjoy the island vibes and beautiful sunsets on Isla Holbox.
Las Coloradas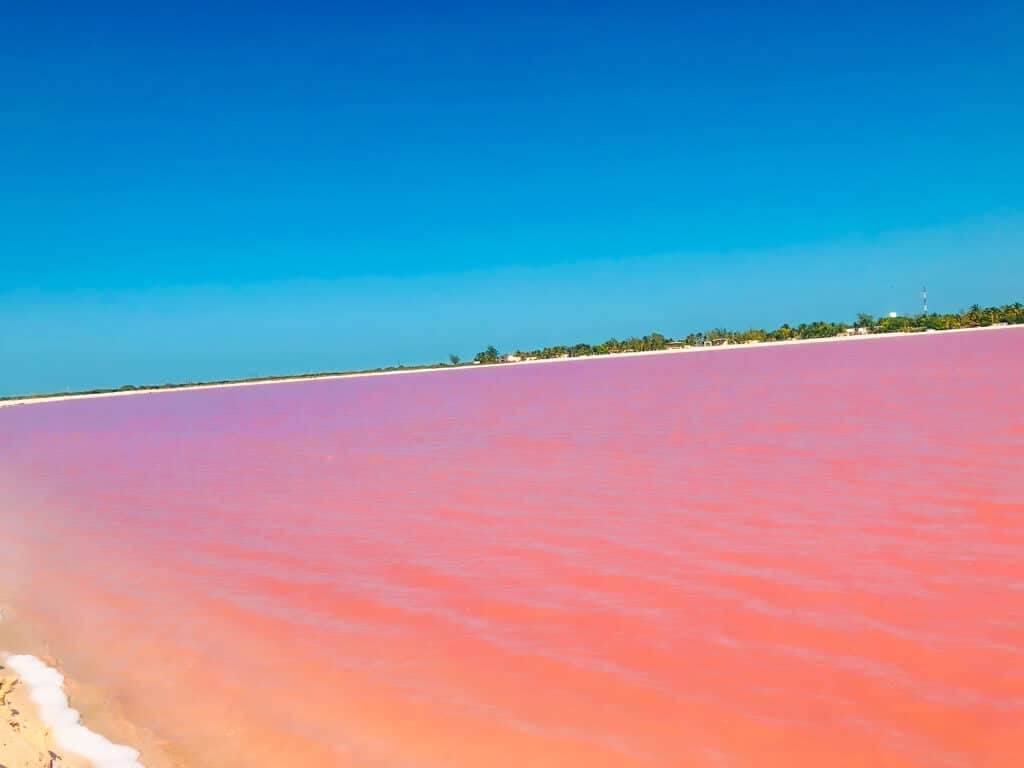 By Soumya of Travel, Books and Food
I knew I had to visit the pink lakes of Mexico when I knew Tharun was going to be based out of Mexico for a while.
I had dreamt of this place and it had been a bucketlist destination in Mexico for me. It should be on your list of Mexico Vacation spots too.
I did a day trip from Cancun but many companies offer tours from cities like Valladolid and Merida as well.
Since it is quite far from Cancun, we get an opportunity to visit Ek Balam ruins and Cenote Xcanche as well.
Once you visit the lakes, don't forget to take a boat ride to see some alligators and flamingos. And for lunch, head out to Rio Lagartos or you can even spend a night there if you are road tripping in the Yucatan peninsula.
Cozumel
By Claire Stokes of Stoked to Travel
Cozumel is a small island located off Mexico's Yucatán Peninsula in the turquoise Caribbean Sea and one of the most beautiful places in Mexico. It's biggest draw is its incredible underwater life and Cozumel is renowned as one of the best scuba diving destinations in the world.
If you're looking to get certified during one of your Mexico vacations, then there's no shortage of excellent dive schools in Cozumel, and if you're experienced then you'll enjoy experiences such as night dives or extended dives.
If you prefer to stay nearer the surface, then the snorkelling is great in Cozumel too, and you may see some of the island's turtle population too!
There are also dozens of boat companies operating out of Cozumel, offering an array of family-friendly ways to enjoy the marine life, from underwater scooters to glass bottom boats tours. Deep sea fishing is also another popular excursion in Cozumel.
My favourite thing to do in Cozumel is to enjoy one of the island's beautiful beaches. Some are more rugged with fewer facilities but there are plenty nearer the port/Downtown Cozumel, such as Paradise Beach which has several swimming pools, kayaks and other watersports, trampolines and numerous eateries.
To get to Cozumel, you can either fly into its small airport from a US city, or fly into Cancun where you'd need to take a bus to Playa del Carmen and one of the hourly ferries over to Cozumel. Although the island is small, you'd still need to hire a car or take a taxi to get around unless you just enjoy the shops, restaurants and bars near the port.
Cobá
By Lisa van den Berg of FlipFlopGlobetrotters
Cobá (which in Mayan means 'waters stirred by the wind') is a little town located in the state of Quintana Roo and situated between Lag0 Coba and Lago Macanxoc. It's also the name of the nearby Mayan ruins that are about 5 minutes from the town's center.
While less well-known than famous Chichen Itza and Ek Balam ruins, Cobá is well worth a visit. Historical evidence suggests Coba ruins is much older than either Chichen Itza, Ek Balam or Tulum and dates back to 50BC.
A large part of the 80m2 site isn't yet excavated and lies hidden in the dense jungle. Since it's such a large archeological site, the best way to explore these jungle ruins is by renting a bike.
So much fun and definitely a unique experience! If you're not comfortable riding a bike yourself, there's also the option to hire a ricksha type bicycle taxi.
Chichen Itza
By Moshe of The Top Ten Traveler
Chichen Itza is an ancient Mayan city – one of the most famous historical sites in Mexico and a world-known landmark. Built over 1000 years ago, with the Temple of Kukulcán (the pyramid) in its center, Chichen Itza is a UNESCO World Heritage Site, and the Pyramid is one of the New Seven Wonders of The World.
If you want to learn about the history of the Mayan culture, this is your place. A guided tour takes you around the site, with detailed explanation on each of the buildings, the costumes of the Mayan people, and even their ball games, as you stand in an ancient ball court. On the way in (or out) you pass be many vendors who sell souvenirs, from t-shirts with local symbols to miniature statues of Mayan figures and Mayan calendars. This is a great way to support the locals and get a great gift or a souvenir.
Chichen Itza is located about 2-2.5 hours' drive from Cancun or Playa Del Carmen. You can get here with your car or on tour that includes other unique sites of the Riviera Maya. One thing is for sure, Chichen Itza is one of the best places in Mexico to visit.
Valladolid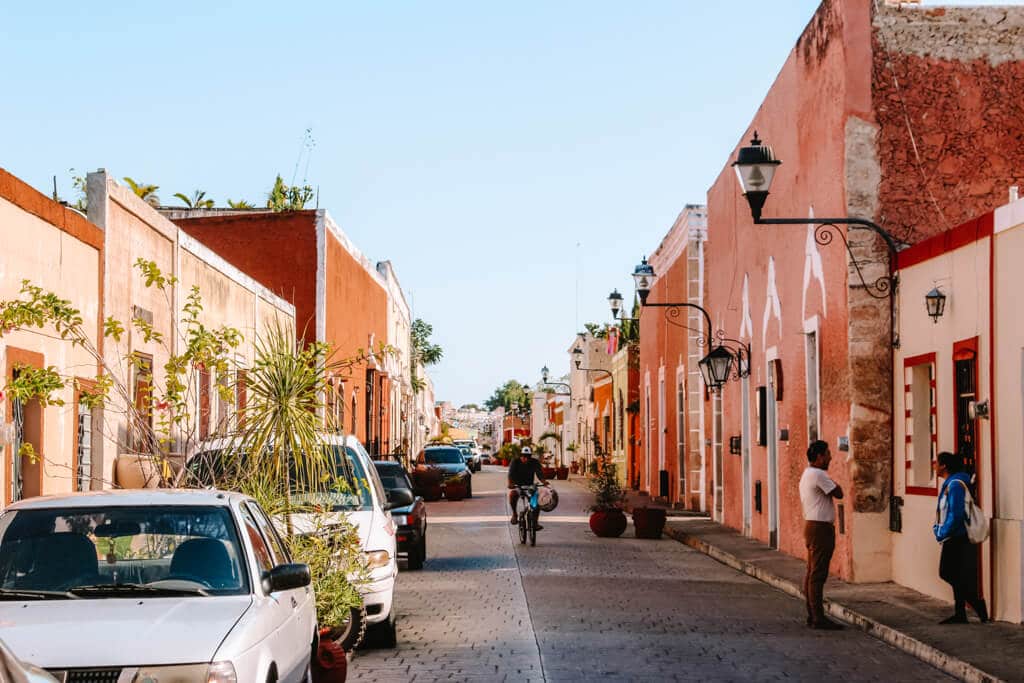 By Maartje & Sebastiaan of The Orange Backpack
The charming town of Valladolid is one of the must-visit places in Mexico. It's colorful streets, lively squares, beautiful colonial architecture and great location close to other Mexico highlights make it a great place to spend a day or more during your Mexico trip.
The city itself is worth at least a day to explore, preferably more. The best thing to do in Valladolid is just strolling around, wandering the pastel-colored streets. Calle de los Frailes might be the most colorful street, or at least the most popular one among visitors because of its boutique shops, coffee bars and restaurants. Visit the local market to try some Mexican snacks and sit down at the main square for people watching.
The San Bernardino monastery is the best place to go in the evenings, as there is a light show projection on the old building every night at 9 PM.
Valladolid is located in the Yucatán peninsula, not far from the famous beach destinations of Mexico but more inland enough to be close to some great other tourist attractions. You can't miss visiting the famous Mayan temples of Chichen Itza and another great thing to do, is driving up north to the Las Coloradas area to visit the pink lakes of Mexico.
Valladolid is a great base to visit some underground cenotes as well.
Isla Mujeres
By Isabella Biava of Boundless Roads
Embraced by a turquoise Caribbean sea on one side and the blue ocean waters on the other, Isla Mujeres is a tiny island located in front of the Mexican coast at only 30 minutes ferry ride from the popular Cancun.
If you are spending your vacation anywhere on the Mexican Caribbean coast, visiting this precious island is definitely a must and is one of the best vacation places in Mexico.
You can either join an organized tour on a catamaran which also include some snorkeling and a visit to a deserted beach or you can go on your own, on a ferry, rent a golf cart and drive around the cute island and then stop in the beautiful north beach for some sunbathing.
If you want to have an even better experience you should stay a couple of nights on the island and enjoy the laid back vibes of the quaint town, explore secluded beaches and take some tours offered from the local agency, especially the incredible whale sharks tour that is available from June through September.
Or you can dive in the MUSA, the underwater museums, which is also possible even if you are not certified. Check it out with a local dive shop. But most of all, do not miss the spectacular sunsets from beach.
Bacalar
By Claire Sturzaker of This Travel Lover
Laguna Bacalar is a beautiful place about 2-3 hours south of Tulum. Its location close to the Belize border means it is too far for a day trip from Cancun or Tulum, so it is still relatively undiscovered.
The lake is known as the lagoon of 7 colours, and once you've seen the beautiful blue water you will understand why! The lake is great for swimming and relaxing, and finding a swing in the water and watching the sunset across the water is one of my best memories of Mexico during my many Mexico trips.
Bacalar has some great restaurants and bars, some of which have direct access to the lake, so you can take a dip after your meal or just laze on a hammock by the water. One of the best things to do in Bacalar is a boat tour to visit different parts of the lake, where you can really see the different colours of the water which give the lake its name.
If you can manage an early start, a sunrise kayak tour is well worth the effort, or head out onto the water with a stand-up paddle board to enjoy the lake at your own pace.
Merida
By Daria of The Discovery Nut
The capital of the Yucatan State, Merida is definitely the best place to visit in Mexico for family as well as for solo travel. While this city has close to 900,000 residents, and offers world-class museums and incredible cultural landmarks, it has managed to fly under the radar for years – with only a handful of foreign tourists who land in Cancun, the largest transportation hub of the region – making it here.
Also the largest city in Mexico's Yucatan Peninsula, Merida is steeped in history. The city's archives date back 400 years, while the Mayan history goes back even further. Here you can also try traditional Yucatanean dishes such as chiles rellenos, ceviche and sopa de lima.
And of course, a visit to Merida won't be complete without a visit to the Gran Museo del Mundo Maya de Merida that houses thousands of artifacts related to the Mayan culture. Also, the Museum of Anthropology and History located on Paseo Montejo has an impressive collection of photos and Mayan relics.
One interesting fact about Merida is that it has the highest percentage of indigenous population of any city in Mexico. According to official figures, the Maya comprise about 60 percent of Merida's population.
Cancun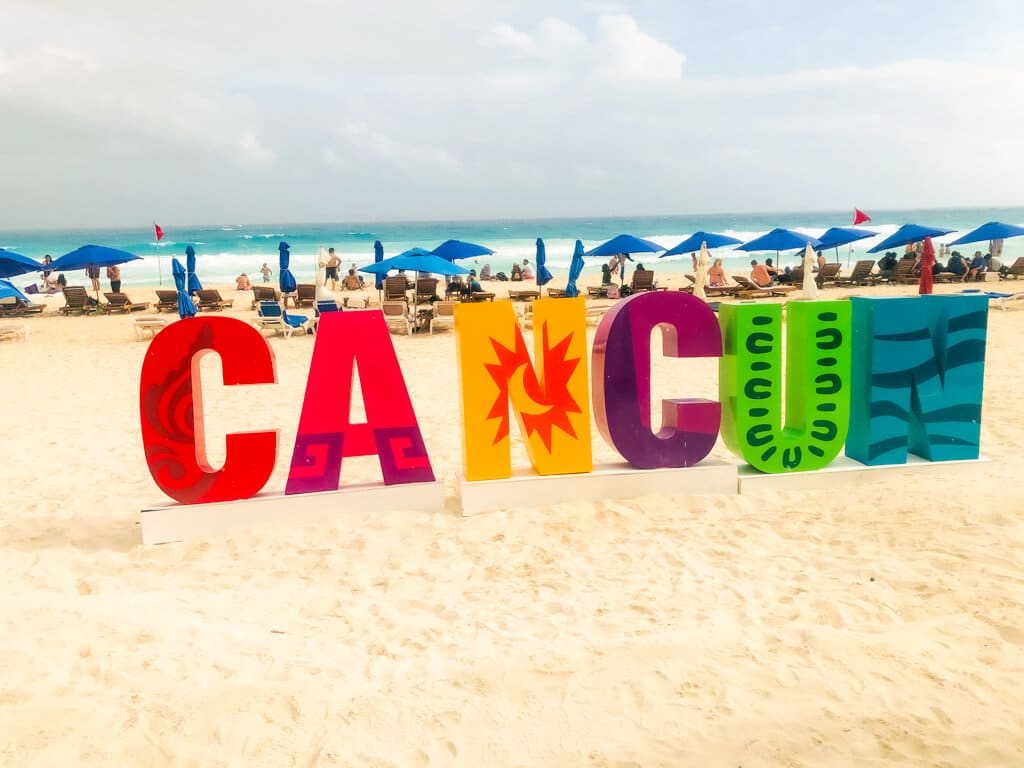 By Kanupriyaa of Lost Camel
The city of Cancun, on the East coast of the Yucatan Peninsula in Mexico is one of the most beautiful and culturally rich cities in the country. Cancun is definitely one of the best Mexico cities to visit.
There are so many things to do in Cancun you could spend weeks here and I know people who have done multiple trips to Mexico only for Cancun. Chichén itzá, one of the 7 wonders of the world and one of the most stunning archaeological sites you will ever witness is a short road trip away. The beautiful beaches of Cancun and the secluded Isla Mujeres where the only transport are golf carts have pristine gleaming beaches and amazing Catamaran trips.
And lastly, we come to the natural wonder of this area, Cenotes. Underground fresh water pools spread throughout the area that were sacred to the Mayans and believed to be a gateway to the other world. Cenotes like Dos Ojos and Caracol are revered for their beauty and crystal clear waters.
Cancun is filled with experiences, historic sites and some of the best parties and food. From spring breakers to the elderly, there is something for everyone to do and Cancun is definitely on the top of the list of which are the top places to visit in Mexico for couples.
Campeche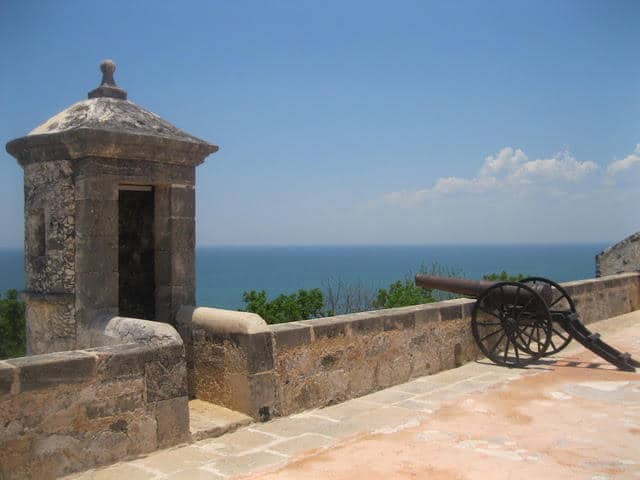 By Janine of Janine in the World
Campeche City is one of the most lovely and colorful bucket list cities in the Yucatan peninsula, and also one of the most overlooked. Situated just a couple of hours from Merida, Campeche boasts a similar aesthetic (cobble stone streets lined with colorful colonial buildings) with a slightly different atmosphere and it absolutely deserves a spot on your Mexico bucket list.
Campeche is a harbor city, and the historic center is surrounded by enormous fortress walls, which were built in the 1600s in an effort to keep pirates at bay. The city is an UNESCO World Heritage Site, recognized for its military architecture and upholding the characteristics of a Baroque colonial town.
Visitors to Campeche will enjoy touring the picturesque centro historico and wandering the expansive fortress walls. Pop in to the Fuerte de San Miguel to learn about the history of the Fort and experience some incredible coastal views. In the evening, take a stroll along the Malecon, where you can enjoy some refreshing ocean breezes.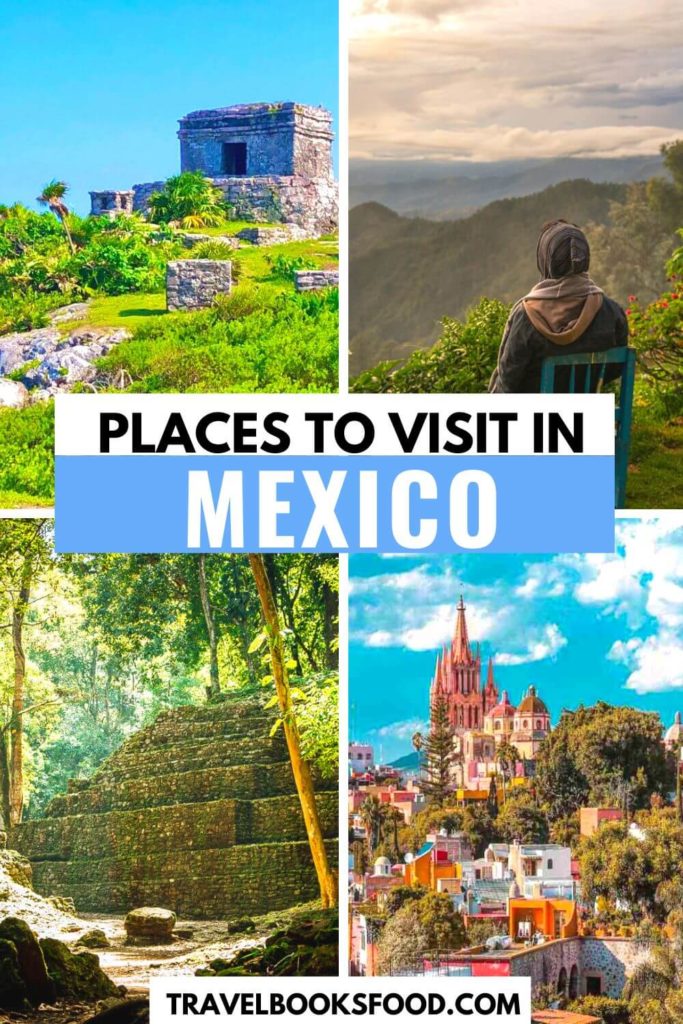 Best Places to visit in Central Mexico
Next we move to some of the best cities to visit in Mexico. Most of these cities are in central Mexico and they can also be termed among the list of 'Which are the safest places to visit in Mexico as a tourist?'.
San Miguel de Allende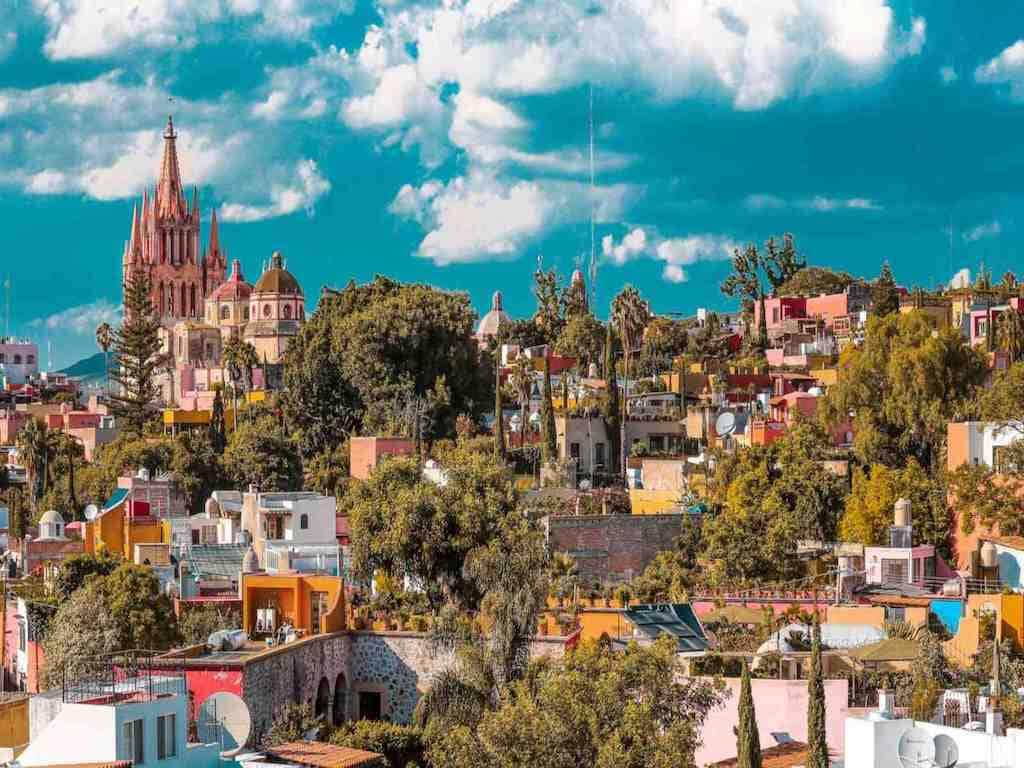 By Stefan Arestis of Nomadic Boys
San Miguel de Allende is one of our favorite places we've been to in Mexico and is a must during your trip to Mexico. It's absolutely gorgeous with an impressive and super photogenic Old Town – so impressive that it was listed as a UNESCO World Heritage site in 2008. Cultural gems to check out include an array of centuries-old churches, colonial buildings and other monuments dating back to the early 1500s when the city was founded.
What we loved most is that as a gay couple traveling in San Miguel de Allende we felt very safe. San Miguel has a reputation for being a laid back and tolerant city thanks to its history of attracting many artists since the 1960s.
Therefore, most people here are open minded, welcoming and friendly to foreigners. Other touristic gems to check out in this magnificent city include the ancient ruins of Canada de la Virgen pyramids, hot springs in San Miguel De Allende, horse riding in the Coyote Canyon, and of course, the food!
Morelia
By Dean and Laynni of Routinely Nomadic
Morelia is a terrific under the radar Mexican destination, often overlooked in favour of more popular highland towns such as Guanajuato and San Miguel de Allende. In fact, there is a good chance you won't even see another foreign tourist during your visit to Morelia, although why it isn't more well-known is a mystery. It is an extremely pleasant and photogenic place, not to mention the entire city has been designated as a UNESCO Heritage Site, so its appeal isn't exactly a secret.
Formerly called Vallodolid under the Spanish empire, it was eventually renamed in honour of Jose Maria Morelos, one of the leaders of the revolution. The remnants of Spanish occupation are everywhere, though, in the immaculate Centro absolutely bursting with gorgeous churches, beautiful plazas and stunning fountains. As the former home of rich nobility, the streets (and sidewalks) are wide, the buildings intricate and picturesque. And, while there are also some interesting attractions in the outskirts, the vast majority of top sites are all located within roughly a 10-block downtown area, making Morelia the perfect place for a self-guided walking tour.
Every Sunday morning several streets in the Centro are closed to vehicles for the "Ciclovia", a festive community activity where hundreds of locals come out to enjoy walking and biking along the impeccable, historic Mexico streets.
Taxco
By James Ian of Travel Collecting
Taxco is a small but fascinating hill town in Guerrero about 100 miles southwest of Mexico City. The city has narrow cobbled streets that wind up and down steep hills, ornate baroque churches and bustling plazas.
However, it is most well known for two things. Firstly, it is one of the main centers in the country for silver. You can visit the workshops to see delicate jewelry and other beautiful silver handicrafts being made, and pick up a bargain at the same time.
Secondly, Taxco is also famous for its Semana Santa (Easter Holy Week) parades. Each night of the week between Palm Sunday and Easter Sunday, long processions wind themselves through the narrow streets. Statues are carried, reenacting scenes from the Bible while penitents, hooded and lashing their backs with sharp thorns or carrying bundles of thorny bushes or large heavy wooden crosses, pay penance for their past year's sins. It is gruesome, but fascinating. Whether you go for Easter and visit at any time of the year, you will love your trip to this classic colonial town.
Puebla
By Rose Munday of Where Goes Rose?
One of the unique places to visit in Mexico is surely Puebla, the capital city of Puebla State. Just 2 hours from Mexico City by road, there are plenty of things to do in Puebla that will keep you busy for a couple of days.
Many people visit as day trips from Mexico City but there's enough to do to warrant staying over especially if you wish to take a day trip to Cholula Pyramid, a 30-minute drive from Puebla.
Foodies will love eating local candies along Calle de Dulche (Sweet Street), as well as trying the local dishes of mole poblano and chile en nogada, a dish translating as 'chili in walnut' and comprising a giant non-spicy green chili pepper, bathed in creamy walnut sauce and speckled with pomegranate seeds. Rumour has it the dish was made to mirror the colours of the Mexican flag.
Don't miss wandering the Artist's Quarter, shopping at the Parian Market, checking out the architecture and learning about Puebla's history at the Amparo Museum.
Valle de Bravo
By Celine Brewer of Family Can Travel
Valle de Bravo is truly a place that should be on everyone's Mexico bucket list. While it's popular with Mexico City's upper-class as a weekend destination, one must-have experience in Valle de Bravo is witnessing the migration of the Monarch Butterfly.
Every year the Monarch Butterflies migrate from Canada down to Mexico. They congregate within a small area and one place to see this is the Santuario de Piedra Herrada, which is very close to Valle de Bravo. The best time to experience this incredible migration is between November and March.
Aside from the butterflies, the best things to do in Valle de Bravo include watersports on the beautiful Lago Avandaro, paragliding and hiking to some incredible viewpoints. Don't miss all the incredible dining opportunities after a day out exploring!
Guadalajara
By Jeanine Romo of Le Wild Explorer
Guadalajara is a bustling city in the state of Jalisco, which is famously known for mariachi music and tequila. The city has a deep cultural history but is also a modern metropolis.
If you want to experience Mexico beyond the overly touristic Mexico cities, Guadalajara is the perfect place to go. The city offers so much including delicious food, incredible museums, stunning architecture, and more.
Be sure to sample birria or torta ahogada, these are specialties in the state of Jalisco.
For the art buffs, check out the Instituto Cultural Cabañas to see the Orozco murals. And don't miss the beauty of the Guadalajara Cathedral and the Templo Expiatorio del Santísimo Sacramento.
And if you want to venture off into a smaller town there are plenty that are about an hour or less away.
Take a day trip to Tequila, where you'll find many tequila distilleries. Or visit Lake Chapala where you'll find many charming small towns along the lake. There is so much to do in and around Guadalajara. Enjoy your visit to this beautiful city.
Guanajuato
By Kay Kingsman of The Awkward Traveller
Guanajuato is hands down one of the best destinations to visit in Mexico because it is absolutely beautiful. It may not have a beach like some of the coastal cities, but the city is nestled between rolling hills and scenic backdrops.
The streets of Guanajuato are colorful and well-maintained, so much so that Disney decided to base the location of its feature film "Coco" on Guanajuato. Every alley is picturesque, with bright buildings, lush flowers, and billowing trees that offer shade in the well-paved courtyards.
Guanajuato is also a very youthful city, since it is home to a major university, so the squares are always alive with the sounds of music and dancing well after the sun sets in the horizon. Fans of art and literature will also be delighted to learn that Guanajuato has a museum dedicated to Don Quixote, and you can find multiple statues of characters from the epic tale around town.
Diego Rivera, one of Mexico's most famous painters and husband to Frida Kahlo, was born in Guanajuato so his home is also now a museum open to the public to visit. Guanajuato is a perfect place to explore if you are a traveler interested in picturesque cities with a lot of art and culture to offer.
Tequila
By Daphna of A Tiny Trip
One of the most fun destinations in Mexico is the small town of Tequila! Named after the drink, the quaint town is surrounded by fields and fields of blue green agave from which Tequila is produced.
Tequila is a short one hour drive from Guadalajara, or about three hours from Puerto Vallarta, making it a great destination for a day trip. In town, have your choice of distillery tours- Jose Cuervo, Sauza and more!
All tours end with a tequila tasting, making for a fun day. Or you can ride the Tequila train from Guadalajara which is a true party train with unlimited tequila included in your trip!
Malinalco
By Katja Gaskell of Globetotting
Surely one of the prettiest pueblos magicos (magical towns) in Mexico, is Malinalco. Located within an emerald green valley, the small town is all cobbled streets, charming houses and gardens overflowing with tropical fruits and flowers. It's the perfect weekend escape from Mexico City.
The Aztecs conquered the area in the 1470s and established an area for their military elite here, building a complex at the top of the Hill of the Idols. Today, this archaeological zone is Malinalco's main attraction. Climb the 358 stairs to the top to see the House of the Eagles and superb views over the valley.
Malinalco's other main sight is the Augustine Monastery of the Divino Salvador. Built between 1540 and 1560 this monastery is home to some unique murals, painted entirely in black and white and featuring subversive symbols: monkeys with men's faces and strange-looking fish.
If visiting Malinalco with kids, then don't miss the bug museum, home to all kinds of weird and wonderful creepy crawlies.
There are lots of lovely boutique hotels in Malinalco as well as pretty of holiday rentals. Just be aware of the church bells that ring at any time of day and night!
Mexico City

By Soumya of Travel, Books & Food
As expats living in Mexico City for a few months, we feel that it is one of the best cities in Mexico to visit and is my answer to 'What are your favorite and most beautiful places to visit in Mexico'. There is so much to do and one day I will write about the best places to visit in Mexico City. You must definitely include it in your Mexico cities to visit. It is also one of the most visited cities in Mexico.
On the top of my head, visit the Zocalo area or walk around the Chapulptec park and visit the castle, visit the many museums in the city, sample some world class cuisine, visit Palacio de Bellas Artes, take a day trip to Teotihuacon and so much more.
Best places to visit in the Pacific coast of Mexico
There are numerous beach towns on the pacific coast of Mexico. And each one better than the other.
Ixtapa
By Dymphe of Dymabroad
When you are in Mexico, you should definitely consider going to Ixtapa. The city is most famous for its amazing beaches. The soft sand and the beautiful water make this a great place to relax.
Furthermore, there are many hotels next to the beach, which is very convenient. Also, there are many rooftops of these hotels where you can listen to live music and see the sunset, which makes this place even better.
Besides that, Ixtapa is very close to Zihuatanejo. Actually, Ixtapa is a part of Zihuatanejo. Going here is a great way to experience local life in Mexico and to learn more about the culture of the place. There are museums, great restaurants and a good atmosphere. This combination of relaxation and culture makes Ixtapa one of the best places to visit in Mexico for tourists.
Puerto Vallarta
By Isabella Biava of Let's travel to Mexico
Also called the friendly city, because it was one of the first and most popular gay-friendly vacation resort among Americans, Puerto Vallarta is definitely a special place to include in your bucket list of places to visit in Mexico.
The majestic Sierra Madre Mountains tumbling down into the azure waters of Banderas Bay, the colonial charm of the historical center, the endless outdoor activities, and the international food choice will make you forget about the Caribbean white-sand beaches of the more popular Riviera Maya.
Puerto Vallarta is one of the best Mexico destinations for every kind of traveler. Families will find all the facilities and beach access for their kids, but also entertainment for the adults. Couples will love the romantic views of the high-end resorts available along the Riviera Nayarit. Solo travelers and digital nomads will enjoy super-fast internet and awesome bars and cafes to hang out and meet like-minded people.
If you ask me, the best area to stay in Puerto Vallarta is the old town or the Zona Rosa, the colonial area of the city, and its beating heart. Here you can find peaceful homes or hotels and still be close to the busy Malecon for enjoyable morning or evening strolls, great restaurants, and bars, the local markets, and spectacular art galleries. From there you can find buses that take you everywhere around the city.
During winter, the high season you might be able to spot whales passing by, a memorable experience. But also, hiking trails, a botanical garden, amazing boat tours for snorkeling and paddleboarding in the ocean. There is so much to do and see in Puerto Vallarta that you will want to go back, again and again.
Mazatlan
From Nikki of She Saves She Travels
One of the places of Mexico to visit is Mazatlan! Located on the Pacific Ocean in the state of Sinaloa, its rich history and beach views will leave a long-lasting impression on you.
It's a city you can freely wonder the streets, exploring art, restaurants and of course, ocean views. A favorite is Old Mazatlan, which is full of beautiful architecture and culture. While you are there, grab a bite of delicious and affordable street food.
Next, you could head down to the seaside boardwalk, the Malecon. It is the longest boardwalk in Mexico at over 4 miles. It is also a perfect spot to catch the sunset! Of course, you'll want to hit the beach while you're in Mazatlan. If you're staying at a resort, you'll likely be visiting The Golden Zone beaches. This is where the action happens, as the beaches are typically filled with tourists.
Alternatively, you can hit up a locals' beach, Playa Olas Altas. The waves can be powerful in Mazatlan, so just use caution while enjoying the water.
My favorite activity while visiting Mazatlan was zip lining. Just a bit out of the city is a dense forest in rural Sinaloa. It was a fun experience flying through the treetops!
Mazatlan, Mexico is north of Puerto Vallarta and is far less touristy than many other beachy locations in the country. Mazatlan has an international airport, which makes flying in easy!
Best Places to visit in South Mexico
The moment I got out of my plane in Mexico City, I saw a photo of a dreamy waterfalls. The colours were astounding and all I wanted to do was visit this place in Mexico. Later, I got to know that this was El Chifon falls and it became another bucketlist item for me.
Unfortunately I never did end up going to that part of Mexico and all I can do is visit it through the eyes of my friends for now till I am back in Mexico one day.
San Jose Del Pacifico
By Sean Lau of LivingOutLau
Situated in the pristine highlands of Mexico is one of the best hidden gems of Mexico – San Jose Del Pacifico. With no more than a thousand inhabitants, this small town in Oaxaca State provides a serene escape for anyone looking to escape the bustling city of Oaxaca or the heat of the Pacific Coast.
San Jose Del Pacifico is known as a wellness and spiritual haven, with psychedelics such as magic mushrooms being widely available. Because it is such a small town, the inhabitants make their own rule, and taking psychedelics is not a crime there.
Temazcl, an indigenous ritual intended to rid of all the toxins in the body, is also available in San Jose Del Pacifico.
If taking psychedelics isn't your idea of the perfect trip, San Jose Del Pacifico is surrounded by beautiful hiking trails and amazing vantage points. Just take a trail going anywhere and you will find yourself with gorgeous views, lush vegetation, and calming tranquility. San Jose Del Pacifico is the ideal place to relax for a day or two before continuing to explore the different parts of Mexico!
Puerto Escondido
By Bailey Busslinger of Destinationless Travel
Puerto Escondido is one of the best small towns to visit in Mexico if you're looking for a unique beach destination. Located on the Southern Pacific coast, Puerto Escondido is a less popular tourist destination than it's neighbors to the north such as Puerto Vallarta, or those on the Yucatan Peninsula.
For that reason, Puerto Escondido remains an authentically Mexican destination with locals from around the country making it their beach holiday spot. With fewer international tourists around, it's considerably cheaper than other beach towns in Mexico and you can easily find an incredible hotel in Puerto Escondido for a great price!
But besides all that, in Puerto Escondido you will find tons of interesting things to do. One day you can be eating freshly fried fish on the beach, and the next you can be swimming with dolphins! Be sure to also check out the turtle conservatory on Playa Bacacho and swim with plankton in the nearby lagoon.
Puerto Escondido is also one of the best places to go surfing in Mexico. They have waves suited for all levels (even the pros can find crazy waves here!) Surf lessons are available at every beach around Puerto Escondido, with Playa Carrizalillo being the most popular spot for beginners.
San Cristóbal de las Casas
By Džangir Kolar of Dr Jam Travels
San Cristóbal de las Casas is a town in central Chiapas, Mexico. It was established in the 16th century by Spaniards in place of mayan city. Because it is located in a valley on 2200 meters surrounded by high mountains it has lower temperatures than the rest of Mexico.
The place retains its Spanish colonial layout and architecture, with red tiled roofs, cobbled streets and wrought-iron balconies full of flowers. As tourism is the main source of income, there are many things to do and see. From places connected with the history of the city to culture and indigenous population.
One shouldn't miss the main square Zocalo with a market of handcrafted goods and a cathedral next to it. Also Santo Domingo church is interesting. But just walking around this town is an experience by itself. This is also a great starting point for points of interest in this region like Canyon Sumidero, Palenque archeological site, Misol-Ha and Agua azul waterfalls.
Yaxchilán
By Paul Healy of Anywhere We Roam
The ruins of Yaxchilán are set deep in the jungle near the Guatemala border and can only be reached by boat.
Yaxchilán was a powerful Maya empire that collapsed at the start of the 9th century. The ruins left behind are long since covered in twisted vines and roots from the jungle which is slowly consuming it. It's a well-preserved yet rambling ancient ruin in Mexico with sculptured stone lintels containing hieroglyphics describing the history of the city, their rituals and conquests.
It sprawls over a wide area with ruins hidden at the end of long walks down forested paths. Regular boat services to Yaxchilán leave from Frontera Corozal. After zipping along the jungle-shrouded river you'll be transported to a different time, making Yaxchilán one of the best hidden destinations to visit in Mexico.
Huatulco
By Eden Fite of Rock a Little Travel
In my opinion one of the best Mexican destinations to visit is Huatulco. This sunny coastal town on Oaxaca's Pacific coast is known for its many beaches and outdoor adventure opportunities. This fortunate location gives Huatulco access to the culture and cuisine of Oaxaca along with the beauty and opportunities that come with being a seaside town.
One of my favorite things to do in Huatulco is to get out on a boat and explore the area's nine bays and many beaches. You can rent a private boat for about $100 per day, giving you plenty of time to relax in the sand, swim with sea turtles, snorkel along the coral reefs, and enjoy lunch at one of the local restaurants.
For activities outside of the water, you can visit the archaeological parks of Copalita or Hagia Sofia, explore Huatulco National Park, go ziplining, or tour one of the local coffee plantations. In the evenings, head into the town of La Crucecita for dinner and drinks. Here, you'll find local restaurants serving everything from tacos and traditional Oaxacan cuisine to Italian. End your night with cocktails and music at La Crema, a lively bar overlooking the town square.
Oaxaca
By Claire of Claire's Footsteps
Oaxaca City is without a doubt one of the safest and best places to visit in Mexico. It's a colonial city of about 250,000, nestled into the mountains of Mexico's Sierra Madre de Oaxaca region.
The colourful streets of Oaxaca are an attraction in themselves, but there is plenty more to do in the city. Visit the bustling markets, browse the museums, or take a walking tour and learn about Oaxaca's rich heritage.
The city is one of the best places in Mexico to celebrate Day of the Dead, and also has its own cultural festival called Guelaguetza in July, which pays tribute to the many Indigenous groups in Oaxaca state.
Just outside of the city are the Zapotec ruins of Monte Alban, and there are plenty more day trips from Oaxaca. You could go hiking in the mountains, explore Zapotec villages, or visit the famous Hierve el Agua, a rock formation that looks like a waterfall with natural swimming holes at the top.
Then of course there's the food. Oaxaca is famous for its culinary scene, with plenty of dishes – mole, tlayudas, and tamales – at least having some of their roots here. Just walking around Oaxaca is a food tour in itself – there are hundreds of street food stands scattered throughout the city – but you could take an official tour or do a cooking course.
Mazunte
By Annie Symonds of Londoner In Sydney
Mazunte in Oxacaca, Mexico is paradise at its best. Think of an idyllic beach you'll want to spend weeks just sitting back and contemplating life.
Whilst it might not have the white sand of the Yucatan, the authentic vibe is like no other. The water is so invigorating, it's no wonder Mazunte attracts people from all walks of life. With a hippy scene evident throughout the town, expect a laid back vibe, where you'll spend most of your time sitting back sipping on pina coladas all day long.
Head over to Architects for their famous fish sandwich, Sahuara for sushi, and La Cuisine for a beautiful dinner. And if you're looking to do something completely special, go on a bio luminance tour where you'll be able to swim in a lake completely lit up in florescent blue, an experience you won't forget anytime soon! After travelling all over Mexico, we would go back to Mazunte in a heart beat!
Mexico Best Places to visit in North Mexico and Baja
The North of Mexico is notorious and that is one of the reasons many are not keen to visit that part of Mexico. However the Baja California side is another popular spring break destination for travellers from the USA and Canada and is one of the safest places to visit in Mexico if you keep your wits around you.
Copper Canyon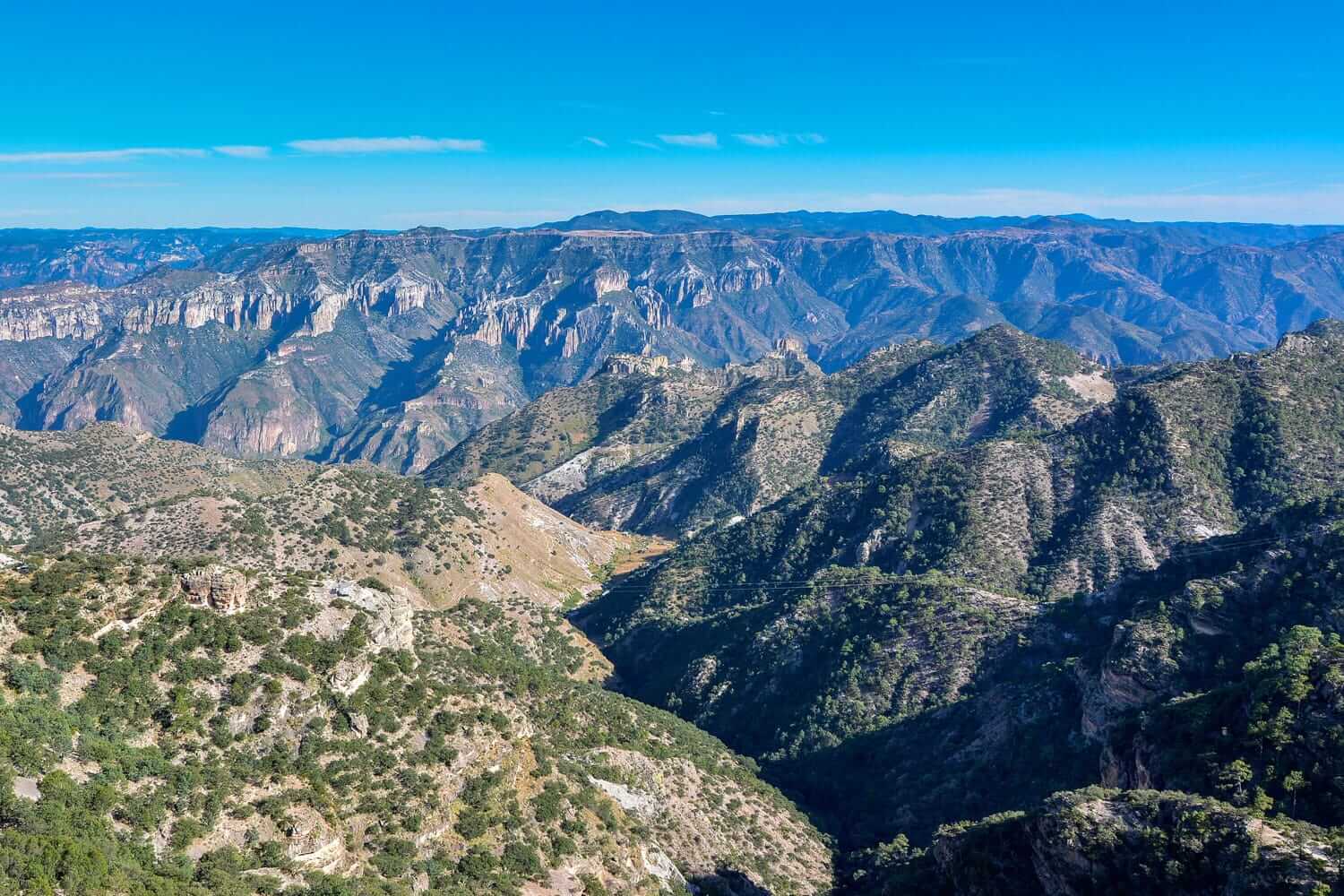 By Robin of Road Affair
The United States' Grand Canyon is world-famous for many reasons, but few people know that in neighboring Mexico is a canyon system that's deeper and larger than the Grand Canyon.
Copper Canyon, or Barrancas del Cobre in Spanish, is made of several canyons and is located in Chihuahua in northwest Mexico. Named after the copper color of the walls, the canyon system was created by six rivers draining into the Rio Fuerte. It's a great place for outdoors lovers who can tour the canyon on horseback, on a bicycle, or on a hike. It's also possible to drive or take a train through the canyon.
Copper Canyon is the backdrop for El Chape, one of the world's most scenic train rides. The region has a fascinating cultural history and great biodiversity. It's a unique destination that deserves more attention. The variety of activities make it a great vacation choice for people of all ages. While visitors should definitely take time to see some of Mexico's ruins, cenotes, beaches, Copper Canyon offers tourists the perfect opportunity to see a different side of Mexico's natural beauty.
Cabo San Lucas
By Daniel James of Layer Culture
When looking for the best Mexican places to visit, be sure to check out Cabo San Lucas in the north-west of Mexico. Situated along the Baja California peninsula you have a well-developed tourism spot equipped for all types of travelers.
This is the perfect place to come when you want to simply relax and as soon as you're ready to party, you'll not need to look far for the entertainment. Be sure to find the best time to visit Cabo San Lucas before you book as there are many festivals and cultural events taking place throughout the year: such as the Gastro Vino food and wine festival which is a popular annual event.
The region is also a big hit with surfers due to the wild waves of the pacific ocean. There are also many opportunities to dive and snorkel for those who love to explore the local sea life.
Magdalena Bay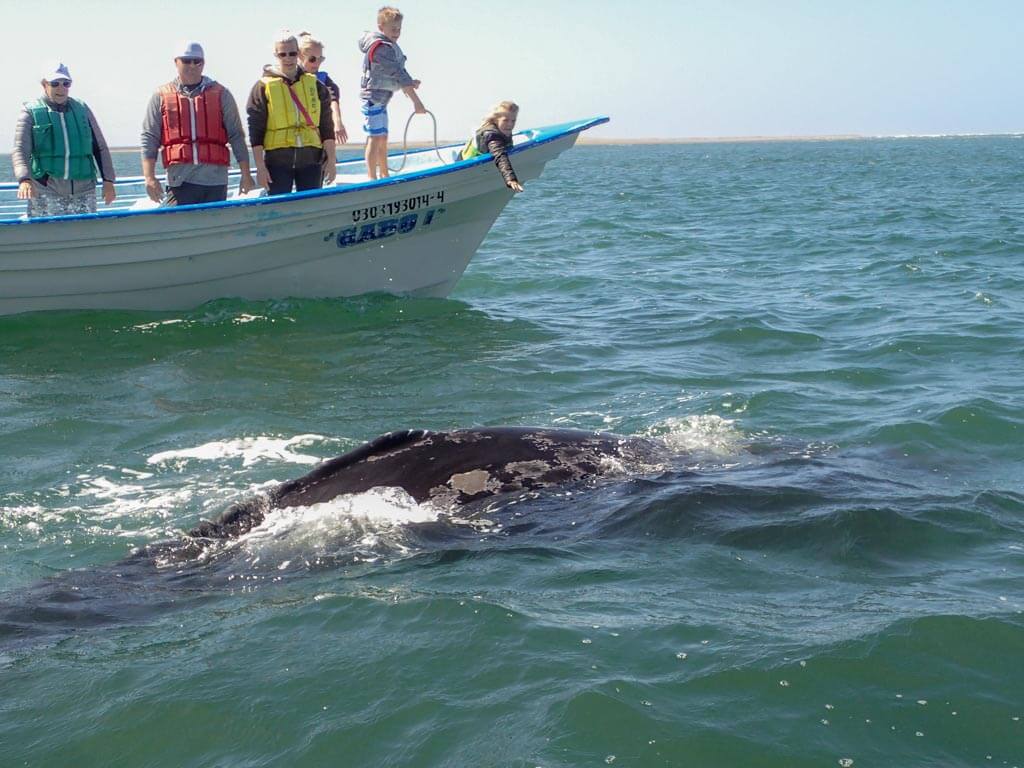 By Carol Guttery of California Crossings
Magdalena Bay is one of the coolest places to visit in Mexico, especially if you love marine life. Magdalena Bay is located on the western side of the Baja Peninsula.
It is one of only three global breeding sites for the threatened grey whales. They reproduce in the bay and the pregnant females return a year later to give birth. The whales prefer Mag Bay because the sand dune barrier islands protect the bay from rough water and predators. Mag Bay is so amazing is because the whales aren't afraid of the tourist and fishing boats, rather they are curious about them. They will often swim up to and under the boats, sometimes stopping for some 1:1 time.
The best time to visit is between late December and early March. You can see the whales as a day trip from nearby towns, but it's worth booking in with an eco camp and spending the night on the dunes, which will increase your chances of a whale encounter.
FAQ's about best Mexico Vacations:
Just answering some FAQ's related to places to go in Mexico:
Where is the safest place to vacation in Mexico?
Generally I found Mexicans to be warm and friendly. And every country has its pros and cons and we must as solo female travelers use our instincts traveling anywhere around the world. But if I have to choose a place, then it has to be the Yucatan peninsula. With the number of travelers in the region, it is comparatively safer for tourists in that part of Mexico.
Where should I go during my first trip to Mexico?
Again Cancun and Los Cabos beaches are filled with tourists, especially spring breakers from North America and there are so many things to do in these Mexican beaches.
Where should tourist go in Mexico?
Again the Riviera Maya region or the Yucatan area is the most popular places to a tourist to visit in Mexico.
What is the most visited place in Mexico?
According to stats from 2019, Mexico city clocked the most number of visitors that year.
Conclusion
So what do you think about this list of 'what are good places to visit in Mexico?'
In the meantime, check out my web story on best Mexican destinations. Also don't forget to check out some more travel tips to Mexico.
Please let us know in the comments below.
You may also like some USA posts:
BOOKING RESOURCES
Looking to book your trip now? Find some of my favorite resources I use while booking my trip. You can also find my travel gear here.
Book Your Flight
I am a Skyscanner fan when it comes to booking international flights. I use Makemytrip and Yatra for domestic flights.
Book Accommodation
Booking is my go to resource for booking hotel accommodation and I use Airbnb for booking my homestays. I also compare prices on Tripadvisor always. Another one I always use is Expedia.
Travel Insurance
As an Indian, I prefer ICICILombard and I am always insured when I am traveling outside India. In addition, I have used World Nomads and SafetyWing for some of my trips.
Book Tours
I do go on a lot of day tours especially when I am traveling solo. Depending on convenience, my choices are Viator or Getyourguide.