We didn't know much about Mexico City before traveling to Mexico for the first time. I started writing this post from our temporary apartment in Mexico City but never found the time to finish writing it. Travelling to Mexico City was never in our plans at the beginning of the year. We were supposed to go back and live in Mexico for at least an a year.
As a clueless expat, it was fun to figure out all these aspects of living in Mexico City. I did not know what to expect first time travelling to Mexico City and in this post, I write about all the tips for First-Timers to Mexico City.
Planning your CDMX Itinerary at the last minute?
I know everyone is busy and don't have time to plan their itinerary to Mexico City. That is why I have covered you with links to some places to stay in Mexico City, must do experiences and more details at one glance.
Where to stay in Mexico City?
Must do tours in Mexico City
If you are up for a challenge, then maybe consider driving in Mexico City.
Tips for All First-Timers Travelling to Mexico City (From An Ex-Expat)
Before we go into detail into this Mexico City travel guide, let us discuss some things that I learnt very recently. When you are living in India, a trip to Mexico City is not something you would have thought in your wildest dreams. So here are some Mexico City facts:
Did you know that Greater Mexico City is the largest city by population in North America and the second-largest city in America after São Paulo in Brazil? Yes, there are more people living in Greater Mexico City compared to New York. It is also one of the largest cities in the world by population and has more people living there than Bangalore.
The official Spanish name for Mexico City is Ciudad de Mexico and is referred to as CDMX as well. Till 2016, it used to be the Federal District or Distrito Federal.
Mexico City is divided into 16 Alcadias or councils or boroughs or delegaciones for administration purposes. These boroughs are further divided into Colonias or neighbourhoods.
Mexico City has a colourful history and was founded around the 1300's as Mexico Tenochtitlan and was part of the Aztecs history. During the Spanish conquest, the entire city was destroyed and later rebuilt as Mexico City.
Residents of Mexico city are called as Chilangos and the city is called as Chillangolandia as well. But from what I understand, the term is used as a pejorative.
Mexico City is built on what used to be Lake Texcoco and is known for its Seismic activity.
Now that we have got some of the basics of history and geography of Mexico City, let us dive into some important travel tips for Mexico City.
Find out my recommendations for my favorite day trips from Mexico City
Before we go any further, find out some of my recommendations for my favorite day trips from Mexico City in this Mexico City travel blog.
Cholula, Puebla
This historic town is a charming one day trip from Mexico city
Taxco
The white city or the silver city as Taxco is famously known for.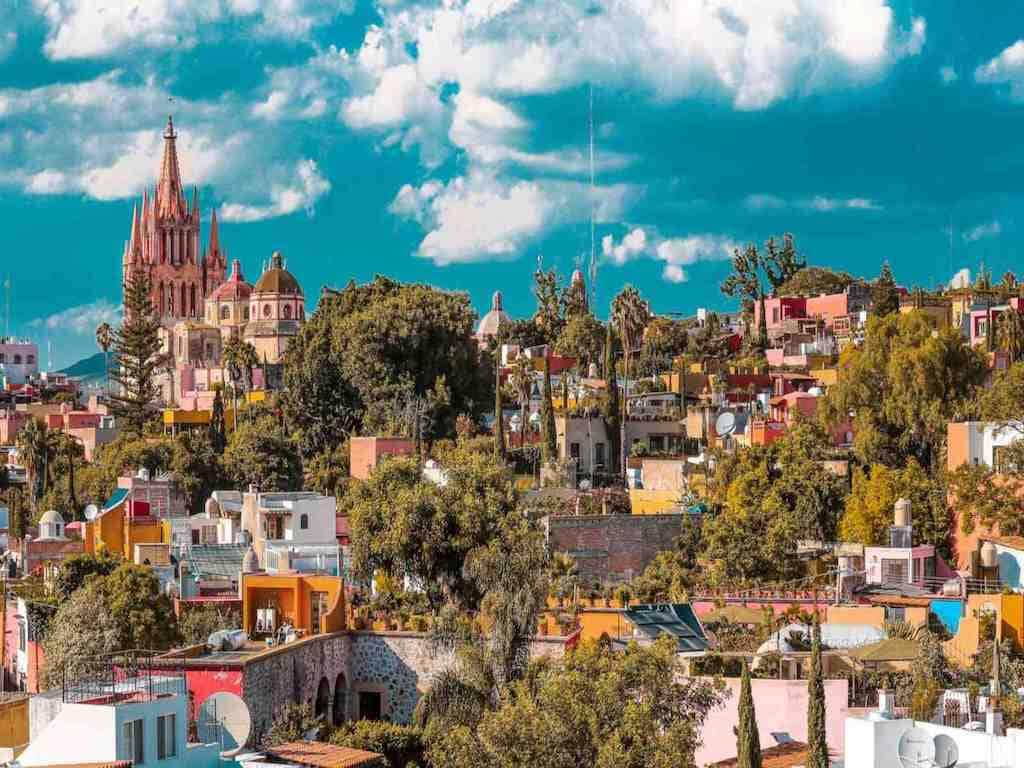 San Miguel De Allende
One of my favorite day trips from Mexico City
Mexico City Travel Tips
These Mexico city tips will be handy for anyone who is moving to Mexico City or even for first time travelers during their Mexico City vacation.
Is it safe to travel to Mexico City? / Mexico City Safety Tips
Let us start with the question I was asked the most when I was moving to Mexico City. Is travelling to Mexico City safe? Is Mexico city the safest city in the world? Definitely not. But does that mean it is more dangerous than most cities in the world? No, it is not.
Like I said before, it is one of the biggest cities in the world and to generalise such a large city as not safe is ridiculous. Growing up, it was fed to us that Mexico is a country of drug peddlers and is generally unsafe. But only after getting there, I found out how the media was wrong again.
I am someone who has lived in Tanzania growing up and spent another chunk of her life living in India. Both are considered to be 'unsafe' by the media but the first and the only time I was robbed was in an European country. So that is why I want you to keep an open mind when you are visiting Mexico city for the first time. And have some common sense to figure out how to stay safe in Mexico City.
Some general Mexico City safety tips are:
Find a good neighbourhood to stay during your travel to Mexico City. There are many neighbourhoods that are deemed safe to stay in Mexico City. And avoid the bad neighbourhoods. Since we stayed in a safe neighbourhood, we didn't face any difficulties but I knew a person who was mobbed thrice in the same month in a bad neighbourhood.
Pickpockets are common in metros, buses and crowded areas. Keep your belongings close to you or use an anti theft bag. Also don't flash your belongings especially when you are in crowded areas.
Avoid walking after dark even if it is for a short distance especially in the residential areas.
Be aware of your surroundings and don't act like a tourist when you are travelling in Mexico City.
It is very common to see armed guards at the entrance of shopping centers, malls and even high end apartments. It was a bit of a culture shock seeing people with such large guns. But by the time I left Mexico, the guard at our apartment complex was quite friendly with us.
Be aware of some of the scams that are common in Mexico City and don't fall for them.
I used the same precautions I normally use as a solo woman traveler when I was an expat in Mexico City.
Don't go looking for trouble or drugs. Most crimes in Mexico City revolve around drugs. So avoid it like the plague.
The above points were not meant to scare you. And I never felt unsafe in the city even though I spent most of my time exploring Mexico City on my own.
How to get to Mexico City / How to reach Mexico City?
This is a question I get frequently. How to go to Mexico City? Most international airlines fly to Mexico City. I ended up taking an Emirates flight from Bangalore to Mexico City via Barcelona and Dubai. Since the flying time is too long from Dubai, there is a fuelling stop at Barcelona for a couple of hours.
Tharun ended up taking Air France which I would definitely not recommend. His flight from Paris got cancelled and he was rerouted through London and Frankfurt before he finally reached Mexico City.
If you have a valid USA visa, you can even take a direct flight from most US cities.
Mexico Visa tips for visiting Mexico City
If you are an Indian like me, then you may need a visa to enter Mexico. Since I had a valid US visa, I was able to get visa on arrival when I landed in Mexico City and this tourist visa was valid for 6 months.
Since Tharun came for meetings and he had a valid UK visa, he was also able to get a business visa on arrival which was also valid for 6 months.
Our plan was to go check out the place and then come back to India to get a more permanent resident visa/ work permit if we intended to stay there for more than a year. However, we couldn't go back due to the current travel restrictions.
It is similar for citizens from other countries as well. If you are a US or Uk or Australia citizen, you don't need a visa to enter Mexico and you can stay for 6 months.
However if you are planning to be an expat in Mexico and work in Mexico, it is advised that you take the temporary residency visa.
Mexico Tourism Card / Forma Migratoria Multiple
This is a general Mexico travel tip and is applicable if you are planning to come for either 2 weeks in Mexico City or for 4 days in Mexico City. In case you are entering Mexico as a tourist for your travel in Mexico City, you will need a FMM card.
Previously, when you entered Mexico through air or road, you were given the FMM card to be filled. But now you can apply for it online.
At immigration, the entry part of the card is collected while you are given the stamped exit part of the tourist card.
This has to be kept safe till you depart Mexico. If you don't have this card while departing, you are liable to pay 40$ (USD) as fine. This is applicable to most tourists and this card also has your entry date to track your 180 days in the country. This is an important thing to keep in mind if it is your first time traveling to Mexico city.
Find some recommendations for guidebooks on Mexico below.
Guidebooks for Mexico
Traveling to Mexico and need more guidance on which books to read? These are our recommendations for you to read before you go.
Mexico City Airport (Aeropuerto Internacional Benito Juárez)
This Mexico City guide will not be complete without a mention of the airports in the city. Even though there are two airports in the city, the popular one is the Benito Juarez one. Most international and Domestic flights depart from here and there are basically two terminals.
Do a quick check of which terminal and which gate your flight is arriving at or departing from.
It is quite confusing sometimes and you may end up getting lost. Else you will have a very angry wife who flew 30+ hours to see her husband and the husband ends up being 30 mins late to pick up his wife. (Like I am ever going to forgive Tharun for this).
Even when I was leaving, I ended up at the wrong gate and had to walk a lot with two heavy suitcases inside the airport itself.
Public Transportation in Mexico City for your vacation in Mexico City
Mexico City has a range of options when it comes to public transportation.
The quickest and the cheapest is the metro obviously. But I ended up using the metro only once during my many months in Mexico City. It can get really overcrowded and pickpockets can be a problem too.
Mexico City has a good network of buses too. But I found them to be extremely slow.
Many parts of the main streets of Mexico City are slowly becoming bike friendly. If you love to cycle, then bikes are a great way to see the city. However I rarely saw bikes after dark in Mexico City.
The mini buses are another great way to go around Mexico City. However, I used them mostly for my travels outside Mexico City.
My favorite mode of transportation in Mexico City / Traffic in Mexico City
My favorite mode of transportation in Mexico City was Didi or Uber. You must be wondering what Didi is. It is the car hire app that is famous in many countries in Latin America.
It is very similar to Uber but is at least 10-20% cheaper than Uber. I used Uber only couple of times in Mexico City when Didi was not available. You can use an international credit card for Didi.
Don't hire a car in Mexico City if you are there for a Mexico City Vacation. It is pointless and you will spend most of your time in traffic.
Mexico City traffic can be chaotic at times but I still felt that Bangalore traffic is worse.
Avoid City taxis like the plague. They are known to overcharge gullible first time visitors to CDMX.
How much to budget for your trip to Mexico City?
Even though Mexico City is cheaper than many cities in the US and western world, it is definitely not as affordable as living in other parts of Mexico.
If you are on a budget and are a two member family like us, it can cost anywhere from 1200$ monthly and upwards to live comfortably.
In our case, rent was a major chunk of our expenses which was borne by Tharun's company.
We paid approximately 2000$ (40,000 peso) per month for a 2 BHK in a fancy upscale area in Mexico City with all amenities.
Grocery items and eating out were quite comparable with Bangalore standards (Bangalore has one of the highest living expenses in India but still cheaper than other parts of the western world). For e.g if I paid Rs 50 (0.68$) for an item here, I had to pay approximately Rs 55-Rs 60 (0.82$) in Mexico City.
This was applicable for Didi and Uber as well.
Currency in Mexico City
Mexican Pesos is the currency in Mexico and cash is still king in many parts of Mexico. Even though it is slowly changing, there are many street side vendors that only accept cash.
Even though some places accept US Dollars if you are a tourist, I would strongly advise against it. The conversion charges can be horrendous and you may get ripped off. (1 USD ~ 21 Mexican Pesos and 1 Mexican Peso ~ 3.5 Indian Rs).
Funnily the symbol for Pesos is $ as well. In many places, they do put a prefix of MXN$. But sometimes MXN goes missing and the $ symbol can be confusing.
It is better if you withdraw cash from an ATM in bulk. Else you may end up paying a lot in conversion charges every time you withdraw cash from the ATM.
Which SIM card to buy during one of your Mexico City trips?
If you are only going for a short Mexico City trip, then you don't need a SIM card and can use your own SIM card. Most US providers have good rates for data plans in Mexico.
I just got a prepaid AT&T Mexico SIM card from the airport. It was valid for 30 days and gave me a 3GB data plan monthly. Calling within Mexico and to the US was almost free. However I didn't buy an international calling card.
It cost me around 200 MXN pesos (less than 10$ to recharge on a monthly basis. The 3GB data plan was more than sufficient even for a high data user like me.
Please note that you need an unlocked phone if you are planning to use a new SIM in Mexico. Ensure that your SIM is unlocked before you leave from your respective country.
Do you need to know Spanish to live in Mexico City?
Yes, please learn Spanish if you are planning to move to Mexico or CDMX. I started learning Spanish on Duolingo after I started living in CDMX. If you are planning to spend less than 2 weeks in Mexico City, then it is not required to learn Spanish other than some basic words.
From what I saw, there are people who do speak English, especially among the tourism as well as the IT industry. But if you want to interact with your housekeeper, your Didi driver, the maintenance guy or your doorman, then you need to know how to converse fluently in Spanish.
Also since I look more hispanic and look nowhere like a Gringo (this is what people from United States, UK and Australia are usually called in Latin America), a lot of people were surprised that I didn't speak Spanish.
Another thing I found was that younger adults could speak English better than their older counterparts (maybe because most schools are teaching English now).
By the time I left, I was able to understand and speak small sentences. But Google translate was a big help for me whenever I needed help or couldn't understand.
Some Basic Spanish words:
Hola – Hello, Adios – Goodbye, Por Favor – Please, Gracias – Thank you, Buenas Dias – Good morning, Buenas Tardes – Good afternoon, Buenas noches – Good evening, Como Estas – How are you?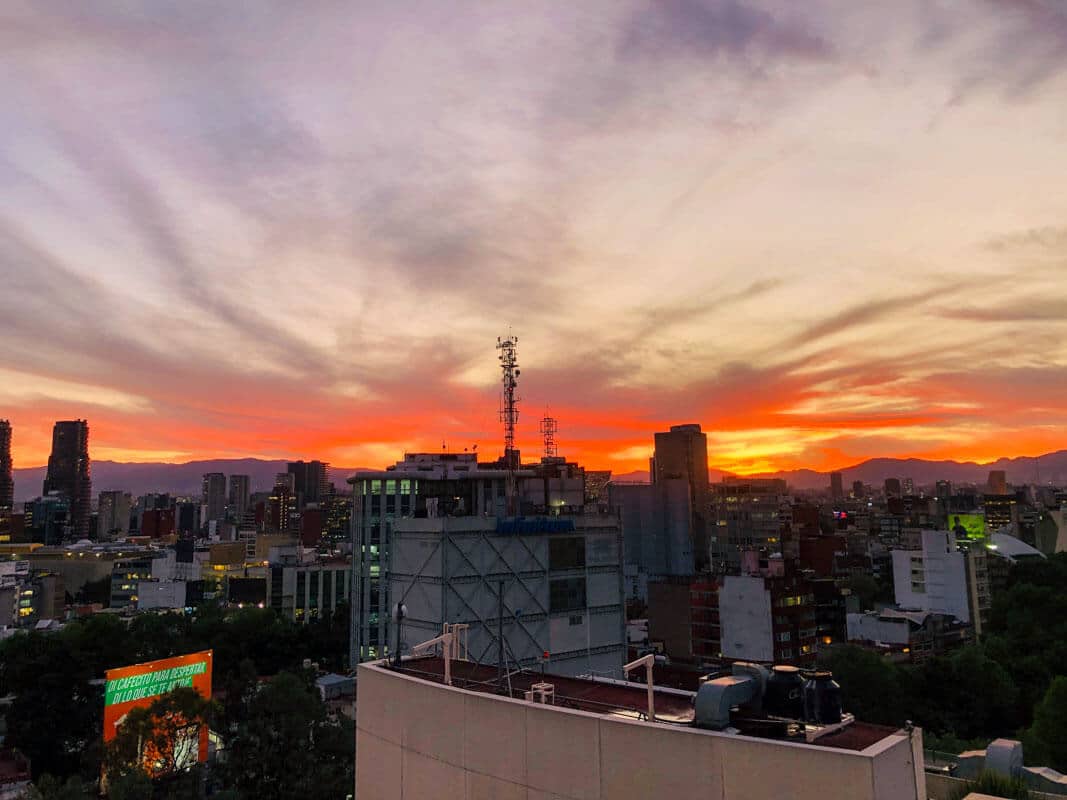 Best Neighbourhoods to stay in Mexico city during your trip to CDMX
I am definitely going to write a more detailed post about this. But these are some of the favorites among expats working in Mexico City and some of the safest neighborhoods in Mexico City.
Some areas to avoid especially after dark are Tepito, Iztapalapa, Doctores and Tlapan.
AirBnB for your first time in Mexico City
We ended up staying in two apartments in Polanco while we were in Mexico City. Both were through Airbnb and were very comfortable, fully furnished and quite posh.
We had to move out of the first one since the landlord wanted to increase the prices when our lease period was over (We had taken a lease only for a little over 2 months initially since we didn't know how long we were going to be in Mexico City).
We were paying approximately between 70$-80$ per day (40,000 MXN$ monthly or 2000$ monthly) for a 2 BHK in Polanco. All utility charges like electricity, water, gas, internet and cable tv were already included in our Airbnb cost and we didn't have to pay extra.
If it is not included, then please keep approximately 100$ monthly for utility charges.
Please note that we were paying higher than most expats for a really good apartment in one of the fanciest areas in Mexico City. The rent was paid by my husband's company.
We also had full access to amenities like a full equipped gym, indoor and outdoor pools, a tennis court, a basketball court, kids play area etc. We rarely used any of the amenities. It was approximately 1000$ in the same locality without all the amenities.
In the locality we were staying in, you could not get inside the apartment complex without a code. Usually through fingerprints.
So when you first move into the building, you need to go register yourself (including your fingerprints) and get access to the building. Most houses we saw came with specialised keypad locks.
Best Time to Visit Mexico City/ Weather in Mexico City
Mexico City is on a higher elevation and has a minimum altitude of 2200 meters above sea level. It is also located in the Valley of Mexico which is surrounded by mountains and Volcanos.
For these reasons, the weather is rather pleasant and is not unusually hot and humid like the rest of Mexico. Even though the temperature didn't drop below 6 Degree centigrade during winter, it was quite windy in the night. So ensure that you carry a heavy jacket for the winter months. It was around 10-15 degree centigrade in the mornings during winter.
It started warming up in February but the weather was still pleasant by the time we left.
The summer months are the rainy months and even during this season, it is not hot and humid.
So I guess Mexico city has almost perfect weather for people like me who hate humidity.
We didn't need a heater during the winter months. Surprisingly none of our apartments came with either a fan or a heater.
Pollution is however a problem in Mexico City but is much better compared to other large cities around the world. The best time to go to Mexico City would be ideally between February and June before the rains start.
What is the best month to visit Mexico City?
Definitely the best months to visit Mexico City is between March and May. It would be spring and the weather would be beautiful at that time of the year. You can miss the rainy months of Summer. However, please note that these months tend to be more crowded compared to other months.
Can I drink tap water during my visit to Mexico City?
No, tap water in Mexico is completely unsafe to drink without some sort of purification process.
I used to use boiled tap water for washing fruits and vegetables and for cooking stuff like rice and pasta.
If you have a weak stomach, then you may have to stick to bottled water.
We used to buy these 10 litre water cans from the nearest convenience stores for around 150 pesos and this used to last us a few days.
A lot of people are concerned if their ice cubes are made of tap water or not. You have no way of knowing and I would just suggest not to microanalyse so much and just enjoy your time in CDMX.
Never pay for your water in restaurants and ask your server for filtered water.
OXXO's are going to be your go to convenience place in Mexico City
OXXO's are these convenience stores that you find all over Mexico and Mexico city. Some of them are even open 24*7 and the ones next to a gas station usually had pay and use toilets as well.
It is there around every corner and we used to go every other day to buy water, groceries like milk or bread or eggs, snacks or a pack of cigarettes for Tharun.
I used to recharge my prepaid SIM here once a month.
Many people use OXXO within Mexico to send and receive money as well.
Public toilets in Mexico City
Most of the pay and use ones were extremely clean and well-maintained. One of the most amusing things I found in Mexico city/Mexico was how many public restrooms had women giving out toilet paper since there were never any inside the stalls.
I always carry my own. But if there are women giving out toilet paper in the restroom, it is customary to tip 2-5 pesos. If it is a pay and use one, then you need to have 5 peso coins to enter them.
The problem of plumbing in Mexico City
Never flush your toilet paper down the toilet in Mexico. Else you will have an experience like me who had to deal with poop overflow in our apartment in the middle of the night.
Do you need a housekeeper in Mexico City?
It depends on whether you want one and/or can afford one. I run multiple businesses and most days I don't have the energy to do housework on top of that too. And I have always had a housekeeper in India. It is definitely a privilege to hire one and I am very well aware of my privilege.
It is a little more expensive to hire a housekeeper in Mexico City. In our first Airbnb apartment, cleaning was included in our rent and hence we had someone coming twice a week for around 5-6 hour days.
When we shifted to our 2nd apartment, we started calling someone to clean once a week. We used to pay them 400 pesos daily for a 5-6 hour work day. It used to come to approximately 1600-2000 pesos (95$) monthly for us. The charges will vary if you decide to call someone daily.
Rosa was extremely thorough, dedicated and hard working. Communication was a problem but she was very helpful and she used to get me Mexican food (mostly desserts since she knew I was a vegetarian) to eat from her home. And she did almost everything without even asking her to.
Where to get your groceries in Mexico City?
Most neighbourhoods will have a Saturday market and this is definitely your best bet to get some delicious fresh produce.
For everything else, we used to head to La Comer and there are many like Soriana or Superama or Costco to get almost anything you need. La Comer was very close to where we were living and if you tipped 20- 50 pesos, one of the attendants would come with you till your doorstep with the shopping cart. Since we didn't have a car, this was very helpful.
Most stores will have Cerillitos who are people over 60 who help in bagging your groceries. It is customary to tip them around 5 pesos. Plastic bags are banned in Mexico City and it is wise to carry your own cloth bag.
For Indian spices and dals, we used to buy from Rashmi's Indian grocery shop. It is a small shop but was just walking distance from our house in Polanco.
Things to do in Mexico City
This definitely deserves a post of its own and I will definitely write one soon. But one of my favorite things to do was walking around and admiring the many murals and colorful streets of Mexico City.
Don't forget to take one of the many Mexico City tours especially the food and walking tours. Even if you are here only for a weekend in Mexico City, this is definitely one of the best things to do in Mexico City.
Some important avenues in Mexico City
Paseo De La Reforma is a wide avenue that runs through the center of the city all the way from Chapultepec park on one side to Zocalo (the main square of Mexico City).
Avenida de los Insurgentes is the longest avenue in Mexico City and runs through at least 5 of the 16 boroughs of Mexico City.
Best Day Trips from Mexico City
Even though there are so many things to do in Mexico City, one of the things I loved was how central it was in Mexico and how it was possible to go anywhere either on a day trip or on a weekend trip or an extended trip for 2 weeks anywhere in Mexico from Mexico City.
I ended up doing many day trips and weekend trips when I was in Mexico City. These were my favorite day trips from Mexico City.
Booking a flight or bus or train from Mexico City to other parts of Mexico
One of the most frustrating things was booking a trip on a bus or flight within Mexico. Sometimes an international credit card would not work when we would try online and then we had to head to the airport or the Buenavista station to book our tickets. And then they would charge 300 pesos as convenience fee if we go in person to book the ticket. This happened a few times with us.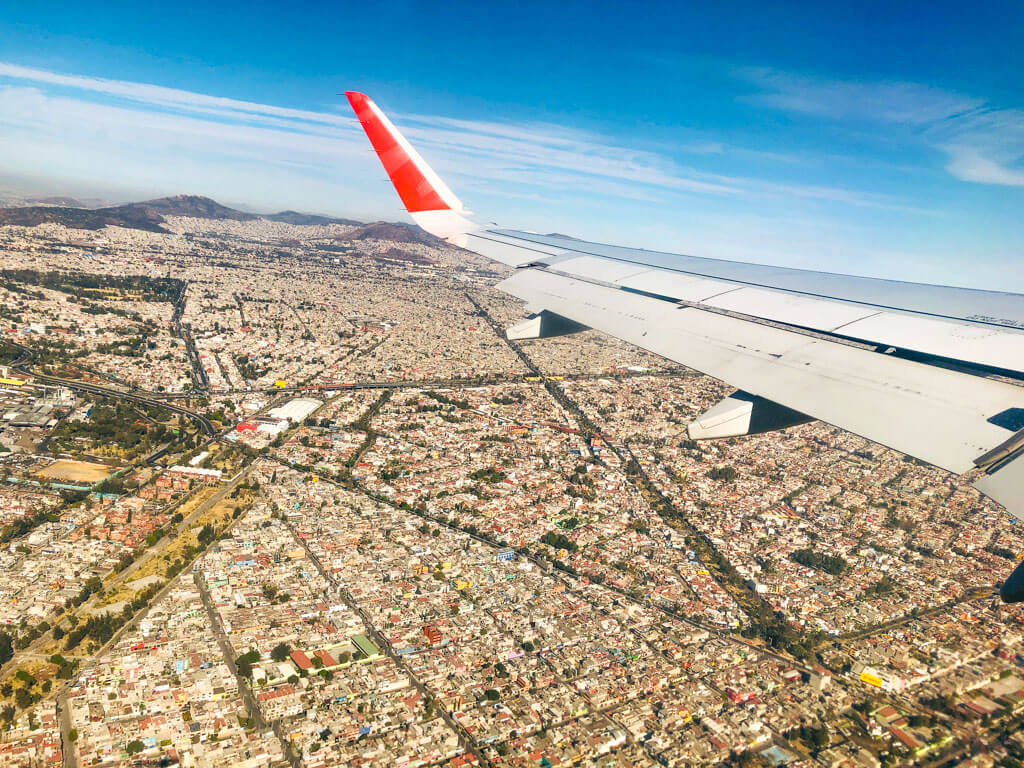 What to drink in Mexico City?
Most people know about Tequila. But do you know that there are so many Mexican speciality drinks. Both alcoholic and non-alcoholic.
My favorites were the Aguas Frescas literally meaning fresh waters. They are so refreshing and the most common ones found all over Mexico are Jamaica (Hibiscus), Tamarindo or Horchata (rice based).
If you want to try alcohol, then either Mezcal or Tequila along with the Mexican beers are extremely popular in Mexico City. We however did not like Pulque. Mango Margaritas were our favorites.
Vegetarian Food in Mexico City
It was my first time in Latin America and I was really worried about getting vegetarian food to eat in Mexico City.
I did face issues during my initial days in Mexico City and I was really finding it difficult to find vegetarian street food in Mexico City.
But the more I understood Spanish and started exploring on my own, I found a ton of vegetarian /vegan stuff to eat in Mexico City.
Mexico City has tons of vegan options and there are also vegan taco stands. Once I found them, I used to regularly eat Tacos at least once a week. And it was not the hard shell tacos that we are used to in other parts of the world.
One of the reasons that there are so many vegan places in Mexico City is that many Mexican families in Mexico City tend to eat only vegan food at least once or twice a week. Additionally there are many Indian restaurants in the city and Royal India was a favorite of Tharun's.
Pastor/Cacti/Jackfruit were some of my favorite taco toppings.
Food Delivery in Mexico City
If you are planning to order food in Mexico City, then there are two very popular ones in addition to Uber Eats.
Learn how to ask for vegetarian food in Mexico City
Soy vegetariano / vegano. Sin carne. Sin peces. Sin lácteos. – I am a vegetarian / vegan. No meat. No fish. No dairy.

Tipping Culture in Mexico City
It is customary to tip your server at least 10 percent of your restaurant food bill. It is usually expected and you can tip upto 20% based on the service.
You can tip your Didi driver an additional 10 pesos. Always tip the women handing out toilet paper (around 5 pesos). Grocery shop baggage handlers (Cerilitos) are tipped approximately 2-5 pesos too.
People of Mexico City
When you see news reports, you are mostly shown a bad picture of the people of Mexico. But this is so far from the truth. Not only in the case of Mexico but in the case of so many other countries.
The people of Mexico City were warm, friendly and always accommodating. Once they figured out that I was from India, I had so many conversations in my broken Spanish with people from Mexico City. They always went out of their way to make us feel welcome in their city.
The culture of Mexico is so fascinating as well and I wish I had more time exploring the many aspects of it. There is a huge disparity when it comes to wealth among Mexicans and this is evident quite prominently just like India. Many of them travel 2 hours one way from the outskirts of Mexico City to come work in the city.
Christmas Time in Mexico City and other festivals
We were not there during the 'Day of the Dead' festivities but Christmas and New Year were such a magical time to be in Mexico City.
The whole city was decked up and it was such a pleasure to see such a unique twist to Christmas decorations everywhere we went in Mexico City.
We ended up spending New Year's eve at Zona Rosa and Reforma. The energy there was just mind blowing with live performances.
What to buy from Mexico City?
Some common souvenirs to buy while leaving Mexico City are:
Chocolates
Mezcal/Tequila
Calavera (Those human decorative skulls)
Silver jewellery
Different Mole sauces
Some more FAQ about traveling to Mexico City
How many days is enough for Mexico City?
There is actually a lot to do in Mexico City and this can be a tough question to answer since it varies from person to person. But if it is your first time visiting as a tourist in Mexico City, then I would ideally suggest 3-4 days in Mexico City.
Is it worth going to Mexico City?
Mexico city is a cultural hotspot and it is definitely one of the places you have to visit in North America. It is so unique despite being a large city and there are so many things to do here. It is definitely worth visiting at least once in your lifetime.
What do Mexicans call Mexico City?
Mexico City has many nicknames but it is commonly referred to as Ciudad de México or CDMX for short. This was the name that Spanish gave the city in 1585 when they took over the city.
Is Mexico City a good place to live?
I know this is a subjective question and cannot have the same answer for everyone. Different people have different experiences in the city just like other cities in the world. I would say it is a good place to live. Despite the negative image of the city in the media, I have had only positive experiences in the city.
What should I know before traveling to Mexico City?
Hope I have answered all your queries about your first trip to Mexico City. I know it is an exhaustive list but it is so important for Mexico city vacation.
How safe is Mexico City?
Every major city in the world comes with some issue or another. Even if it is not the safest city in the world just like other big cities, I never felt unsafe in Mexico. I took just the same precautions as I would in other parts of the world.
How do people travel to Mexico city?
Most people fly to Mexico City from other major cities in the world. I flew from Bangalore to Mexico City via Emirates. I had a layover for few hours in Dubai and a fuelling stop in Barcelona.
Conclusion
So hope you found this first timer's guide to Mexico city useful and hope it makes travelling to Mexico City easier for you. Hope you have a wonderful trip to Mexico City.
Have any comments about this post? Please let me know in the comments and don't forget to share the post as well.
BOOKING RESOURCES
Looking to book your trip now? Find some of my favorite resources I use while booking my trip. You can also find my travel gear here.
Book Your Flight
I am a Skyscanner fan when it comes to booking international flights. I use Makemytrip and Yatra for domestic flights.
Book Accommodation
Booking is my go to resource for booking hotel accommodation and I use Airbnb for booking my homestays. I also compare prices on Tripadvisor always. Another one I always use is Expedia.
Travel Insurance
As an Indian, I prefer ICICILombard and I am always insured when I am traveling outside India. In addition, I have used World Nomads and SafetyWing for some of my trips.
Book Tours
I do go on a lot of day tours especially when I am traveling solo. Depending on convenience, my choices are Viator or Getyourguide.