As a vegetarian traveling around the world, I thought living and traveling in Mexico would be the hardest. After all, we had lots of people telling that it would be difficult to travel as vegetarians in Mexico. However, I soon came to know that my fears were unfounded and it is possible to survive as a vegan in Mexico if you are smart enough.
I have been experimenting with Mexican vegan cooking ever since we got back from Mexico and it has been such an enriching experience. I also ended up going on many vegan food tours in Mexico city. Also check out some great Mexican cooking tours from all over Mexico. Anyway read on to find out more about Mexican Vegetarian food.
Planning your CDMX Itinerary at the last minute?
I know everyone is busy and don't have time to plan their itinerary to Mexico City (CDMX). That is why I have covered you with links to some places to stay in Mexico City, must do experiences and more details at one glance.
Where to stay in Mexico City?
Must do tours in Mexico City
Vegetarians in Mexico
So do you have to do a lot of research when you are traveling as a vegetarian in Mexico? I always do tons of research when I am traveling and I was surprised at the different types of vegetarianism in Mexico. Since we were expats in Mexico City, I had done enough research to find different types of Vegetarian Mexican food. Read on to find my experiences as a Vegetarian traveller in Mexico.
Find out my recommendations for Mexican food vegetarian tours
Before we go any further, find out my recommendations for best vegetarian tours in Mexico.
My Pick
Vegan Mexican Recipes
Learn how to cook Mexican food with a visit to the food market.
What are the must try vegetarian foods in Mexico (and city)?
Now let us go through some of the basic vegetarian dishes that I tried all over Mexico. Many of these dishes can be made vegan in case you decide to skip the cheese or dairy products in most cases.
The main meal of the day is usually the afternoon meal and is usually referred to as Comida. The supper or evening meal is usually leftovers from the afternoon meal. Breakfast is usually a beverage along with breads or leftovers from the previous evening.
Let us first start with some of the most popular non-alcoholic drinks found all over Mexico.
Non – Alcoholic Drinks in Mexico
Most people around the world will think about tequila when they think about Mexico. But there are so many non-alcoholic drinks that can be found all around Mexico.
Atole
This is a hot breakfast drink made with Corn and Maza (same dough used to make tortillas) with cinnamon and sugar. Different versions are found all over Mexico and Latin America. If chocolate is added, then it is called Champuraddo.
Horchata
Horchata is another very popular drink found all over Mexico with a lot of hispanic influence. It is basically a drink made with rice and almond milk with a dash of cinnamon and sugar.
Agua Fresca
The literal translation of this means fresh waters. This is usually non-alcoholic beverages made with fresh fruits, flowers, seeds etc. Horchata is also considered a type of Agua Fresca. One of the most popular ones that you find all over Mexico and one of my favorites is the Jamaica (made from Hibiscus flowers). Other popular flavours include Tamarindo (Tamarind), Limon (Lemon), different types of melons and berries.
Agua Frescas are extremely refreshing and since they could be made with less / no sugar, I used to have them all the time when I was traveling in Mexico. Most street vendors always had one or two flavours of Agua Frescas in big jars for you to choose from.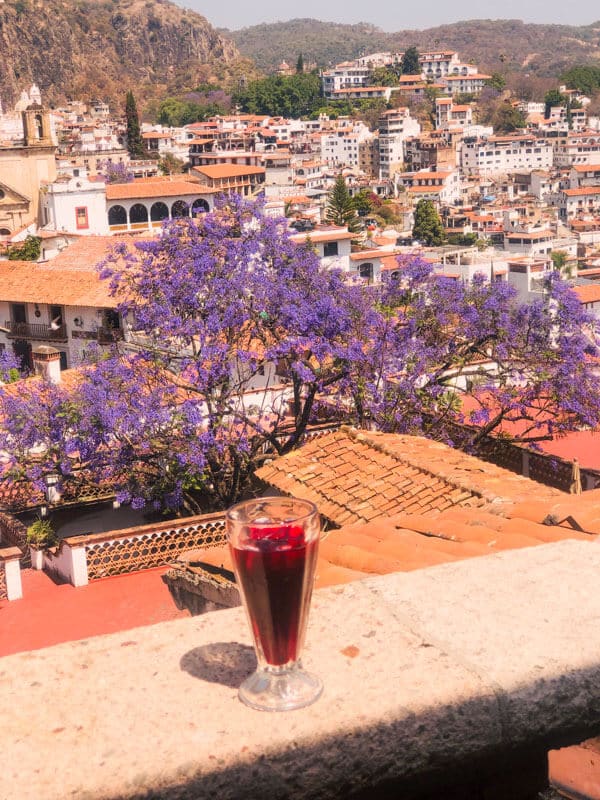 Licuados
A combination of milk, fruit and ice and are very similar to smoothies.
Alcoholic Drinks in Mexico
Like I said before, you can find Tequila shots all over Mexico. But in addition, there are so many other alcoholic drinks and are a must try if you drink alcohol. So some recommendations from the husband:
Mezcal
After Tequila, one of the most common alcoholic beverages found in Latin America is Mezcal. They are made out of a plant called Agave and are extremely strong. If you want the vegetarian ones, it is suggested to get the ones without the worms.
Margarita
You can find these cocktails almost all over Mexico. My favorite has got to be the ones made with Mangos.
Beer
I don't drink beer but my husband loves them. There are so many varieties of beers and you will have a hard time drinking them all.
Michelada
This is a Mexican drink made with beers, lime juice and an assortment of spices. This beer cocktail is quite famous all around Latin America.
Pulque
This is also made from Agave plant but is made from the fermented sap. I did taste this and it was one of the most disgusting things that I have ever tasted in my life. It is extremely sour but kind of looks like milk.
Paloma
There are many tequila based cocktails and the Paloma is the one you find almost everywhere.
Basic Vegetarian / Vegan Mexico Dishes
Before we start listing out some of the most popular Mexican vegetarian dishes, let me say that one of the advantages of Mexican cuisine is that it is very similar to Indian cuisine especially when it comes to the spice levels. They have been days when all I had were some kind of tortillas served with a spicy sauce and some sort of vegetable.
I did try a lot of new vegetables found exclusively in the Latin American region like the Poblano peppers, Nopale or Prickly pear (kind of edible cacti), squash blossoms, Guanabana (very similar to jackfruit) and so many others.
I was watching a funny video the other day and a Mexican lady was trying to explain the difference between some Mexican dishes. It was funny because the lady kept saying that the ingredients were mostly tortilla, salsa or Pico de gallo, crema (Mexican sour cream), queso fresco (any form of white cheese) and some kind of meat/vegetable.
Yes, the tortilla is the staple ingredient in many Mexican dishes, but the taste differs so much from one dish to the dish based on the way it is prepared, the sauce and the ingredients. And most importantly, all of them are so delicious and a delight to your taste buds.
Salsas and sauces
One of the key ingredients that is included in many Mexican vegetarian items are the different types of sauces and salsas that accompany these dishes. There are few dishes that are very similar to each other but are distinguished by different names based on the sauces that are used with them. These are some of the most common salsas/sauces found in Mexico. There are far too many to list down here:
Pico de gallo: This is the more chunkier version of a salsa made with uncooked tomatoes, onions, peppers, cilantro, lime and other garnishing.It is a salsa cruda since it is a raw form.
Salsa Rojas: Rojas means red and is made with almost the same ingredients. However this is a cooked sauce.
Salsa Verde: Verde means green and this is primarily made of Tomatilos and green chilli peppers.
Mole sauces: Again, this comes in multiple varieties and is different based on the region of Mexico they originate from. These are usually much thicker than salsas and are used as marinades in many Mexican dishes including vegetarian options. Some of the famous ones are Mole Poblano, Black Mole, Mole verde, Almond Mole, Guacamole etc.
Tacos
Let us start with my favorite and the most obvious one. I ate Tacos everywhere I went. It was so refreshing to eat Tacos in Mexico. And it was not those hard shell tacos that you get in Tex Mex cuisines. I loved the soft shell tacos. During our time in Mexico, I ended up having so many different types of tacos that I lost count of it.
Even the tortilla used in tacos had so many different varieties like the original masa dough one, the blue corn tortilla, the beetroot tortilla, the Harina tortilla (made of wheat flour) etc.
The salsas and the sauces were also so different accompanied by various vegetables like eggplants, jackfruits, cauliflowers, lettuce, peppers, radishes, cactus, pastor made of Soya, mushrooms (I don't eat them much since I am allergic to some varieties and so I am cautious around them) and so much more.
Pozole
Pozole is a soup or a stew. It is usually made with Hominy (made from maize) and then mixed with vegetables or meat and garnished with various toppings. If you want the meat free version, make sure to have it at one of the many vegan restaurants in Mexico.
It may be difficult to find the meat free version in most places since they are usually made with pork or chicken. It is a hearty dish and was so endearing to have on some cold days. It can be green or red based on the base of the sauce used.
Tortilla Soup
Another popular soup to try in Mexico is the Tortilla soup. This soup is usually made of fried tortilla pieces in a vegetable broth with beans and garnished with chiles, avocados and other garnishes. Usually served with chicken or fried pork and hence it is safer to find the meat free version in vegetarian places.
Tamales
Tamales are made using the maza dough and filled with cheese, fruits, meat or vegetables. This dough is then wrapped in corn husks or banana leaves and then steamed.
We in South India make a very similar dish made with rice dough filled with sweet fillings (usually jaggery with coconut), wrapped in banana leaves and then steamed and we call it 'Ella Ada'). My grandmother makes it for me every time I visit her and having Tamales in Mexico reminded me so much of her.
Corn on the cob / Elotes
This is found all over the streets in Mexico and is a guaranteed vegan dish. They are usually cooked on the cob and then served with simple garnishes.
Esquites
Esquites in Mexican street corn as well but this is served in a cup instead of the cob. The corn kernels are usually mixed with mayonnaise and garnished with salt, pepper and other condiments like cilantro, lime juice etc.
Chilaquiles
The corn tortillas are first cut into quarters and then lightly fried. Then either red or green salsa is poured over them and cooked in low heat till they start softening. They are then topped with cheese, refried beans, cream, avocados, onions, sometimes scrambled eggs and served hot. This is a famous leftover dish since they reuse the tortillas for breakfast from the previous day.
Quesadillas
This is something that you get almost everywhere in the world and honestly I didn't eat too many when I was in Mexico. Basically two tortillas filled withe cheese and few vegetables and then cooked over a stove.
Tortas
Tortas are basically sandwiches and are a common street vegan food in Mexico. Again, it may be difficult to find a pure version but there are few options like the Avocado Torta or the Huevos Tortas (scrambled eggs) that can be more commonly found.
Tostadas
This is one of the most common street food found all over Mexico city and is a top vegetarian food in Mexico city. It basically consists of a deep fried round tortilla chips which serves as a base. This is topped then with cheese, vegetables, sauces and other condiments.
If these are shaped like a boat and resemble a concave container, they are called as chalupas and again topped with the same toppings. If you intend to eat them in the street, just make sure that these are not fried in the same oil as some of the non-vegetarian toppings.
Sopes
Even though they look very similar to Tostadas, they are much thicker than them and are not deep fried like Tostadas.
Huraches
Sopes are usually Antojitos (meaning little cravings) while Huraches are larger and can be considered as a full meal.
Picaditas
These are very similar to Sopes and the only difference is that they have pinched sides and acts like a container.
Tlacoyos
These are oval fried or toasted cake made out of masa dough and are usually stuffed with cheese and beans before being fried and are in the shape of a torpedo.
Chile Relleno
Chile Relleno is a dish that originated from Puebla. The Poblano pepper is usually stuffed with cheese mixed with raisins and nuts, covered in an egg batter and then fried. It is then served with a tomato sauce I never had this though since I could not find a meat free version. A very famous version is the Chiles en Nogada and is considered as the national dish of Mexico because of the colours. This variant is usually topped with a walnut based cream sauce called Nogada and then topped with pomegranate and parsley.
Flautas / Taquitos
This was another favorite with me. In this case, the tortilla is filled with mainly cheese instead of meat and then rolled up and then deep fried. Then this is served with sour cream and guacamole. The larger versions are called Flautas.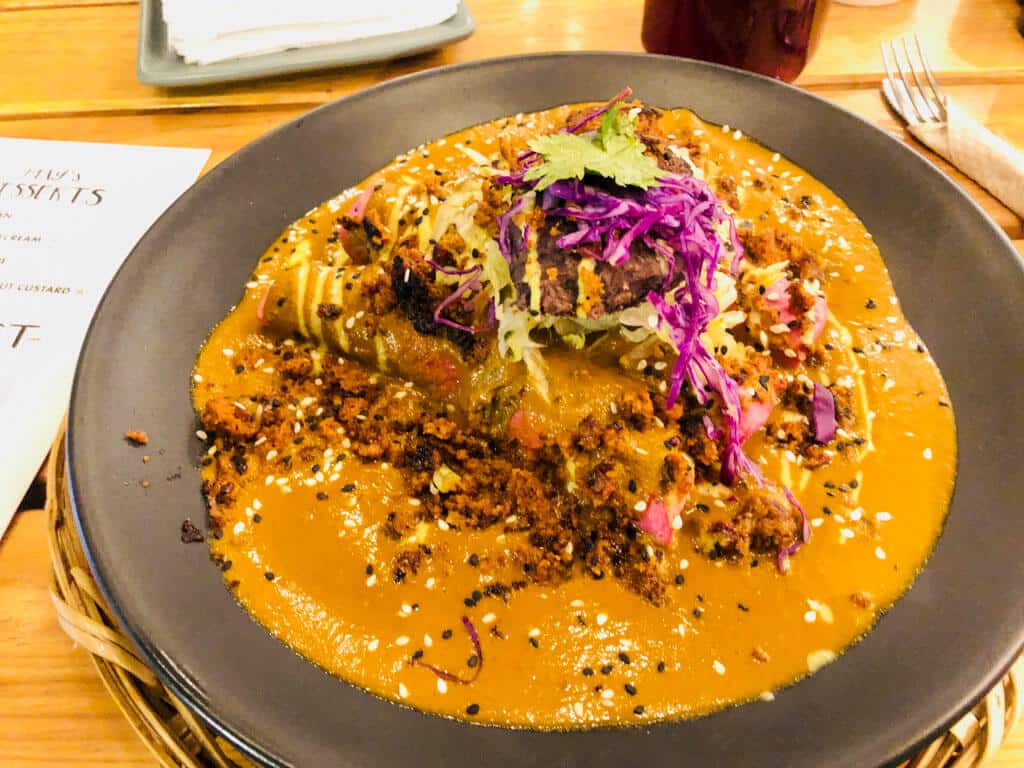 Enchilladas
Enchilladas are corn tortillas rolled over a filling that can be made vegetarian by avoiding the meat and then served with a savory sauce. Will discuss some of the different types of Enchillada varieties found all over Mexico.
Enfrijoladas
Very similar to Enchilladas. Instead of a chile based sauce, the tortillas are dipped in a sauce made from beans. And then topped with cheese.
Enmoladas
In this case, the tortillas are dipped in a mole sauce.
Entomatadas
Again very similar to the previous few dishes. But in this case, the tortillas are dipped in a tomato based sauce.
Empanadas
These are basically puffs that we find all over India. The dough is usually filled with vegetables and cheese. Then they are either baked or fried. If you find the fried version, make sure that it is not cooked in lard.
Burittos
Did you know they are more of a recipe that originated in Tex-Mex cuisine and are found in Chipotles around the world? Not a favorite of mine. Did you know that Mexican rice is also a form of Tex-Mex cuisine?
Huevos Rancheros
This is a very common breakfast item. This is made by serving fried eggs on corn tortilla strips served with Pice de Gallo, Guacamole, refried beans etc. One very funny variation is the Huevos divorciados (Divorced eggs). This has two fried eggs but each egg is served with a different salsa.
Desserts in Mexico
Now that we have discussed in detail about the various vegetarian Mexican dishes that you can find in Mexico, let us move on to my favorite meal. Everyone knows that I have a sweet tooth and these are some of the most common desserts I found in Mexico.
Conchas (Mexican Pan Dulce)
This is basically a Pan Dulce (sweet bread) which is eaten for breakfast and can be found in Panaderia's (Bakery where bread is baked) around Mexico. Another famous Pan Dulce is the Pan De Muerto which is a sweet bread found during the Day of the Dead (Día de los Muertos) festivities.
Churros
Even though the dish is of Spanish origin, this is commonly found all over the streets of Mexico and other countries of Latin America. I have had Churros as a meal in Mexico on some days too.
Flan
Flan is another dish that was brought to Mexico by the conquerors. But it is so readily available and I used to buy it from the grocery store all the time.
Tres Leches cake
Tres Leches cake is a traditional Latin American dish and can be found in many parts in the region. It means 'Three milks' and is made of a sponge cake soaked in condensed milk, evaporated milk and heavy cream.
Arroz con leche (Rice pudding)
Arroz con leche is very similar to our Payasam or Kheer. This is made by mixing rice with milk, sugar, cinnamon and similar spices.
Bunuelos
It is another Spanish dish and is a fried dough and is again filled with spices and chocolate and is very similar to a doughnut.
Chocolate
Since Cacoa originated in Mesoamerica which includes parts of Mexico, something will be amiss if I don't mention chocolate. Chocolate beverages were popular during the age of the Mayans and was considered by them to be the 'Drink of the Gods'. And in many chocolate desserts can be made vegetarian or vegan. I had so much fun tasting chocolates across Mexico.
Platanos fritos (Fried Plantains)
The plantains are fried till they are golden and crispy and then served with condensed milk or sweet milk.
Is Mexico vegetarian friendly?
I would say that some areas of Mexico are slowly becoming vegetarian friendly. Even though most of Latin America are still heavy meat eaters, with the advent of veganism, you can now find more options than what was the case a few years ago. Especially places where there is a sizeable expat Mexican vegetarian population, you can find a lot of vegetarian food in Mexico.
Another reason is that more and more Mexicans have decided to eat better and get healthier. So many families especially in cities like Mexico city, opt to go for Vegan Mexican recipes at least once a week. This could be a plant meal at home or a visit to the nearest vegetarian restaurant in Mexico.
What percentage of Mexico is vegetarian?
Did you know that 19% of Mexico's population is vegetarian while 9% is vegan by choice? I did not know that there were so many vegetarians in Mexico.
What are some of the things you need to be conscious of when it comes to Mexican vegan food?
Veganism in Mexico is something that has become popular over the past few years. Most Mexicans are meat eaters by default and hence may even consider chicken/fish as vegetarian. Since they believe that you cannot eat only other forms of meat.
Are beans in Mexico vegetarian?
If you are a strict Mexican vegan, then you should understand that even though the ingredients may be vegan, some of them may be cooked in non vegetarian fat. One of the most popular foods to eat in Mexico is white rice and refried beans. But most people cook it in lard or pig fat.
Another example of this is that most soups are made of broth made of chicken or other forms of meat. This chicken broth is added for flavour in many parts of Mexico. So if you are looking for authentic Vegan Mexican food, then it is best to avoid them in places which are not 100% vegan.
Also, melted cheese is a crucial part of most vegetarian Mexican recipes. And in most cases, this will be made of milk products and will not be 100% vegan cheese.
Mexican street food
Most Mexican street food stands will have very less vegetarian or vegan options. There are some exclusive Vegan taco stands in cities like Mexico city and these are the only places where you get pure vegan street food in Mexico. Mexican street food is known as Antojitos (Little cravings).
My first week in Mexico city, we went to the vegetarian Mexican street food stand in our neighbourhood and ordered some Chalupas and asked them to only top it with cheese. However, I noticed that they were cooking this in the same oil that was used to prepare non-vegetarian Chalupas So if you have religious restrictions or want to avoid all animal products, then it will be hard for you to find authentic Mexico vegan street food. However, it is easier being a vegetarian in Mexico city.
But a very popular vegan Mexican street food is corn on the cob and you can find them all over Mexico.
Additionally many other Mexican dishes like Tamales, nachos, Gorditas, Empanadas, tacos will be made vegan as per your request. Only thing to keep in mind is that they are not cooked in the same oil as non vegetarian Mexican items. This holds true when it comes to most restaurants in Mexico as well.
Some useful phrases for vegetarian travelers in Mexico and Vegans in Mexico
It is always useful to know some vegetarian phrases in the local language when you are traveling as a vegan/vegetarian.
Please find some Spanish words for your trip to Mexico / Latin America. It is always good to know few Spanish words since inspite of telling I am a vegetarian, I have been asked if I eat fish.
Soy Vegetariano – I am vegetarian
Soy Vegan – I am vegan
No como carne – I don't eat meat
Yo no como pescado – I don't eat fish
Yo no como pollo – I don't eat chicken
No como huevos – I don't eat eggs
Yo no como queso – I don't eat cheese
Sin carne, sin pollo, sin pescado, sin heuvos, sin queso – No meat, no chicken, no fish, no eggs, no cheese
Esto contiene productos lacteos? – Does this contain milk products?
Puedo tener una ensalada? – Can I have a salad?
Esto contiene manteca de cerdo? – Does this contain lard?
Best resources for finding Mexico vegetarian food
These are the resources I rely on as a vegetarian in any part of the world. They have always helped me and you definitely cannot get wrong with it.
Happy Cow – One of my favorite websites when it comes to finding vegetarian food.
Google 'Vegetarian Restaurants near me'. It lists a bunch of places always and you can find the nearest one in a jiffy.
Google translate is also a helpful app since you will be finding menus in Mexican in a lot of places. But do ask if they have an English menu when you are seated.
Is Mexico City vegan-friendly?
Definitely, Mexico City is the most vegan friendly place I visited when I was in Mexico. In spite of being a large city, there are over 25 vegan/vegetarian restaurants in the CDMX area. If you are a vegan traveler to Mexico city, you will definitely have no dearth finding some delicious vegan/ vegetarian Mexican dishes. I will soon link to the best vegetarian restaurants in Mexico City.
Finding fresh local produce in Mexico City
Since we were expats in the city, we ended up shopping for groceries a lot while we were there. Since I didn't cook at all back then, I used to buy all sorts of fruits and vegetables that I could have raw. I also loved visiting the street markets around the area where we lived. There were so many options in addition to the known ones.
They were always fresh and organic.If you are exclusively looking for vegan products, many of the vegan restaurants and supermarkets had them. If you are picking up from a supermarket, make sure to read the ingredients (some may contain animal products).
Tip: Please note that if you are buying fruits and vegetables from the street, they may not be very hygienic. And hence it is always advised to wash them at home before consuming them raw.
We used to shop for our Indian groceries from Rashmi's shop which was just walking distance from where we were staying.
Food apps for Veggie Mexican food in Mexico City
A good advantage of food apps is that you can filter by vegetarian or non vegetarian food. Two very common apps to use in Mexico City to order food online were Rappi and Uber Eats.
Best ways to learn more about Mexican Cooking
The best way to learn about Mexican cooking is to attend a cooking class when you are in Mexico and go to a local to learn the trademarks of the Abuelas (Grandmothers). There are many options available. But some of my favorites are learn how to cook a Mole Poblano in Puerto Vallarta, learn how to recreate dishes of the Yucatan in Merida, learn how to cook Mexican vegetarian dishes in Oaxaca, cook in a local's home in Mexico city.
I also love to go on food walking tours and bike tours around the city I live in. This was something I did regularly when I was in Mexico.
Conclusion:
Whew, this post took me a really long time to write. But I hope by writing this, I made the life of all vegetarians in Mexico (vegans too) a little easier. One of the biggest challenges to figure out is if the dish is vegetarian or non-vegetarian especially if you don't know the language. Do you have any more questions about Vegetarian Mexican food? Let me know in the comments below.
Check out some of my other vegetarian posts:
Guidebooks for Mexico
Traveling to Mexico and need more guidance on which books to read? These are our recommendations for you to read before you go.
BOOKING RESOURCES
Looking to book your trip now? Find some of my favorite resources I use while booking my trip. You can also find my travel gear here.
Book Your Flight
I am a Skyscanner fan when it comes to booking international flights. I use Makemytrip and Yatra for domestic flights.
Book Accommodation
Booking is my go to resource for booking hotel accommodation and I use Airbnb for booking my homestays. I also compare prices on Tripadvisor always. Another one I always use is Expedia.
Travel Insurance
As an Indian, I prefer ICICILombard and I am always insured when I am traveling outside India. In addition, I have used World Nomads and SafetyWing for some of my trips.
Book Tours
I do go on a lot of day tours especially when I am traveling solo. Depending on convenience, my choices are Viator or Getyourguide.