Belgium was a country that was not on my list initially. I definitely wanted to go visit Bruges after hearing tales of the place from my friend. But I worried that the place would be too touristy because of the very famous movie 'In Bruges'.
But then during my Eurotrip, I finally ended up planning a trip to Belgium. I also got a chance to spend a few hours in Luxembourg on a day tour from Brussels. A few hours does not do justice to Luxembourg and hopefully, I will be back one day. In this post, I write about how I planned a perfect 3 day Belgium itinerary including a day trip to Luxembourg. I would definitely not plan to see everything in Belgium in one day.
Planning your Belgium Itinerary at the last minute?
I know everyone is busy and don't have time to plan their itinerary to Belgium. That is why I have covered you with links to some places to stay in Belgium, must do experiences and more details at one glance.
Where to stay in Brussels?
Must do tours in Belgium
I feel driving around Belgium is the best way to see Belgium.
3 Days In Belgium Itinerary (Including A Day Trip To Luxembourg)
So how do you plan three days in Belgium? There are so many places to visit and it is so hard to choose which place would be ideal for a traveller like you. Brussels, the capital was still reeling from the effects of a terrorist attack and many people warned me against going there.
But I refuse to let fear guide me while planning my trips and I have found that most people around the world are kind and helpful. In this guide, you will find what to do in Belgium for 3 days as well as what to do in Belgium for 2 days.
But while planning the trip, I had to make a call on whether I should do a day trip from Brussels or Amsterdam. Both Amsterdam to Ghent or Bruges as well as from Brussels to Ghent or Bruges is almost the same distance (It is just an hour longer from Amsterdam.).
Most people end up spending only a day in Belgium by taking a day trip to Bruges from Amsterdam. For me, it made sense to base myself out of Brussels and explore the nearby cities of Ghent and Bruges.
I did not rely much on public transportation in Belgium since I ended up taking guided day trips from Brussels. Many people only visit Brussels and Bruges if they have only 2 days in Belgium. I also ended up doing a Brussels to Luxembourg day trip.
Find out my recommendations for Belgium tours
Before we go any further, find out my recommendations for the best day trip in Belgium
Bruges and Ghent from Belgium
This one day trip from Brussels to Bruges and Ghent was a favorite
Things to do in Brussels in a day
I got to Brussels on a late Friday evening after spending 3 days in Amsterdam. I was pleasantly surprised when I got to my hotel, Dominican in Brussels. After sleeping in one of the smallest beds ever, I was beyond thrilled to find that I had a full bed and a huge bedroom to myself. Also, it was so close to so many places and I could almost walk anywhere from where I was staying.
Recommended Read – 3 days in Amsterdam
There are so many places to visit in Brussels in 3 days. One day in Brussels is definitely not enough and I ended up not visiting many places in Brussels. But I am going to guide you in planning your Brussels Itinerary so that you don't end up missing many of the attractions in Brussels. However, I based myself for 3 days in Brussels.
Grand Place/ Grote Market
If you Google Brussels, most of the time you will get an image of a big square surrounded by Guildhouses with a large flower carpet in the centre of it. That is the Grand Place or the Grote market which is considered to be the central plaza of Brussels. It is a UNESCO world heritage site and you can also find the town hall and the Museum of City of Brussels (King's house) here. It is known to be in existence since the 10th century.
The Guildhouses were used as meeting halls in the past and now the facade is covered with ornate designs and sculptures. Go for a walk in the Grand place to visit any of these places. My hotel was just a couple of minutes from this square. Horse carriages also seem to be something that is popular with the tourists here.
Don't forget to drop in and see the beautiful St Nicholas Church here. Or you can relax in one of the cafes and watch as people walk by. Since I went here on a Saturday, it was too crowded for my taste and I ventured in search of less crowded places.
If you want to see the Giant flower carpet, then I would suggest visiting in August this year. Every two years, in August, they set a giant flower carpet in the middle of the square for a few days.
Manneken Pis / Jeanakke Pis/ Zinneke
I am pretty sure most of you have heard about the famous naked pissing boy which has been around since the 17th century. He is hard to miss since he is always surrounded by tourists.
He is no longer naked since people keep donating costumes to him and he has now over 900 pairs of costumes. He is a symbol of the people of Brussels depicting their sense of humour and their independence of mind. The current one on display is a replica and you can find the original in the Museum of the city of Brussels. This is again just walking distance from the Grand Place.
But did you know that the boy had a sister called Jeanakke Pis? This statue depicts a young girl squatting to urinate and there is another statue of a urinating dog called Zinneke. It is fun to go in search of these two statues and they are not as famous as the original but it is equally fun to see them.
Notre Dame Sablon, Brussels
This is an impressive church and is around 700 meters from Manneken Piss. I loved visiting this place since not many people were around. The Brabantine Gothic architecture of this church is really impressive.
Chocolate Tours in Brussels
If I had an option, I would have done nothing but chocolate tours in Brussels. But, unfortunately, I did not schedule them beforehand and had to miss the opportunity of attending some chocolate tours. Don't repeat my mistake. Check out some chocolate making tours below.

Royal Palace of Brussels
This palace is open only during Summer since it is a working palace. It was not yet officially summer when I went. It is around 500 meters from the Notre Dame Sablon church.
Parc De Bruxelles
This is a park just opposite the palace. I spent some time reading in the park.
Museums in Brussels
If you love visiting museums, then you have plenty of options to choose from. I was not in the mood for museums that day but if I was, I would have loved to visit the Museum of musical instruments or the Belgian Comic strip centre.
Atomium and Mini Europe
This is one of the places that is located around 6kms from Grand Place. But they have an excellent public transportation system and it is definitely recommended that you make this trip. It takes approximately 45 minutes by bus but you can also explore the option of taking a hop-on/hop-off bus service. I took public transportation and it was really convenient.
The Atomium was built during the Brussels World Expo in 1958 and is considered to be one of the most bizarre buildings in Europe. You can purchase the entry tickets online and you can find more details below.
Mini Europe is a miniature park located at the foot of Europe.
Les Galeries Royales Saint-Hubert
I knew I had to get loads of Belgian chocolates from Brussels. That is why I loved the Les Galeries Royales Saint-Hubert. It is a shopping arcade and it was just beside the Grand Palace. There were so many chocolate shops inside and I did end up buying lots of chocolates here.
Tintin Trails
I was a huge fan of Tintin, the famous Belgian detective. If you have time, then this is something I would suggest for all Tintin lovers. Get a map from the visitor centre near Grand Place and go hunting some of the 60+ murals of Tintin and his pals around Brussels painted on walls. I saw some of them even without going to look for them and I wish I had time for this.
Going in search of some Belgian Beer
I don't drink beer but if you do, then check out how you can book a tour below.
Where to stay in Brussels
I cannot tell you how much I fell in love in with my hotel, the Dominican in Brussels. It was right in the middle of Brussels with the Grote market just walking distance from the hotel. It was a much needed luxury break after a miserable stay in Amsterdam. Check out their latest prices and reviews below.
Another popular area to stay other than the center is the Elsene neighbourhood. They have some very good properties like the Radisson if you are craving for some extra luxury.
Another are popular is the area around the Brussels Midi railway station. The Pullman Midi center and the Concorde are good places to stay here.
If you are looking to stay in a palatial house, then Louise Sur Cour is a favorite and in a nice neighborhood.
Recommended Read – Why I loved the Dominican in Brussels
What to do in Brussels for a day: Conclusion
As you can see, there are so many places to see during your one 1 day Brussels itinerary. This is one of the reasons why you should not skip Brussels during your Europe itinerary.
Brussels day trips to Ghent and Bruges (Belgium 3 day Itinerary)
I ended up taking guided tours from Brussels to Bruges, Ghent and Dinant. You can opt to take a direct train from Brussels to Bruges or Ghent. But I didn't want to think too much about this and that is why I opted for a guided tour.
It is approximately 60 kms from Brussels to Ghent and another 45 kms from Ghent to Bruges and this approximately takes around 2 hours from Brussels. If you are only looking for a day trip to Bruges, then it is approximately 97 kms and it takes around 75 minutes by direct train.
Things to see in Ghent in half a day
Honestly, I had no plans to visit Ghent initially. It was only after I booked a combined tour to Bruges and Ghent from Brussels, that I started reading about what to see in Ghent. You are on a guided tour and you are hardly there in Ghent for a few hours.
It is a beautiful quaint town and it was a bright sunny day when we went to visit Ghent. The good thing about this tour was that after the initial few minutes of introductions, we were given the option to go roaming around on our own or go with the group. I decided to go with the group since I hadn't done enough research. But if you do decide to visit Ghent, here are few of the things to see in Ghent.
Gravensteen
This is a moated fortress in Ghent and it was considered to be one of the strongest in Europe. If you do have time, then don't forget to take a stroll inside the fortress.
Belfry of Ghent
This is considered to be one of the tallest Belfry in Belgium and is considered as the symbol of the city's independence. With other Belfries of France and Belgium, it is a UNESCO world heritage site.
The Old Market (Groentenmarkt) and the Graslei Canal.
This overlooks a beautiful canal and you can see that many people go on canal cruises around here. You can find many fine guild houses along the Graslei Canal. It is a beautiful place to go for a stroll.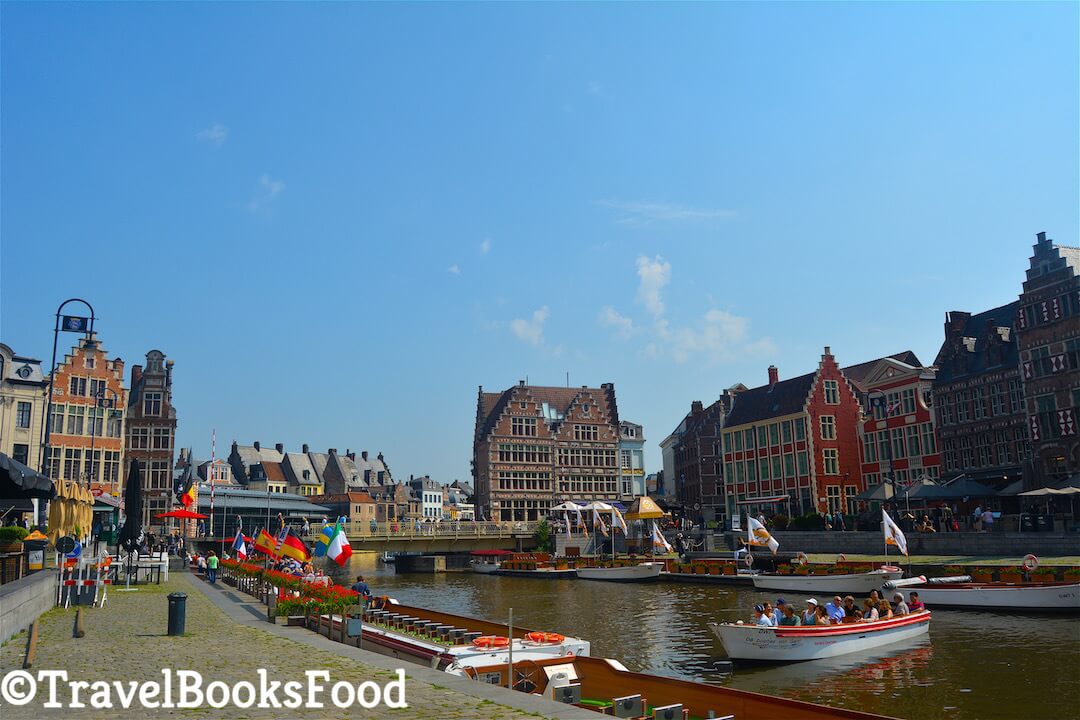 Vismarkt and Kraanlei (Old Fish Market)
This is the old fish market and don't forget to give this place a visit.
St Bavo's Cathedral
You cannot miss this place since this is a huge church right in the middle of Ghent.
Bruges itinerary
From Ghent, we headed out to Bruges and we were there soon. The historic city center of Bruges is listed as a UNESCO world heritage site. So not many vehicles are allowed inside here. But it is not that difficult to see the entire place by foot.
When I got here, I cursed myself for not staying for the night since I wanted to see how beautiful it was by night. But that is something I have kept for the future. It is truly a beautiful city and it is one of those fairytale villages of Europe. But please be warned that it can end up being a little too touristy as well. However, if you are looking to spend only 1 day in Belgium, then Bruges is the ideal place.
Some of the places you should definitely visit in Bruges are:
Canal Tour
Bruges is a city of canals and you should definitely see the city through one of the many canal boat tours available in Bruges.
Basilica of the Holy Blood
This is considered to be a holy place for Christians since it houses a venerated relic of the Holy Blood allegedly collected by Joseph of Arimathea.
Belfry of Bruges
This is located right as part of the Markt square. If you are up to it, you can pay a visitor's fee and climb to the top of the 363 narrow staircase.
Markt
This is the busiest part of Bruges and in my opinion, one of the prettiest parts as well with a row of colorful buildings and plenty of horse carriages. I did nothing here other than buying an ice cream and stare at people for a while.
Michelangelo's Madonna with child
This is the only sculpture of his which left Italy and this is housed inside the church of our lady in Bruges. They do charge an entrance fee for this.
Beguinage
A beguinage, from the French term béguinage, is an architectural complex which was created to house beguines: lay religious women who lived in a community without taking vows or retiring from the world. The one in Bruges is the only remaining preserved beguinage.
There are many more other places to visit in Bruges and you definitely should stay for more than a day here if you want to understand the beauty of it.
Dinant, Belgium
If you are taking a guided day trip from Brussels to Luxembourg, then this small town of Dinant will be on your itinerary for an hour. It is located at a distance of 100 kms from Brussels and it takes approximately 75 minutes to cover this distance.
It is a beautiful quaint little town and is most famous for being the birthplace of the founder of the Saxophone. Hence, you can find many saxophone sculptures around town. The Church is equally impressive and you definitely should visit it to see the beautiful stained windows. If you are planning to see Belgium in 2 days, then my recommendation would be to spend a day in Bruges and a day in Dinant. I am definitely planning a Belgium road trip itinerary for next time.
Day Trip to Luxembourg from Brussels (Belgium 3 days Itinerary)
This was one of the things I wished I hadn't done. I had booked a guided day trip to Luxembourg from Brussels and we ended up spending most of our time inside the bus. The driver got horribly lost because of some reroutes around the small towns. We got to spend only a few hours in Luxembourg City and I don't think that was enough.
It is approximately 225 km from Brussels in Belgium to Luxembourg and it takes around 2.5 hours to cover this distance. Ideally, 3 days in Luxembourg would be perfect. But to compensate, find some beautiful photos of Luxembourg.
Belgium Vegetarian Food
If you are planning to see Belgium in 3 days, then I have already listed here on what all to eat as a vegetarian in Brussels.
Most frequently asked questions about Belgium
Is Belgium expensive to visit?
Belgium is definitely not a cheap country to visit. The cities of Brussels and Bruges are quite as expensive as the rest of Western Europe. However, you can reduce the costs of traveling in Belgium by staying a little further away from touristy areas and stay in smaller towns.
How many days do you need in Belgium?
I would ideally suggest at least 7-10 days in Belgium. Even though it is a small country, it still has lots to see including the fairytale town of Bruges. During my next trip, I would love to stay longer in Belgium.
Is 3 days enough in Belgium?
No, 3 days in Belgium is not enough. You will hardly scratch the surface of Belgium if you are there in Belgium only for 3 days.
Is 3 days enough for Brussels?
Yes, it is more than enough to be in Brussels for 3 days if you are a tourist. You can cover most of the touristic spots in Brussels in 3 days.
Conclusion:
As you can see, I visited many places even though I had only 3 days during my Belgium and Luxembourg itinerary. I am definitely going back to spend more time in Luxembourg.
Liked it, then pin it.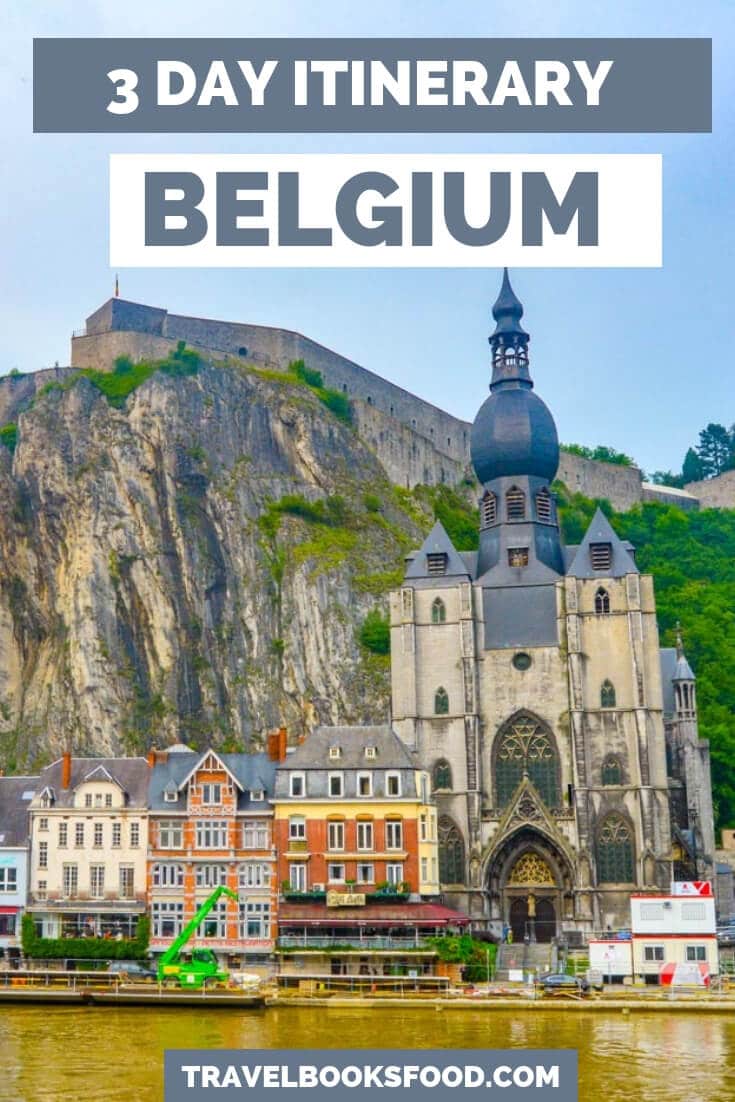 You may also like:
Find my recommendations for guide books on Belgium.
Guidebooks for Belgium
Traveling to Belgium and need more guidance on which books to read? These are our recommendations for you to read before you go.
Recommended: Travel to Belgium
BOOKING RESOURCES
Looking to book your trip now? Find some of my favorite resources I use while booking my trip. You can also find my travel gear here.
Book Your Flight
I am a Skyscanner fan when it comes to booking international flights. I use Makemytrip and Yatra for domestic flights.
Book Accommodation
Booking is my go to resource for booking hotel accommodation and I use Airbnb for booking my homestays. I also compare prices on Tripadvisor always. Another one I always use is Expedia.
Travel Insurance
As an Indian, I prefer ICICILombard and I am always insured when I am traveling outside India. In addition, I have used World Nomads and SafetyWing for some of my trips.
Book Tours
I do go on a lot of day tours especially when I am traveling solo. Depending on convenience, my choices are Viator or Getyourguide.