As a vegetarian traveler, anytime I visit a new place or a new country, a lot of planning goes into finding out if I will get something vegetarian to eat there. I haven't gone hungry yet as you can see from my vegetarian foodie series around the world. As many of you know, I was in Israel a few months ago to attend the TBEX conference in Jerusalem. In this post, I write a detailed guide on what to eat in Israel as a vegetarian foodie.
Since Israel was kind of a last-minute decision and I didn't have much time to research till I got there, I didn't expect food from Israel to be vegetarian-friendly. It was only once I got to eat so many vegetarian dishes in Israel that I realized how vegetarian-friendly Israel is. Did you know that Tel Aviv is slowly emerging as the vegan capital of the world? Doing a walking food tour in Tel Aviv is an amazing idea. I did not even need to use the 'Happy Cow' app here.
Read More – Free Walking Tour in Tel Aviv
Planning your Israel Itinerary at the last minute?
I know everyone is busy and don't have time to plan their itinerary to Israel. That is why I have covered you with links to some places to stay in Israel, must do experiences and more details at one glance.
Where to stay in Israel?
Must do tours in Israel
What To Eat In Israel As A Vegetarian
Kashrut Laws and Kosher meals
So aren't you curious to know why Israel is so vegetarian-friendly? This is all thanks to Kashrut. Kashrut is a set of Jewish religious dietary laws and any food that can be consumed is termed as Kosher. So why is that beneficial for vegetarians? They have several prohibitions like no eating pork or shellfish. But the one that is most important for us vegetarians is that they cannot mix milk and meat as part of this dietary set of laws.
So what does that mean for vegetarians in general? At least one-third of the restaurants in Israel are kosher friendly. This means that if they serve dairy-based products, they can't serve meat-based products and vice versa. Even though Fish does not belong to either of the categories, you still get plenty of options to choose from if you are a vegetarian.
Additionally, there are so many vegan restaurants in Tel Aviv that you will never have difficulty finding vegetarian or vegan food in Israel.
"Anee Tzimxonee (tseem-khoh-NEE)" means "I am vegetarian" in Hebrew.
Find out my recommendations for Israel Food tours
Before we go any further, find out my recommendations for the best food tour in Israel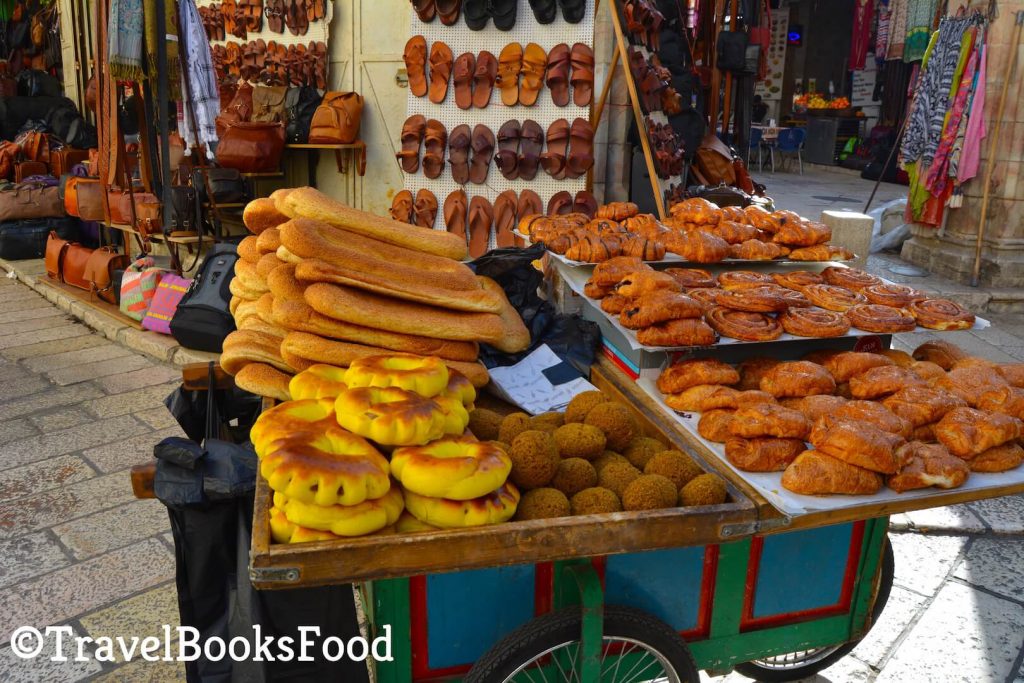 Machne Yehuda Market
This market is a treat for your senses with lots of vegetarian options in Jerusalem
Types of Vegetarian food in Israel/ Israel vegan food
Some of the various vegetarian Israeli dishes I had in Israel during my 10 days there:
Hummus and Pita – vegetarian Israeli food
Let us start with the obvious. Anyone who has had Middle-Eastern cuisine before would have definitely had hummus. As an ignorant person before my trip to Israel (lack of research), I thought all I will get to eat in Israel will be hummus and pita bread. After eating hummus only in other parts of the world, I was necessarily not a fan of this combination of hummus and pita bread. But then I was glad that I was proved wrong and I fell in love with the Israeli version.
Even though hummus is not a traditional Israeli dish, it is extremely popular because it can be used as part of both the dairy as well as meat versions of the Kosher diet. Another thing unique is that in Israel it is considered to be a whole meal as opposed to being a condiment in other parts of the world. So try some of the many versions of the Hummus Bowl.
Hummus in Israel is generally made with chickpeas and Tahini sauce (made from sesame seeds), along with olive oil, pine nuts, and onions. I even had a version which had loads of mushrooms in hummus. If you are a cook unlike me, you can look at going to one of the many hummus cooking classes in Israel.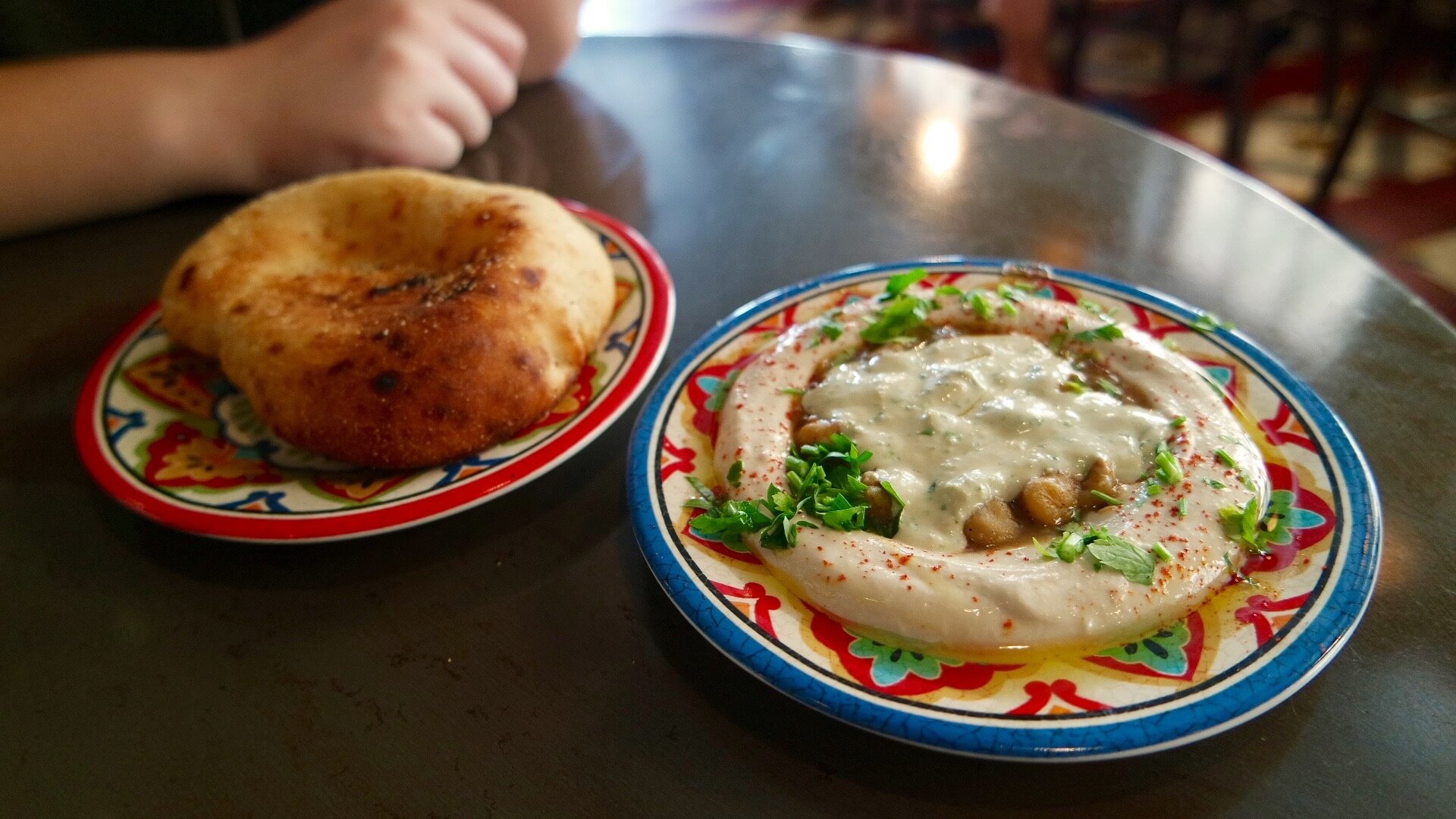 Baba Ganoush – Israeli vegetarian dishes
Baba Ganoush is very similar to hummus in terms of ingredients. But the major difference is that while one is made from chickpeas, the other is made from eggplant. Equally delicious, this is another must have dish if you are vegan in Israel. This is also generally eaten with pita bread. There is another version of this called Muttabal but I did not try that when I was in Israel.
Shakshouka – vegetarian Israel food
If you love eggs as much as I do, then this is another must try dish if you are in Israel. I had this almost every day for breakfast in Jerusalem. I think I loved it since it had a spiciness to it. It is basically poached eggs in tomato sauce, chili peppers and onions. If you are a vegetarian who doesn't eat eggs, then this dish is not for you.
Israel vegetarian recipes
Find recommendations for Israeli vegetarian recipes for some of the dishes mentioned in this post
Falafel – vegetarian in Israel
Vegetarians love Falafels and I have had it many times before I went to Israel. Falafel sandwiches are found all around Israel and it is one of the most accessible vegetarian/vegan Israeli food options you can find in Israel. Since they are made of either chickpeas or fava beans, they are a favorite with vegans as well. They are usually served in pita pockets with lots of veggies and delicious sauces. This is definitely one of my favorite vegetarian Israeli recipes to make.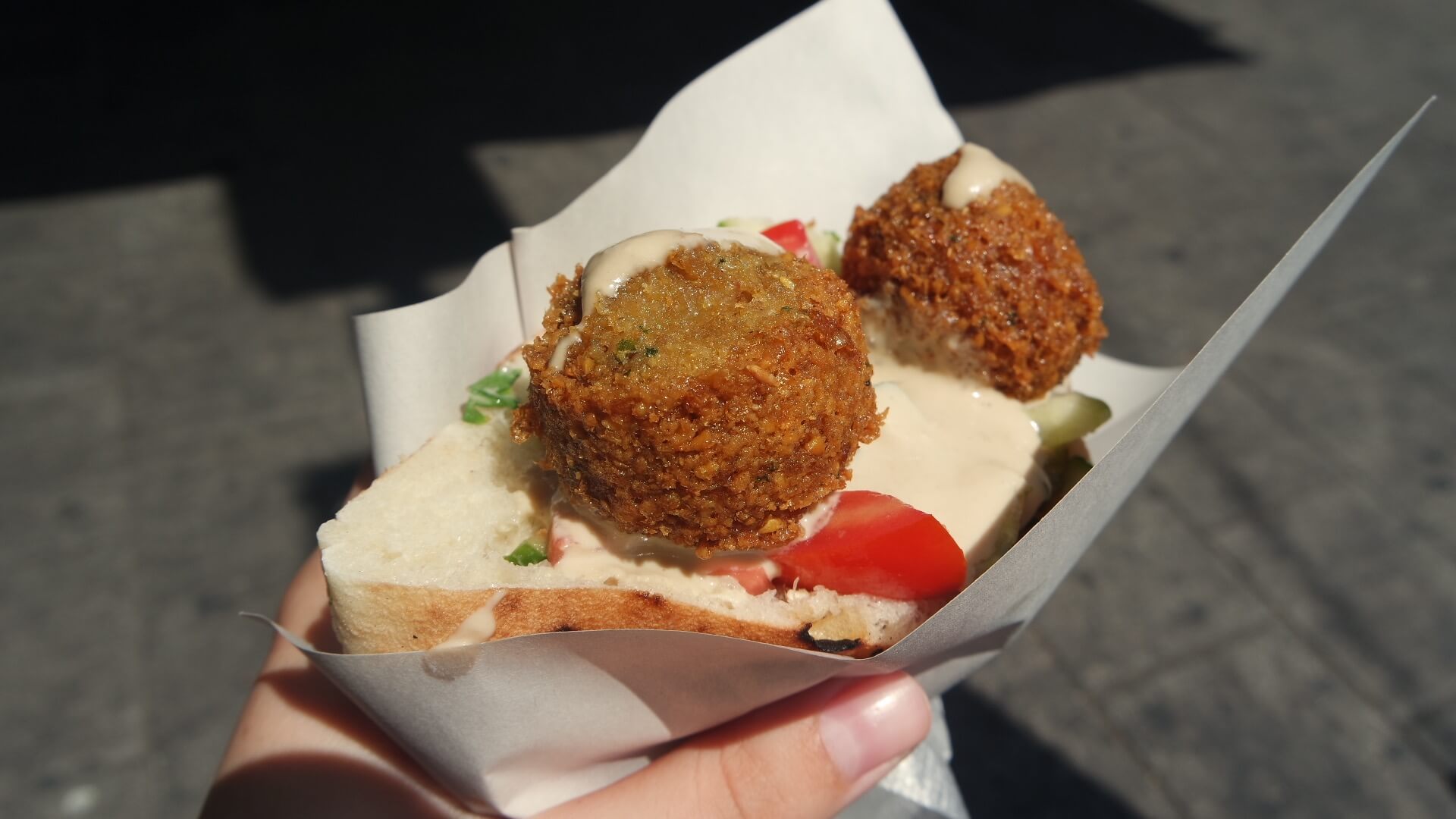 Sabich Sandwiches – Israel Veg Food
They really do love eggplants over there. As someone who is not too fond of them, just add a few boiled eggs, tahini sauce and hummus stuffed in a pita sandwich, I would deliciously gobble them up. The ones I had in Jerusalem were definitely out of this world. For the vegans, there is an option without the boiled eggs as well.
Stuffed Vine Leaves or Dolmas – vegan food Israel
I was initially a little skeptical about eating them since I thought it looked a little like Sushi. But when they told me that it was vegetarian (without the fish), I tried one. They are basically cooked rice with onions, tomatoes and spices rolled in vine leaves. You can definitely try them out but I just this authentic Israeli food to be just okay.
Bourekas – Israeli food vegetarian
So Bourekas are very similar to our puffs and are basically puff pastries with different fillings. I tried various fillings like cheese, potatoes, spinach etc since they were part of our breakfast buffet. I loved them and would have happily filled my stomach with the various types of Bourekas.
Israeli Salads
If you don't get anything else, then you can always have salads. The options are limitless and mostly made from fresh produce. So it is delicious as well.
Bread
There are different types of bread and if you do get an opportunity, do try some of them like the challah.
Sambusak
Very similar to our Indian samosa and it is usually filled with cheese. I tried the ones with cheese and olives and I preferred the olive ones. Cheese ones were too salty for my liking.
White Cheese
Cheese forms a huge part of Israeli cuisine and you can find it almost anywhere around Israel.
Halva
Let us move on to some of the desserts I had in Israel. You have many options to choose from and I had a gala time there. I definitely do have a sweet tooth.
The Israeli halva is quite different from the Indian version of the Halva. Many of my friends actually did not like this version of the Halva but I loved it. It was the highlight of my breakfast every day. I especially liked the coffee flavored ones.
Malabi Pudding
It is a rose water pudding and this was another dessert I loved eating in Israel.
Kanafeh
It was too heavy and decadent for my liking. But if you love things made with too much cheese and butter, you would definitely love this dessert from Israel.
Dried Fruits
You will find them again all over Israel and don't forget to buy dates (like me) on the way back home. Just like other Middle-Eastern countries, dried fruits are quite popular.
Mutabak
Basically, a paper thin pizza filled with cheese and nuts topped with powdered sugar. I didn't have this when I was in Israel but I have heard that it is a must try when you are in Jerusalem.
Chocolates
There is a vast array of homemade chocolates in Israel and it is something you got to have when you are in Israel.
Pomegranate Juice
It is not only pomegranate juice that Israel is famous for. You can have all types of juices here. I must have had so many types here. But you can find Pomegranate juice widely, especially in Jerusalem. Also, don't forget to have some juices by the Etrog man while you are in Tel Aviv.
Arak
This is an anise flavoured liqueur found all over Middle-East. It was not something that I liked at all. Too anisey for my taste.
Where to go for authentic traditional Israel vegetarian food
I would definitely recommend the outdoor markets. Try going to the Carmel or Levinsky market in Tel Aviv. In Jerusalem, Mahane Yehuda or popularly known as 'The Shuk' is highly recommended. We started our pub crawl from here and we went here multiple times during our stay here. I definitely love the vibe here.
Guided Israeli Vegan Food Tours/ Guided Israeli Vegetarian Food Tours
There are some excellent companies that offer guided food tours in both Tel Aviv and Jerusalem. You can find them below.
Conclusion:
As you can see, Israel has no dearth of food for vegetarians in Israel. It is definitely one of my favorite countries as a vegetarian foodie and this is because of the wide array of Israel vegetarian and vegan options available for us. That is not including my country, India of course.


Find my recommendations for guide books on Israel.
Guidebooks for Israel
Traveling to Israel and need more guidance on which books to read? These are our recommendations for you to read before you go.
Recommended: Planning a Trip to Israel
BOOKING RESOURCES
Looking to book your trip now? Find some of my favorite resources I use while booking my trip. You can also find my travel gear here.
Book Your Flight
I am a Skyscanner fan when it comes to booking international flights. I use Makemytrip and Yatra for domestic flights.
Book Accommodation
Booking is my go to resource for booking hotel accommodation and I use Airbnb for booking my homestays. I also compare prices on Tripadvisor always. Another one I always use is Expedia.
Travel Insurance
As an Indian, I prefer ICICILombard and I am always insured when I am traveling outside India. In addition, I have used World Nomads and SafetyWing for some of my trips.
Book Tours
I do go on a lot of day tours especially when I am traveling solo. Depending on convenience, my choices are Viator or Getyourguide.