I just got back this weekend from a 3 week trip to Uk and Ireland. I went to attend the TBEX conference at Killarney, Ireland. It was such a hectic and wonderful trip and I have loads of stories to write about. But I got lots of queries from my readers asking me about how to apply for BIVS visa from India. Did I require two separate visas to visit these countries? So to answer all your queries, let me begin by explaining the 'UK And Ireland Visa: British Irish Visa Scheme (BIVS) For Indians'. (Update: I went to the UK twice post that in 2018 and 2019 and hence I have added the updated information for this post)
What is British Irish Visa Scheme (BIVS) for Indians?
You must be wondering what is the meaning of BIVS? This is a visa scheme that was introduced a few years ago and is applicable to both Indians and Chinese nationals. Under this BIVS (British-Irish Visa Scheme) visa system, you can enter both UK and Ireland on a single visa and is mostly applicable in the case of short-stay visas(less than 6 months).
The only condition is that you need to first travel to the country that issued the visa. Since I was flying to London from India, I had to apply to the UK application centre in India. Indian or Chinese passport holders with valid UK Visa holders can enter Ireland using BIVS UK visa.
BIVS Visa Application Process for UK BIVS Visa and Ireland Visa
Once it was determined that I had to apply for UK visa BIVS, the application is same as in the case of only the UK visa.
Register an account at the Gov UK website.
Fill in the initial few details and register yourself. You will receive further instructions on the email address you provided. Once you confirm your email address, you can log in to the website.
Update as of December 2019:  The website has changed and hence the screenshots are a bit different. But the basic process still remains the same.
Create an Application for a Visa for UK and Ireland
Fill in few more details and create an application. Once you create an application, click on 'Go to Application' to fill in other details. (I just noticed that this website has got a brand new look.)
Filling your application for your visa for Ireland and UK
There are multiple subsections while filling the application. You also have an option to save and continue at a later point in time. I don't think we can finish the application in one sitting and this is a helpful option to have.
Enter all details truthfully. In my case, I only knew that I was going to go on a road trip around Scotland and Ireland. But I hadn't booked my accommodation yet and I mentioned this in my application. Please note that I am a frequent traveler and hence they might not have scrutinized my application as much as they do for others. Once all details are filled, sign the declaration form.
Book An Appointment for UK Visa
Ideally, you can apply for an appointment at the nearest consulate a few days in advance. Since I was travelling during that time, I opted for an appointment a few weeks ahead. I prefer the morning/ first slots for all my visa appointments since I can finish everything and still get to the office on time. Also, the morning appointments mean less waiting. As the day progresses, the queues just get longer and longer.
Pay your UK visa fees online:
You have to pay this online once you have booked an appointment. It is approximately Rs 8200 for a short-term visit visa and you can use your preferred mode of payment.
What are the documents required for a UK/Ireland Visa under the BIVS system?
Once your appointment is fixed and your visa fees paid, then it is time to get all the documents ready for submission.
Update as of December 2019
You don't have to submit physical copies of any of the documents anymore. You have an option to upload all the documents at the end of the application. I realised at the last minute and I didn't have some of the documents scanned. Hence I availed the services of VFS. They scanned my documents when I went for the biometrics. Please note that they charge around Rs 750 for scanning the documents.
You can find the list of documents that need to be submitted here. These are the documents I submitted:
As mentioned before, I was going to attend Tbex in Ireland. Since this was arranged by Failte Ireland, I asked them for a visa letter and on my request, they send one to me. I gave an invitation letter from my friend when I applied in 2018 and 2019.

Bank Statements

Bank statements for the past 6 months. In addition, I had submitted my copy of all my fixed deposits as well. I know many of you have a question on how much bank balance should be there in one's account. I advise a minimum of Rs 1 lakh and more in case you do not have sufficient travel history.

Form 16's for the past three years.

Proof of residence:

You should show ample proof that you intend to return. In case you are a registered owner of any property, it is wise to include proof of ownership.

Salary Slips for past three months in case of a salaried employee.

Leave Letter from the employer.

Yes, I work for my family's venture. But I still included this.

Flight bookings:

This is not mandatory but my tickets were already booked. They were refundable to an extent. I did not include any documents for travel within the UK or Ireland. (Check out section 4 in the list here.)

Hotel Bookings:

This is not mandatory as well in the case of a UK visa. I was staying with a friend in London and most of my bookings were confirmed only once I got the visa. But I did have one confirmed hotel booking in Ireland and that was included in the docket as well.

Travel Insurance: 

I never travel anywhere without insurance and this was included in the file as well.

Cover Letter:

This is also not mandatory again in the case of UK visa. There is one issue with the BIVS system though. There is no place in the entire UK visa application form to select the BIVS option. Yes, you can put it in the 'Additional details' text box. But there is still no option to select it as a radio button or something. So someone had suggested in a forum to include a cover letter where you can mention that you are planning to visit Ireland as well and you need a UK/Ireland visa under the BIVS system. The lady who collected my documents at the VFS centre also said the same thing.

Document Checklist Copy.

You will have to sign and give a copy of this at the VFS centre.

Two copies of your online application form.

Passport

Your passport should have at least 6 months of validity after your date of travel. I had taken my old passports as well but they did not accept it at the VFS center.
Submitting your documents and biometrics for the BIVS scheme
Some of the things to keep in mind are:
On the day of the appointment, ensure that you reach the VFS center at least 15 minutes in advance. There is no point going any earlier since they do not allow you inside the building before your appointment time.
Mobile phones are allowed. But laptops are not allowed. They do have a storage center to keep your laptops.
Bangalore has a new VFS address and it is in Langford town. Parking is available on the road if you have an early morning appointment. Else it will be difficult to find parking.
Once you enter the center, you will have to sign the application form and the document checklist and submit your passport and other documents. There are two security points before this.
Then you need to enter another room and the VFS officer will verify if you have submitted all your documents. If you opt for courier service for delivery of your passport, this is where you pay Rs350 for the service. They accept only cash and I had forgotten to withdraw cash. Thankfully, there is an ATM on the floor.
Then proceed to get your photograph taken and your fingerprints scanned with the sealed bag they give you. After this is done, you are done.
The whole process took less than 30 minutes for me.
Waiting Time for processing of your UK/Ireland Visa
Unless you have gone for a fast track visa, it will take 15 working days. It took me exactly 19 days from the date of submission to the day I received my visa which was approximately 13 working days. This was the same case for all the other Indians who applied too and were at the conference.
Only in the case of one of us, the Irish embassy had intervened and he got his visa in 5 days (He had applied for an Irish visa). So it is suggested that you apply for a visa at least 1.5-2 months in prior. My visa came almost at the last minute and it was nerve-wracking to wait for a visa for that long. This is the longest I have ever waited for a visa.
Applying for a UK Visa for the second time
So I went to the UK again in November 2018 and November 2019. My previous visa was only valid for 6 months and that expired in March 2018. So I had to reapply. And I had the same queries as everyone else. How is the process different when I am applying for the second time? What are the documents that need to be submitted?
Actually, the process remains exactly the same. You have to submit the same set of documents. You will have to go and submit your biometrics again even if they already have the details. The only difference is that the processing time is much faster.
I submitted my documents on Thursday at the Bangalore VFS center, they reached the Chennai Consulate on Monday, my passport was dispatched back on Tuesday and I received my passports with the new visa by Wednesday evening. I didn't even apply for a priority visa and I got it in under 5 working days. It was stamped with a BIVS stamp this time too.
Optional Services for UK visa at VFS:
Nowadays VFS is providing many additional services. You can check some of the services they provide below: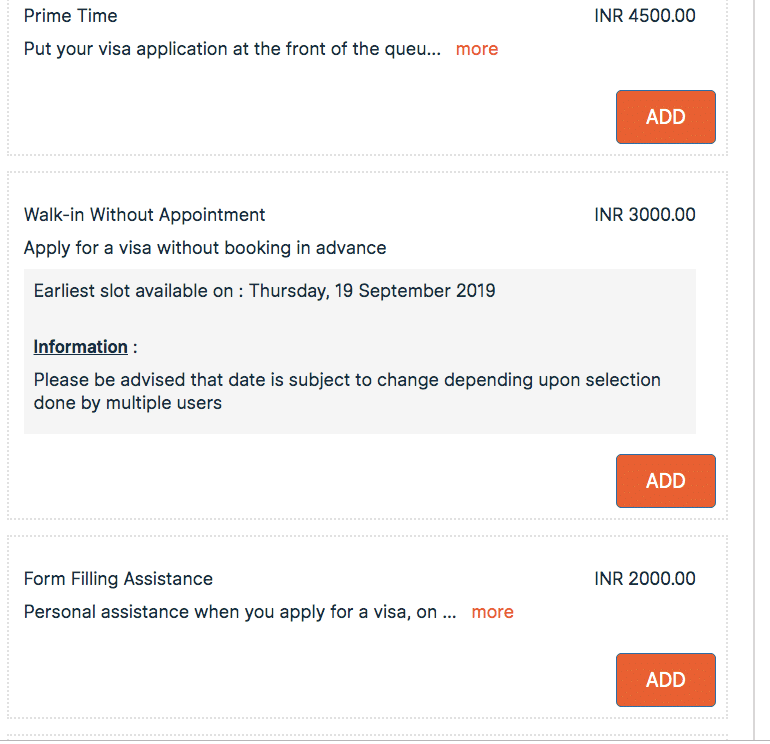 Conclusion
My passport arrived with a multiple entry UK/Ireland BIVS stamp and is valid for the next 6 months from the date of issue. I hope I have answered all your queries on how to apply for BIVS visa. I was able to freely travel between the UK and Ireland with this BIVS visa.

Find my recommendations for guide books on Great Britain.
Find some of my favorite resources I use for booking during my travels.