So my parents just took off to Australia for a few weeks. They have a conference in Brisbane followed by some personal vacation time in Gold coast and Sydney. So as the family's self-appointed visa expert, I was entrusted with finding out on how to apply for an Australian visa. We went to Australia more than 7 years ago and the rules have definitely changed a lot since then. In this post, I write all about Australia Visa for Indians, mainly the visa subclass 600.
Australia Visa for Indians (Tourist or Business Visa Subclass 600)
This post will cover all the information you need when it comes to visiting Australia as a visitor. If you are planning to work or study here, then this post is not ideal for you. Also, if you did an Australian visa application recently, you will know what I am talking about when it comes to the Australia sub class 600 visa. So before we go any further, let us find out about the different Australia visa type for Indian passport holders.
Australian Visa types
The official website for any information related to Australian visas is the Australian Government's Department of Home Affairs website. All other websites will not have that much relevant information when it comes to all the details about your Australian visa process.
Depending on your nationality, you have an option of 16 visa types when it comes to a visitor visa from Australia while you have around 4-5 options when it comes to an Australian visit visa for Indians. By answering 3 questions on this website, you can determine what kind of visa you require. Please note that the Electronic Travel Authority Australia visa (subclass 601) and eVisitor (subclass 651) visas are not applicable for Indian citizens.
If you are looking for a visit visa to Australia, you can broadly classify it into two and they come under the subclass visa 600:
Tourist Visitor Stream
Business Visitor Stream
There may be subsections within these two as well. For e.g, the tourist visitor stream will allow you to use the visa for tourism purposes or for visiting family and friends. Even within this type, there can be an option where you are sponsored by a family member who is a permanent resident or citizen of Australia.
Also, please note that with the Australia business visa for Indians, you cannot work or sell services. However, with the Australia business visa subclass 600, you can attend conferences or negotiate contracts as well as make general business enquiries.
After reading through all this data, I figured out that my parents required an Australia business visa for Indian passport holders under the subclass 600. They were going to a conference/workshop and once this was determined, we went about on getting all the documentation ready to apply for an Australian visa.
One of the main differences between a Business Visitor stream and a Tourist Visitor stream is the application form. Each of these application forms come with a checklist as well. I have listed the major differences in the table below and links to the application forms have also been provided for reference. Australia Visa Fees are similar when it comes to either a Tourist Visa from Australia or a Business Visitor Visa Australia.
Types of visa for Australia for indians
Tourist Visitor Stream
Business Visitor Stream
Application Form
Form 1419 for paper applications submitted to VFS or applied via post office
Form 1415 for paper applications submitted to VFS or applied via post office
Checklist
Australia tourist visa from India checklist
Australia business visitor from India checklist
Australian visa cost
145 AUD + (Online charges or VFS fees).
The Australia visitor visa fee is 365AUD if you are applying inside Australia
145 AUD + (Online charges or VFS fees)
Purposes visa is valid for
Visit friends and family, cruise or have a holiday
short visit for business visitor reasons, but you can't work or sell goods or services
Validity
Can be upto 3 months, 6 months or 12 months
Upto 3 months. My parents got their visa for 3 years. They can visit multiple times and can stay upto 3 months
Processing Times
16 days to 26 days
10 days to 18 days
Here is an infographic I prepared for the entire Australian Visa Application Process
Australia tourist visa requirements for Indian citizens (Documentation requirements)
So what are the requirements while applying for a Business visa for Australia from India? Just like other visas, the documentation can be a pain.
Find the list of documentation required for an Australia tourist visa from India below. There are not many differences when it comes to documentation for either a Business visitor stream or a Tourism Visitor stream. Since we prepared documents for a business visitor, I will be listing these documents here.
Australian visa application form
Based on your type, choose the application form and download the relevant one from above. This should either be filled online and then printed or printed and then filled. Make sure that all details are entered in block letters.
Current Passport and copies
Please take a copy of all pages of your current passport. This should be notarized. If you are submitting at VFS, they can notarise it on behalf of you. Please note that you do not have to submit your passport.
Old Passport and copies
Copies of all used pages of your previous passport.
Australia Tourist Visa for Indians Checklist
Fill the list of documents you have attached in the checklist and attach it to your application docket.
Photographs
One recent photograph with specifications 45 mm* 35 mm. A plain background with head and shoulders. The name of the applicant should be printed on the back.
Bank Statements
We attached 6 months of bank statements. This should ideally be attested by a bank officer. Since both my parents are business owners, we attached both personal as well as official bank statements. Since it is a business trip, the trip is sponsored by the business and hence we included this as well. I think you should have a minimum of Rs 1 lakh in your account.
Tax statements
We also included their ITR's for the past 3 years.
Business Registration Documents
Since they are self-employed, we included relevant business registration documents. If you are a salaried employee, then include your official leave letter, pay slips etc. We also included copies of their experience letters.
Health and Character Documents
We didn't submit any documents for this. But some applicants may be asked to get a chest x-ray done to make sure that you haven't had tuberculosis in the past 6 months.
Official Invite Letter
Since they were going on a business trip, we had an official letter from our partners in Australia. The letter should have all the details of the inviting authority. Since they will be with my cousin post the business meetings for a week, we had an invitation letter from him as well.
Copies of their educational qualifications
This is not mandatory. But since it was there in the checklist, we included these documents in the docket.
Flight tickets and Hotel bookings
This is not mandatory as well. But we had booked refundable tickets already and one hotel booking was also done.
Covering letter for Australian tourist visa application from India detailing their itinerary
A detailed itinerary is one of the mandatory documents and we prepared a cover letter similar to the one below. This is one that I had prepared for a Schengen Netherlands visa.
Travel Insurance
This is not mandatory in the case of Australia visa. We purchased the insurance once they got the visa.
So these were the documents we submitted for their Australian visa application. The documents are pretty similar when it comes to an Australian tourist visa for Indian citizens.
How to apply for Australian visa – Online or physically submitting the documents at VFS
So there are three ways you can apply for your Australian visa from India:
Online Australian visa application
Through VFS
Through post office
I will be discussing the first two in this post since I am not aware of how to get an Australian visa through the post office.
Australian visa application online
This is actually the easier option to apply for an Australian visa. There was some confusion in our case since I misunderstood that biometrics had to be submitted at the VFS office. Hence we ended up going through VFS.
I have attached images for your reference. It is pretty self-explanatory. Log in to Immi Gov website. Create a profile and then complete the application form online. There are approximately 20 screens. Attach all the documents at the end of the application. Then submit your application and pay your visa fees online.
This is pretty straightforward and since everything is already online, it is much faster too.
Create an Immi Account
Login to the Immiaccount
Fill the details
Can't believe I will have to start filling this part of the form as yes from now
All the details about your stay in Australia
Employment Details
Financial Support Details
More details about your business activities
Health Declarations
Character Declarations
Visa History
Final Declarations

Priority (Fast Track) Application
Can't wait for 20 working days? There is an option for getting it quicker. But you have to pay close to Rs 52k in addition to your normal visa fees.

Attach all documents
This is the page where you attach soft copies of all your documents.
Submit your application
Submitting your documents at VFS
Like I mentioned before, my parents actually submitted their documents at VFS. It is very easy to schedule an appointment and since it is winter in Australia, the slots were readily available. Find screenshots on how to schedule your appointment at VFS Australia office in Bangalore. Create a login and then schedule your appointment.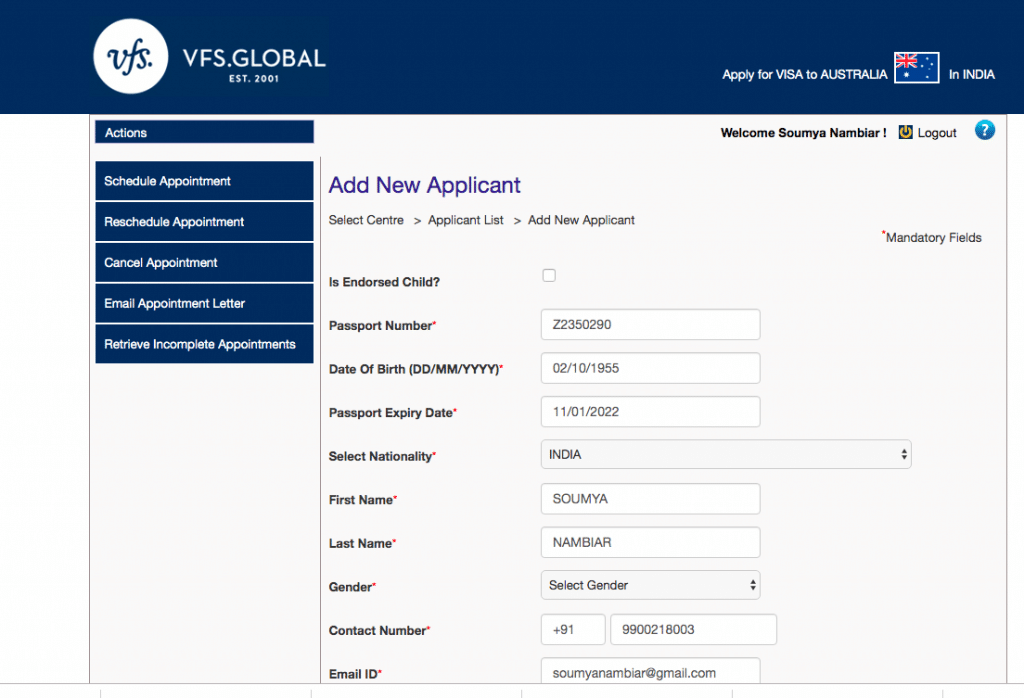 Some things to keep in mind before you visit a VFS center
Please be at the VFS centre at least 15 minutes before your appointment time.
Laptops are not allowed. Mobiles are allowed
Only people with confirmed appointments are allowed inside the VFS centre.
Carry enough cash to pay your visa fees. Sometimes they don't accept cards and then you will have to go in search of an ATM.
There was a server issue the day my parents went. Hence they had to wait for a while before they accepted the documents.
No originals have to be submitted for your Australian visa application. VFS, however, will notarise your current passport's copies and will return the passport to you. You do not have to submit your passport for an Australian visa.
There is no biometrics as well when it comes to your Australian visa. In rare cases, they may ask you to submit your biometrics at the nearest AVAC (Australian Visa application center) which is VFS in the case of Indian residents.
Waiting time for processing of your Australia Visa for Indians
They say it takes up to 15 working days. We submitted one month in advance and were worried that we would not get the visa in time. However, my parents received the visa on the 12th working day after submission.
Please note that since you do not submit your passport, you will only get a mail from 'India Business visas' saying that you have been granted or rejected a visa. Please take a print of the same and carry it with you when you are travelling. They asked my parents only at immigration at the Bangalore airport. They did not ask them for the visa copy either at Singapore or Brisbane airport. Since most of the passports are digital these days, I think they already had a copy of your visas at all the Australian entry points.
Frequently Asked Questions (FAQ's) for Australia Business/ Tourist Visa
I am trying to answer some of the most frequently asked questions when it comes to a Subclass 600 visa
What is the correct website for applying an Australia tourist visa for Indians?
As mentioned before, Immi Gov website is the correct website to apply for an Australian visa online.
Is the procedure similar if I am applying from inside Australia?
You cannot apply for a Business visa once you are inside Australia. The tourist visitor visa procedure is similar but the fees will be around 365 AUD.
Can I go to New Zealand with an Australian visa?
Please understand that both are two different countries and you will require a separate visa in case you want to travel to New Zealand as well.
Are Indians eligible for the working holiday visa or ETA?
No, Indians are not eligible for either of these visas.
Can I work in Australia if I have a Business visitor visa?
No, you cannot. You are allowed only to attend conferences or workshops or conduct business meetings or make general business enquiries.
What is the visa application fees for the Australian visa?
It is around 145 AUD (approximately Rs 7000). If you are applying online, then you need to pay only the credit card charges in addition to this. In case you are submitting at VFS, then you will have to pay an additional of Rs 1250.
Is the visa application fees refundable after online payment?
In the case of a rejection or if you cancel your plan to travel to Australia, it is non-refundable. Once the online payment has been done, it is non-refundable.
Can I travel to Schengen countries or other countries with my Australia visa?
No, you cannot. You can only enter Australia with this visa.
What is the validity of my Australia visa?
For business visitors, they can give you visas with validity from 1 year to 3 years. My parents got a multiple entry visa for 3 years. They can stay for up to 3 months during each stay. In the case of tourist visitors, they can stay up to 3 months, 6 months or 12 months depending on your case. This will be mentioned in your visa grant notification letter.
I don't have an Australia visa stamp on my passport. Will I be allowed to board the flight?
Australia doesn't stamp visas anymore. You will just have to carry a copy of your grant notification mail with you. You may be asked for this at immigration.
Who handles the Australia visa processing in India?
As mentioned above, you can apply for it online. Also, VFS handles the collection of documents for Australia visa in India. Please note that they do not have the authority to grant you a visa. The documents once collected are sent to the respective embassy in India.
I applied for the visa more than a month ago. I have still not received my visa.
During peak season, it may take longer for the embassy to process your visa. Hence apply for a visa well in advance keeping this in mind. It is better to contact VFS or the embassy directly to know the status of your visa.
What is the earliest date by which I can apply?
You can apply at least 3 months before your intended date of travel.
What documents are required for processing?
Already answered above.
I am an Australian citizen/ permanent resident of Australia. I want to apply for Sponsored family stream for my parents. Is the procedure the same?
The procedure is similar. However, you may be asked to deposit a security deposit for them. They can stay for up to 12 months. But please note that the processing time is between 34 days to 55 days. Please plan accordingly.
Does this website help in procuring an Australia visa for us?
This website is a purely informational website based on personal experiences and only gives you pointers on how to apply for an Australian visa by yourself. We do not help with procuring visas for you. We are always ready to answer your queries but please understand that some questions can only be answered by the visa authorities themselves.
Conclusion
I hope I have answered all your queries when it comes to applying for Australia visa for Indians (Tourist or Business Visa Subclass 600). Please do let me know your comments below and in case you have any other queries.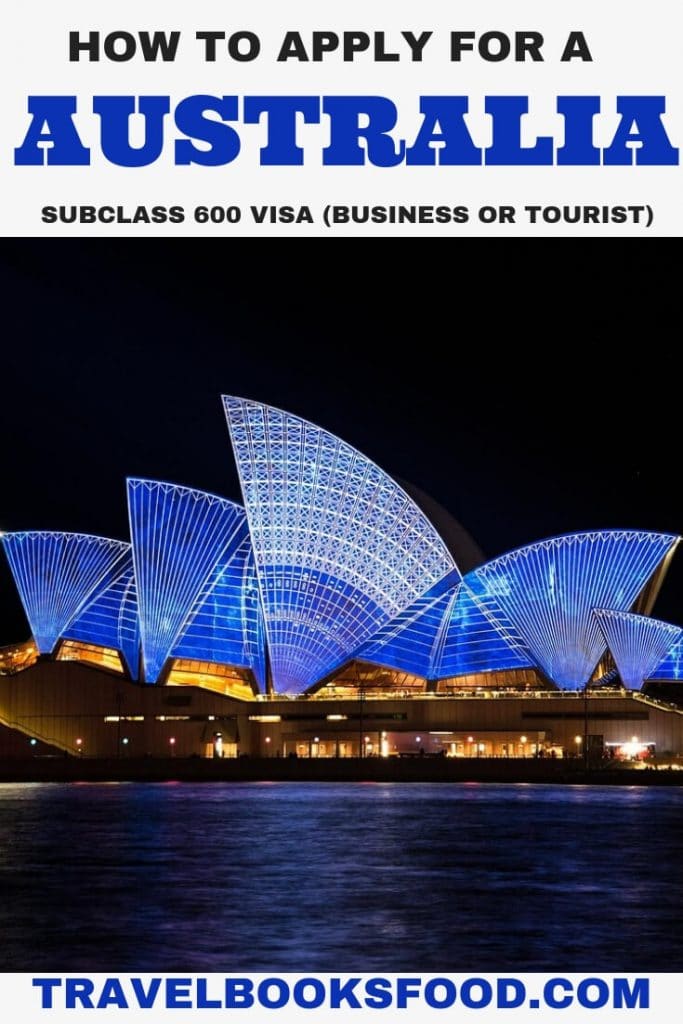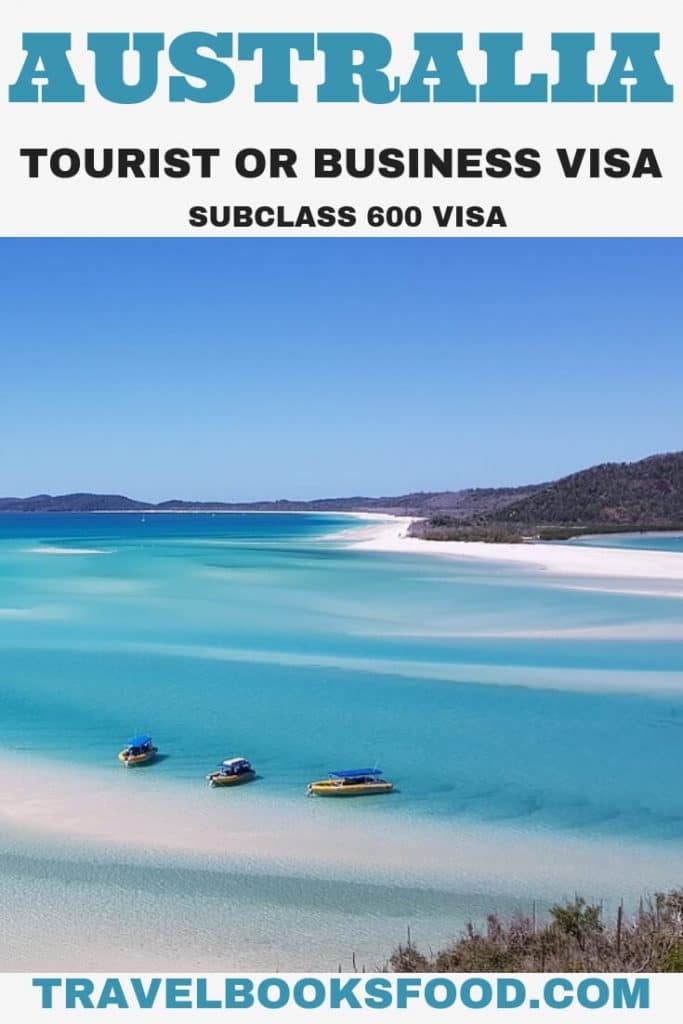 Find my recommendations for guide books on Australia.
Guidebooks for Australia
Traveling to Australia and need more guidance on which books to read? These are our recommendations for you to read before you go.
Recommended: Australia Trip
BOOKING RESOURCES
Looking to book your trip now? Find some of my favorite resources I use while booking my trip. You can also find my travel gear here.
Book Your Flight
I am a Skyscanner fan when it comes to booking international flights. I use Makemytrip and Yatra for domestic flights.
Book Accommodation
Booking is my go to resource for booking hotel accommodation and I use Airbnb for booking my homestays. I also compare prices on Tripadvisor always. Another one I always use is Expedia.
Travel Insurance
As an Indian, I prefer ICICILombard and I am always insured when I am traveling outside India. In addition, I have used World Nomads and SafetyWing for some of my trips.
Book Tours
I do go on a lot of day tours especially when I am traveling solo. Depending on convenience, my choices are Viator or Getyourguide.