As many of you now know, I am a cultural traveller. I love seeing various art forms around the world and I am always on the lookout for the next big thing. Even though many of them now exclusively cater to the touristic crowd, I still enjoy watching them. After watching a Broadway musical in New York and the Moulin Rouge show in Paris, I was all the more determined to watch an opera at the Vienna State Opera House or Wiener Staatsoper as it is famously called.
Planning your Vienna Itinerary at the last minute?
I know everyone is busy and don't have time to plan their itinerary to Vienna. That is why I have covered you with links to some places to stay in Vienna, must do experiences and more details at one glance.
Where to stay in Vienna?
Must do tours in Vienna
So what are other recommended tours to do in Vienna? Check the below list from someone who has been to Vienna multiple times.
So how did my experience at the Vienna Opera House in Austria go? Read on to find out more:
How to get Vienna opera tickets
I first turned to my usual booking operator Viator and I couldn't find any options to buy Vienna opera house tickets from there. There are only a few legitimate sites from where you can buy Vienna Opera tickets from and I bought them from here.
A single sitting ticket can cost from 45 Euros to 245 Euros. In case you want the tickets to be delivered home, it is an additional 10 euros. A better option would be to collect them at the box office on the day of the show. If you are confused on where you will be sitting, you can always check the Vienna state opera seating plan.
I bought a 45 Euro ticket for myself. Sometimes you will even find tickets for 13 euros but please keep in mind that some of these tickets may have an obstruction in your line of sight. If you are looking at the best seats at the Vienna Opera house, it can cost approximately 150-200 Euros.
But weren't you curious that I mentioned sitting tickets? That is because Vienna state opera standing room tickets are also available. Confused? Read on to find out more:
Vienna opera standing tickets
Did you know that standing tickets are available at the Vienna Opera house for as less as 3-4 Euros? So, what does that mean? For every show, a few hundred Vienna state opera standing tickets are also sold. You can purchase them about 90 minutes before the start of each show and you will have to queue up for sometimes up to 2-3 hours.
I did not want to stand and watch the opera but this is a good budget option if you are able to get the tickets. Once you get the tickets from the counter, then you will have to stand in a queue to reserve your spot. If you are lucky and on time, you can end up watching the show from a really good spot, all for 4 euros. Most people carry scarfs to reserve their spots.
Best seats Vienna opera house – Wiener Staatsoper seating plan
The best seats at the Vienna Opera House are the ones from where you can see a direct view of the stage. The ones in the Parkett area as linked in the Vienna opera house seating plan/Vienna opera house seating chart are considered to be the best seats.
Vienna opera house schedule
Even though I wanted to watch the ballet Swan Lake, it was not playing on the days I was in Vienna. So, based on the schedule, the only one that was convenient for me was Der Rosenkavalier. Check out the schedule while booking the tickets because they do have operas for Children playing on some days.
Also note that if you are in Vienna in July or August, you will not be able to see an opera at the Staatsoper Wien. Another thing to keep in mind while checking the schedule is the length of the show on that particular day. Some operas run for 4 hours and you wouldn't want to be standing for that long a period.
You can find the entire Vienna Opera schedule here.
Vienna opera house tours
Not in a mood to watch an opera show but still want to experience the grandeur of Vienna Opera House? Fret not since there are guided tours every day for around 8 euros and this can be an option if you do not have sufficient time to watch an opera. Check out some of your other options below: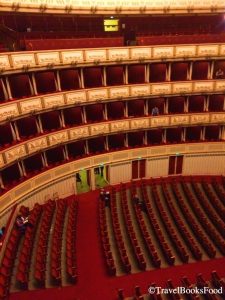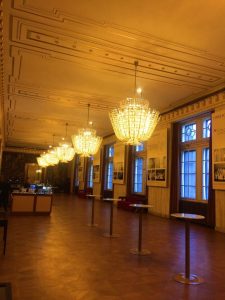 Vienna state opera House dress code
Most people are confused about what is the dress code for Vienna opera house or what to wear to Vienna state opera. You are not expected to be in an evening gown or black tie. Since most of the people here are tourists, they may not always have the luxury of carrying fancy clothes when they are travelling.
As long as you are not in shorts or sneakers, you will be fine here. But what I have noticed is that most people dress up while going to the opera. I had the same evening gown I wore for my Moulin Rouge show and I ended up wearing that.
Recommended Read – Dress Code At Moulin Rouge, Paris
Can I carry Cameras inside the Vienna State Opera House?
I was an idiot and ended up not carrying the camera when I went. I regretted it so much. The building is historic and has some beautiful architecture and I kicked myself for not carrying a camera. You are allowed to photograph during recess. But strictly avoid clicking pictures when the show is going on.
Food inside the Vienna Opera House:
It is recommended that you eat before you go for a show. They sell only overpriced alcohol and titbits at the canteen there during recess.
My experience of watching my first show at an opera theatre
I arrived quite early because I was too excited. I was swept away by the grandeur of the foyer and the opera hall. It is something that cannot be described in words and I wish I had better pictures to show you what I am talking about.
I went and collected my Vienna state opera tickets at the box office. There were attendants available all over the place to guide me to my seating area. Since I had chosen one of the cheapest sitting tickets of 45 euros, I was instructed to go to the topmost balcony. From there, it is quite easy to figure out your row and seat number.
Since I was one among the first to arrive, I leisurely walked around the place taking in the beauty of the place. Soon the entire hall was jam-packed and the opera began.
Der Rosenkavalier or Knight of the Rose
I watched Der Rosenkavalier or Knight of the Rose that day. It is a comic opera by Richard Strauss and is regularly played once every few days at the opera house in Vienna. The whole opera is in German but there are translation screens available for all the sitting seats and for some of the standing room tickets as well.
The whole show is made of 3 acts; each act lasted for around 75 minutes with two 15 minute intervals between them. Even though I enjoyed the second act, I felt that the entire opera show was too long for my liking. I am a millennial traveler with an attention span of maybe max 90 minutes and I found that a 4-hour opera was too much for me to handle.
There were some college students right next to me and two of them ended up sleeping for more than two-thirds of the show. That is when I realized that I was too young for opera and maybe I will be able to appreciate the Opera better when I am a bit older.
Some of the singers were fantastic and even though I was too bored to keep looking at the screens for translation, I did enjoy bits and pieces here. Since I was on the balcony, I was probably too far away to make out their expressions.
Anyway, I did not enjoy my first experience at the Vienna opera house. I will be definitely going back in maybe another 20 years to find out if I will be more culturally suited to enjoy it better then.
Vienna State Opera House Live Streaming
Suppose you went and stood in line and did not get tickets (both standing and sitting tickets) for the day's show. What do you do? You end up going back to the hotel. But before you do that, there is still one option left to consider. Did you know that the day's show is shown to the crowd outside the opera house every day on a big screen?
Grab a cup of coffee or a drink and watch it from one of the many cafes outside the Vienna Opera House. Or find a quiet corner by the sidewalk and watch it from there. The only problem, in this case, is that the subtitles weren't in English on the day I watched. I watched for around 5 minutes and I only walked away since I couldn't understand the language.
But what about for people who can't go to Vienna to attend an opera? You can actually stream it online on their website for a price of 14 euros per show. Definitely, something to check out for people who want to watch an opera show from the comforts of their home.
Recommended Read – Where to Stay in Vienna
Frequently asked questions about the opera in Vienna
What to wear to the opera in Vienna?
Most people dress up when they are visiting the opera in Vienna. There is no official dress code but an elegant attire is expected of most guests who want to attend the opera in Vienna. I ended up wearing a long gown on my visit to State opera house Vienna.
How many seats in the Vienna opera house?
It has around 1700+ seats currently
Can you wear jeans to the Opera in Vienna?
Even though there is no formal dresscode for the opera, it is advised not to wear jeans if you don't want to seem out of place when you visit the opera.
Is Vienna State opera worth it?
As a millennial, I found it to be quite boring. Maybe I need to be older to understand and appreciate the opera. Also, since I could not understand the language, I had no idea what was going on. Maybe I would have been better off seeing an English one.
When was the Vienna opera house built?
It was built in the 1860's and was completed in 1869.
When is Vienna opera season?
It is open from September to June for the 3 main opera houses in Vienna. It is not operational during the summer months in Vienna i.e July and August.
My Takeaway:
Like I mentioned before, I wasn't too impressed with a 4-hour opera show. But I would definitely love to go back when I am older.
Check this post if you are looking for more places to see in Vienna.
Like it, then pin it.
Find my recommendations for guide books on Austria.
Guidebooks for Austria
Traveling to Austria and need more guidance on which books to read? These are our recommendations for you to read before you go.
Recommended: Austria Travel Tips
BOOKING RESOURCES
Looking to book your trip now? Find some of my favorite resources I use while booking my trip. You can also find my travel gear here.
Book Your Flight
I am a Skyscanner fan when it comes to booking international flights. I use Makemytrip and Yatra for domestic flights.
Book Accommodation
Booking is my go to resource for booking hotel accommodation and I use Airbnb for booking my homestays. I also compare prices on Tripadvisor always. Another one I always use is Expedia.
Travel Insurance
As an Indian, I prefer ICICILombard and I am always insured when I am traveling outside India. In addition, I have used World Nomads and SafetyWing for some of my trips.
Book Tours
I do go on a lot of day tours especially when I am traveling solo. Depending on convenience, my choices are Viator or Getyourguide.