If there is any city that I didn't expect to fall in love with, then it is Lisbon. I chose Lisbon to be the starting point of my journey since it made sense. Since I was roaming around Western Europe, it made sense at that time to start with Lisbon. But I had not heard much of this capital city till then. Maybe that is why I was so blown over by this charming city, Lisbon.
Was it love at first sight? I don't think so. As the plane was slowly descending, I caught sight of the 25 De Abril bridge from up there and it instantly reminded me of the Golden gate bridge in San Francisco.
Lisbon is slowly emerging as one of the best destinations to visit in Europe. It is definitely an underrated city and I hope more people get to visit this charming city. In the meantime, let me give you a breakdown of my 3 day itinerary to Lisbon Portugal. Also find out where to stay in Lisbon as well as some popular tours to take when you are in Lisbon.
Planning your 3 days in Lisbon Itinerary at the last minute?
I know everyone is busy and don't have time to plan their itinerary to Lisbon. That is why I have covered you with links to some places to stay in Lisbon, must do experiences and more details at one glance.
Where to stay in Lisbon?
Must do Lisbon multi day tours
Recommended Things to do in Lisbon Portugal /3 day itinerary to Lisbon Portugal
I have to say that I did not expect to find too many things to do in Lisbon. Like I said, I was grossly inaccurate when it came to Lisbon. Like I have said before, maybe it is because most of my countrymen flock to the more popular neighboring country, Spain. Lisbon and Portugal are both quite underrated. In this post, I write about what to do in Lisbon for 3 days.
Getting Lost in the Alfama District during my 3-day itinerary in Lisbon:
Alfama district is the oldest district in Lisbon. I was on a tram to see the Sao Jorge castle and that is when it came to an abrupt stop. Apparently, an altercation was going on between the cops and some people they had supposedly arrested for robbery. If you have been to Lisbon, then you know that the streets are too narrow in the Alfama district. Most times you can see car drivers running to remove the car from the path of the tram if they hear it in the distance.
Anyway because of the altercation, I ended up walking all the way to the Castle since the trams were stuck on either side. It is a gorgeous part of Lisbon and I loved seeing so many colours of Lisboa.
Find Out More and Book a Lisbon History tour here.
Find out my recommendations for best tours in Lisbon
Before we go any further, find out my recommendations for my favorite tour in Lisbon
Lisbon TukTuk Tour
See the best of Lisbon using a private electric Tuk Tuk.
Spending a few hours in Belem:
Belem is an area that is around 30 minutes by bus from Lisbon Baixa, the centre of Lisbon, Portugal and it is definitely one that has to be visited. If you do plan to visit Belem, then keep in mind that you need at least 5-6 hours to do justice to the place. Some of the places to see around in Belem are:
Jeronimos Monastery or Hieronymites Monastery
Jeronimos Monastery is an old monastery and is definitely a must-visit in Belem. The architecture of the place caught my eye and the late Gothic Manueline style of architecture is something that I had not seen before. The church beside it is equally magnificent.
Padrão dos Descobrimentos or Monument of Discoveries:
This is the monument just beside the Tagus river that pays tribute to the Age of Discovery in Portugal. Even though the Age of Discovery was when Vasco de Gama discovered the route to India and had a significant impact on the subsequent history (not necessarily good) of India, it still symbolises the age of travel. There are around 34 statues of discoverers with Henry the Navigator at the front of the monument. Pay a fee of around 4 euros and climb to the top of the monument to catch a gorgeous view of the Belem neighbourhood.
Tower of Belem
This is a fortified tower and was part of the defence system used to guard the mouth of the Tagus river and was considered as a symbolic entry to Lisbon during the age of discovery. This structure also follows the Manueline style of architecture.
Visit Pasteis De Belem for the world-famous Pastel De Nata:
Most of you have already heard of the world-famous egg custard tarts. This place in Belem is synonymous to it and don't forget to have them here during a visit to Belem, Lisboa.
Find out more and Book a full day Lisbon tour ending in Pasteis De Nata.
Walking around Baixa, Rossio and Praca Da Comercio:
This is considered to be the centre of the city and it is an absolute delight to walk among the many lanes and shops. The squares Rossio and Praca Da Comercio has a distinct Portuguese style of architecture and it reminded me a lot of our one-day trip to Pondicherry. I was staying right here and it was quite safe walking around at night too. Most locals suggest you walk along the Tagus river at night and I am glad that I listened to this suggestion.
Recommended Read – One Day In Pondicherry
Also, don't forget to check out some of the best coffee shops in Lisbon when you are in this area.
Experience the nightlife at Bairro Alto
Even though I couldn't do this at night since I was still getting used to the time difference, it is a must-visit. It is highly recommended to explore this neighbourhood at night. The streets at night in this neighbourhood are quite lively. There are many Fado playing restaurants and I loved listening to Fado music.
Find Out More and Book a Lisbon Fado show here.
Exploring Parque Eduardo VII Park during my Lisbon Portugal itinerary:
This is the biggest park in Lisbon and the viewpoint is definitely worth it. It is a nice place to spend a couple of hours to explore the greenery of the place.
Visiting National Tile Museum during 3 days in Lisbon Portugal
I was really curious to find out what is special about this place and decided to pay a visit to the place. It is definitely unique and you can find tiles from the 15th century to the current era.
Miradouros (Viewpoints) of Lisbon, Portugal:
One of the best things about Lisbon is the abundance of viewpoints around Lisbon. After all, it is the city of seven hills and I loved seeing Lisbon from so many viewpoints around the city. This is one of the must-dos on my list of what to see in Lisbon in 3 days. Some of my favourites are:
Miradouro da Portas do Sol
From here, you can see the oldest quarter in the city and it is such a gorgeous view. You definitely have to visit it when you are in Lisbon, Portugal.
Sao Jorge Castle
The Moorish castle itself is a great place to walk around but the best thing about this place are the views of the city. It offers various viewpoints around the city and I loved exploring this place around sunset. Also, climb to the top of the castle to get a gorgeous view. It costs you around 9 Euros for a ticket to this place.
Santa Engracia Church:
Even though I fell in the terrace of this church, I still loved the viewpoint from up here. It offers a viewpoint of another district, other than the Baixa and I liked it for that. You have to pay around 3 Euros if you want to climb to the top.
By the way, I am extremely clumsy and I keep falling in different parts of the world. But please watch out for a step around the edges of the entire terrace. Don't be too busy clicking pictures like me. Climbing down 5-6 flight of stairs after falling was not at all fun.
Santa Justa Elevator:
Let me give you a tip here. It is recommended that you go here first thing in the morning and it opens quite early at 7:00 AM and is open till around 11:00 PM in the night. It is extremely crowded as the day progresses and it may not be that much fun waiting in line for that long. I was staying 50 meters from this place and I went one day at 7:15 AM to catch the viewpoint from here. It is another gorgeous one and you should not miss it while you are here:
In addition to the above viewpoints, the views from both the Eduardo park and the Monument of Discoveries are quite nice.
Exploring by Tram during Lisbon 3 day itinerary:
Do not leave Lisbon without going around Lisbon in the iconic tram 28. I took the tram many times when I was in Lisbon and it was such a fun way to see it pulling up those steep hills around Lisboa.
Half Day Trip to Sintra, Cascais and Cabo Da Roca:
I have already listed the things to do when you take a half-day or full-day trip to Sintra, Cascais and Cabo Da Roca and all of them are a must-visit when you are in Lisbon.
Find out more and Book a Half Day Trip to Sintra and Cascais, Portugal
Yellow Bus Tours Lisbon Review
One of the stupidest things I did while I was in Lisbon was to purchase a hop on hop off tickets through yellow bus's Lisbon sightseeing tours. Their buses are always late and I ended up spending a lot of time waiting for them. Public transportation in Lisbon is actually quite nice and the coverage around the city is extensive. Even though the metro doesn't reach all parts of the city, it still is well connected. Only good thing was that the package I bought included tram rides and I ended up exploring a lot through trams.
Frequently answered questions about your Lisbon Itinerary
How to Reach Lisbon Portugal?
Lisbon is the capital of Portugal and is connected by almost all major international airlines. I took an Emirates flight via Dubai and the flying time is around 8 hours from Dubai. Emirates flies daily from Dubai to Lisbon.
Best Place to stay during my 3 day itinerary Lisbon Portugal
I stayed at My Hotel Ouro Hotel and the best part was that it was so centrally located. It was in the Baixa district and many places around central Lisbon was accessible by walk. In my opinion, this is one of the best areas to stay in Lisbon. Another very popular destination for tourists is to stay around the Belem area.
Check out more places to stay in Lisbon during your itinerary:
What to Eat in Lisbon in 3 days?
In my vegetarian in Lisbon post, I have written all about what to eat as a vegan in Lisbon as well as the different types of vegetarian food in Lisbon Portugal.
Recommended Read – Vegetarian Food in Lisbon
How to get from Lisbon to Lagos Portugal
I took a bus from Lisbon to Lagos Portugal and it takes around 3.5 hours by bus. I took an Uber cab to the bus station and the bus station is fairly easy to reach.
Is 3 days in Lisbon enough time?
Lisbon is a gorgeous capital city and I always encourage people to visit this place ever since I fell in love with this city. Three days in Lisbon is definitely not enough time and hope I will get more time to spend in this city next time I go.
Where is Lisbon?
Lisbon is the capital of Portugal and is also the largest capital in Portugal. It is located in the South Western part of Europe and is easily accessible from major airports from around the world. The nearest country is Spain.
When should you visit Lisbon?
Lisbon is a great place to visit for most of the year. September – October and March – May are great months during the shoulder season before the crowds arrive for summer. The prices are lower too. November is when Lisbon received the highest rainfall.
Transportation In Lisbon / How to get around Lisbon?
Lisbon has a great metro system and you can seamlessly travel between the various areas of Lisbon. A lot of Lisbon is walkable too but note that there are some hills to climb in some areas. Trams are super accessible and a fun way to explore Lisbon. Even Ubers are affordable and you can expect to pay no more than 15 euros for most of your rides in Lisbon.
Safety in Lisbon:
As a solo female traveller, I never felt unsafe in Lisbon and that is one of the reasons Lisbon is one of my favorite cities in Europe. I walked around quite a bit around Lisbon and I did not have any issues. However like other parts of Europe, be wary of pickpockets.
What to pack for Lisbon:
Depending on the season, you have to pack for Lisbon. Lisbon is mostly quite warm during the summer months. So summer dresses and shorts are ideal for your summer. During the colder months, add layers to keep yourself warmer.
Popular tours in Lisbon:
I love taking tours whenever I am traveling. It helps me to reduce the stress of planning to a minute detail. These are some of the recommended tours to take in Lisbon:
Best day trips from Lisbon
If you are looking for the best day trips to take from Lisbon, then find them below. Check this post for the best day trips in Europe.
Conclusion:
So these are some of the places to visit and things to do during your 3 day Lisbon itinerary. Please do let me know your comments and feedback below.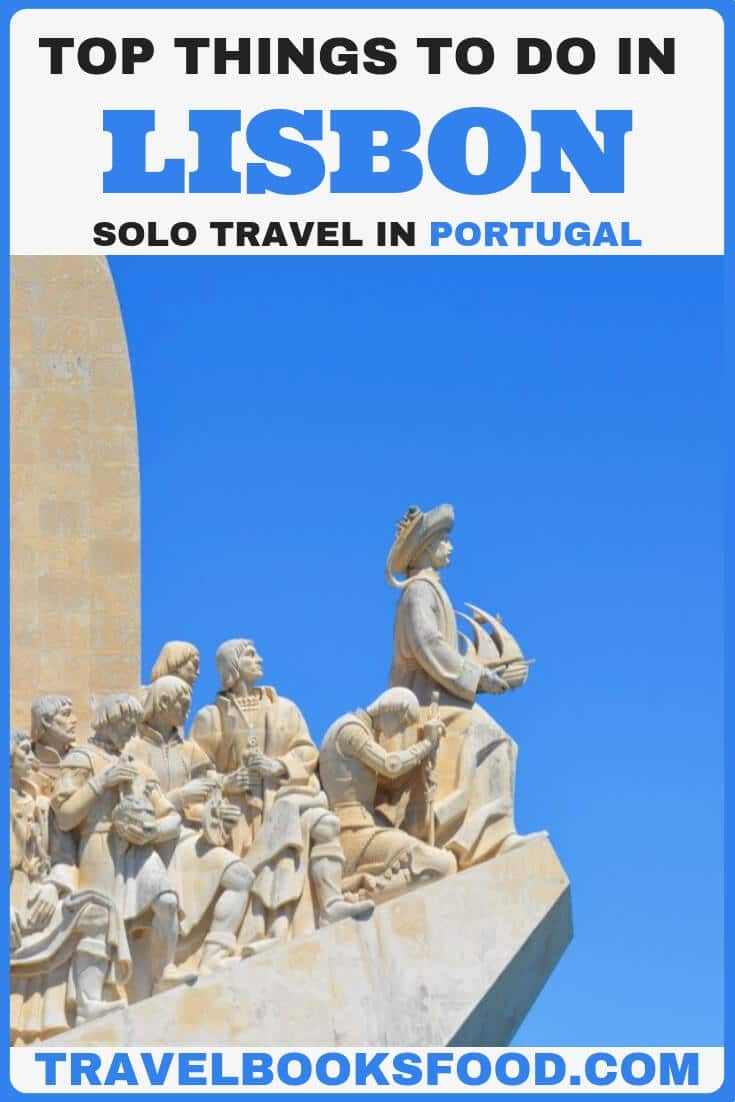 Find my recommendations for guide books on Portugal.
Guidebooks for PORTUGAL
Traveling to Portugal and need more guidance on which books to read? These are our Portugal travel recommendations for you to read before you go.
Recommended: Portugal Travel Tips
BOOKING RESOURCES
Looking to book your trip now? Find some of my favorite resources I use while booking my trip. You can also find my travel gear here.
Book Your Flight
I am a Skyscanner fan when it comes to booking international flights. I use Makemytrip and Yatra for domestic flights.
Book Accommodation
Booking is my go to resource for booking hotel accommodation and I use Airbnb for booking my homestays. I also compare prices on Tripadvisor always. Another one I always use is Expedia.
Travel Insurance
As an Indian, I prefer ICICILombard and I am always insured when I am traveling outside India. In addition, I have used World Nomads and SafetyWing for some of my trips.
Book Tours
I do go on a lot of day tours especially when I am traveling solo. Depending on convenience, my choices are Viator or Getyourguide.